Hong Kong Police inciting "white terror" among student journalists and leaders
By: Anna Kam、Rachel Yeo

Edited by: Katherine Li

2019-09-18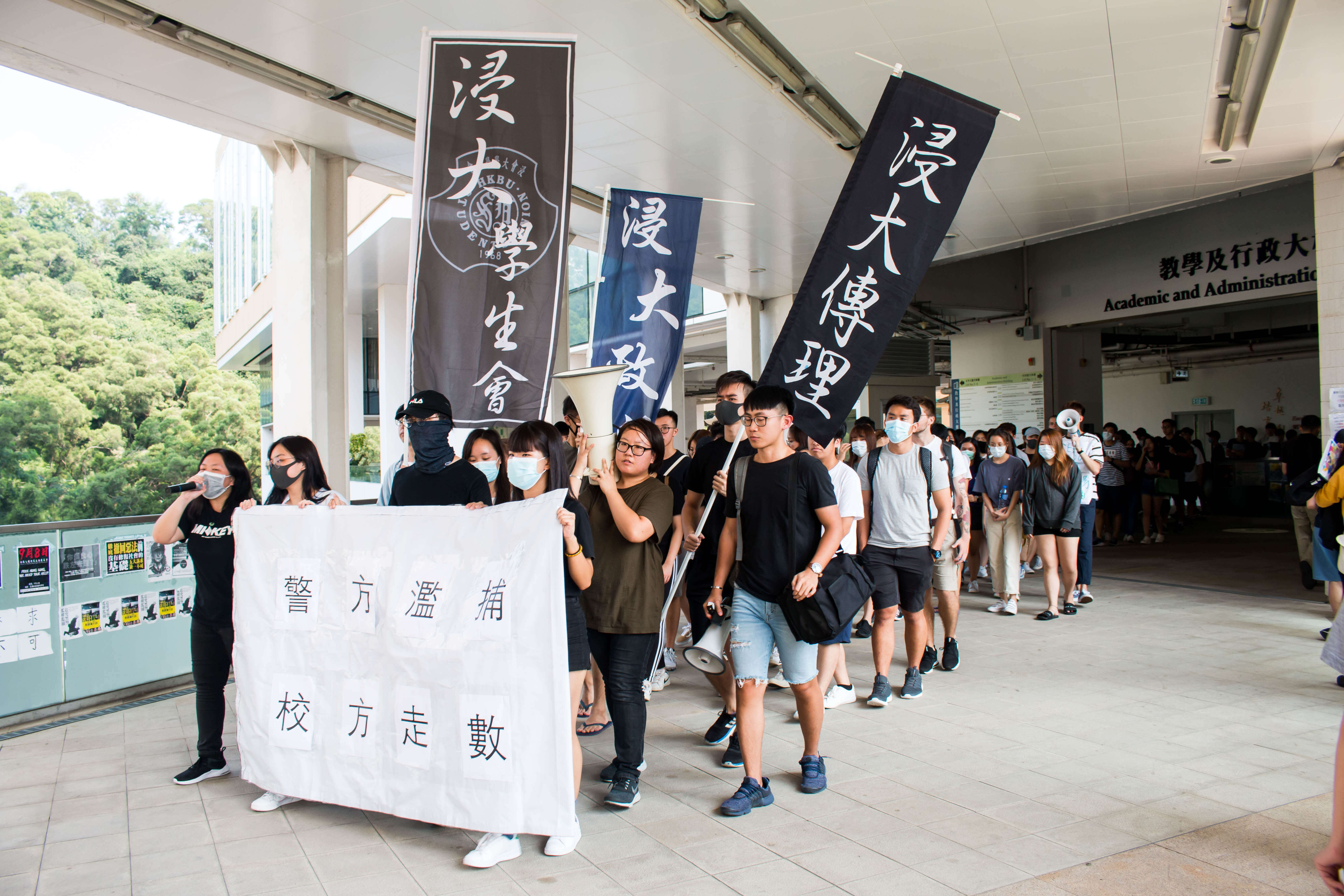 Various arrests of high profile student leaders and student reporters have sparked controversies in schools and online as non-mainstream media become targeted by the police due to distrust. 
Hundreds of Baptist University students staged a march on September 16 to rally against the arrest of broadcast journalism student Boaz So, which later escalated into a heated verbal exchange between students and various school authorities.
Mr. So, a student reporter from BNN (Broadcast News Network), a student-run news station based in the university, was arrested in North Point on September 15 for suspicion of possessing an offensive weapon. This later sparked the students' outrage, which led to verbal attacks on journalism department head, Mr. Lau Chi-kuen and Baptist University's vice president, Mr. Albert Chau.
The riot police found a butter knife while searching through So's belongings, then took him away in a private car. Mr. So said that the knife was used to cut mooncakes, which was confirmed by his girlfriend Rachel So Ching-yan and BNN. While the police chief superintendent of the public relations branch, Mr. Tse Tsun-chung, accused the knife of being a "nine inch sharp knife", BNN and Mr. So have clarified that it is a butter knife with a round edge.
After Mr. So was arrested, different photos shared online by both sides have sparked quarrels. Those in support of the police used a photo of kitchen knife on memes whilst those in support of Mr. So responded that he was carrying a plastic knife.
"They seem to be targeting at student reporters. They also seem to be targeting at young people," said students Ms. Lam and Ms.Tam, classmates of Mr. So who were with him and witnessed his arrest.
According to Ms. Lam's account of Mr. So's arrest, they were requested by the riot police to show their press cards and identity cards in Fortress Hill. The police passed around their identity cards and took notes of their information. Their bags were also searched by the police on scene.
Mr. So was not the only student who had been targeted by the police. 
Increasingly, the police have also targeted more student leaders, including the student union president from Hong Kong Polytechnic University Ken Wu, who was physically assaulted by a 21-year-old student from the mainland. 
Hong Kong University's student union president Wong Ching-fung resigned from his duties citing in his letter that his position is putting his family in a "sometimes dangerous position". The resignation was accelerated after he was assaulted by a man in white which left a scar on his right hand. 
Keith Fong Chong-yin, Hong Kong Baptist Union's student leader, who was arrested in Sham Shui Po for purchasing laser pointers last month said he felt like he was "tailed by the police".
The police have not responded to TYR's enquiry about the number of students that have been arrested during the course of this social movement, which has just surpassed 100 days. As of September 15, a total of 1,452 people between the age of 12-72 years old have been arrested in relation to the anti-extradition movements according to the police.
During the march against Mr. So's arrest which started out peaceful, students demanded for the university to provide assistance for arrested students, to condemn the police for arbitrary arrests and stifling press freedom and to ensure the physical safety of students.
However, Clayton Mackenzie, Provost of the university, said that the school will not condemn the police for unreasonable arrest.
"If an inquiry shows that there has been bad behaviour from many conundrum of society, whether it's the police or not, then it will be condemned,' said Mr. Mackenzie, which shocked many students who were present.
Angered by the response, dozens of students decided to march up the president's office in Shaw Tower to look for school authorities, but was stopped by the school security personnel at the elevators. They eventually took to the stairs and managed to break through the doors of eighth floor with rods and rocks, but did not successfully reach where the presidential suite is located.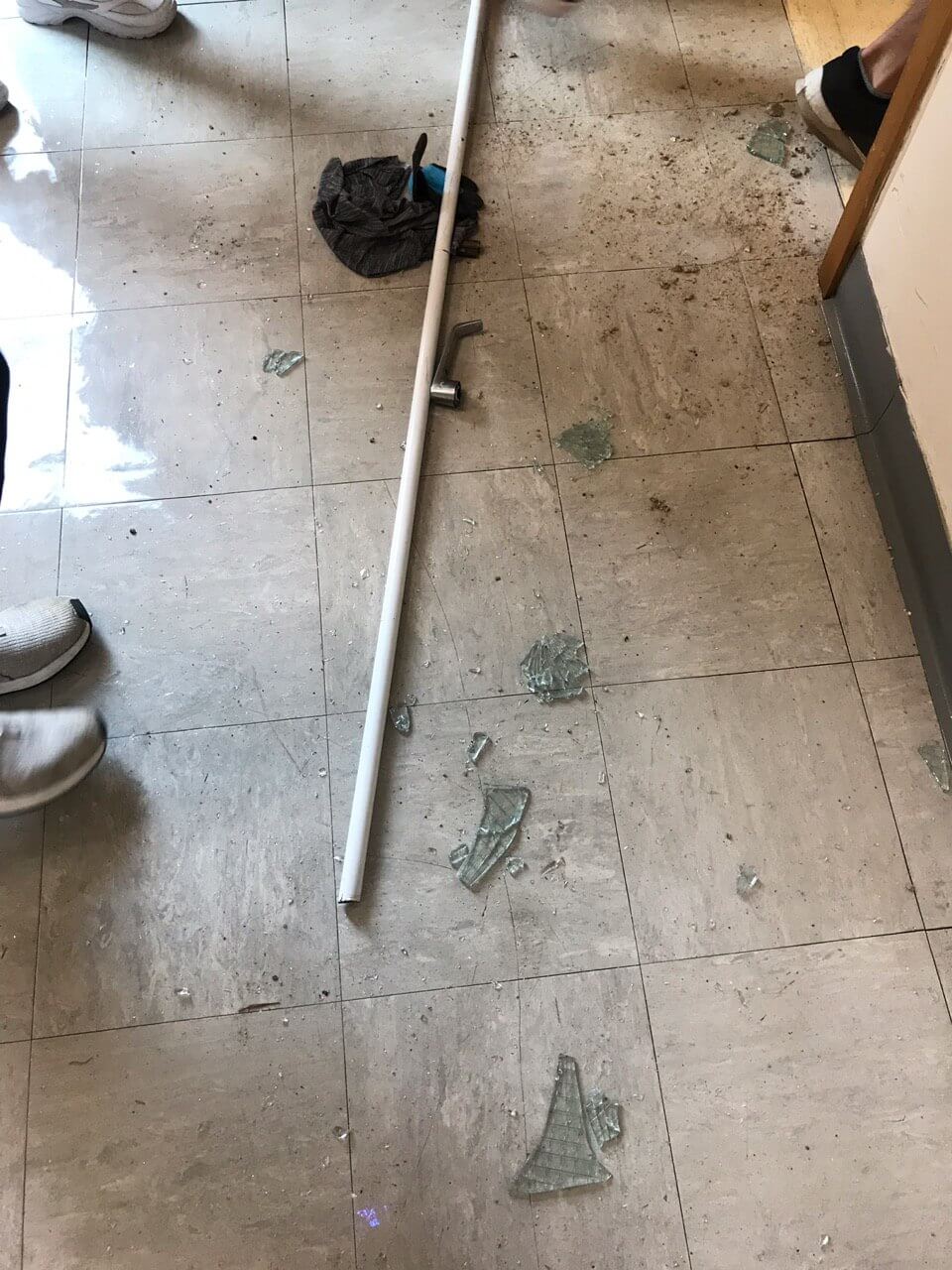 "The distrust of the police officers towards the journalists are quite common, especially to non-mainstream journalists. The police officer would obstruct their reporting once in a while to check non-mainstream journalists' identification, or even treat them impolitely," said Bruce Lui, advisor for Broadcast News Network and senior lecturer from Department of Journalism at Hong Kong Baptist University. 
Mr. Lui, who has been assisting Mr. So, also mentioned that his arrest is just an individual case, which would not affect the reporting activities of the communication department. He hopes that the police would respect the rights of student reporters in future operations.
Mr. So was later released on bail on the evening of September 16. Two days later, Mr. So appeared in a press conference, providing his account on his arrest. Adamant on the basis of his arrest, he also highlighted that the police had stopped his colleagues from filming his arrest. 
"If we are targeted for reporting the truth, the more reason we should keep going," Mr. So said.