Seeking solutions to the current impasse, Chief Executive Carrie Lam holds community dialogue
By: Carol Mang、RonaldFan

Edited by: Stephanie Ma、Maisy Mok、William Tsui

2019-09-26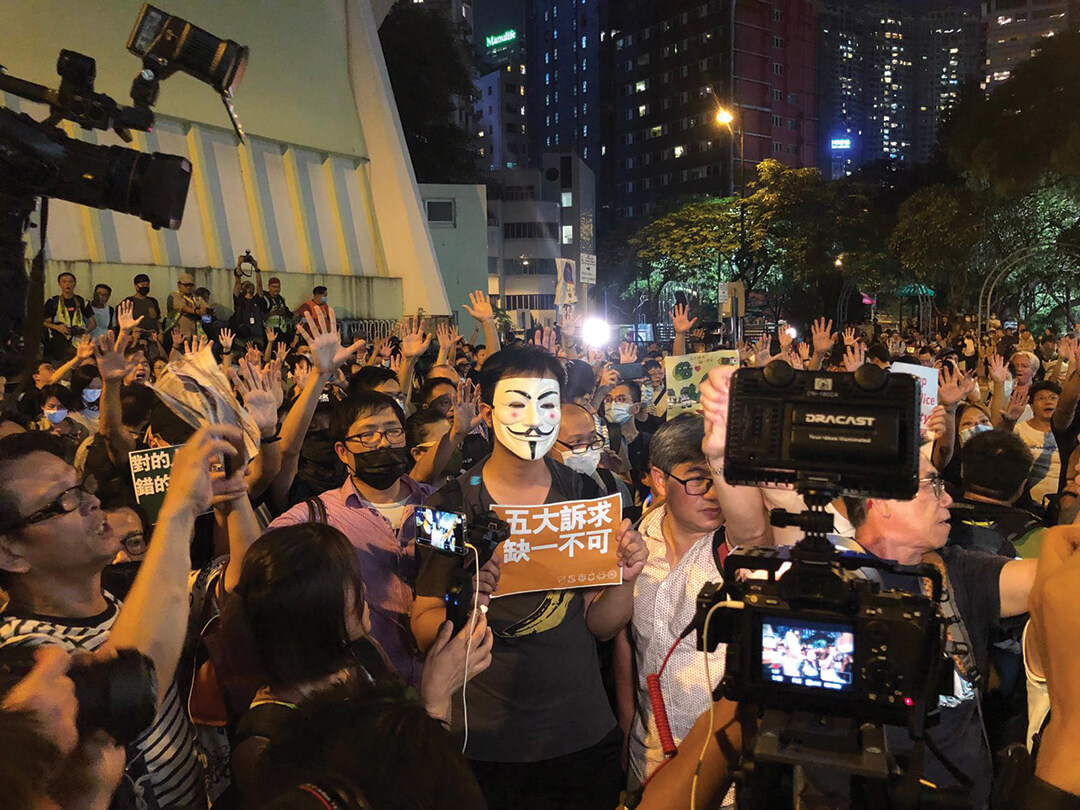 Hong Kong's Chief Executive Carrie Lam Cheng Yuet-ngor held her first Community Dialogue Session at 7 p.m.today at Queen Elizabeth Stadium in Wan Chai, meeting 150 randomly picked citizens from over 20,000 applications.
[22:35] In an announcement on their official website, the police "warns protestors in the vicinity of Queen Elizabeth Stadium to stop illegal acts". They also urged the public to stay clear of that area and said that the protestors have "blocked the entrance of Queen Elizabeth Stadium, preventing certain participants of an event from leaving".
[21:37] Protestors have set up barricades on Queen's Road East at the back door of Queen Elizabeth Stadium.
[21:30] The dialogue has ended. The host reminded participants that they can leave their contacts for an "in-depth dialogue session" while some participants chanted "five demands, not one less".
[21:20] Dozens of Riot police are heading towards Oi Kwan Road under a protesting crowd chanting "gangsters" as they passed by.
[21:15] From a women who believes this to be a political performance: "I am afraid that you have missed the best timing for a dialogue. 1 million demonstrators, 2 million demonstrators, Lennon Walls everywhere, human chains, class boycotts, strikes, shops boycotts, MTR boycotts — all this is public opinion, but it feels as if you don't know that all this happened."
[21:06] From a Secondary 6 student: "How have you felt, while the rest of us suffer from sleepless nights? More than a thousand arrested and 9 who took their own lives, yet you only care about broken MTR machines. Every time when something happens, you only know how to say 'condemn'."
[20:55] A women in a burgundy blouse makes an appeal to young people: No matter success or failure, the future is yours. So when you fight for what you want with your life in your way, please think twice on whether or not this is the way to do it.
[20:44] A 26 year-old man dressing in suit, asked the government officials to browse local forum LIHKG if they really want to know what young people are thinking.
[20:35] From a masked speaker: Elderly people and ethnic minority are excluded because it requires online registration.
[20:22] From a masked speaker: The government puts too much emphasis on PR. This is not the time for a dialogue.
[20:17] From a father of three children: Please don't try to take political problems to the frontline. HK is not divided into blue and yellow camps before. Now families are divided over politics and that's not right. HK should be tolerant of different opinions.
[20:03] Secretary for Constitutional and Mainland Affairs, Patrick Nip Tak-kuen stressed the importance of one country two systems.
[19:59] Carrie Lam: Carrie Lam: "Hong Kong in these few months is not the HK we know. As the government, we have the biggest responsibility. One country two system has not changed. It will still give us a stable society for our next generation but it has a bottom line, which we need to respect."
[19:53] From a peaceful protester: "The society is very divided now. Like many who are present, I have kids, and I am very fearful of what kind of world we are passing on to the kids. Nowadays, even walking on the streets, we are worried that knife wielding attacker will pop up."
[19:40] This woman is blaming Carrie Lam for not knowing why the police lost people's trust.
[19:34] Carrie Lam is responding to audiences' questions. She reiterates the need for One Country Two Systems and that the IPCC is a reliable way of investigating the police.
[19:30] Hundreds of protestors are using laser pointers pointing outside the wall of the stadium.
[19:24pm] The second speaker, a banker in her 30s, questioned why the government refuse to set up the the independent inquiry. She accused the government of telling lies and denying their responsibilities.
[19:12] The first speaker expressed disappointment with the responses from the government and asked if HK is still a place with rule of law. She also questioned why there is no independent inquiry for police brutality.
[19:07] Audiences are calmly listening to the opening speech made by the chief executive. Atmosphere is currently peaceful and relaxed.
[18:59] Chief Executive Carrie Lam Cheng Yuet-ngor has entered the venue.
[18:49] Meanwhile, hundreds of people are holding up hands and building human chains in the centre of Oi Kwan Road.
[18:38] Citizens put their assigned numbers into the boxes near the entrance as the numbers will be drawn randomly here to talk to the chief executive