Blind saxophonist in China's national disabled performing troupe speaks on success and overcoming challenges
By: Ziyu Bruce Zhao

Edited by: Summer Li、Nick Yang

2022-04-14
"One more time. Don't make the audience feel your actions are too stiff, " the director of the opening ceremony of the Paralympic Winter Games 2022 in Beijing said to Wang Qi as he practiced walking and turning on the stage.  "Try to reduce the sense of performance," the director said.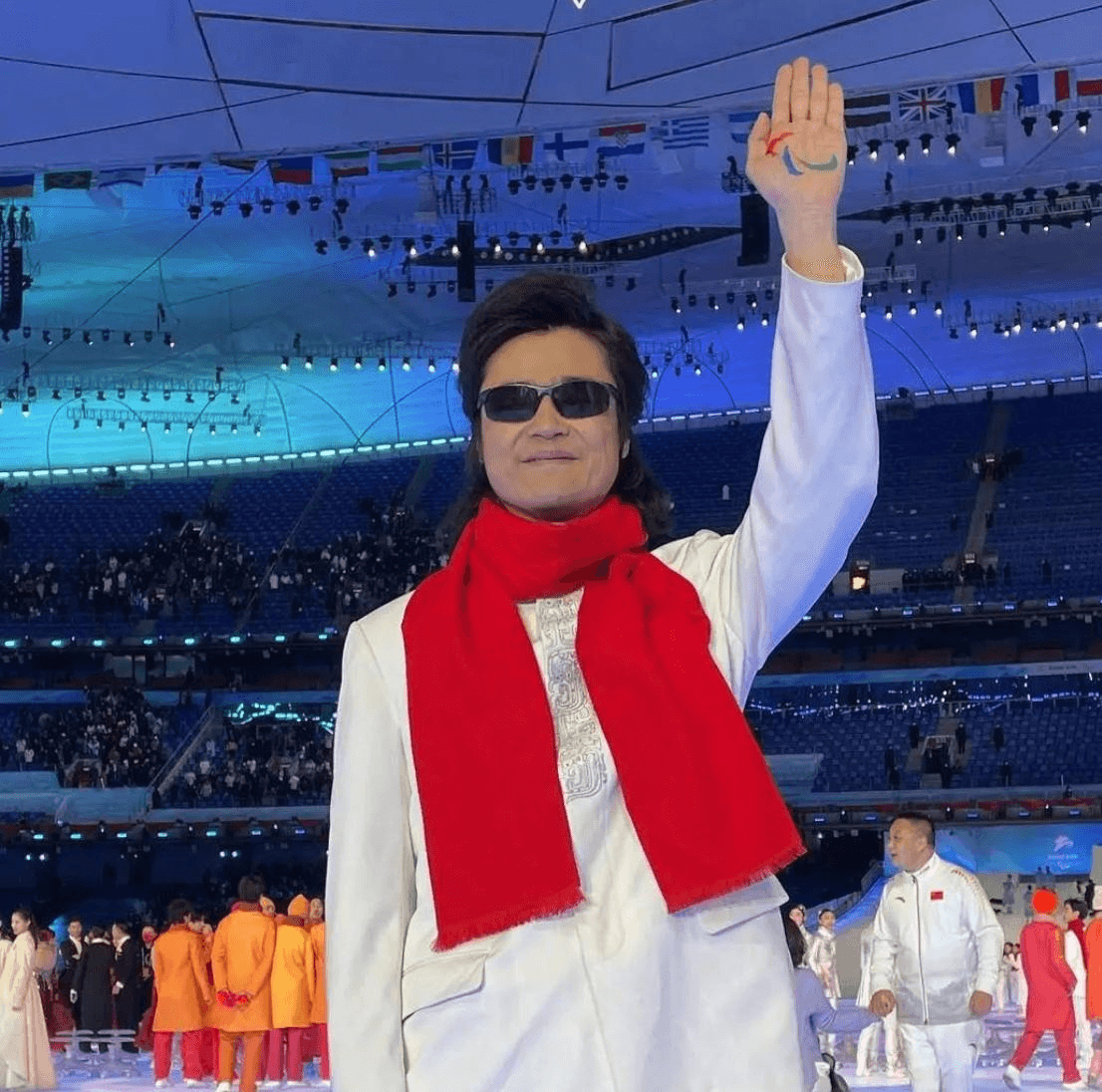 Wang was practicing raising his hands to display the emblem of the winter Paralympic Games to the world at the opening ceremony on March 4. 
"I had to practice once and once again to form muscle memory," he said. "We have been rehearsing intensively since January."
Wang, 40, a leading saxophonist in China, has been performing in the China Disabled People's Performing Art Troupe for more than a decade. His performance has been seen at many historic moments of China including APEC Summit and Shanghai Expo 2011. 
Wang, who wears his hair long and is always in sunglasses, has been blind for almost 30 years.
"For visually-abled people, it's natural to go to the center of the stage and then turn around and face the audience. But because we blind people can't see, we don't know which position to go on the stage, and we don't know how much to turn around is appropriate, " he said. "But if we practice too much without correct guidance, our movements will be too deliberate."
In 1995, when Wang was 15 and had been blind for two years, one teacher at the special education school in his hometown Dalian led a group of students to a room full of musical instruments, where Wang befriended the saxophone.
"I was standing in the big room, trying to recall those instruments I saw before losing my sight," he said. "Suddenly, the saxophone jumped into my mind. I walked ahead and held it in my arms." 
However, learning the saxophone was difficult. His family was under financial hardship, and each week, he had to spend several hours commuting to the saxophone instructor's house downtown.  It was also hard to find music scores written in braille. "You could not find any of it sold in the market," he said. "Even nowadays I rarely see the sale of it."
His parents said they felt relieved and gratified to discover that he loved the saxophone.
"I have always been encouraged by my parents," Wang said. "After they told this to me, I swear to make the saxophone my lifelong friend and have  some achievement in saxophone performance." 
Wang studied the saxophone under Ding Cheng, one of the best saxophonists in China, in Dalian.
"He was very strict with my performance," Wang said. "He told me that all of his students must win the championship of all the competitions they participate in," adding that Ding didn't treat him differently for being blind. 
In 2007, after making his fame in several national musical competitions, Wang received an invitation to join the China Disabled People's Performing Art Troupe.
At first, he was not so excited about that invitation. He had recently sought treatment at the Tongren Hospital, one of the best hospitals in China, where doctors told him that it was nearly impossible for his eyes to be healed.  
"It is the darkest moment in my life," he said. "I felt like being sentenced to death after the best hospital in the country said it had no idea how to cure my eyes."
But the depression was gone after he joined the Troupe. "When I first arrived there, a banner saying 'Welcome back to your warm and sweet home' touched me deeply," he recalled. "I met a lot of friends who share the same sufferings as me but still stay positive and help each other overcome the challenges in both daily life and musical practice." 
"I calculated carefully, I have spent much more time in the Troupe than at my home," he joked. 
In 2007, he won first prize in the second China International Saxophone competition. In the same year, he won the gold award with the first total score in the 7th Dandelion Youth Art Rookie Trial, and the gold award in the saxophone group in the Asian Star National Finals.
When I met Wang in the Troupe, he was preparing for the last dress rehearsal of the 2022 Dreamland Concert: Ever-Shining Flower. It is a musical drama telling a story about his mental journey. Through music and dance, the concert shows his depression after losing his eyesight and the hope of regaining his life after falling in love with saxophone. It was composed based on the real experience of how the Troupe members fight for their future despite physical challenges.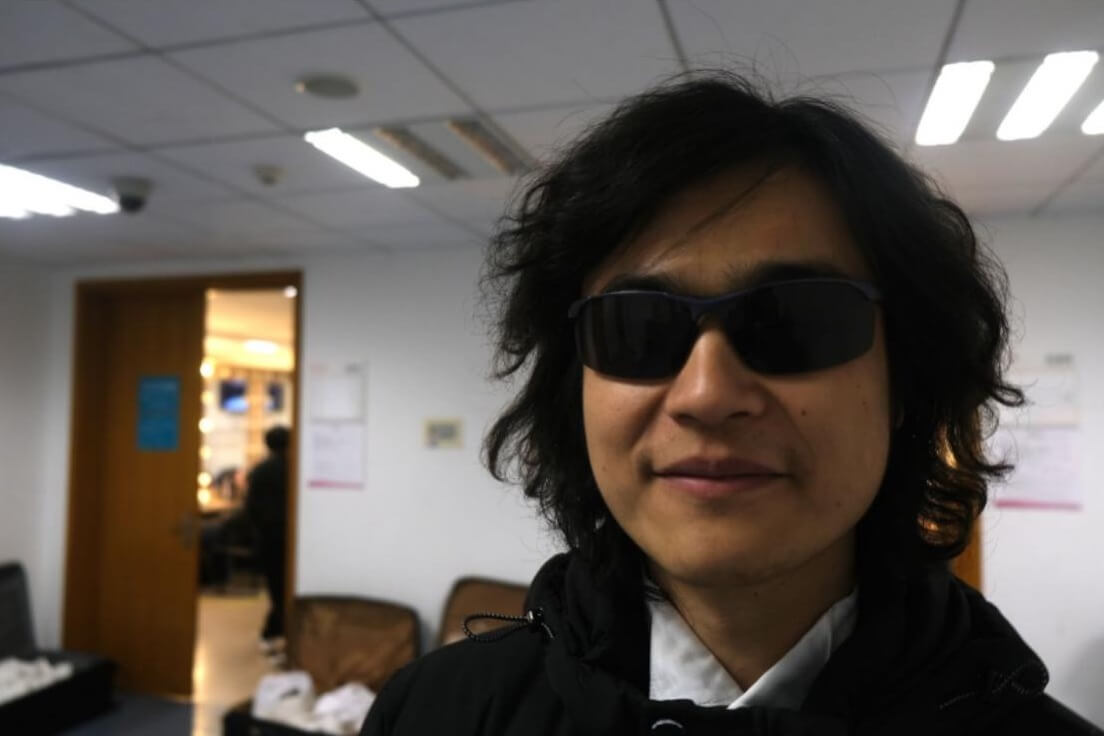 Playing in a group is a mutual challenge, he said. "Usually, disabled artists have to practice longer than the able-bodied artists and work hard to find a way for mutual cooperation." 
"We don't have conductors, so we need some 'codes' to tell each other what we should do," he said, giving an example of how some players will breathe loudly to signal the start of a musical piece. "Tacit understanding is the key."
When asked for advice to starting artists in the same situation, Wang said that "faith" is the most important thing. "Try your best. Be more patient and have more perseverance. It is very difficult. But it is worth it to work much harder," he said.
"I do believe that we are able to create miracles, just like a flower growing through the cracks in concrete," he said.