Incensed Baptist University students rally against arrest of broadcast journalism student
By: Rachel Yeo、Anna Kam、Phoebe Lai、Jo Ng、Yanni Chow

Edited by: William Tsui

2019-09-16
Hundreds of Baptist University students staged a march to rally against the arrest of broadcast journalism student Boaz So, which later escalated to heated verbal shouting towards various school authorities.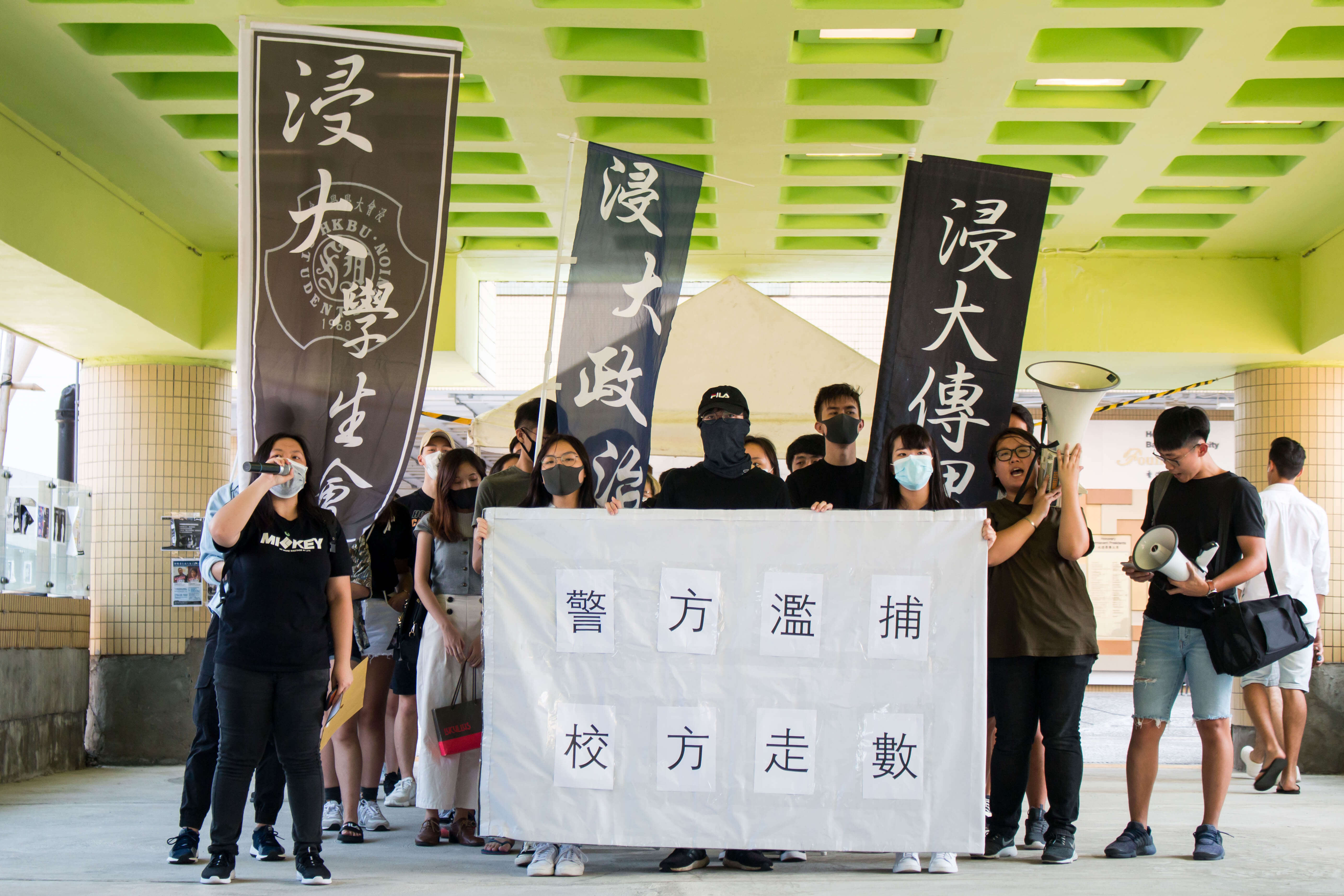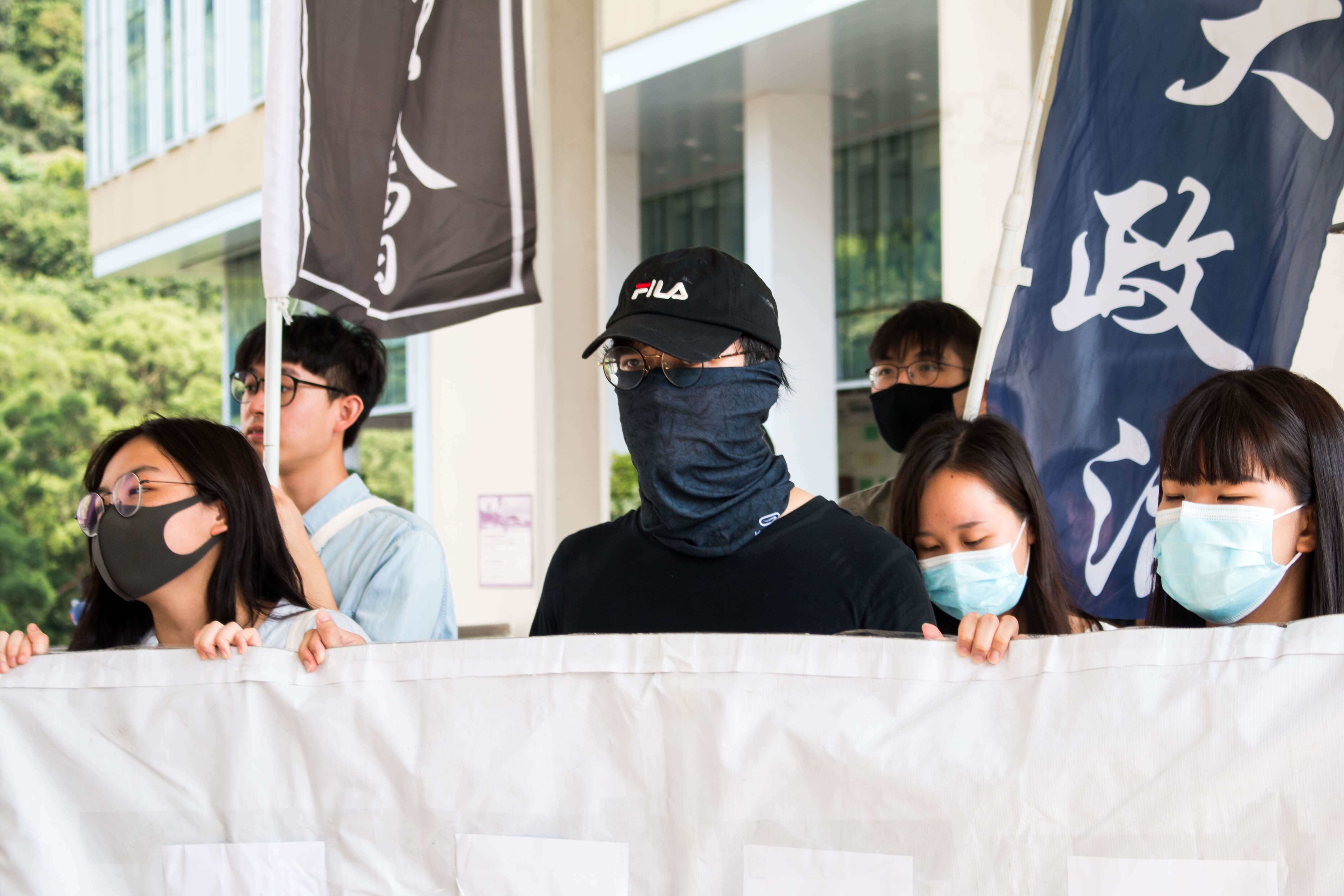 Mr. So, a student reporter from BNN, a student-run news station based in the university, was arrested in North Point last night for suspicion on possessing an offensive weapon. He was later released on bail earlier this evening.
Police found a butter knife while searching through So's belongings and was taken to a private car by riot police. So said that the knife was used to cut mooncakes, which was later confirmed by his girlfriend Rachel So Ching-yan.
Kelly Lam and Sharon Tam, two of the other student reporters who was out with Boaz So in North Point last night said they felt "hopeless and furious" about their classmate's arrest.
"They seem to be targeting at student reporters. They also seem to be targeting at young people," said Ms. Lam and Ms.Tam.
Ms. Lam described they were being requested by the riot police to show their press cards and identity cards in North Point last night. The police passed around their identity cards among themselves while taking notes of their information. Their bags and identity cards were also searched by police at the scene.
During the march which started out peaceful, students demanded for the university to provide assistance for arrested students, condemn the police for arresting people without reason and stifling press freedom and ensure physical safety of students.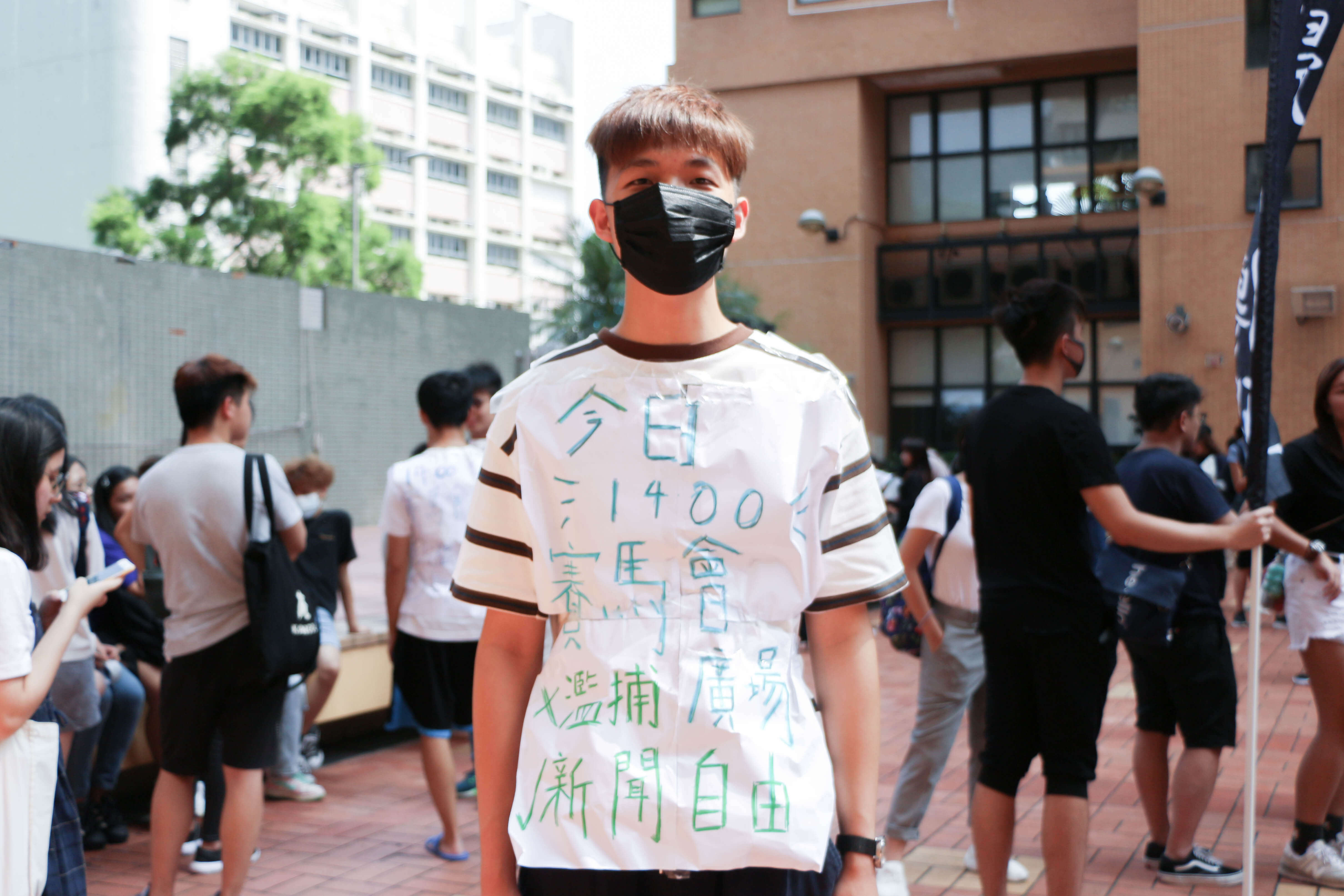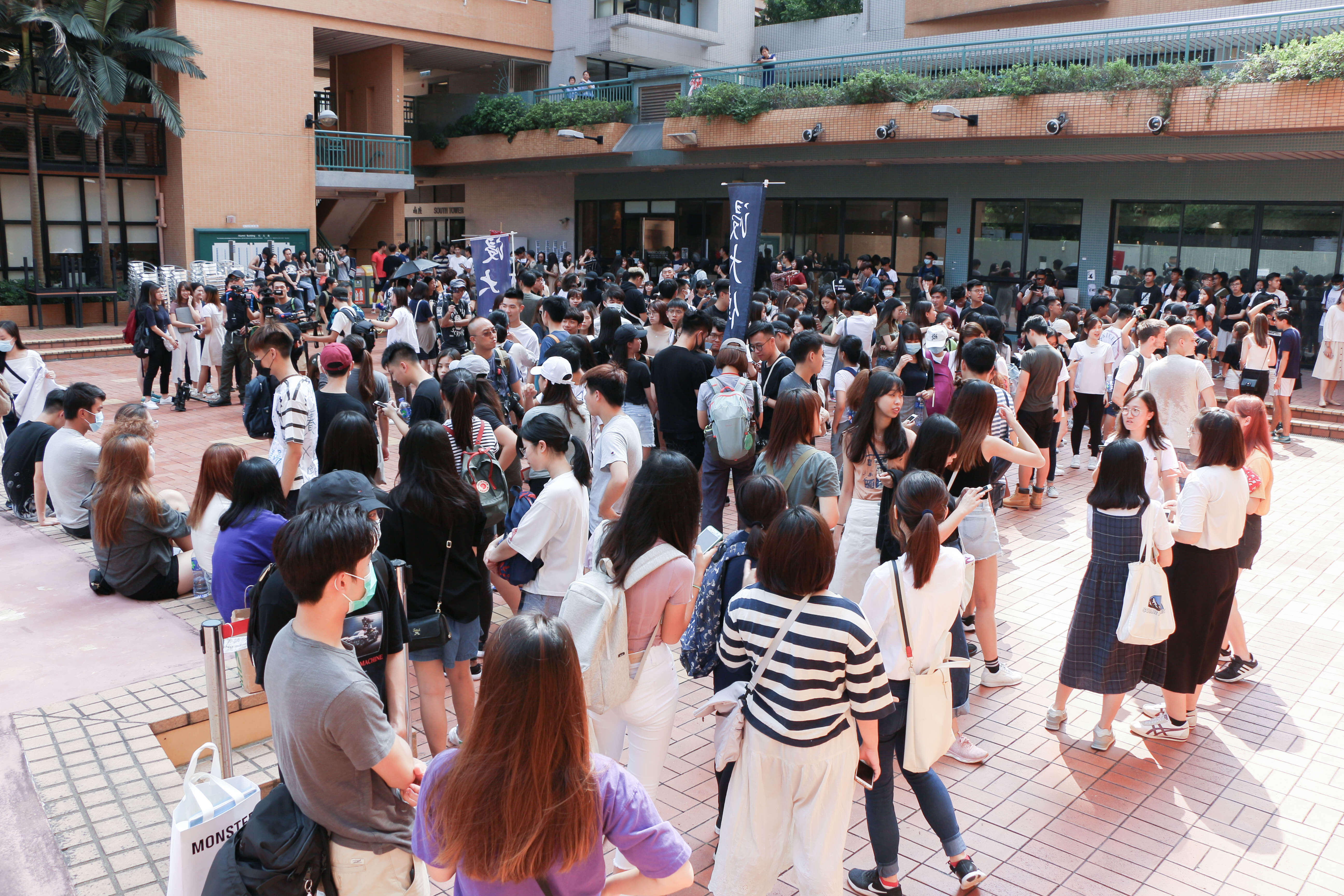 Teddy, a year 3 film student at Hong Kong Baptist University who does not want to reveal her full name and a friend of Boaz So thought the arrest of Mr. So was pointless.
"As a friend of his, I don't think he is going to use the knife to hurt anyone, and even he is reporting at that time," she said.
Yuki Chiu, a second year journalism student and participant of the march, said the university could have paid more attention to the harm on student reporters during their coverage of protests.
"Students are the most valuable property of the University, and the safety of students should be the priority of the school," she said.
However, Provost  of the university Clayton Mackenzie said the school will not condemn the police for unlawful arrest.
"If an inquiry proves that there has been bad behaviour on the part of the society, whether its the police or not, then it will be condemned," said Mr. Mackenzie, which shocked many students.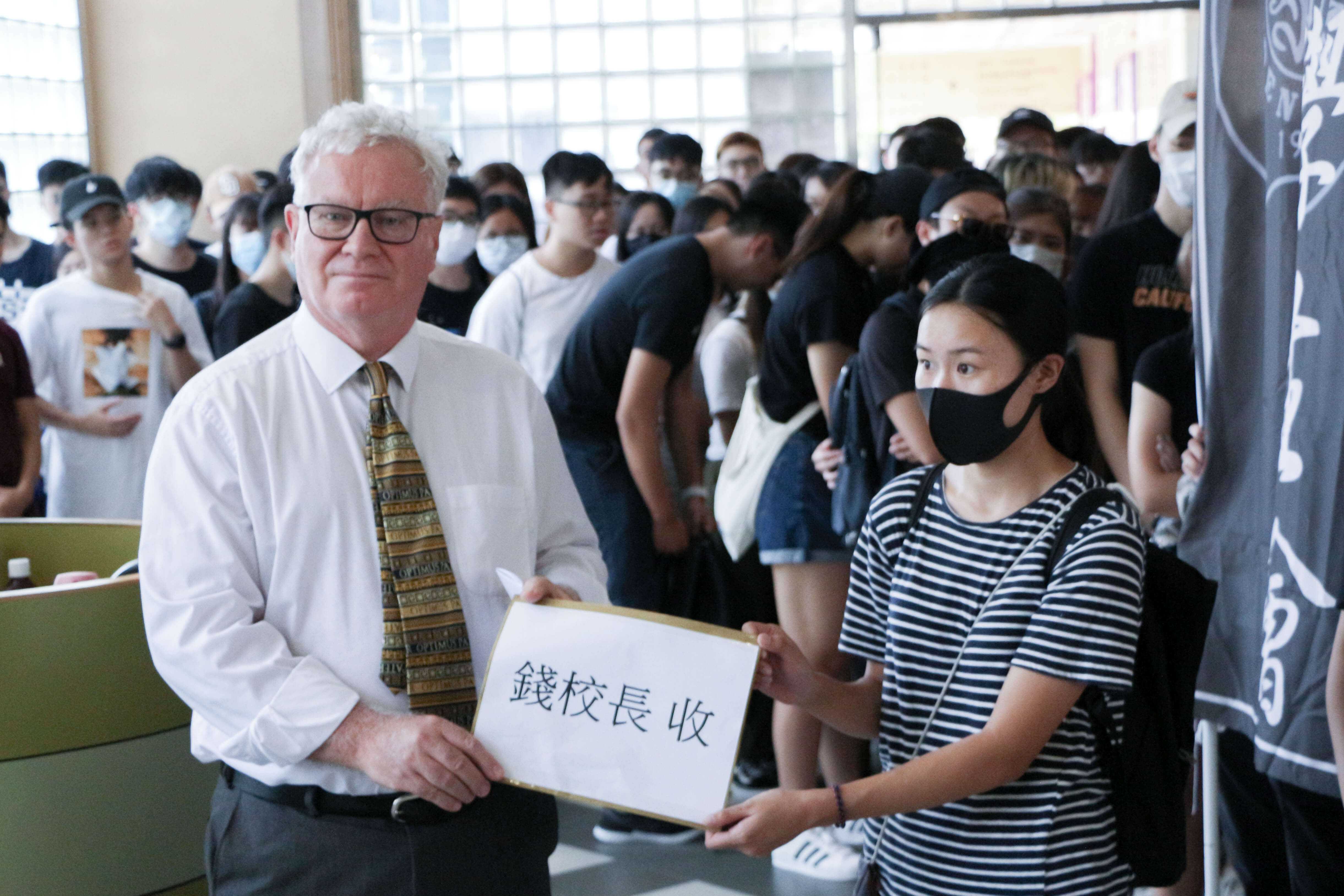 Angered by the response, dozens of students decided to look for school authorities, which was found to be locked. They managed to break in to the 8th floor of Shaw tower with rods and rocks at 3:40pm, where the presidential suite is located.
They later questioned Vice President Albert Chau and Department of Journalism head Lau Chi-kuen why the school only responded with an email urging the police to "handle this case properly and fairly", and to release Boaz "as soon as possible". They also demanded why the university refused to condemn the police, while also calling for President Roland Chin to appear.