Safe in black?
By: Sunny Sun

Edited by: Amy Ho

2019-10-09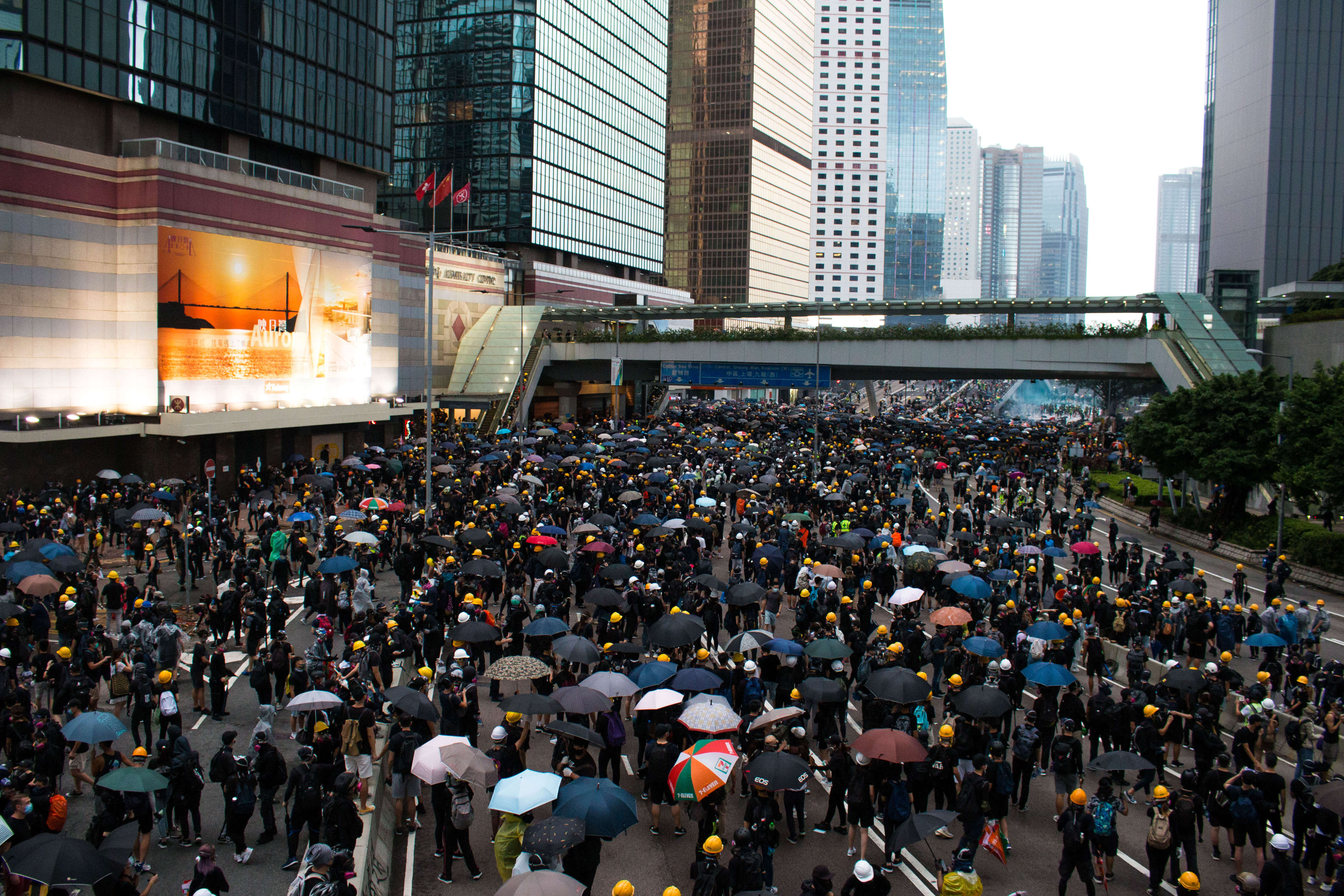 Since June, the streets of Hong Kong have been filled with the trademark black and yellow hues, peppered with the pink filters of their gas masks. Some even cover their entire faces with black scarves or turtle necks to hide their identities.
Andy Lam, 21, is one of the black-clad demonstrators."Wearing black T-shirts represents our identity and our five demands," she says.
The five demands include withdrawal of the extradition bill, an independent inquiry into alleged police brutality, not to label the unrest as "riot", release arrested protesters and universal suffrage.
Anyone wearing black these days may be suspected of involvement in the protest, especially after some protesters threw petrol bombs and bricks, set fires and vandalized properties.
Ms. Lam said she strangers sometimes glance at her just because she is in black.
Recently, she tried to help a mainland couple to find their way around Hong Kong Baptist University, but to Ms. Lam, they seemed suspicious because she was wearing black.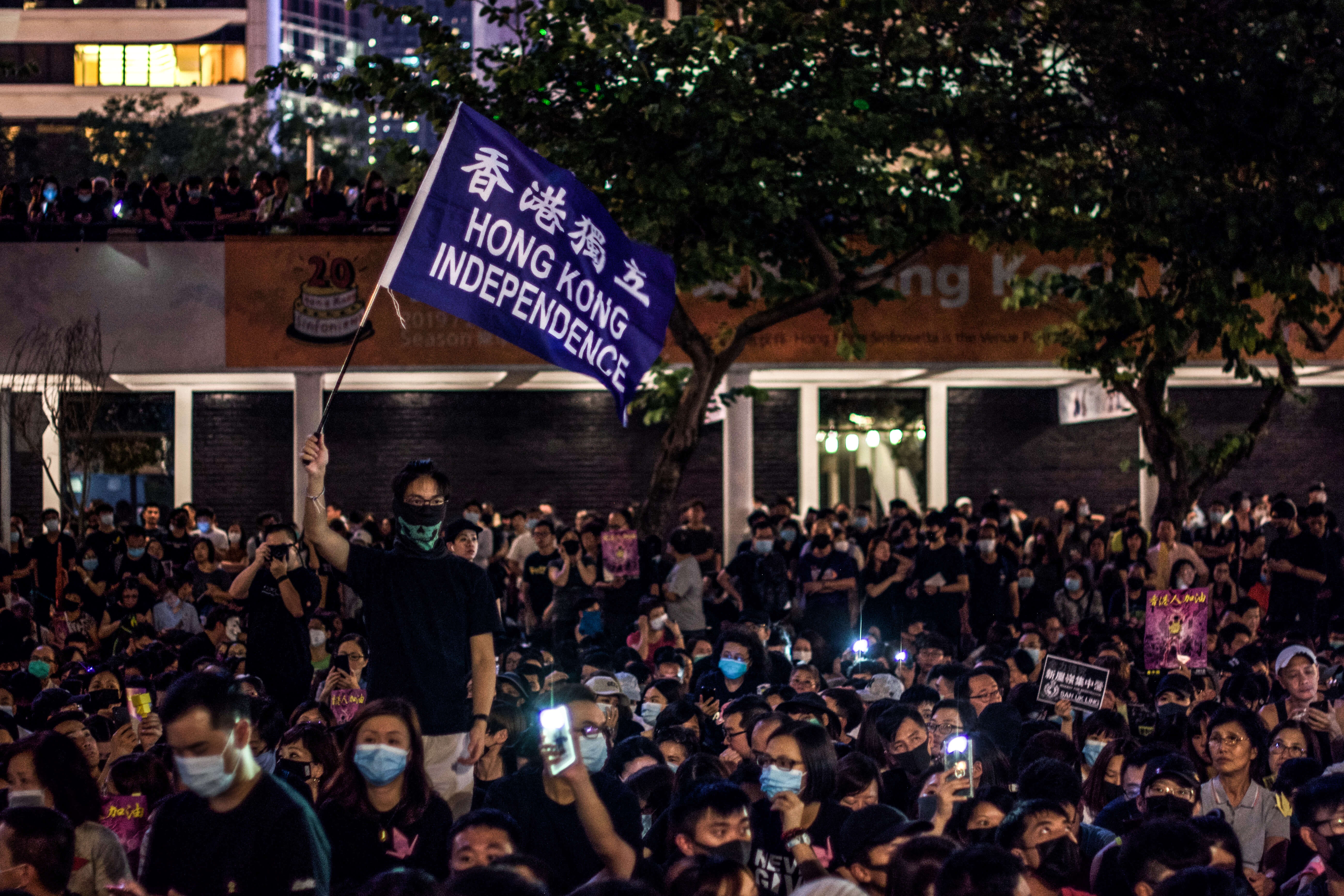 Christoph Li Xiaoyong, a 22-year-old mainland student from Hong Kong Baptist University, is not a protester, was mistaken for a protester on September 9 just because he was wearing black. He was actually just out to watch a movie in Mongkok that evening.
"I had to hide in the alley but the riot police followed me and then found me. I then had to go back on to the main road, where I got tear-gassed along with the protesters," he recalled, "and that made me feel depressed."
Another mainland student, Seven Yang, had a similar experience when she was in black. 
"Coming back from Lowu, I was stopped by customs officers for inspection. They checked my bags but not my friends' who were wearing other colours," she said.
In fact, people with different political views are split according to the colour of their clothing during the current wave of protest.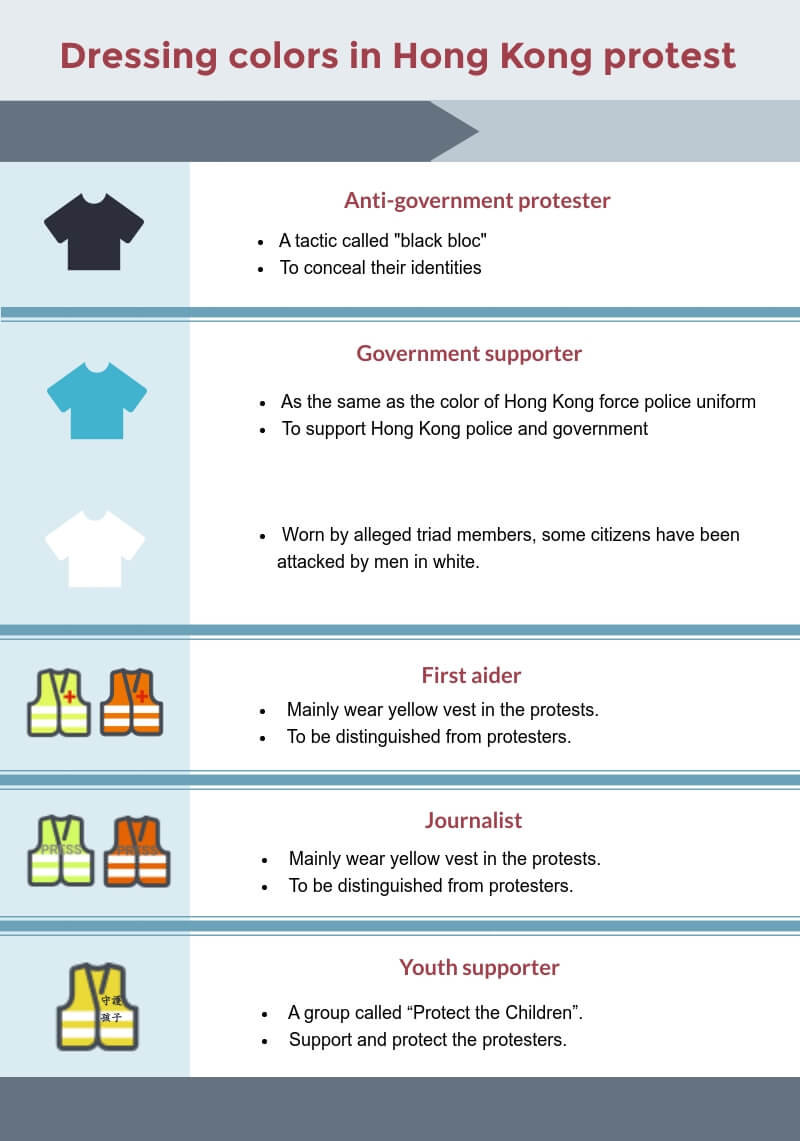 On July 21, a group of men in white attacked passengers on a train in Yuen Long. And on September 15, fighting broke out between a group of men in white and protesters in black in North Point and Fortress Hill.
Gary Tang, an assistant professor in social science at Heng Seng University of Hong Kong believed the media is to blame.
"Some news focus on black-clad protesters and the disruptions in public facilities and social order, and so misleading the public to think that black-clad people are dangerous," Prof. Tang said, "and since there has been a series of attacks in which black-clad protesters are targeted, people are concerned that wearing black may risk getting beaten."
The colour black, Prof. Tang said, is an expression of anti-government sentiment, and consequently, those who are not in the protest associate black with social conflict.
Zhang Xiaoming, director of Hong Kong and Macau Affairs Office, said at an open forum in Shenzhen on August 7 that Hong Kong protests reflect the characteristics of a colour revolution, which means a non-violent resistance adopting a specific colour or a flower as its symbol. 
According to Maria Spirova, a senior lecturer of Comparative Politics and International Relations at Leiden University, a protest identified as a colour revolution represents final transformation from post-communist regime to a democratic regime. 
So Mr. Tang believes the nature of the protest in Hong Kong is different to the colour revolutions in other parts of the world, such as the Middle East.
While Andy Lam insists on wearing black all the time these days to symbolize her opposition to the government, Christoph Li is avoiding the colour altogether so that he doesn't get chased by the police again.
"Wearing what kinds of colours is my freedom," Ms. Lam expressed.
"Dressed in black is a symbol recognized by the anti-government protesters. As soon as I see people in black, I feel the peace of mind and the unity of Hong Kong people."