Calls for improvement in online learning
By: ShukmanSo

Edited by: Clara Ip

2020-07-23
Ignoring the piles of unfinished assignments on his desk, Michael Shum, a form two secondary school student, sits in front of his computer to play video games all day. Since the government announced the suspension of  classes, spending hours in front of the computer has become his new normal.
Amid the coronavirus outbreak, schools in many countries, including Italy, India and the United Kingdom, have closed down in order to slow down the pandemic transmission. Ahead of the other countries, two months before it turned into a pandemic, schools in Hong Kong already stopped  face-to-face classes and shut down the schools indefinitely.
Most teachers have since transferred to remote teaching. Students can turn their homes into classrooms with one click on their computers and get on to their schools' e-platform. Zoom is a popular web-based video conferencing tool for many universities worldwide, whereas eClass is often used in secondary schools to provide digital learning resources.
Since the SARS epidemic in Hong Kong in 2003, the government here has been using the slogan "Suspending classes without suspending learning". The aim is to encourage schools to adopt eLearning in classrooms and offer digital content for students' self-learning outside the classroom. Apart from enabling eLearning during emergencies, the government also wants to build up an interactive way for students to participate in class actively.
"E-Learning is a leading trend today and beyond, therefore the Hong Kong government has been promoting  eLearning for almost 10 years," says Dr. Li Ka Kui, the chairman of the Hong Kong Publishing Federation.  
But Michael Shum has his reservations on eLearning. He thinks the only benefit of eLearning is that he can stay at home all day, without rushing to school.
"I simply don't like eLearning especially when we are forced to suspend all our classes,"Michael says with frown, "E-Learning is a complicated procedure since only virtual communication is possible. All that has convinced me not to use online learning in my future study."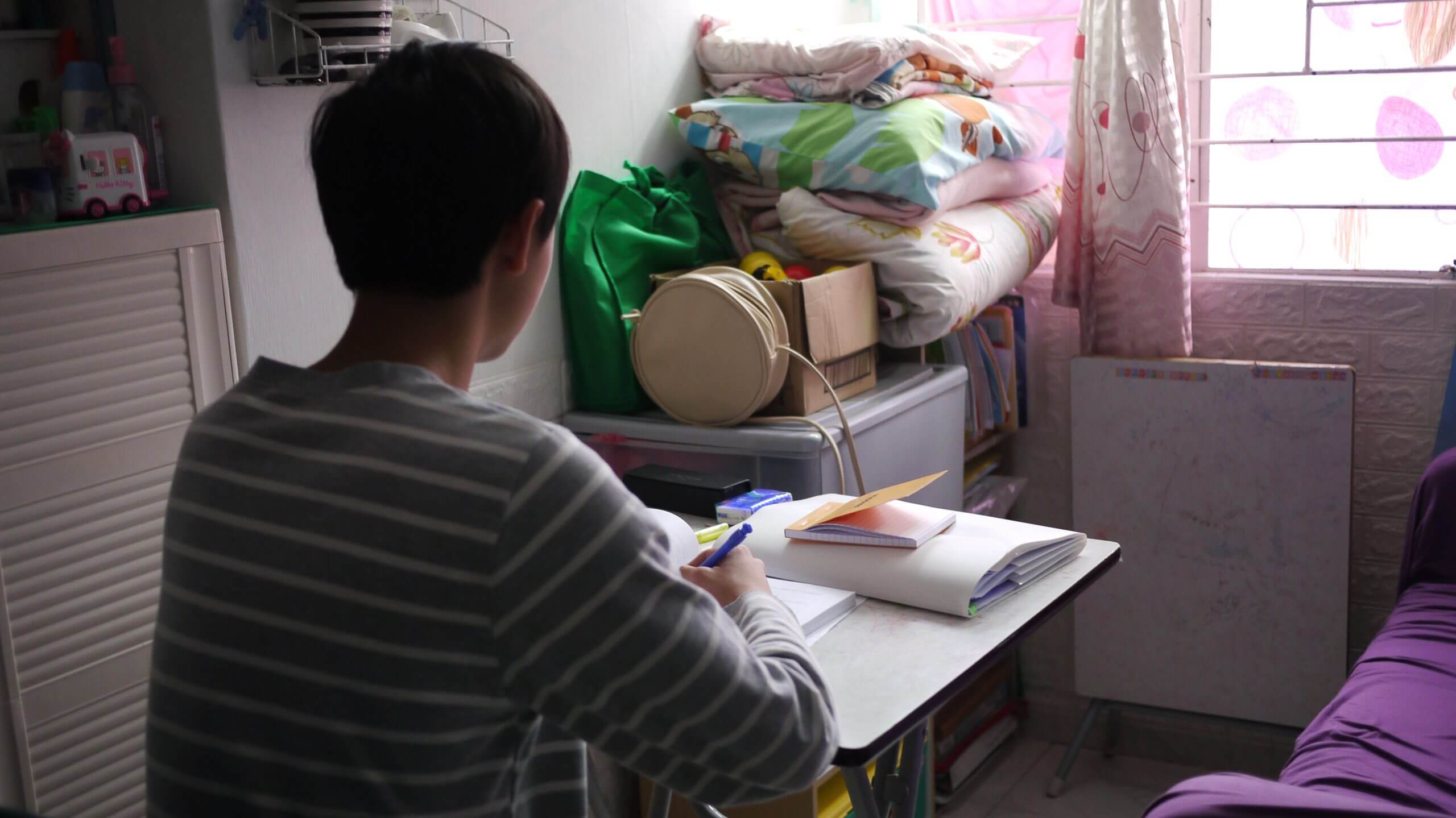 Ms. Shen Di-hua has two children who are studying in secondary school and kindergarten. She believes online technology can transform the future of Hong Kong's education system because it is effective in facilitating students' learning progress.
"Teachers can provide more resources through e-Learning and it is easier for my children to access. Applying technology to education is very common in America and European countries, so Hong Kong should learn from them. This could boost our education quality," says Ms. Shen while helping her  son with his homework.
However, Ms. Shen also hopes the government can take a leading role and urge schools to apply the same standard for all students' e-Learning experience. She complains that the Education Bureau has not released any compulsory guidelines for eLearning. Schools have to adopt different practices in eLearning. Some don't have the initiative to adopt eLearning.
"Take my elder son's school as an example, eLearning seems to be just a name without actual usage. He has been using an online platform, eClass, that only allows him to receive and submit assignments. They also have a WhatsApp group to contact teachers for their school and assignments latest arrangements," she said. "So here's the question, does the use of electronic devices add meaning to eLearning?"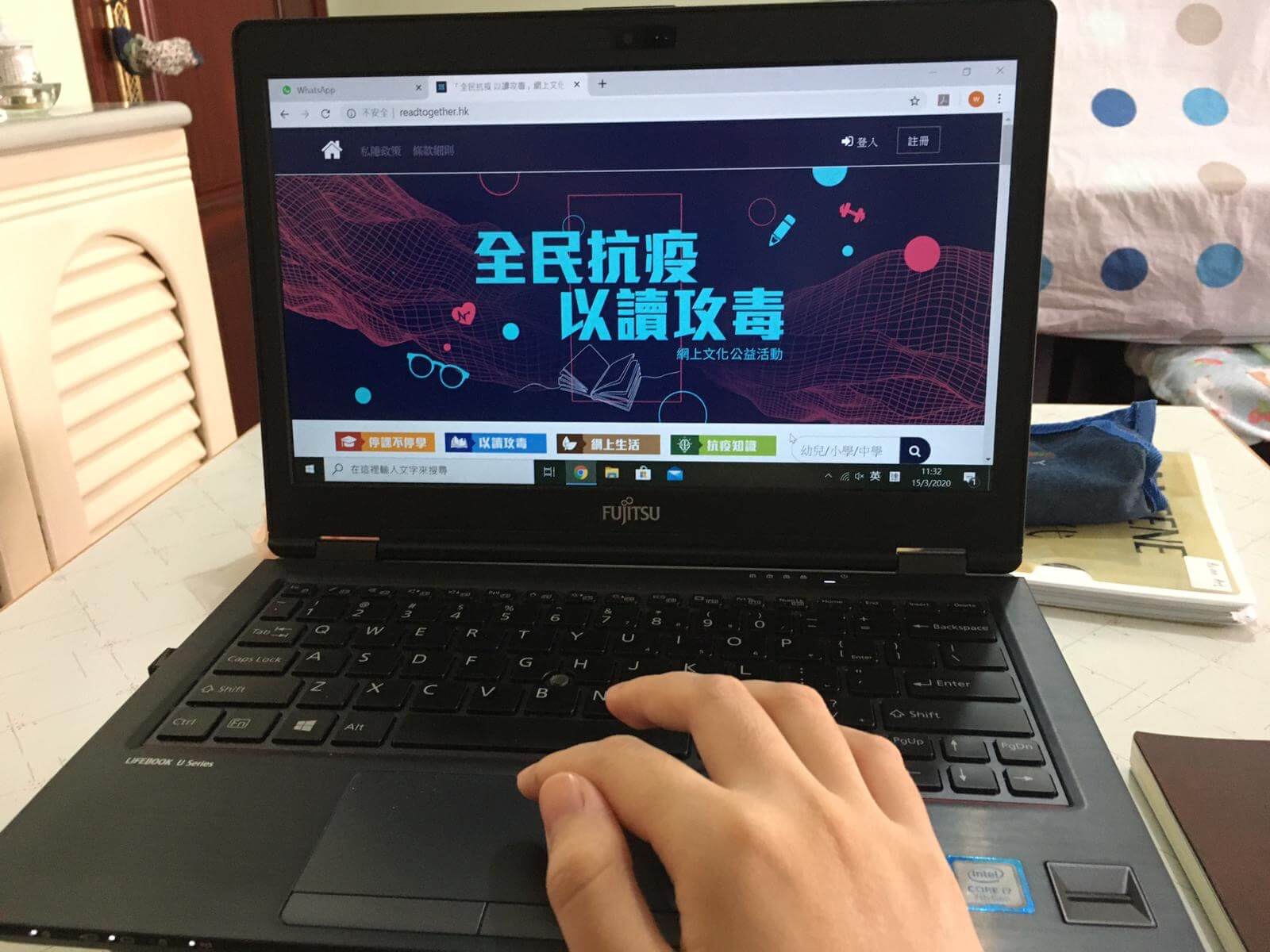 "Read Together Hong Kong" is an online charity campaign that started in February. It provides free interactive learning and teaching platforms to Hong Kong citizens on a voluntary basis. Over 60 associations have participated in this campaign, ranging from culture and publishing, films and  sports, education and art. They have adopted the government slogan "suspending classes without suspending learning" through providing leisure books and educational materials to the general public.
They promote the slogan "Let's pull together, and fight the epidemic through reading". They are willing to support the public and Hong Kong's education system by providing supplementary free e-resources during this period of hardship.
A spokesman for one of the organizers, Hong Kong Publishing Federation, said that they hope to collaborate with businesses that offer free e-books, students' exercises, tutoring, professional-trainings, health protection tips and other information to their users.
"During the unfavorable epidemic in Hong Kong, more people chose to stay at home and are willing to read more than usual. We think it's high time to build up an e-platform that bolsters online learning and reading culture," says Dr. Li.
Jacky Tang, a 'Read Together Hong Kong' user, says the campaign's resources cater to readers from all age groups. He, as an office worker,finds it attractive since he started to spend a lot of time at home.
But, he also finds the system difficult to navigate. "People like me who are not familiar with audiobooks or other e-resources may find the e-platform difficult to operate. Sometimes I click on the books and there are only the first few chapters of the book. This reduces my incentive to support eLearning," says Mr. Tang. 
Tang Wing-Naai, a university student, says she finds the campaign useful since  it provides supplementary learning resources to students.
"This campaign has provided us with many tutorial exercises. It is easier to catch up with our learning progress. It definitely attains the purpose of self-learning at home," says Ms. Tang. " However,  there is still room for improvement as most of the e-resource they provide are exam-oriented."
Dr. Li admits that electronic platforms still need more information, resources, and services in order to meet the public's demand since the campaign is still in the first stage. But he remains optimistic and thinks this will be an interesting innovation for Hong Kong's education system and students learning mode in the long run.
"Even though e-Learning still has room for improvement, classroom teaching and online learning are complementary, creating a truly integrated learning environment for our children," says Dr. Li.