Hongkongers celebrate Mid-Autumn Festival in a socially distanced way 
By: CHAN Wing Yee

Edited by: Clara Ip、Kawai Wong、GOH Kylan

2020-10-01
For the first time ever, the city celebrates the Mid-Autumn Festival and National Day with social distancing measures, which includes compulsory mask-wearing in public areas and no more than four people in a group gathering. 
Despite the social distancing measures, people gather around without keeping a distance of at least 1.5 meters apart.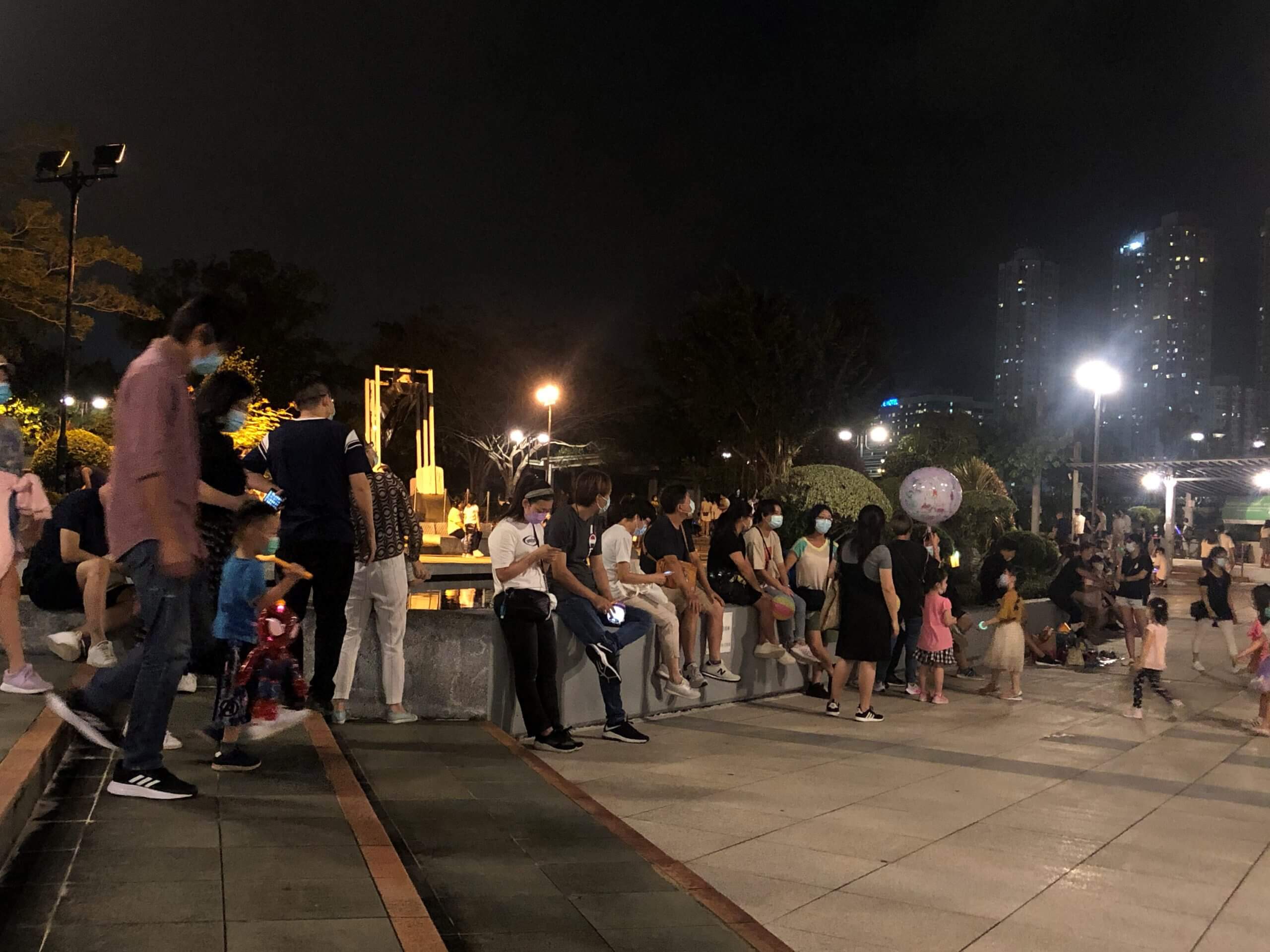 Traditional celebrations including the National Day Fireworks, Tai Hang Fire Dragon Dance and the public Lantern Festivals have been cancelled. While several districts' festive events are still available in town.  
MTR cancels overnight services on Mid-Autumn Festival for the second year in a row, train services are provided within normal time. 
The Leisure and Cultural Services Department warns Hongkongers to strictly follow the social distancing rules and not to enter prohibited areas such as beach and barbecue sites during the holidays. 
The new social distancing measures in place will be maintained until October 7, while bars, restaurants and karaoke clubs are allowed to open until 12 am. 
Hong Kong records 12 local COVID-19 cases in the past seven days, a 71-year-old woman of elderly home tested positive and 61 co-residents were sent to Asia-World Expo for quarantine.    
A black rainstorm signal was issued on Wednesday night before the Mid-Autumn Festival. 
Mr Chuang Ka-ming, 14, and a secondary school student says this year's Mid-Autumn Festival is unprecedentedly joyless and less exciting, "I can't feel the festival mood, wearing masks while playing outside."
He gathers with another three classmates at Shatin Park, playing glow sticks and lanterns.
Miss Kan Tsz-lok, 16, also a secondary school student who admires the moon with her family after the reunion dinner.
She feels disappointed that her sister cannot enjoy the festival games,"Many Mid-Autumn Festival carnival and lantern riddle games have been cancelled this year. For me, I'm less affected by the cancellation as I'm already a teenager." she says.
"Even though we can't see the moon clearly tonight, the weather gets better than a few days ago." she adds.
Mr Cheung Ka-shing, 67, a retired chef, brings his grandchildren to Sha Tin Park. He thinks the social distancing measures are reasonable, "All I care about is their health and happiness, it's safe to bring them here with mask wearing."
"They haven't been going out for months already, so we are all delighted with tonight and cherish every moment that we spent together." he says.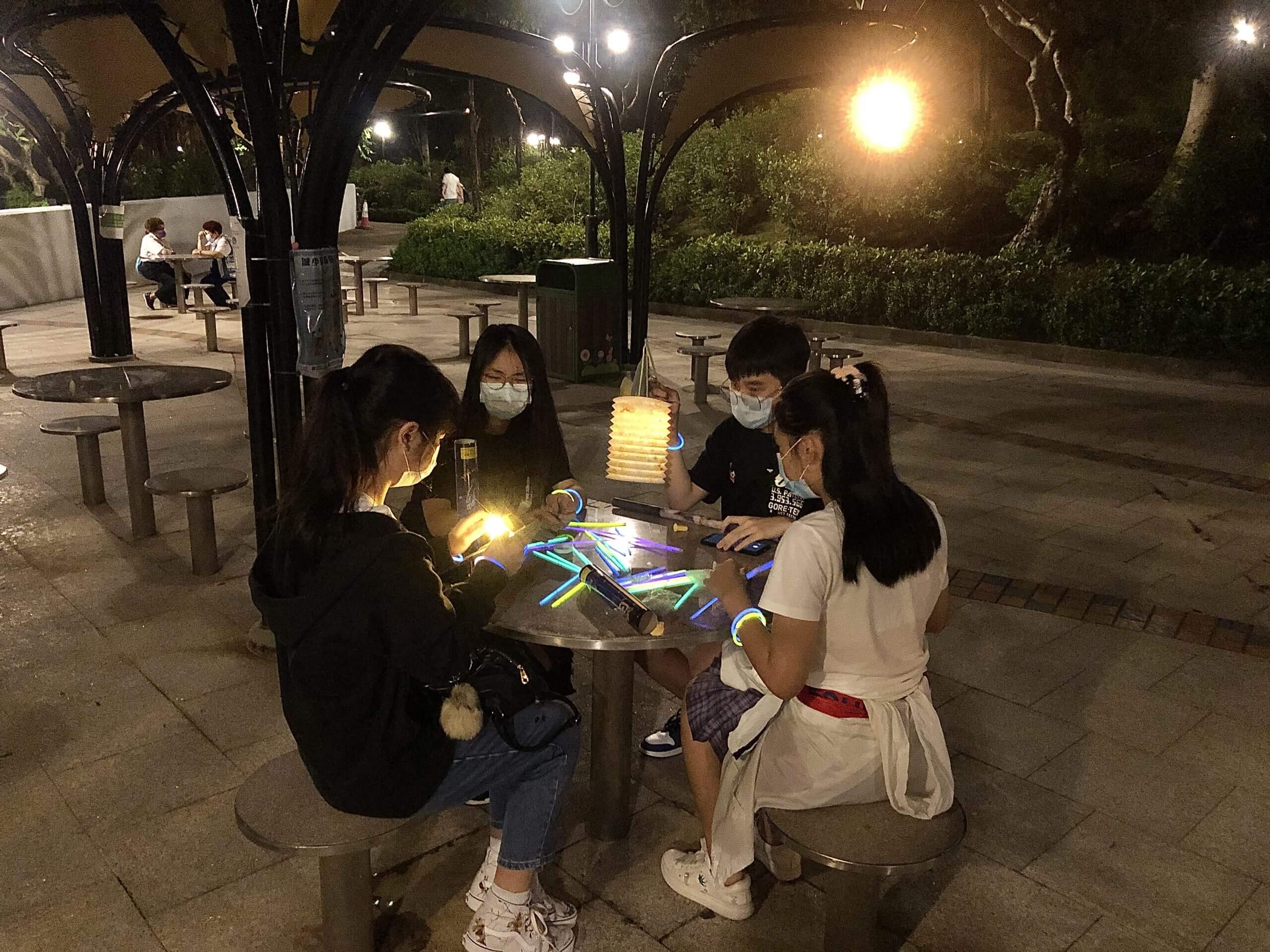 Secondary school students celebrate the festival with lanterns and glow sticks.
The government advises the public to reduce social contact and keep a distance of 1.5 meters from each other.