One year after siege of CUHK: Censored commemorative exhibition
By: Yoyo Kwok Chiu Tung

Edited by: Yanni Chow

2020-11-12
A commemorative event of the siege of the Chinese University of Hong Kong kicked off yesterday at the university's Cultural Square. However, the school censored the exhibition, including some of the most chanted slogans in protests. 
The one-week event was to serve as a reminder of the fire and blaze of the CUHK siege last year. The host, CUHK Joint Student Unions, said they hope people still remember what they've experienced and stand in solidarity with the CUHK students arrested for defending their campus. Right on their poster is the slogan "Never Forget, Never Forgive."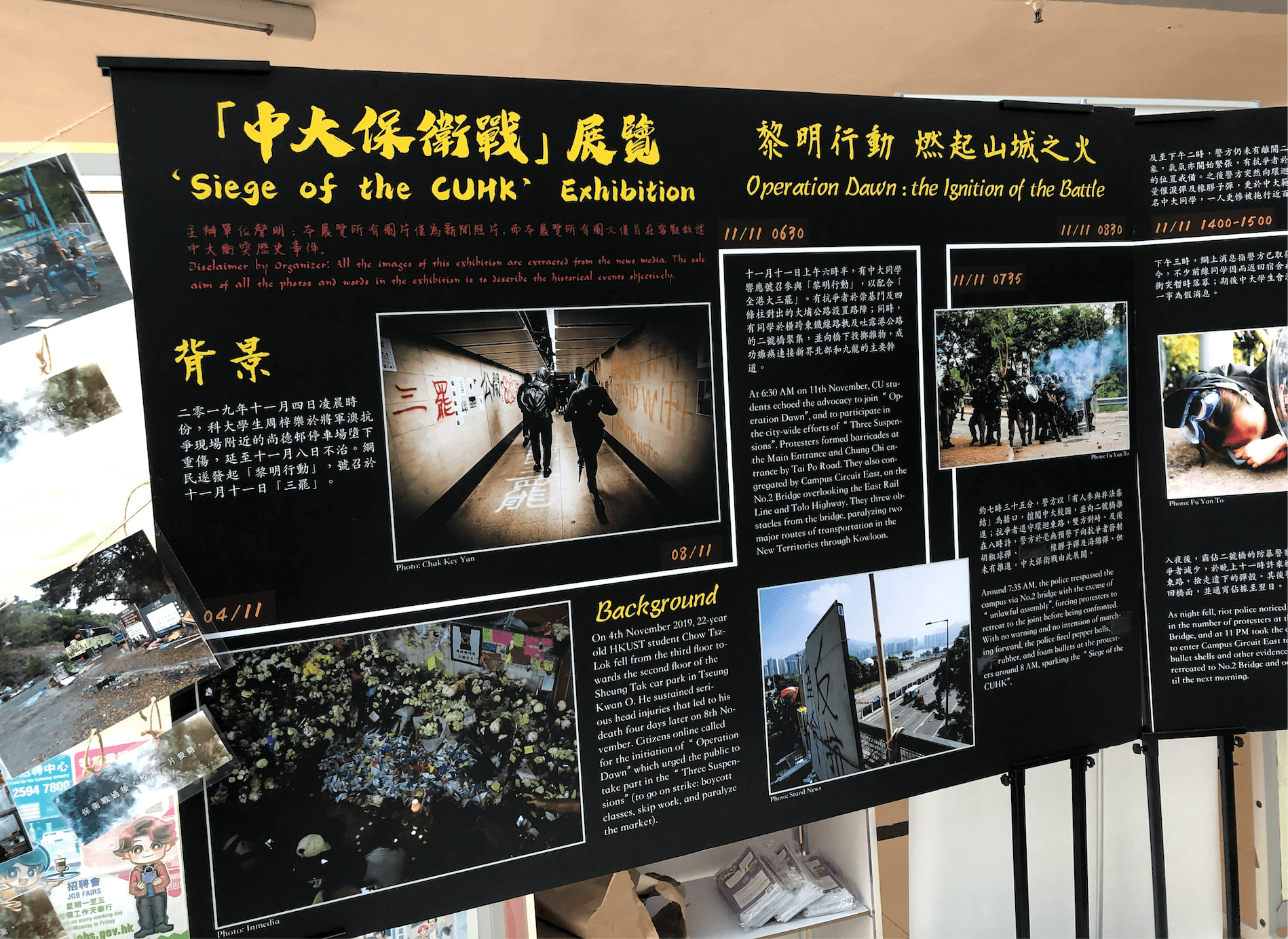 Security has tried to block non-CUHK visitors from entering campus and going to the exhibition, despite the exhibition open to the public. 
"I think it's a must for everyone to remember this history, not only for CUHK students, we should not forget the efforts made by others," said Cho Ning, 19, a student from CUHK who gave an alias as she was one of the protesters at the scene last year.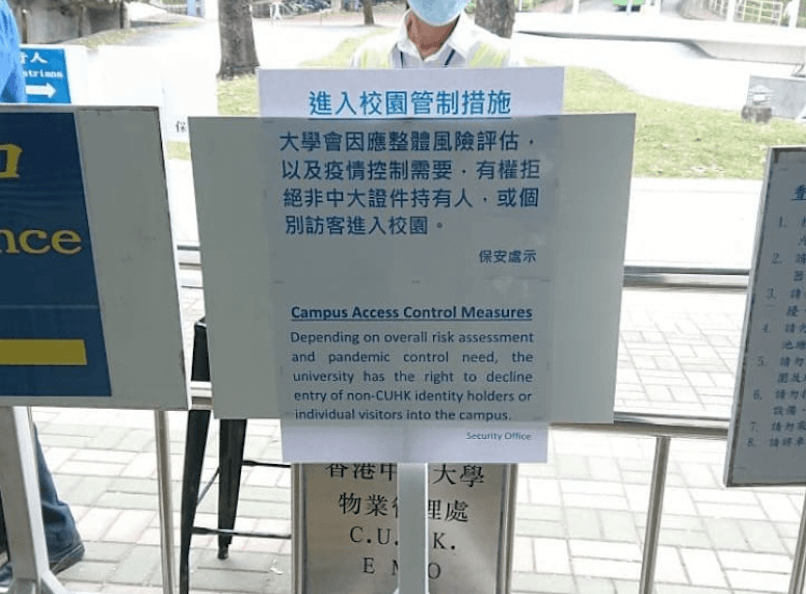 The exhibition shows photographs and placards displaying the timeline of last year's clash with police. Also, there are street booths that collect letters and cards from the public to CUHK students who were arrested, including some CUHK students who received asylum in Germany recently.
However, some sentences are being censored.
Common protest slogans such as "Liberate Hong Kong, Revolution of our Time" are covered by black paper. The Student Union of CUHK said they are being requested to remove such sensitive lines before the exhibition by the school administration. 
"The school office reminds us a few times. We can only cover those sensitive words with black tape," said Au Cheuk-Hei, chairperson of the Provisional Executive Committees of CUHK.
The censored lines are deemed by the government as a possible breach of the national security law.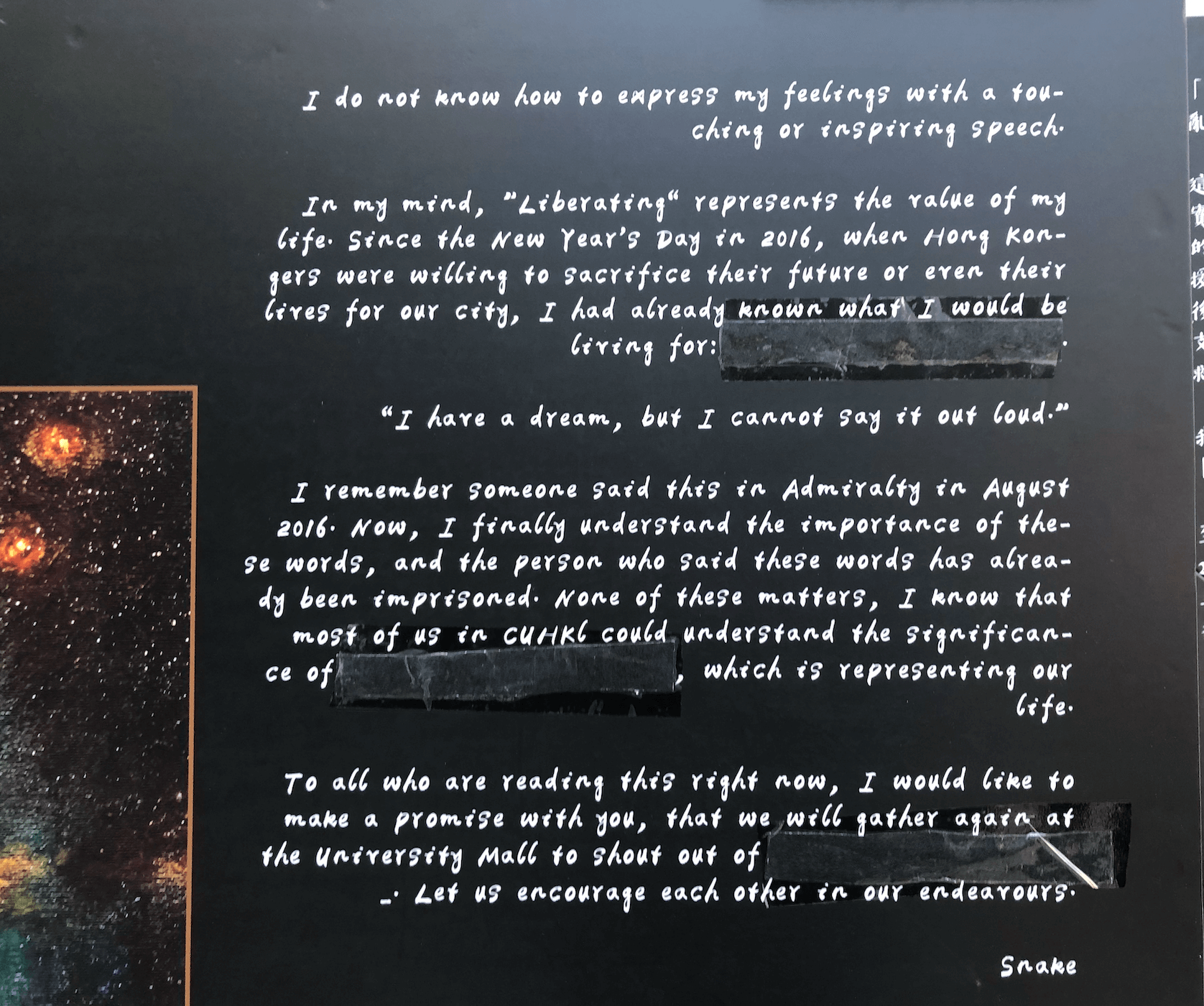 Besides, Mr Au has also challenged the police's multiple oppositions against an open letter from CUHK principal Rocky Tuan Sung-chi on Oct. 18, 2019. In the letter, Mr Tuan urged "independent investigation...outside existing mechanisms" regarding some arrested students who were allegedly mistreated by the police. The police, however, questioned the rationality of exceptional investigation.
"It's ridiculous for the police to blame his letter," Au Cheuk-hei said, adding that the letter was a "neutral speech."
Prior to the event, there were sensitive words sprayed at different places of the CUHK campus, but shortly the slogans were all covered by paint.