Hong Kong's frustrated medics still on shift despite fight over COVID, social unrest with government
By: Sara Cheng

Edited by: Han Xu

2020-11-21
For Dr. Arisina Ma, alarm bells rang in late August when Chief Executive Carrie Lam Cheng Yuet Ngor called critics of the mass screening "the so-called doctors and experts who had political calculations and intended to smear the Central Government and damage its relationship with Hong Kong." 
"I think this is the first time our officials used such strong comments about our usual, independent advice towards our healthcare policy," said Dr. Ma, the president of the Hong Kong Public Doctor's Association, the largest medical union in Hong Kong representing over 6,800 doctors and dentists.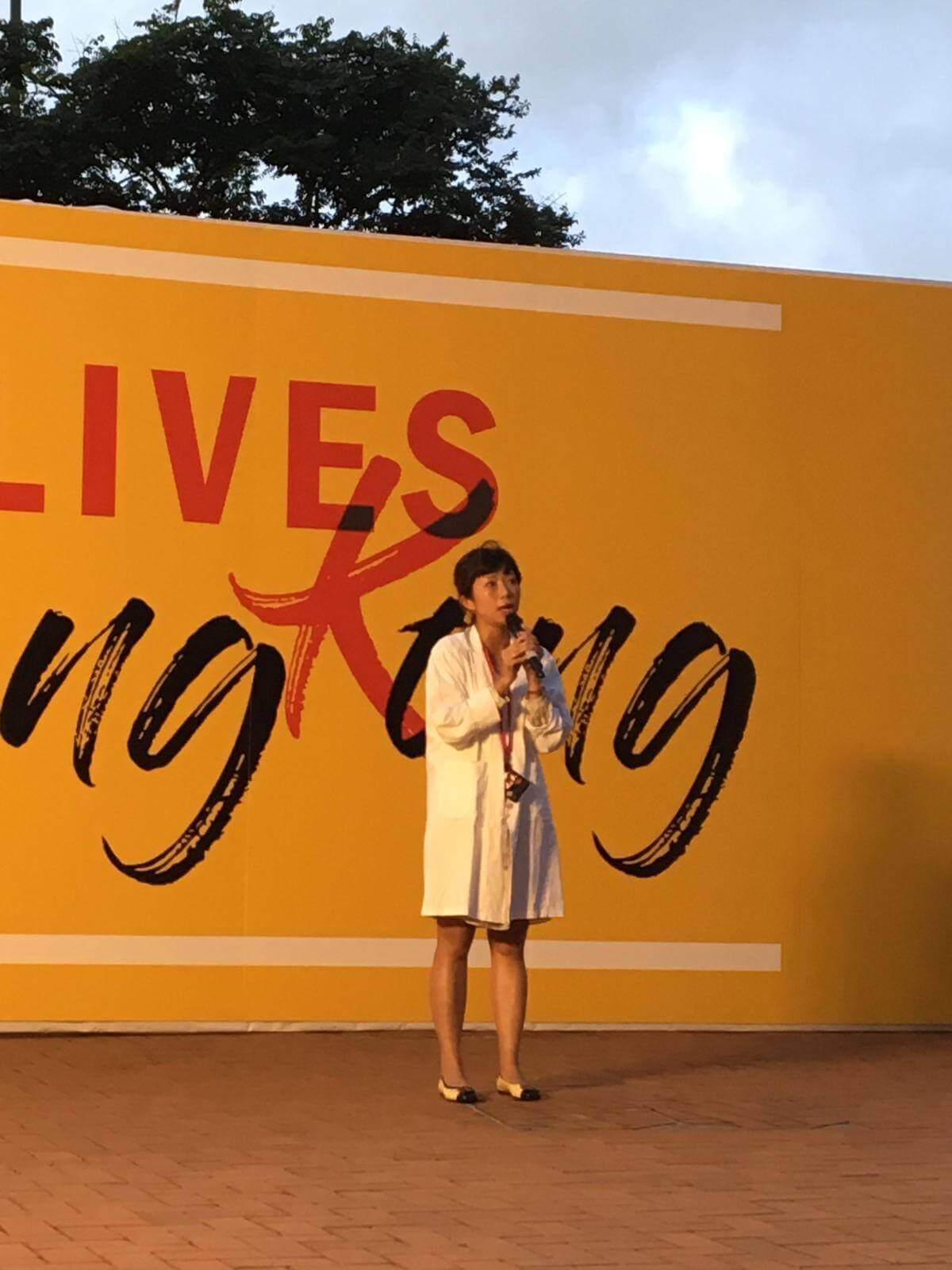 The turmoil last year -- from police brutality during pro-democracy protests to COVID-19 policies -- has amplified the frustration of public healthcare workers with the Hospital Authority and the government. Although the private sector might have greater autonomy and a lighter workload, medics are choosing to stay in the city's public hospitals.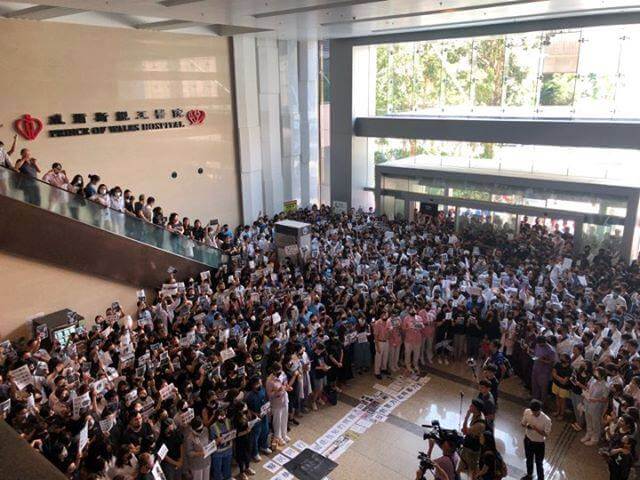 Dr. Ma often shared professional opinions that did not align with official COVID measures. In late August, she said in an RTHK interview that she did not see the necessity of the mass screening when COVID-19 cases were slowing down and raised concerns over the test's accuracy. She published an article on Stand News in September, saying that relying on the health code, which is a proposed government policy, could put the city at risk because of "false-negatives." Non-participants might be restricted from entering public spaces and thus have their rights harmed, she also wrote. 
Despite piled-up dissatisfaction, Dr. Ma continued working in United Christian Hospital, a public hospital operated by the Hospital Authority and the second public hospital she worked at after returning from the private sector in 2011. 
"I stay for my patients. I don't stay for my boss or employer. I don't have any passion for my employer," Dr. Ma said. 
As a geriatrician and rehabilitation physician, she said she did more than treat illnesses but also planned the lives of her patients. She would like to pass on her clinical experience and understanding of society to her juniors so that they could do the same.
"If I leave or stay quiet at this stage, there might be no other people to come up and give those logical or professional comments to our society," Dr. Ma said.
Anna, a health professional who did not want to be identified by her real name for fear that she would be targeted by the authorities, said in a text interview that although she found the HA "problematic", she would stay for now because of her "true passion for clinical work."
The pandemic has made her workload heftier as her management pressured her to catch up with patients who did not come to the hospital or rearranged their appointments due to the concerns about COVID. She said her speciality required her to examine the medical history and lifestyle of each patient and give in-depth instructions accordingly. Now, each consultation can only last for 15 minutes, she said, which is barely enough for her to mention the key points 
"The higher management says fast and quality -- we all know that -- and we can only lower our standard to achieve it. Quantity over quality, apart from exhausting the staff, it ultimately makes the patients suffer," Anna said.
Starting from April 1, the HA has frozen the wages of all its employees as the civil service has done, meaning there would be no salary increase despite their efforts to work amid the pandemic. Hong Kong recorded its fiscal deficit in 15 years in February.  
Instead, the registration fee of 13 healthcare professions would be waived for the coming three years, which is $230 for nurses every three years and $400 for doctors annually. The government said it would lose revenue of about $92 million. 
Medical workers can also apply for the Special Emergency Response Allowance or the Special Rental Allowance, two grants introduced by the HA in February. As of May, over 30,000 and 7,000 claims were received respectively, leading to a government's expenditure of about  $260 million. However, only employees working in "high-risk areas" for at least two weeks were eligible, excluding professionals like Anna who do not work in a fixed ward. 
Dr. Ma said, the chilling effect of the National Security Law, the wide-ranging legislation implemented in July that criminalises "secession", "subversion", "terrorism" and "collusion with foreign or external forces", has refrained professionals from critical comments on healthcare policies and even led some of her colleagues to emigrate to other countries. 
In August last year, hundreds of healthcare workers staged a sit-in across public hospitals after police rubber bullets severely injured the eye of a protester, who became an icon for the movement.
Chairperson of the HA, Henry Fan, said to the press the HA had no political stance, so hospitals were not an appropriate place for protests. Sophia Chan, Secretary for Food and Health, wrote in November that symptoms of tear gas and water cannon agents would "usually disappear after a short period of time." 
Motivation to stay in the HA was a desire to make systematic differences through her newly-formed labour union, said Winnie Yu, the founder and chairperson of the Hospital Authority Employees Alliance. For instance, an improved nurse-to-patient ratio -- between 2013 to 2018 -- one nurse working night shifts had to look after over 20 patients, a Food and Health Bureau document showed.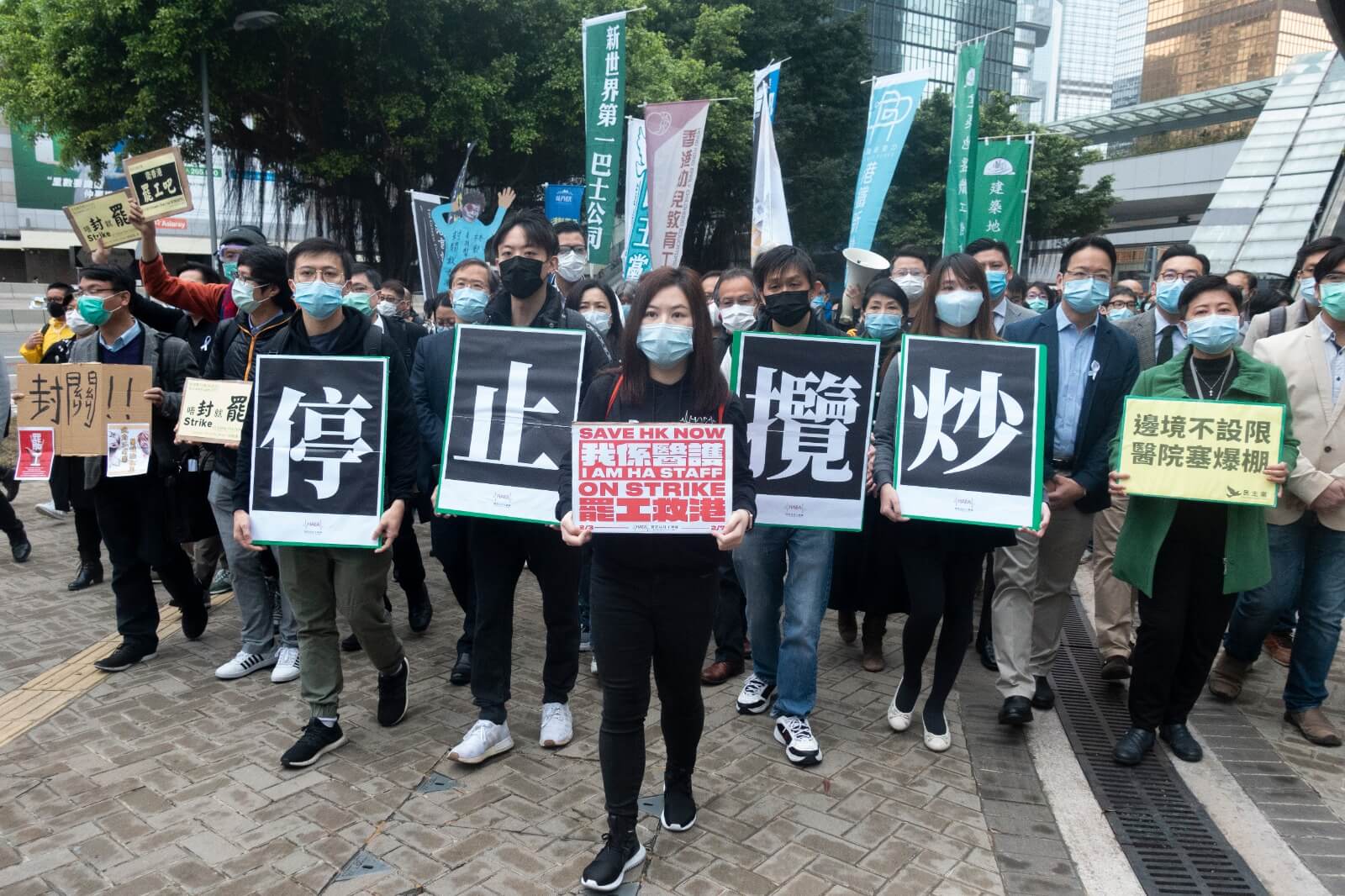 Ms. Yu, now working in the logistics of the HA, led an unprecedented strike in early February to push forward the requests of medical workers before COVID-19 swept the city. They demanded a sealed-border with China and sufficient isolation wards and personal protective equipment. About 7,000 public medical workers took part in the strike, and they were dubbed "evil medical workers" by pro-Beijing media such as Wen Wei Po.
During her seven-year time working in the ICU as a nurse before transferring to the head office, Ms. Yu said she wanted to quit because she no longer felt she could provide quality care to her patients under heavy workloads.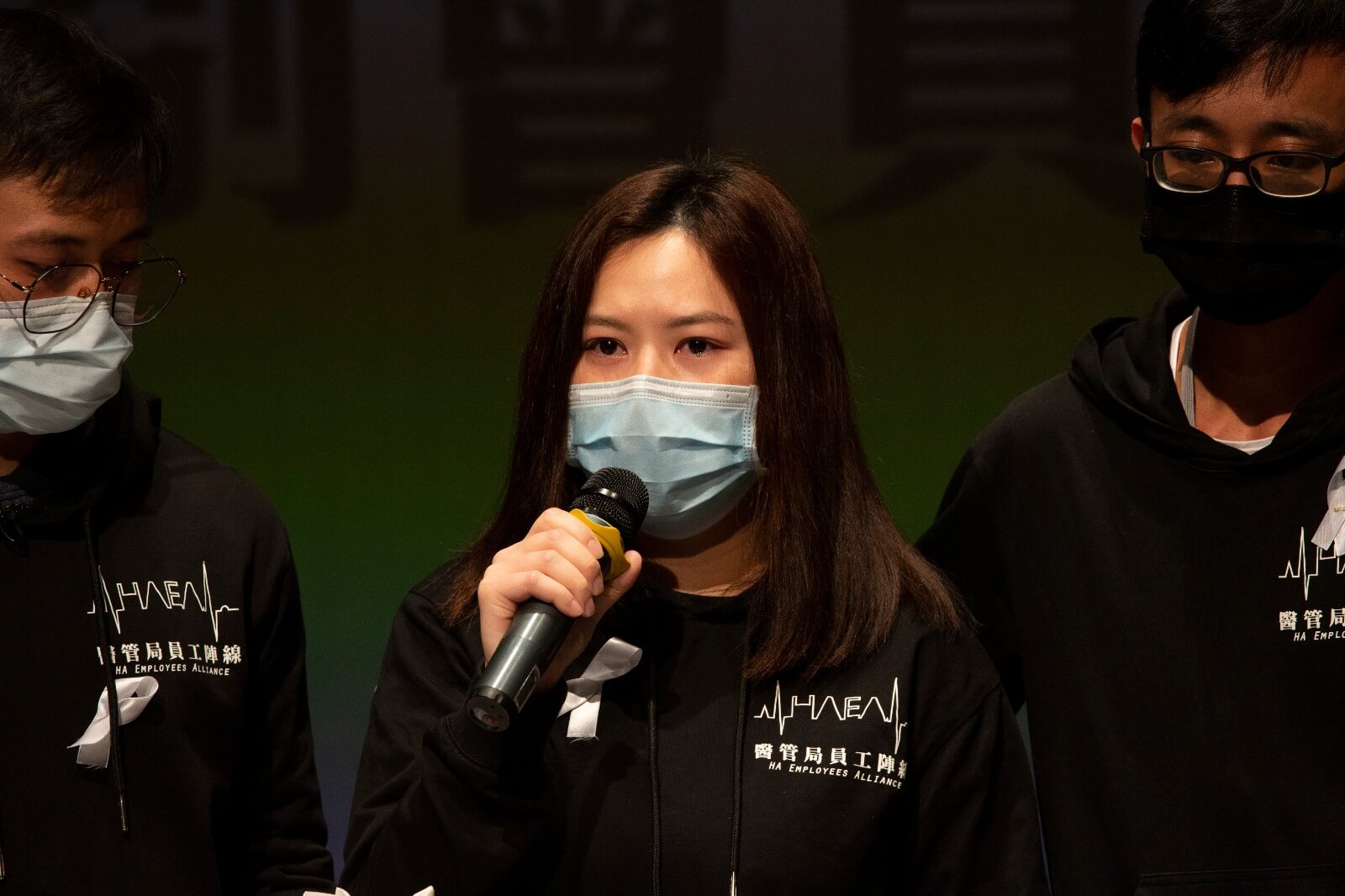 She said she did not expect any instant changes from the HA but saw the role of the labour union in progress. 
"[When] at least most of the colleagues agree that they have to rely on the labour union and act like one -- not necessarily a strike -- to pressure the management, there could be negotiations," Ms. Yu said.
Mr. Fan recently said in a press conference that the HA had obtained legal advice and would ask those who were on strike for explanations via letters. He did not reveal if there will be punishment.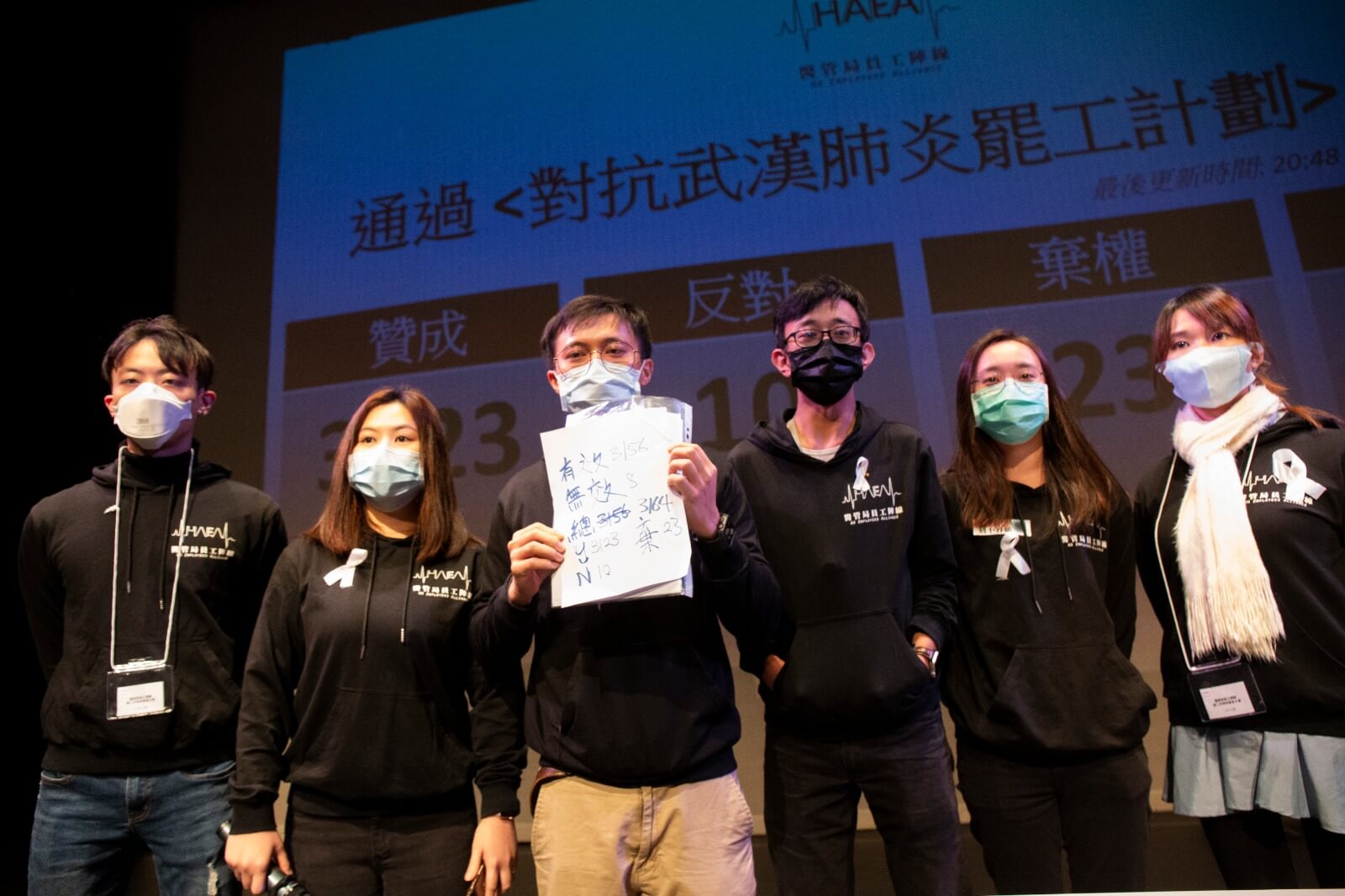 On the World Health Day in April, the Chief Executive said, "To medical workers who have resisted the epidemic from spreading and fought it for the past three months, including frontline workers in every unit under the Department of Health and the HA medical workers who take care of their patients dedicatedly and wholeheartedly, I am here to express my sincere gratitude."
She also gave a round of applause to pay tribute to medical workers with other officials in a 30-second video posted on Facebook the same day. 
In March, Dr. Ma worked in the "dirty team," a group of medical workers dedicated to treating only COVID-19 patients, for four weeks when the second wave approached. She was stressed at the beginning and moved away from her family. 
The next time she joins the team will be in November or December, which she described as "the worst time of the year" because of the winter surge. "We are not sure what will happen when COVID mixes with all those chronic situations," she said.