China's online college cheats offer Zoom babysitting during pandemic
By: Cai Zhiling、Chen Wantong、Dong Shuer、Wang Heyu

Edited by: Sara Cheng

2021-02-17
China's academic cheating agencies that write college essays for a fee are cashing in by offering Zoom babysitting services. Ghostwriters would attend online classes and write the exams so that customers don't have to do anything at all. 
Search "ghost-writing" on any Chinese social media platform and you will likely end up with a bunch of commercials for so-called ghostwriters. These are companies or self-organised teams which charge a fee for writing academic papers and assignments. Customers only need to provide information about subject requirements and the due date of the work. The ghostwriters then do the work but get none of the credit.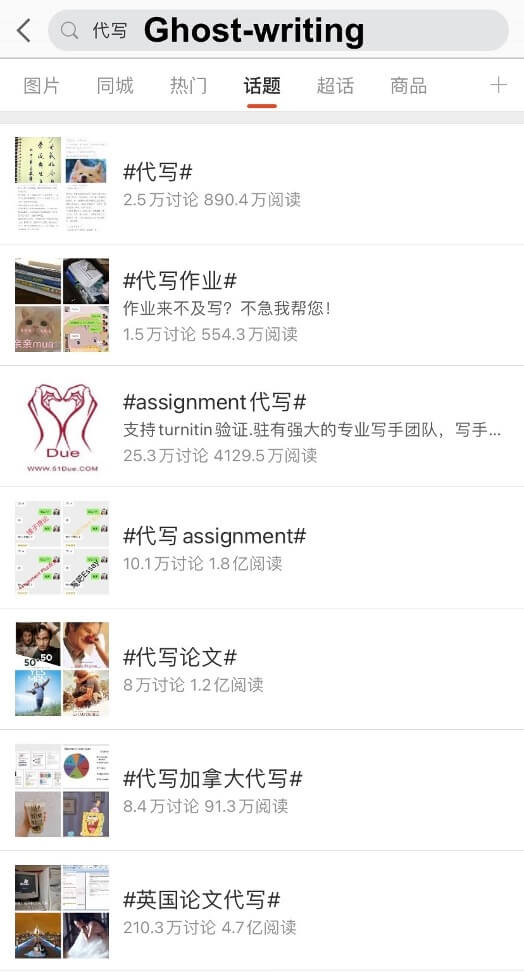 We contacted agencies that do virtual exams for students via text messages. One agency, Giant GPA, for example, comes up with a package price of $1699 US dollars for writing essays, attending Zoom sessions and writing the exam with the camera switched on. That works out at more than $13,000 Hong Kong dollars, about a third of the annual fee for an undergraduate degree in Hong Kong.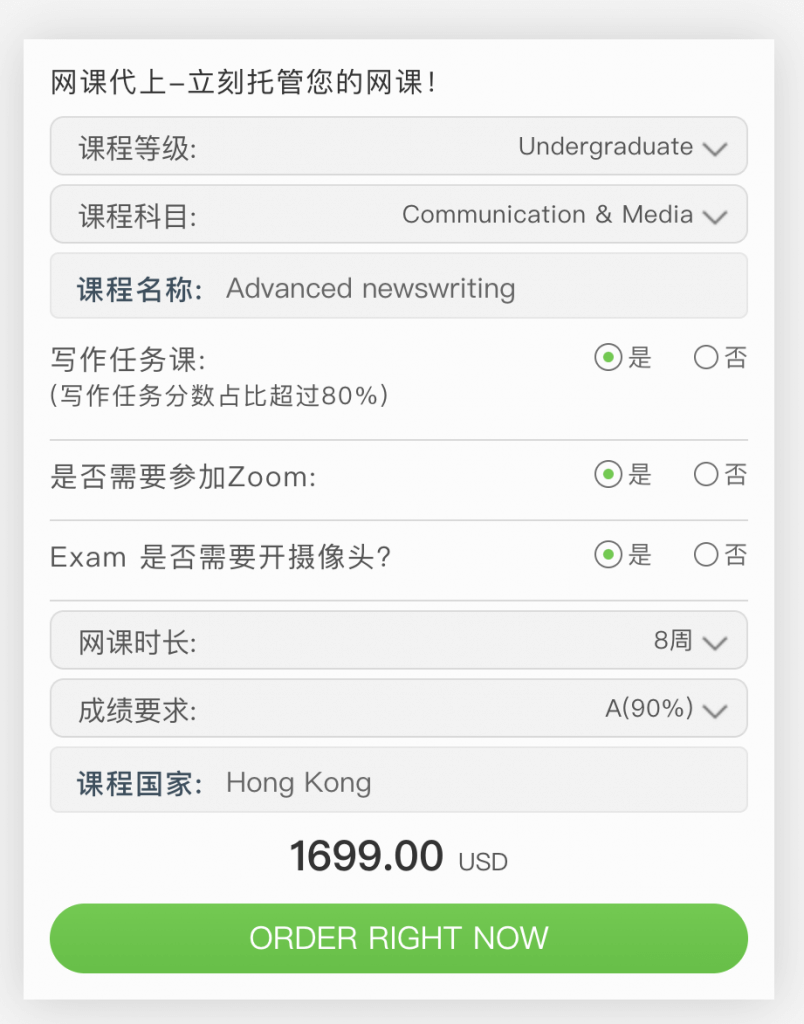 Another essay mill, TOP gave a quote of  6,500 to 7,500 yuan (HK$7,780 to HK$8,977), with a guaranteed 60 marks in exams and a B-, or 80 marks for online classes. If the online exam is under invigilation, the client would have to take pictures of the questions and send them to the tutor, who will stand by and respond simultaneously. "Make sure you pay attention to the angle ( at which the photo is taken)," the agent reminded The Young Reporter. He added that TOP would generally not attend Zoom classes for clients. 
Another agency, Finger would charge 1500 to 2200 yuan (HK$1,795 to HK$2,633) for a group project, two written assignments plus a final exam. The same ghostwriter would do all the work for the course. Clients, the agency promised, can get a full refund and if they get anything less than a B grade. 
The agreement and payment are all done online. Giant GPA uses an auto-fill form to collect orders. The form generates an estimate. Clients then have to provide a WeChat QR code and a personal Tencent QQ number so that the agent can contact them. 
What used to be a covert business has blossomed into an entire industry over the past 10 years. But behind its prosperity are the high prices for academic dishonesty and legal problems. 
Between 2009 and 2019, the number of Chinese students studying overseas snowballed from just under 229,000 to more than 700,000.
Joey, who doesn't want to reveal his full name, became a ghostwriter after graduating from a university in the Bay Area in California. He couldn't find a job so he and a few friends formed a ghostwriting team. He said his customers hire ghostwriters because they were "too lazy" to finish their homework but still wanted satisfactory grades.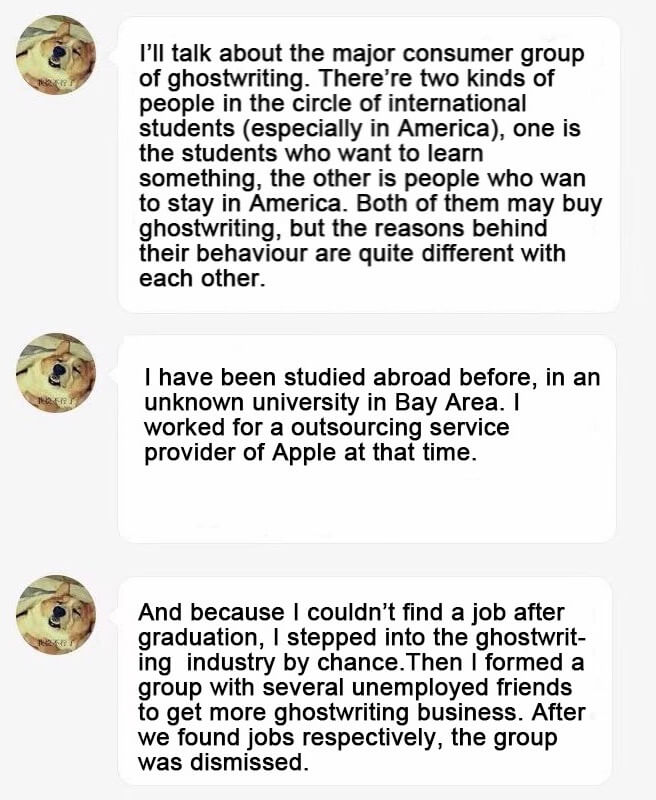 An organised industry
A typical ghostwriting business includes customer service staff, recruiters and ghostwriters.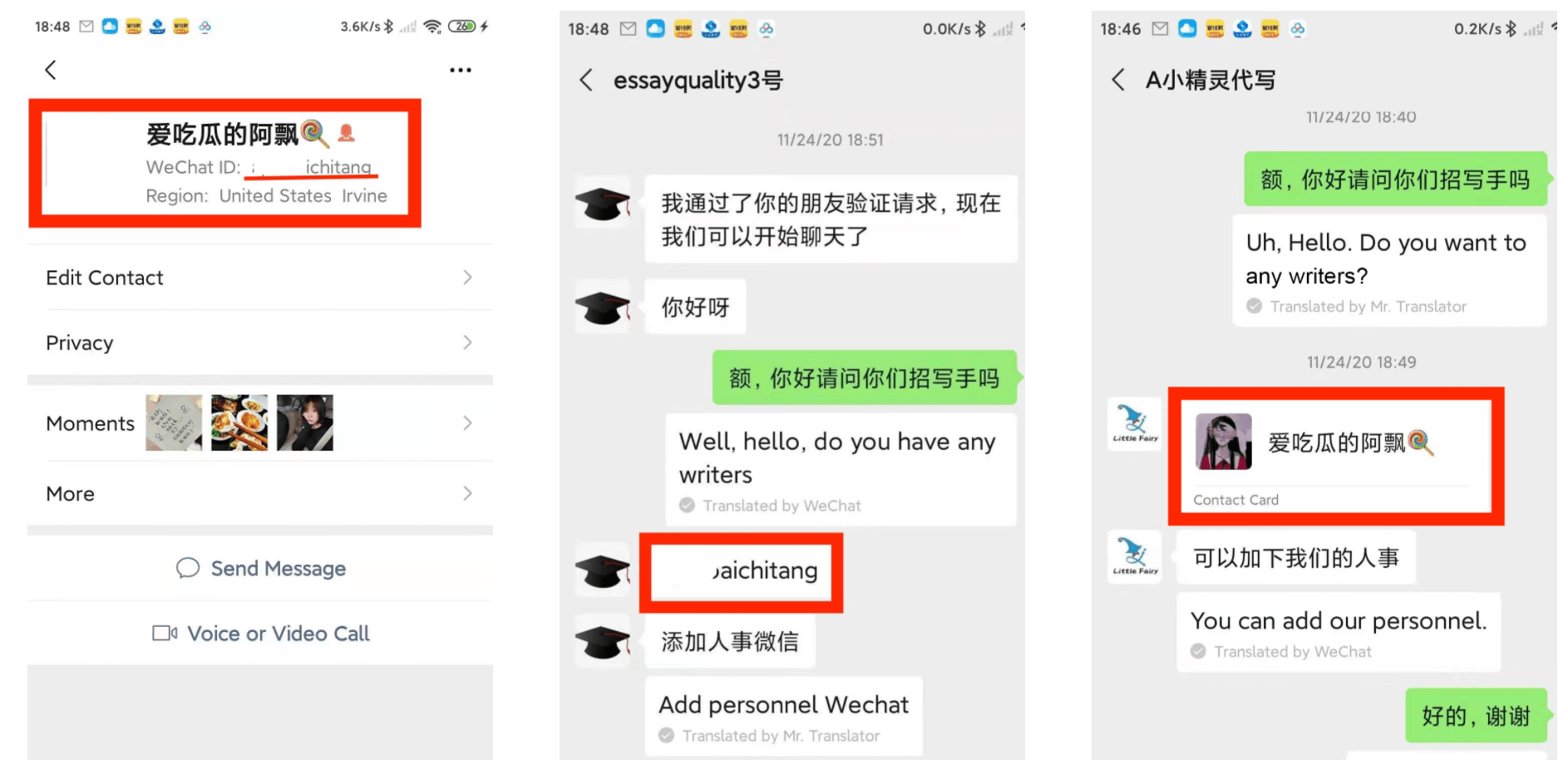 We chatted with the customer service from two ghosting websites, Essayquality and LittleFairyEssay. The WeChat ID of the recruiter for both websites is the same.  DomainTool shows the two websites have similar IP addresses and locations.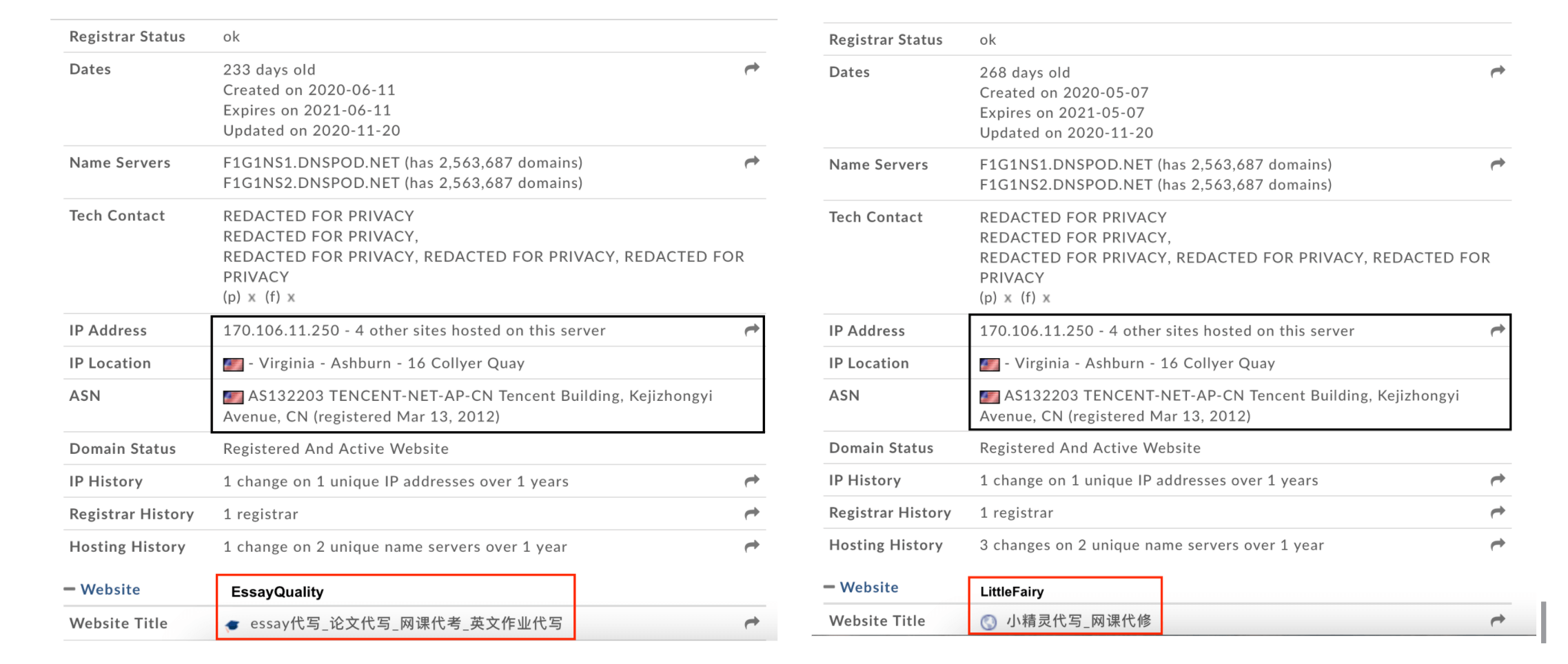 To become a ghostwriter, a person only needs to promote his or her skills on social media. Students looking for a ghostwriter can, for example, search #international student on Weibo and write down their requirements. Potential writers then respond with their academic transcripts. If both sides are happy, they make a deal. People with academic credentials and are willing to ghostwrite, also called "shadow scholars," can form a writing agent or team.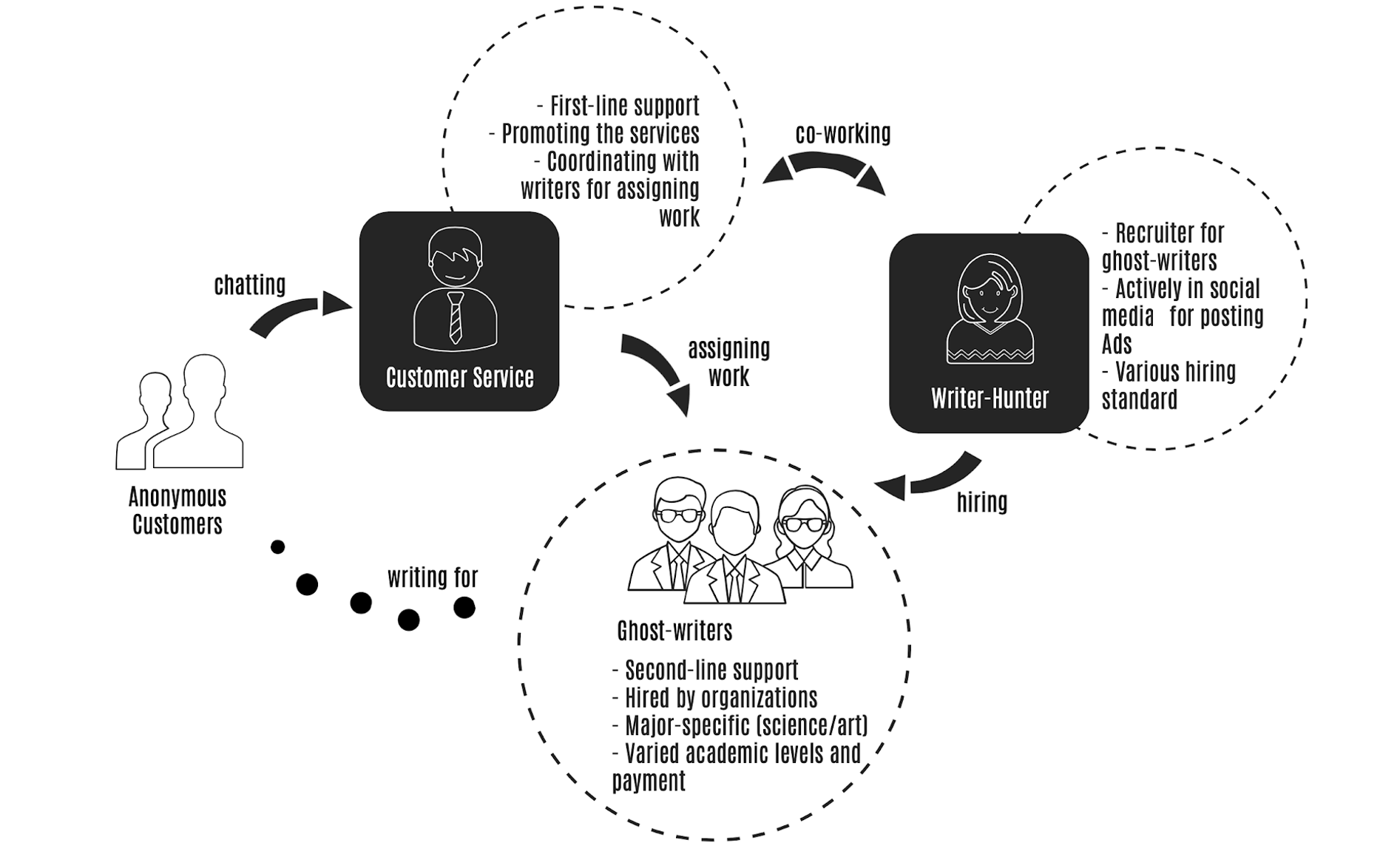 They usually offer different levels of services. The minimum is a piece of original work that will not be detected as plagiarism by the commonly used college application, Turnitin. For science subjects, the ghostwriter needs to demonstrate knowledge learned during the course. One agency, Student League, promises to help with any follow-up questions for seven days after submission of the assignment. They also promise a full refund if the client fails the assignment or gets dissatisfactory feedback.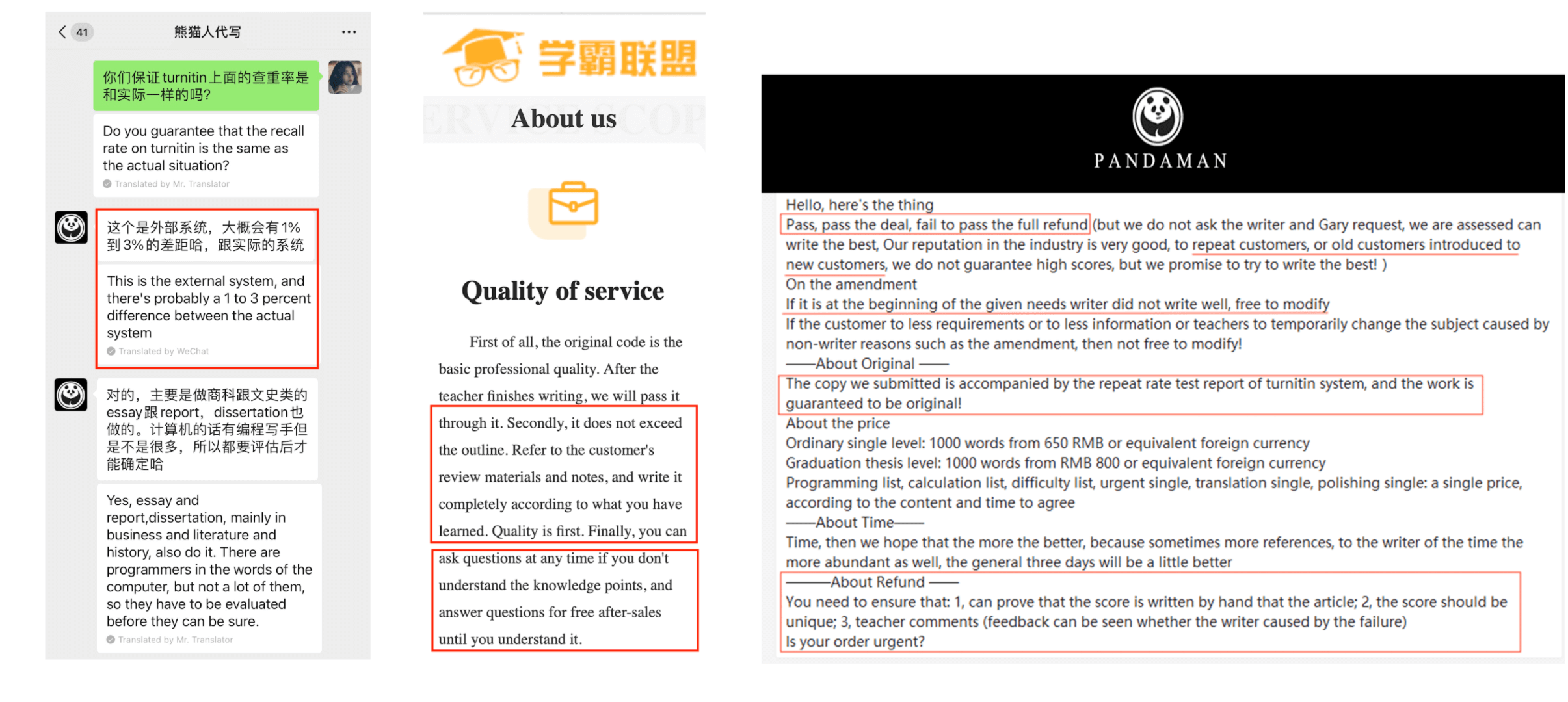 Apart from advertising on websites, ghostwriting agencies also set up social media accounts to share their success stories. 
Cynthia, a Chinese student doing a double major in biological science and criminology at the University of California, said some Chinese students would recommend agents they've hired and share their name cards on WeChat. The agencies also follow target students on Instagram and show them examples of good work.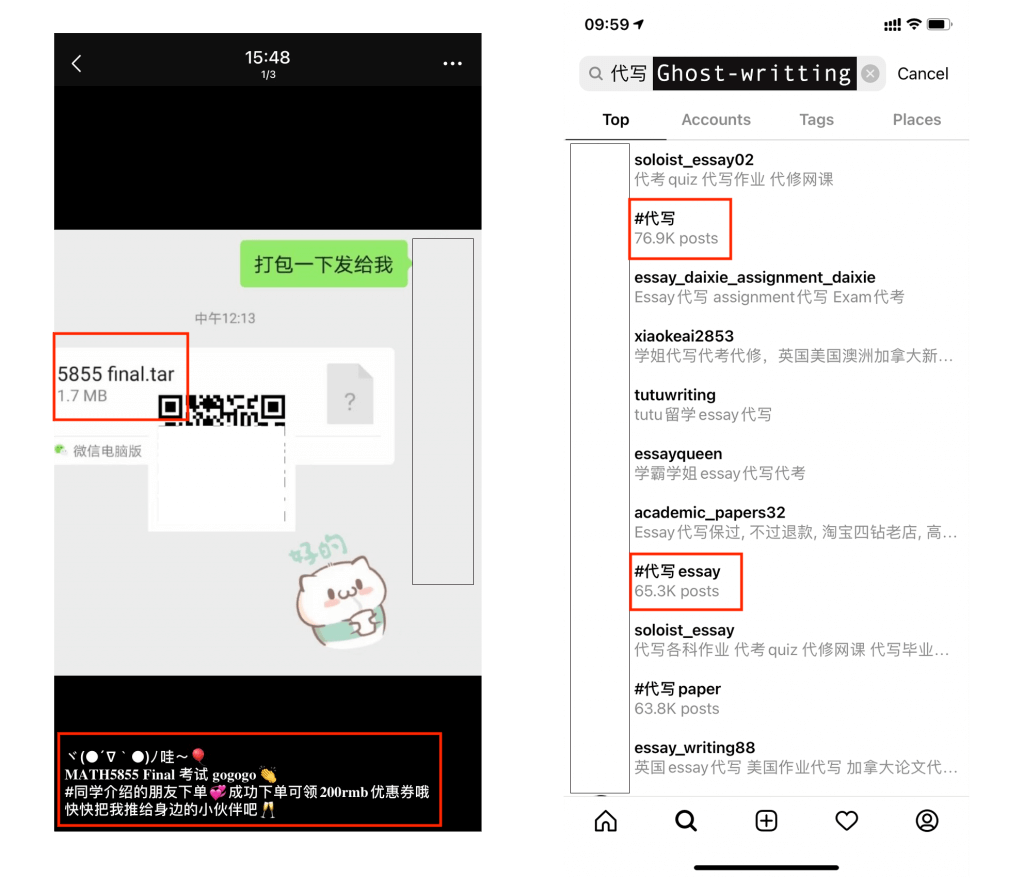 A 1,000-word paper costs between 600 and 800 yuan (HK$720 to HK$960), depending on the level of difficulty of the task. For computer programming homework, the fee may go up to as high as thousands yuan. Customers pay online using PayPal, Visa, Mastercard and WeChat.
Case Study: Student League and Simpletense
Student League and Simpletense are two well established ghostwriting sites. Simpletense mainly writes English papers with its sub-company working on science subjects, while Student League focuses on science and finance.
On its website, Simpletense claims their writers are English native speakers and US or Canadian university admissions officers. We tried to apply to become essay-writers for Simpletense but got rejected because we "were not native speakers." SimpleTense claims to be an educational institution officially registered in the US.
Its sub-company StudyGate got seed funding of US$350,000 (HK$2.714million) in 2017. Daniel Zhao, the CEO and founder of StudyGate, was previously employed at SimpleTense as an executive officer. We cross-checked the names of employees shown on the SimpleTense website versus those on the Linkedin page. None of them matches; the staff is based in the US, and the accounts do not look like fake or zombie accounts.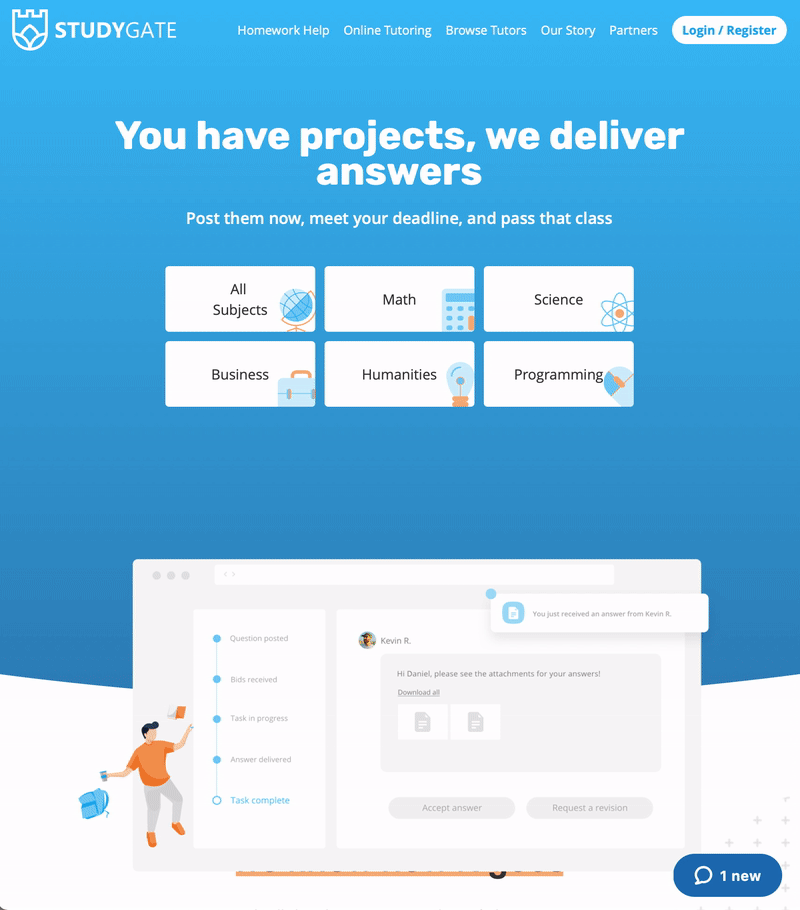 Student League claims their writers are mainly doctors from reputable universities all around the world. When we talked to a recruiter, she started the conversation by asking which college year we were in. We also searched for the company address shown on its webpage and found it does not exist. Instead, it pinpointed at the University of Southern California. The website was actually registered in Sichuan, China and operates under the Alibaba Cloud, the Chinese cloud computing services provider, according to its domain name.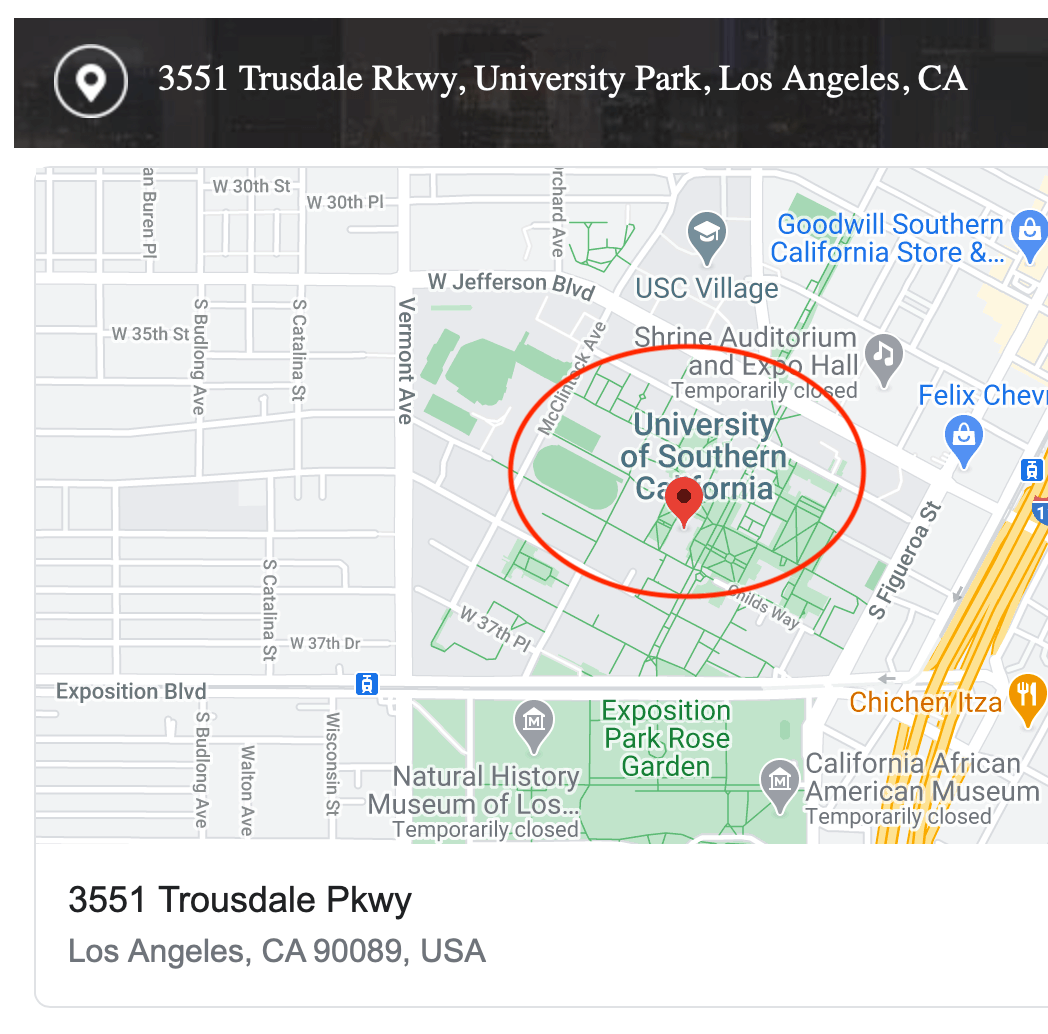 Most of these essay mills tend not to state explicitly that they provide writing services but brand themselves as "educational institutions". The pictures of the writers at SimpleTense were actually fashion models whose images and can be found using a reverse image search. We then looked for the writers' names on Linkedin and found that they did not work in the company.     
The risks for clients
There is no guarantee work produced by ghostwriters always makes the grade. Some ghostwriters may offer students poor quality essays or hand in the same piece of work to several people to save costs. Either way, their clients would likely fail. Scammers could also claim to be ghostwriters just to earn the deposits, but return no essays and blacklist the victims to get away. 
Last September, Rae, 21, a Chinese accounting student studying in Europe, was trolled about a crucial exam by a ghostwriting agency called Essay Master. Rae became acquainted with the agency's staff in a WeChat group of Chinese students abroad. Later, tempted to get a higher grade in a financing test, Rae paid 1,300 yuan(HK$1,559) for their services. But to her surprise and anger, the ghostwriter only scored  9/100 during the three-hour-long exam. The agency apologised for "not knowing their ghostwriter could not handle the test" but agreed to reimburse Rae with only half of the fee. "I won't pay for any ghostwriters anymore," Rae said.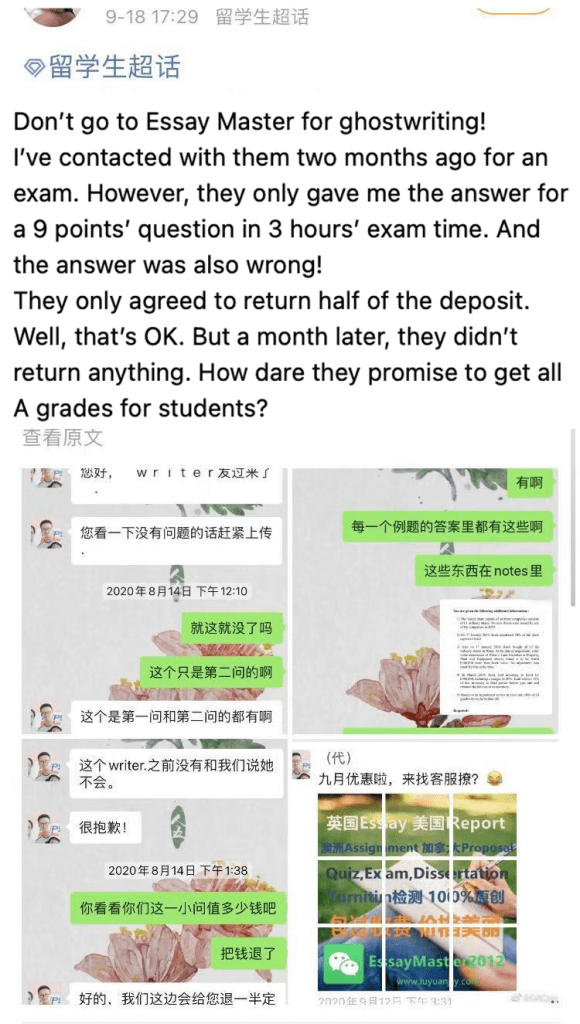 In China, there is no law to protect the rights of the clients of ghostwriters agencies. According to the Copyright Law of the People's Republic of China, the right of the person to his or her academic work is not transferable. Ghostwriting also violates the Regulations of the People's Republic of China on Academic Degrees. The court may also not recognise the contracts between ghostwriters and their clients.
Universities at a loss with ghostwriters
Students and faculty alike are at a loss on how to clamp down the cheats.
"I don't think it's fair towards other students," said Nick, Mykyta Turpitka, a Ukrainian student majoring in business information management at the University of California, Irvine. "Other students might not be able to have access to such a resource, they might not be able to afford it. I see how this can affect my peers and my friends," he said.
The Prevention and Treatment of Academic Misconduct in Colleges and Universities in China warned in 2016 that "anyone involved in transactions of academic essays, including both ghostwriters and consumers, will be penalised. The students involved may lose their degrees and the qualifications they need to be conferred a degree."
But universities are met with difficulties in distinguishing the pieces written by ghostwriters. "Turnitin, a plagiarism detection service to which many college students submit their work, can only conduct two types of copying: intragroup checking and public database checking," said Mr. Wang Qiang, an assistant professor at Hong Kong Baptist University. "Turnitin can check for similarities between essays, but it cannot tell whether it's written by a ghostwriter, " he added. 
Even when the system or teachers identify ghost-written work, these one-stop agencies provide solutions to save students from penalties. One of them, FindingSchool, helped a student who got caught to write a letter of appeal to the professor and held rehearsals of hearings. The student ended up with academic probation but was not suspended.