Use of Nanotechnology in Chinese Medicine Offers Hope in Breast Cancer Treatment
By: REN Ziyi David

Edited by: Jenny Lam

2021-05-11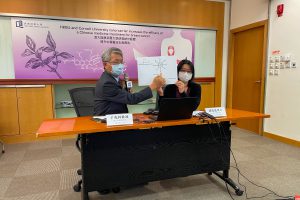 A new method of delivering Chinese medicinal herbs may be useful in the treatment of a particularly aggressive form of breast cancer, researchers at Hong Kong Baptist University and Cornell University have found.
Speaking at a press conference on Tuesday, Dr Kwan Hiu-yee, an assistant professor at  Hong Kong Baptist University's School of Chinese Medicine explained that gambogic acid, which is derived from a local plant is useful in cancer treatment. But it does not dissolve easily in water.  That limits its use in traditional Chinese medicine since most herbal treatments have to be boiled.
Researchers tested two groups of mice with triple negative breast cancer cells. One using nanocarriers to deliver gambogic acid and the other without. The result showed that the weight of the tumor among the first group of mice decreased 67.6% on average after 17 days. The concentration of the drug was also three times higher two hours after delivery using nanocarriers. The new therapy also has reduced side-effects on the liver. 
"Treatment of triple negative breast cancer has not been effective and is very expensive, said Prof Bian Zhaoxiang, professor in Chinese Medicine Clinical Studies at  Hong Kong Baptist University. The nanocarriers may offer hope in effective treatment in future. 
But the cost for one dose of targeted therapy is between $2000 and $5000 US dollars.
"The triple negative breast cancer takes up 25% among all the breast cancer," said Prof Bian.
"This new method for drug delivery with reduced side effects may help more people in future, " Prof Bian added.