Top student in this year's Diploma of Secondary Education exam says " Hong Kong Is My Home"
By: Jayde Cheung

Edited by: Jenny Lam

2021-07-21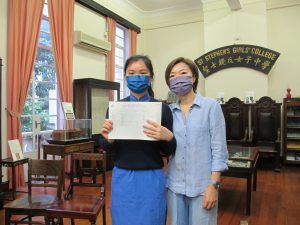 Seven students achieved the top score of 5** in at least seven subjects in the 2021 Hong Kong Diploma of Secondary Education. Three of them also have 5** in an eighth subject, making them so-called super scorers.
Students could check their results on the Hong Kong Examinations and Assessment Authority website from 7 am this morning. 
The top students are from Diocesan Girls School, St. Stephen's Girls' College, St. Mary's Canossian College, Po Leung Kuk Tang Yuk Tien College, Queen Elizabeth School and Ying Wa College. 
Chan Lok-yung, the first student from St. Stephen's Girls' College to get the top score, wants to study medicine at the Chinese University of Hong Kong. 
"Hong Kong is my home, I grew up here. I love this place," Ms Chan said.
At school, she liked to investigate social issues as a Chinese debate team member. She recognised the importance of liberal studies in the DSE curriculum. But from next year, the Liberal Study paper will require candidates to provide short answers or multiple choices only . Students will no longer need to make any personal judgment.
"Cancellation of the contents (liberal studies) doesn't mean we will think less critically. We can learn it through other means, such as reading the news from different perspectives," Ms Chan said. 
This year's DSE candidates spent one-and-a half years on online schooling because of the pandemic, out of the three-year exam preparation. 
Ms Chan was upset because she was not able to meet her schoolmates, but her teachers and friends played crucial roles in her exam preparation. "My friends and I studied as a group so that we could supervise each other and share our studying progress," she said.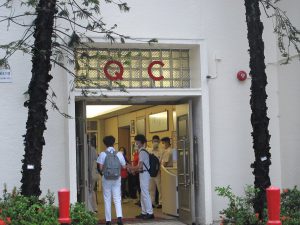 Of the 49,976 candidates, who sat the DSE exam this year, 42.3%, or 21,139 students met the general entrance requirement for local undergraduate degree programmes. 
But according to the Education Bureau website, there are only 15,000 first-degree places at the eight local universities funded by the University Grants Committee. That means on average, 1.4 candidates will compete for each undergraduate placement.
Miss Wong, who only disclosed her family time, is not happy with her results. She plans to continue her study outside Hong Kong.
Another student, Ms Lau who also only gave her surname, plans to study physics in the United Kingdom. "I think the learning atmosphere is better there than in Hong Kong," she said.
Samuel Chan Sze-ming of an educational consultancy, Britannia Studylink, said the number of students going to study in the UK this year has increased by one-third compared with last year. 
"Everyone agrees that the current political situation is not suitable for studying,"  Mr Chan said. "People have a better understanding of the UK because Hong Kong was colonised by the UK for years." 
He added that the famous education system in the UK attracts families to move there.