Art museum M+ showcases two artworks by Ai Weiwei that have 'complied with the law', holds back controversial photo
By: Nicholas Shu

Edited by: CHUNG Yee Men

2021-11-12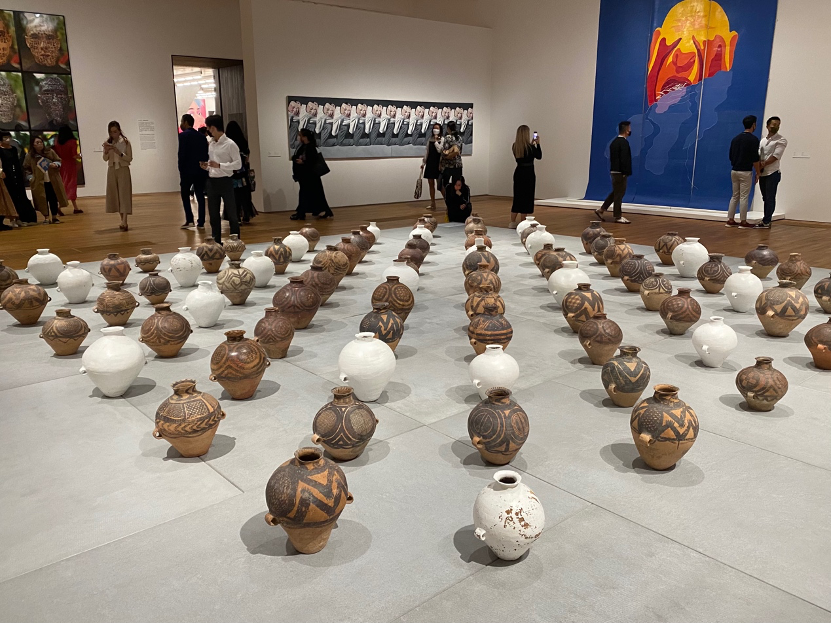 The M+ museum did not shy away from displaying artworks by the controversial Chinese artist Ai Weiwei on its opening day today, despite previous accusations that one of Ai's works violated national security law.
The exhibition currently features two of Ai's works, including Whitewash, a series of ceramic urns, some painted white, and Chang'an Boulevard, a video that captures the environment of Beijing from a rural village to the business district and the political core.
 "By displaying, adapting and destroying historical artifacts, Ai reinstates, transforms, and also questions the value placed on objects, in a criticism of both politics and tradition," M+ Museum wrote on its website.
These two pieces will not be taken down, and curators will stand up for core artistic values and principles "within limits," Tang Ying-yen, chairperson of the West Kowloon Cultural District Authority, said at a press conference on Thursday. 
"We will uphold and encourage the freedom of artistic expression and creativity," Tang said. "On the other hand, our dedicated curatorial team will ensure the exhibitions comply with the law, including the Basic Law, the national security law, and all other laws in Hong Kong."
He confirmed that one work in particular, Ai's photograph Study of Perspectives, which drew criticism from the pro-Beijing camp, will not be shown to the public in the museum opening. 
"Any display of the photo would require further review," he added.
The photograph depicts Ai raising his middle finger at Tiananmen Square in Beijing, the site of a crackdown on pro-democracy protesters on June 4, 1989. 
The picture of this artwork has also been removed from the M+ website. When searching for the work, it returns a description of the piece without the image.
John Batten, president of the International Art Critics Hong Kong, said the decision is necessary for the museum's survival.
"It is self-censorship," Batten said. "They need to balance what is important and what they can get away with."