Carrie Lam emphasises the central government does not "owe" Hong Kong citizens universal election
By: Hamish CHAN

Edited by: Vikki Cai Chuchu

2021-11-25
Chief Executive Carrie Lam Cheng Yuet-ngor said the central government does not "owe" citizens universal suffrage stated in the Basic Law in an enrichment talk to Citizenship and Social Development teachers today.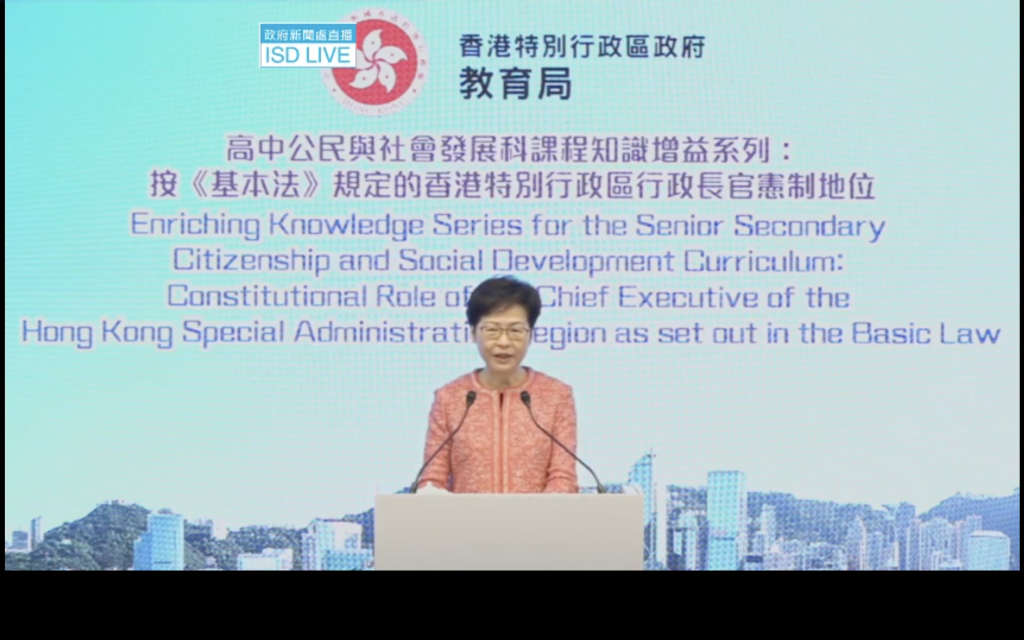 The subject "Citizenship and Social Development" was established last year to replace the core subject "Liberal Studies", which has been accused of leading to social unrest in 2019.
The new subject requires teachers to use "reliable and authoritative sources" to teach. For example, government documents and official quotes.
She said some democrats have misled the public to believe that the central government did not approve a universal election which is promised in the Basic Law.
Lam said the central government did approve the Hong Kong government to political reform three times.
She suggests that the increasing number of members in the election committee of the Chief Executive shows the central government is striving for democracy.
Lam said the proposal of "831 decision" allowed the public to have a universal election.
The "831 decision" allowed universal suffrage with a "nomination committee", which is similar to the current election committee, to nominate the candidates for the Chief Executive election before public voting.
"It was a very brave move by the central government but sadly it was banned by the opposition in the Legislative Council," said Lam.
She said the governor before the handover was also not elected by the public, and the central government wants to keep the system the same as before the handover which citizens are used to.
"The idea that the central government owes citizens a universal election is wrong," said Lam. "The British government did not give any say to Hong Kong citizens for choosing who is the governor."
Shum Pui-yee, a Secondary 4 student studying Citizenship and Social Development, said the above idea was already taught in her class.
However, she said it contradicts what she learned before in Liberal Studies.
This is the first time that the Chief Executive has hosted an enrichment event for teachers, and it is also the first time that an enrichment event for teachers has been broadcasted to the public, according to Jeff Sze Chun-fai, the Political Assistant to the Secretary for Education. 
An anonymous Citizenship and Social Development course teacher told The Young Reporter that Carrie Lam explaining the constitutional role of the Chief Executive gives an authoritative primary source to teach.
However, he questioned the objectivity of the source. 
He thinks that the Chief Executive should not be the one who explains this but the central government officials like the Prime Minister or the President should.