Hydroponics: how an alternative farming method is paving the way for sustainable agriculture in Hong Kong
By: REN Ziyi David

Edited by: Shameel Ibrahim

2021-12-10
26-year-old Ivan Tam Hoi-fung, starts his day in his small farm in Tai Wo, practicing a unique kind of farming. 
Tam practices a unique method of farming known as hydroponics - a method in which in the absence of soil, the roots of the plants are submerged in water to ensure essential nutrients reach the plants. 
This method also allows plants to grow on the water without soil, saves water and does not include any pesticide. 
Tam is the Project Officer of Hong Kong Hydroponics Company Limited and has been managing it since 2019. 
"A colleague and I can take care of the entire farm, and we produce one ton of vegetables every month," said Alan Yip, the Business Development Manager of the company.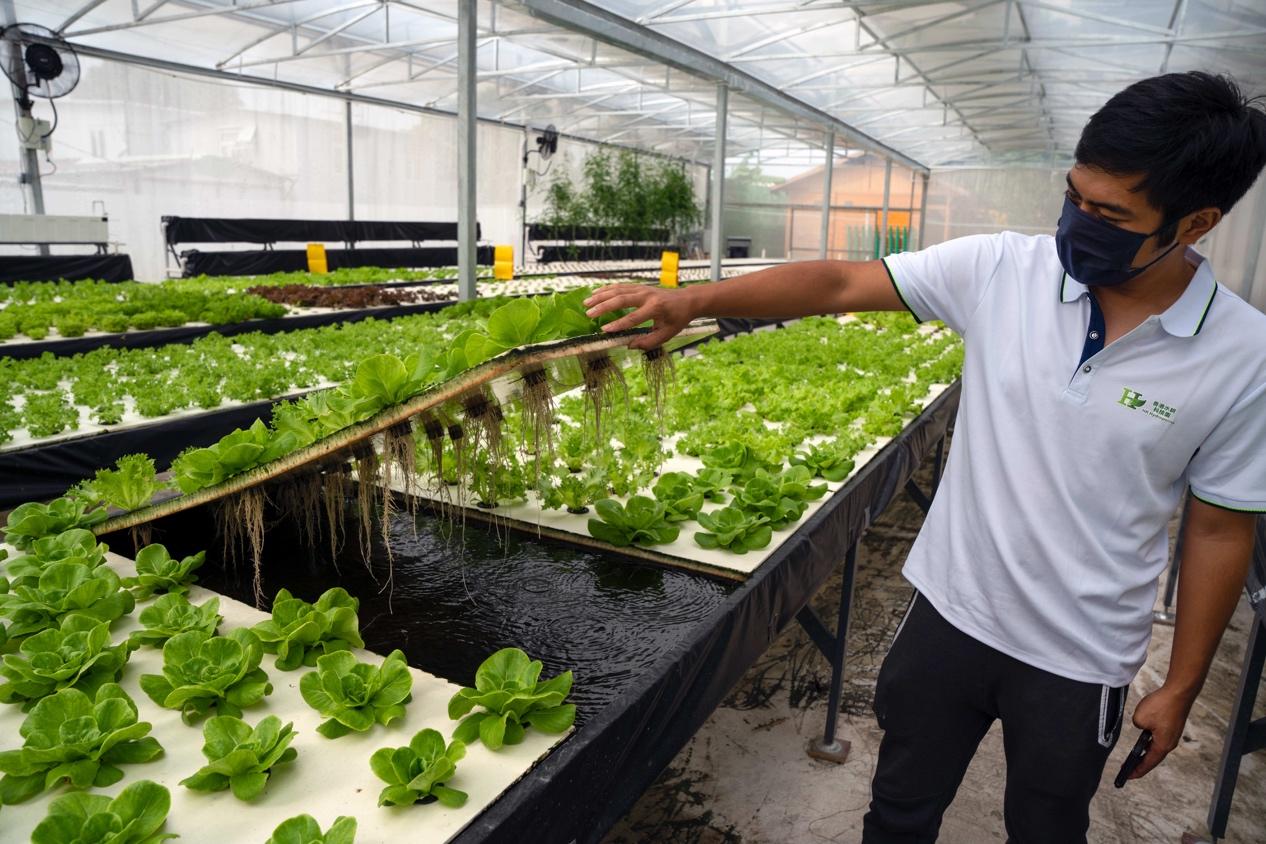 "From seeding and detection to harvesting and packaging, I do them all by myself," said Tam, who works in a 4000 square feet farm. The main products of the hydroponic farm include hydroponic vegetables across different seasons. For instance, salad vegetables are available in autumn, winer and early spring while Chinese vegetables are grown during the spring and summer. 
The farm was started by Jason Poon, the Chief Executive Officer of the farm. He has been in the field for eight years. He brought his experiences from the Netherlands to "establish a new Hong Kong hydroponic planting model", according to the company's website. He is currently the president of the Hong Kong Hydroponics Association promoting the idea of hydroponics in the city
The development of hydroponics in Hong Kong  came after the Agricultural, Fisheries and Conservation Department (AFCD)  set up a Controlled Environment Hydroponic Research and Development Centre (CEH R&D) to introduce and demonstrate hydroponic techniques and equipment to the local farmers. 
The centre, known as iVeggie, was launched in 2013 at the Cheung Sha Wan Wholesale Vegetable Market, marking as an official highlight. 
Since the introduction of the alternative farming method, Hong Kong has 50 hydroponic farms as of April 2021, expanding from 20 in 2015, according to an interview with Chan Siu-lan, the agricultural officer of the AFCD.
"The regular maturing time is 40 to 50 days during the fall," Yau takes cabbage as an example, "but in iVeggie, we harvest every 30 days." 
Hydroponics has been popular in Asian countries such as Japan and Singapore for more than a decade. In Japan, the major produce of vegetables included tomatoes and lettuce for supplying chain restaurants and supermarkets. 
Also, in Singapore, which only uses one percent of farmland,  heavily imports its food, hydroponic farms are built in agrotechnology parks. In order to tackle the issue of heavy food imports, a 2.4 hectare commercial hydroponic farm is set up in an Agrotechnology Park with support from the Agri-Food and Veterinary Authority as well as the Agency for Science, Technology and Research. 
"Japan, Singapore and Hong Kong share one commonality: the shortage of land," said Cathy Yau Sin-ling, the Farm Management Supervisor of Agriculture, Fisheries, and Conservation Department. 
"And [the] hydroponic technique allows multilayer vertical plantation, which increases space utility and saves urban land," Yau added. 
"The research center could output upto 7-35 kg of vegetables per day, 40% more than conventional farming." With wider adoption of the technology."
Yau also said the most critical process is "controlled environment," including temperature, lighting, carbon dioxide concentrations, and humidity, which have high criteria among industrial production. 
She also added that  hydroponics saves water as its "close-loop irrigation system" recycles 95% of water. Meanwhile, growing in the water-rich in mineral fertilizer, vegetables absorb nutrients more effectively than traditional agriculture. 
Between the years of 2014-15 and 2017-18, the amount of vegetables produced by hydroponic farms increased from 570 tonnes to 815 tonnes respectively. 
However, hydroponic farming is not without its challenges in Hong Kong, especially when the agricultural sector is not a major contributing sector of Hong Kong's economy. 
Yau said the conventional soil-based farming is hard to increase local food production as the high temperatures between May to September curb the growth. 
"If the heat goes up to 28 celsius degrees, most vegetables would stop growing," said Poon, "if a typhoon comes, the situation would be more depressing."
As of 2016, there were a total of 4,435 hectares of agricultural land -  both active and abandoned -  in Hong Kong, out of which 78% were owned privately and a considerable amount of land was being used for story and industrial purposes, according to government statistics.
In addition, some agricultural land has been converted for commercial and residential use. The agricultural land has been depleting between the years 2000 and 2016
Due to the heavy import of vegetables from China, the city also has seen a major slump in local vegetable production leading to high prices. 
The city's local production of vegetables fell by 66.6% from 42,500 tonnes to 14,200 tonnes between the years 2000 and 2016. This led to a fall in the share of locally produced vegetables decreased from 6.6% to 1.7% during the same period. 
Hong Kong's agricultural sector accounts for less than 0.1% of the GDP. Yet, the city produces fresh vegetables, pigs and poultry for local consumption, according to government statistics.
"Local vegetable prices are incomparable to China's vegetable prices," said 60-year-old Jason Poon. 
He also said  that "Hong Kong doesn't have enough agricultural subsidy to local farmers."
"The major buyers are airline companies such as Cathay Pacific, hotels, and some restaurants,"  Poon said. He doesn't find any supermarkets or street market vendors as his customers due to the high price. 
"[There are] only 4,300 farmers in Hong Kong and their average age is 59," 36-year-old Yau said. 
"We are in shortage of money, shortage of land and shortage of labour," Poon said, referring to the industry.
These farmers work in 2,500 farms around the city. 
A major hurdle for the sustainability of hydroponic farming, Tam said, is the inability to afford a "full environmental control system" has led to unstable supply chains. 
This has led to limited buyers. "The major buyers are airline companies such as Cathay Pacific, hotels, and some restaurants,"  Poon said. He doesn't find any supermarkets or street market vendors as his customers..
"The farm relies on greenhouses to stay away from floods or typhoons," he said, "greenhouses can't control temperatures."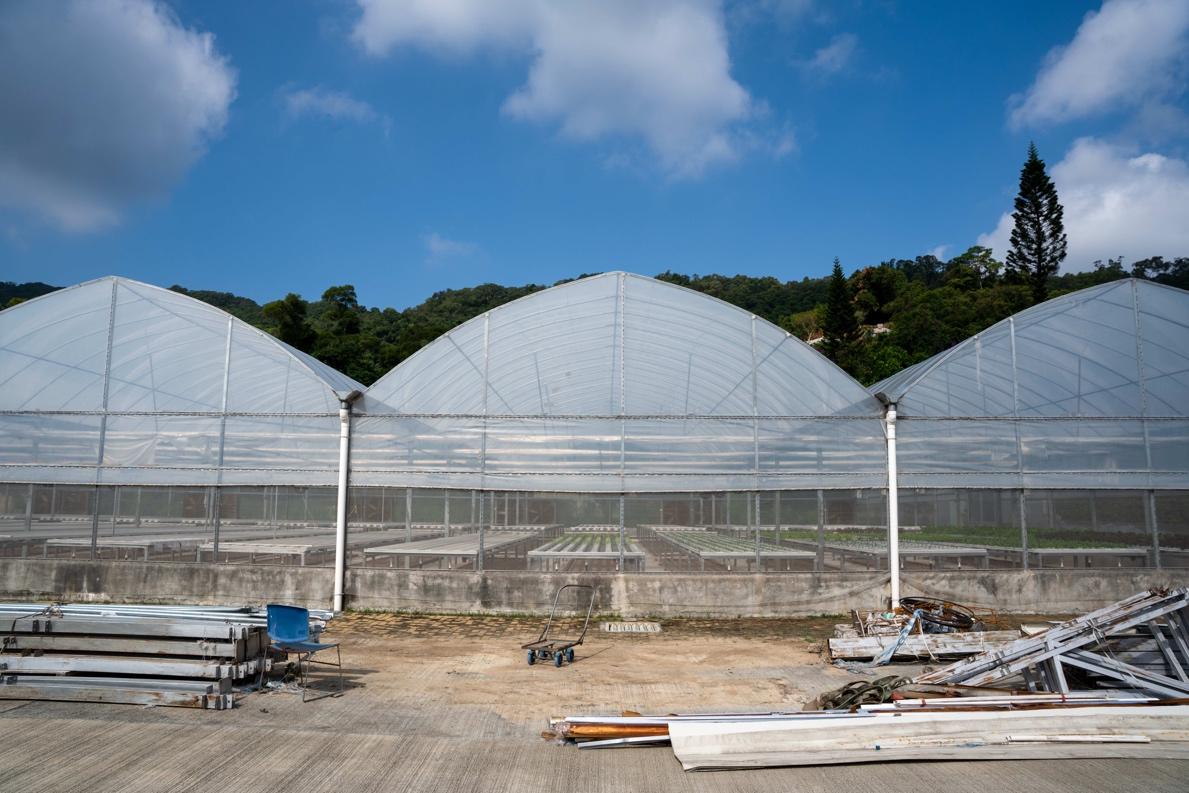 Yip added that "the height of the greenhouse is very important to reduce heat apart from our fans and spray, but the Hong Kong government has restrictions."
The height of a greenhouse should be below 4.57 meters, according to the AFCD. 
"The hot air can't be released, and the temperature would easily go above 30 degrees during the summer," Tam said, "every plant would merely grow by then."
Tam said the high temperature would lead to a chain of problems including the slow growth of plants and ineffective usage of fertilizer, which may cause further contaminations.
"If we directly discharge the water into the river without vegetables fully consuming fertilizers, the outside environment would be damaged for the risk of eutrophication problems," he said, which refers to algal bloom in the water and kills other creatures. 
"The height limitation keeps us away from growing vegetables vertically," said Yip, "which is a key factor to save land usage and increase production."
"Otherwise we could have higher output with wider supply chains in the local food market."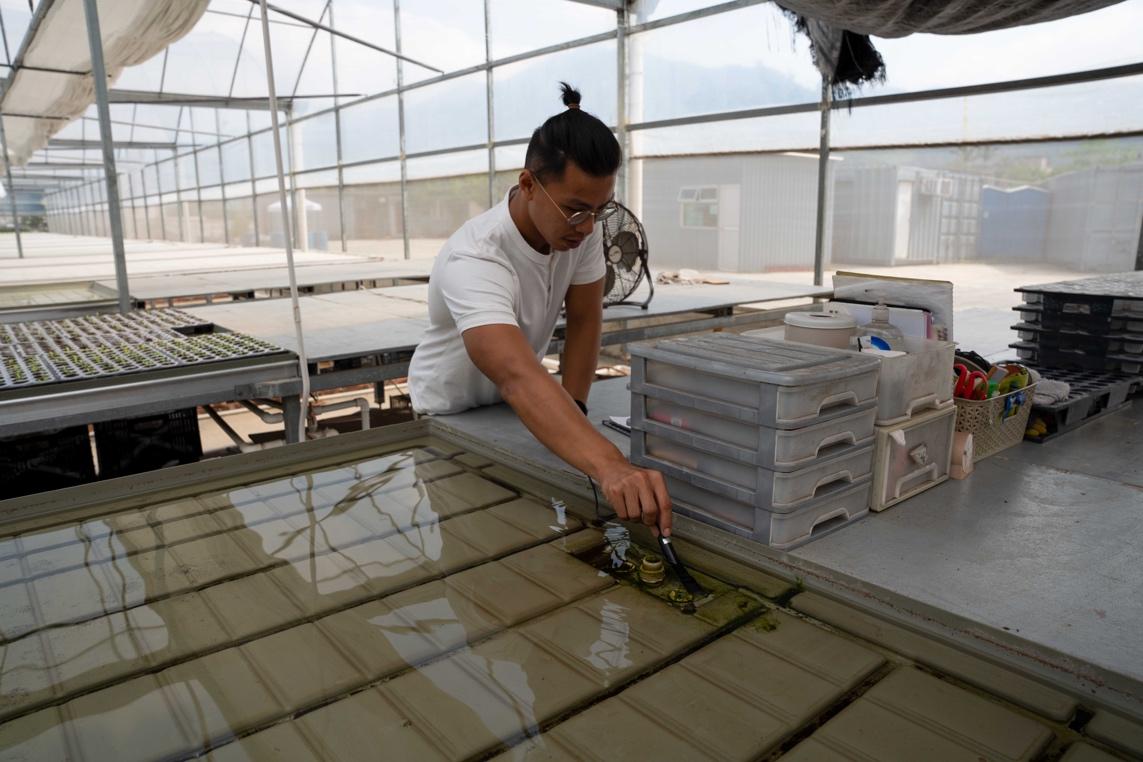 Despite these challenges, Tam still makes the effort to make people aware of hydroponic produce, and has got some residents interested in hydroponic produce. 
"Sometimes I deliver vegetables on the bike to nearby neighborhoods," said Tam, "all harvested on the same day, so people know they are fresh local vegetables." 
One resident - thirty-year-old Leung Wang-fei lives in Prince Garden, a stone's throw away from the farm Tam works in. He believes local vegetables are fresh and hygienic, and sometimes purchases hydroponic products.
"I buy cabbages or lettuce," said Leung, "such local foods don't always have supply." 
In the government's 2021 Policy Address, Chief Executive Carrie Lam Cheng Yuet-ngor has pledged to promote sustainable development in the agriculture and fisheries industry by building an agricultural park in Kwu Tung South in phases at the end of this year which "will facilitate modernisation of farm management". 
In addition, she also added that the AFCD is "actively promoting smart greenhouse technology" as well as "making good use of production space through the development of precise and automated hydroponic production technology".
Yau remains confident that hydroponic farming would be a viable alternative for Hong Kong in the future. 
"Hydroponics will be more popular to the public with more young people and investment engaged in," said Yau, "it has potential."