Hoover Cake Shop closes tonight, bids farewell to Kowloon City after 45 years
By: Lok Yi CHU

Edited by: Malick Gai

2022-09-30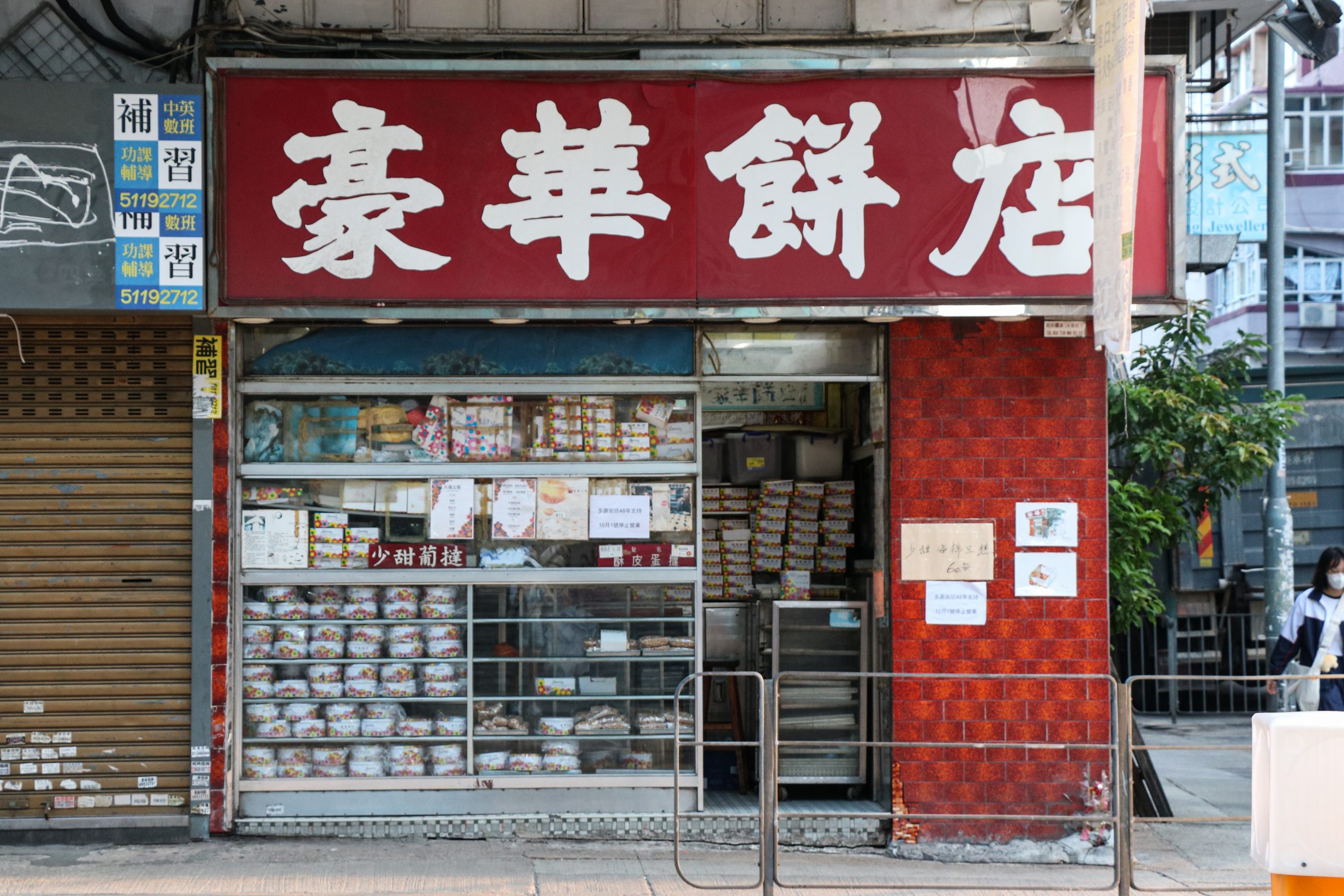 At the corner of Nga Tsin Wai Road in Kowloon City, dozens of people are lining up under the eye-catching red and white plaque which bears the history of a traditional Hong Kong-style cake shop, Hoover Cake Shop, looking forward to their last nostalgic taste of the bakery's products.
"People do not know how to cherish our products," said Kau-Je, 73, who has worked at the bakery for 20 years. "No one lined up in front of our shop before, but when we announced the closure of the shop, many people said they did not want the shop to close."
Hoover Cake Shop, a family business owned by Chau, is one of the few remaining traditional cake shops that opened in 1977 in Hong Kong.
On September 17, it posted a closure notice on its front doors, marking the beginning of the end of this half-century-long traditional cake shop. At 7 p.m. tonight, accompanied by countless supportive citizens, the stories belonging to this place come to an end in Kowloon City.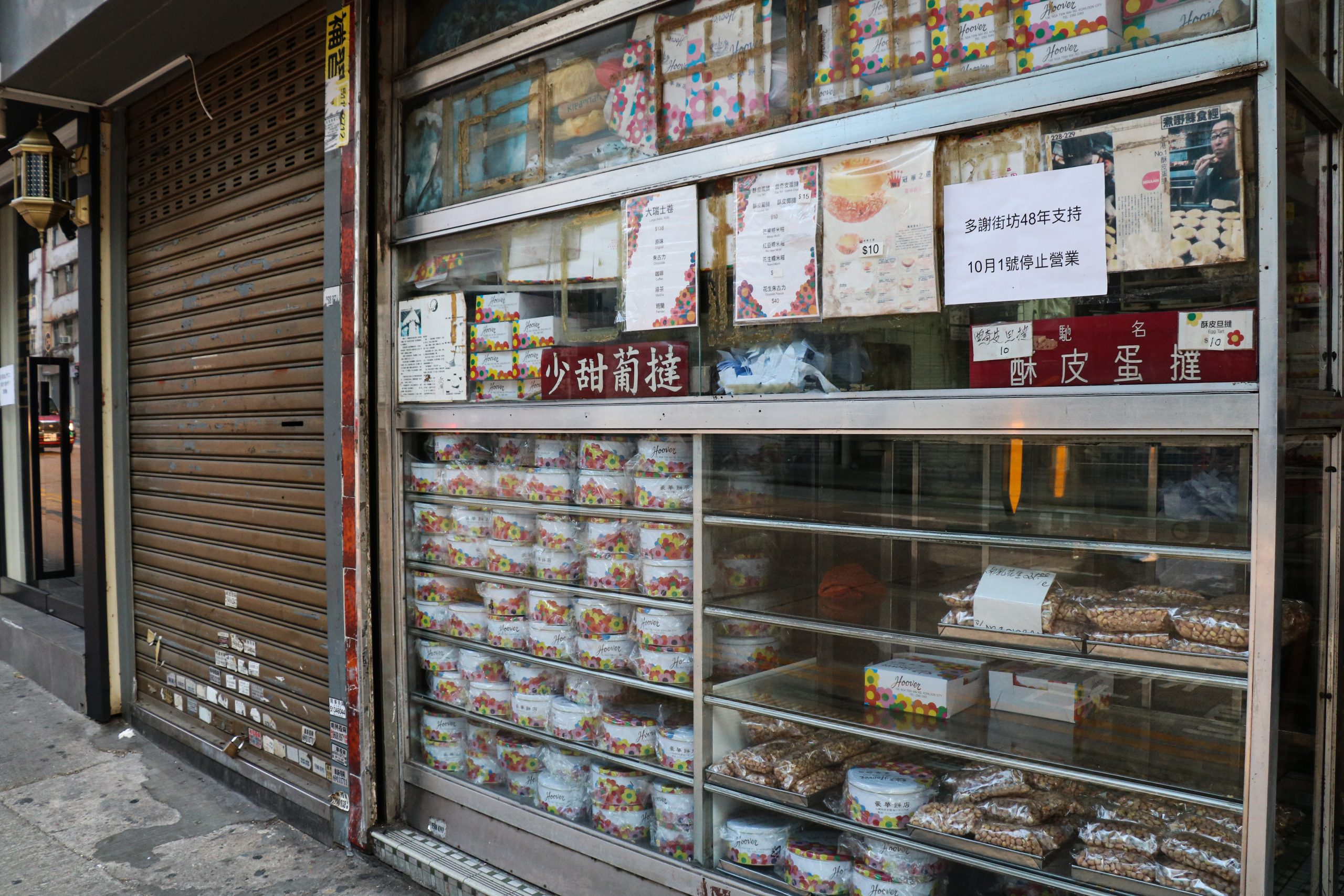 Due to his old age, Chau decided to close the shop as he is no longer able to manage the business. His children have no plans to take it over.
Hoover Cake Shop is the third cake shop reported to close this year after the closure of two other historic traditional cake shops, Happy Cake Shop in Wan Chai, and Jenny Bakery in Tsz Wan Shan.
Throughout the decades, Hoover Cake Shop has insisted on making fresh bread and pastries every day. It sells 86 products, including tarts, bread, cookies, and cakes. Kau-Je said egg tarts sell the best, and the store's homepage declares 'Egg Tarts, Number One,' according to the shop's official website.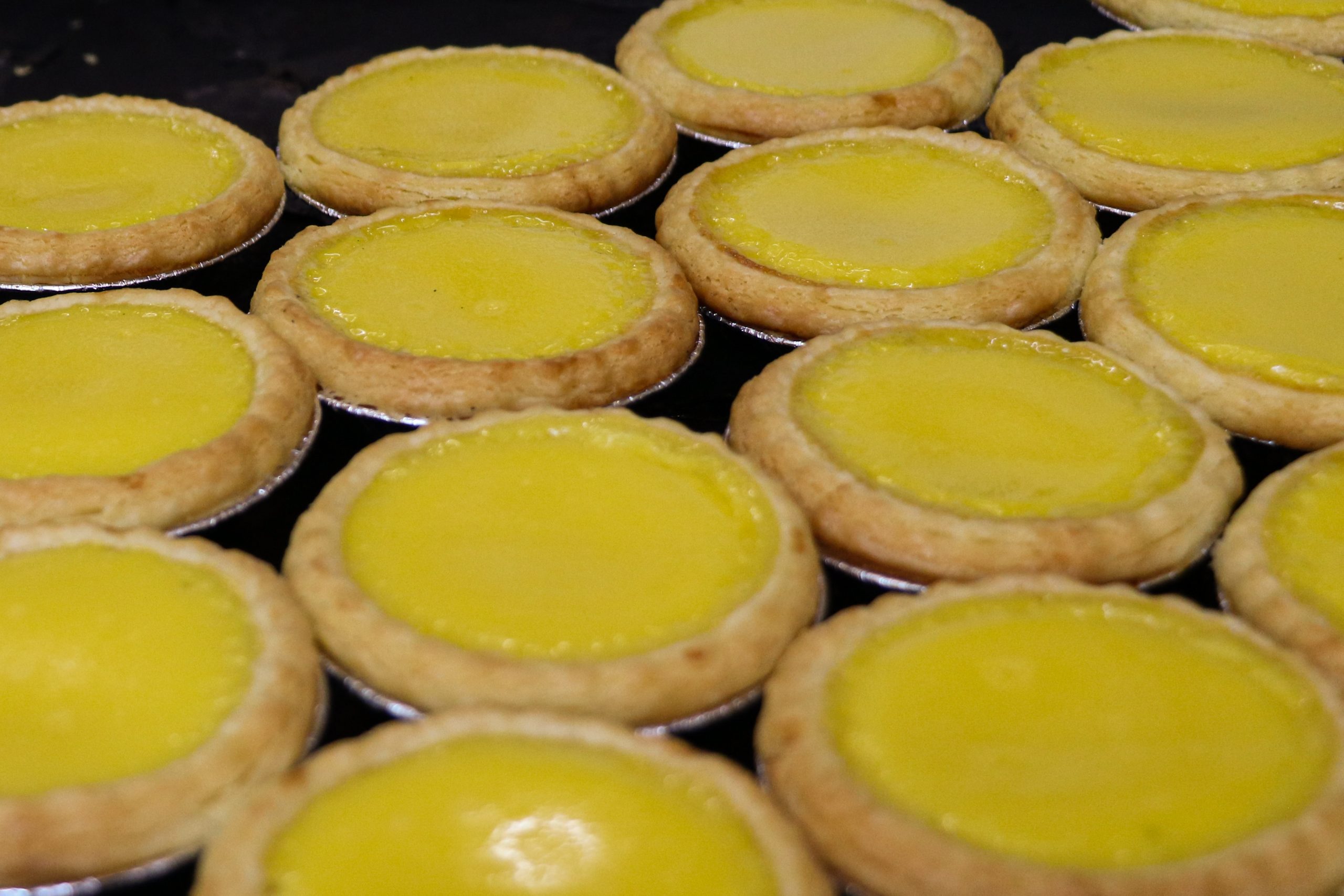 Kau-Je said the reason for the popularity of egg tarts is due to "traditional craftsmanship," using iron-shell egg tart models and "high-quality ingredients," such as fresh local eggs.
Many local and overseas media, such as TVB, The Guardian, and CNN Travel, recommended its egg tarts, whilst neighbours named the cake shop 'Egg Tart King.' according to records from Hoover Cake Shop.
Since Hoover Cake Shop announced its closure, there has constantly been a long queue outside the shop from day to night around this neighbourhood-based cake shop, to try their bakery products for the last time.
"I come here every morning to buy bread. The bread is delicious but cheaper than other bakeries in this district," said Sam Chung, a regular customer who lives in Kowloon City and has been visiting Hoover Cake Shop for 20 years. "Unfortunately, it is closing."
"I grew up in Kowloon City. The egg tarts, bread, and store decoration here are all my childhood memories. I will miss the shop," said Emily Wai, a secondary school student, the first batch of customers who were lining up at 7 a.m. to buy egg tarts.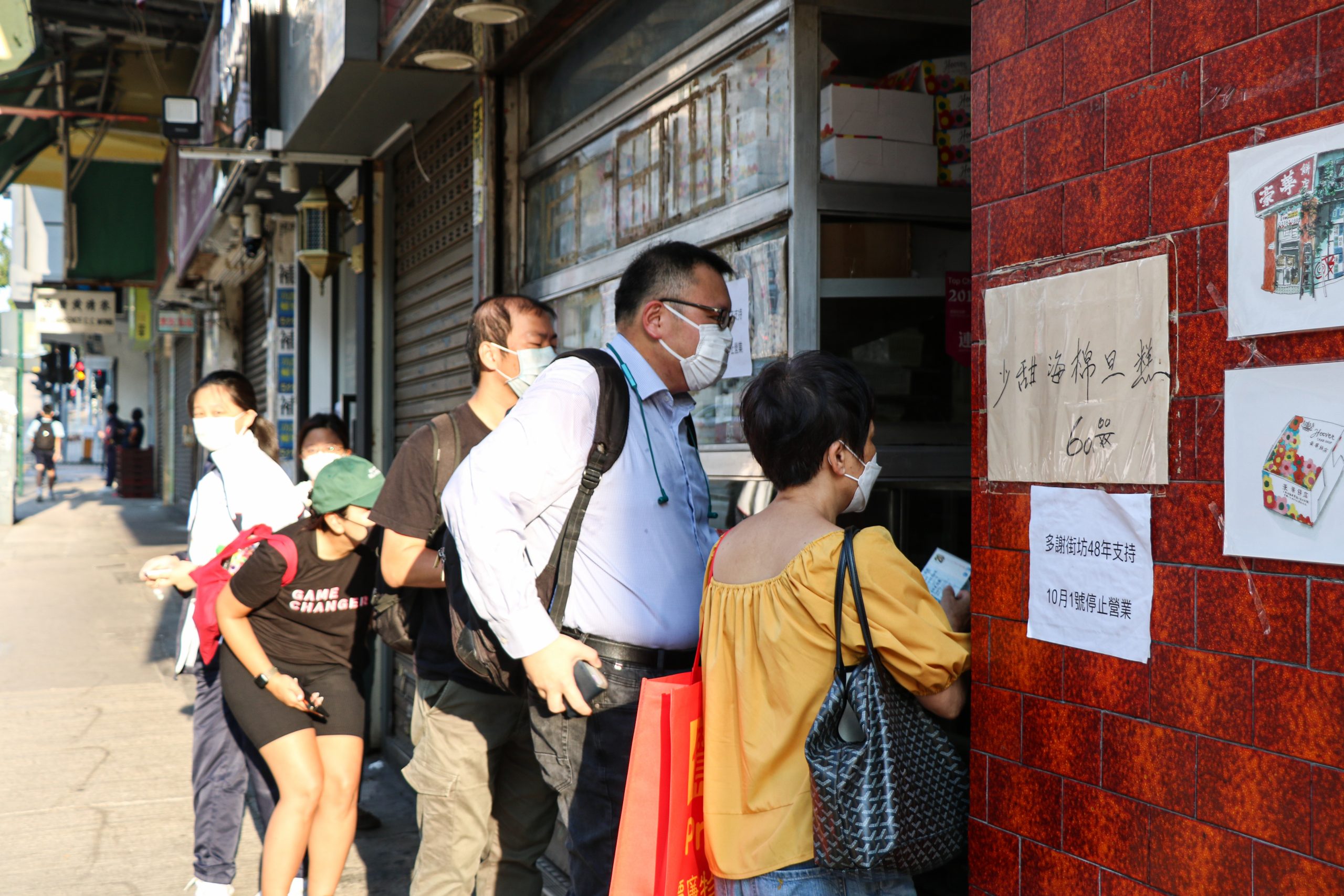 Apart from old customers bidding farewell, some citizens travelled from other areas to witness the closure of the shop as well.
Kelvin Yu, the first customer this morning to arrive at Hoover Cake Shop to buy two dozen egg tarts before going to work, said that although he had never been to the shop before, he wants to support the traditional bakery.
"It is difficult for a small shop in Hong Kong to keep operating for so long. Egg tarts here have the taste of an old Hong Kong-style cake shop," Yu said.
Even though the shop has recruited an additional baker and several neighbours to help with the business recently, it still cannot cope with the increasing traffic. During peak hours, customers have to wait at least half an hour outside the shop.
Hoover Cake Shop stopped making bread and pastries a few days ago and only focused on selling their most famous products: puff pastry egg tarts, and several flavours of sponge cakes.
"Thousands of people come here every day recently, so I am super busy now and just keep working for the whole day. I cannot count how many egg tarts and cakes I have sold these days," Kau-Je said.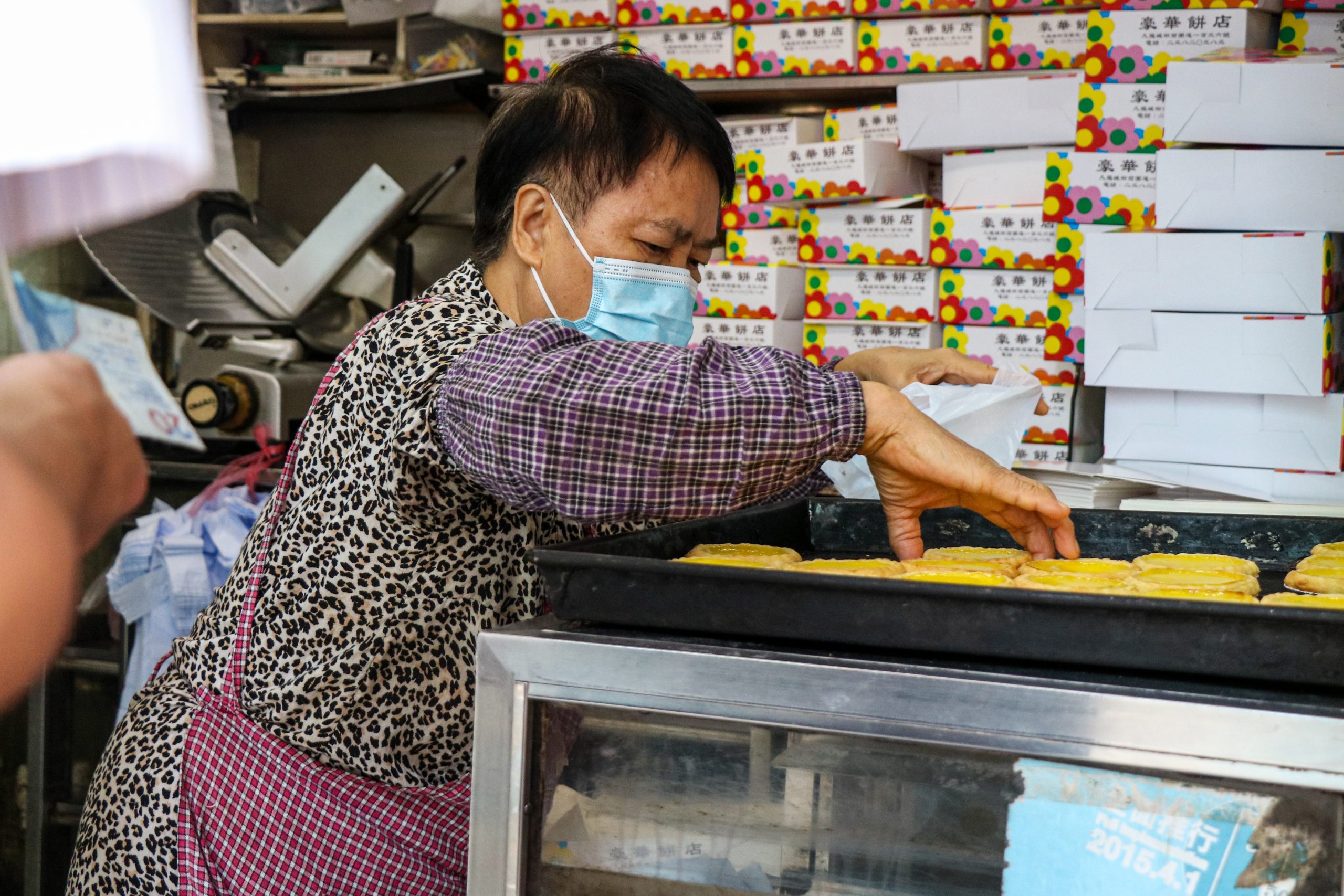 As the last crowds dissipated, the story of the 45-year-old Hoover Cake Shop, rooted in the history of Kowloon City, wrote its final scene.
Thankfully, after this short farewell, the traditional craftsmanship and nostalgic taste of the shop will return to Hong Kong in another way.
The founder of The Coffee Academϊcs, Jennifer Liu, will take over the operation of the cake shop, changing its name to 'Hong Kong Hoover Cake Shop 1977' and re-opening next year, according to the official notice of the shop on Facebook.
"Mr. Chau is going to close the Hoover Cake Shop today, but this is not the end of the cake shop, the products are not going away," said Kau-Je.