Hong Kong stock market plunges as Sino-US tension rises
By: Yixin Gao、Kin Hou POON

Edited by: Bella Ding、Mei Ching LEE、Zimo ZHONG

2023-02-06
Hong Kong stocks slumped on Monday amid growing concerns over the spy balloon incident between China and the US and the bet on Chinese full border reopening.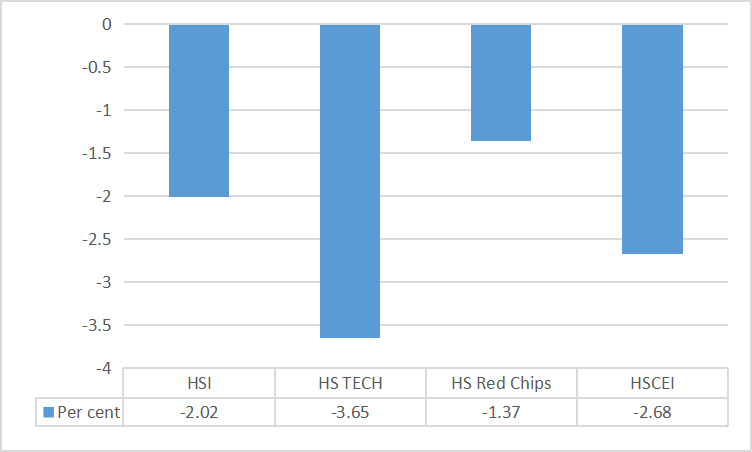 The Hang Seng Index opened 311 points lower this morning and dropped 2.1% to 21,222 at the close of Monday trading with a HK$136.02 billion turnover.
The Hang Seng Technology Index went down by 3.7%. The Hang Seng China Enterprises Index dipped by 2.7%.
A US military fighter jet shot down a suspected Chinese spy balloon on Saturday, while the Chinese government said it was a stray civilian airship blown off course.
"The Hang Seng Index had been rising since November last year, once up over 8,000 points. Therefore, the market is sensitive to adverse news. Friday's incident about China's 'spy balloon' made investors feel uneasy, leading to a fall in today's stock market," said Sam Chi-yung, Strategist at Patrons Securities limited. 
Bilibili(09626) decreased by 5.4% to HK$186.6. Meituan(03690) dropped 5% to HK$164.1. Tencent(00700) slid 2.1% to HK$376.8.
Southbound Stock Connect trading funds, however, bucked the trend, buying a net of nearly HK$2 billion for the day.
The Chinese authorities announced on Feb. 3 that mainland China would fully reopen the borders with Hong Kong and Macau from today. The travel and tourism industry performed a 0.5% increase under the overall negative performance of the stock market, according to AASTOCK.
Feiyang Group(01901) increased by 10.1% to HK$1.31. Guangdong Nan Yue Logistics Company Limited(03399) went up 5.5% to HK$1.15. Global MasterMind Securities Limited(08063) rose 4.6% to HK$0.068.
"There will be more opportunities for both personal and corporate business travel. With relatively weak business operating dynamics in the previous three years affected by COVID-19, the industry should see a more pronounced upturn in the future," said Harris Wan Kong-sing, Vice President of iFast Global Market.