Typhoon Koinu leaves thousands stranded at Hong Kong airport
By: Hanzhi YANG、Xiya RUI

Edited by: Tsz Yin HO

2023-10-12
Thousands were left stranded at the Hong Kong airport on Sunday after the suspension of the airport train and buses and a shortage of taxis during typhoon Koinu.
The Hong Kong Observatory issued typhoon signal 9, the second highest signal, at 11.50 pm on October 8 as typhoon Koinu approached the coast of Guangdong.
According to the Observatory, most places in Hong Kong had more than 100 millimetres of rain and reaching 200 millimetres in some districts such as Hong Kong Island East.
Speaking on RTHK, the Hong Kong's Airport Authority stated that 90 flights were cancelled throughout the day and another 130 were delayed.
But some 60 flights that landed that evening brought in hundreds of passengers.
Most public transport services stopped soon after signal 9 was issued, including the Citybus's Cityflyer route and MTR's Airport Express, which give access to the airport and urban areas.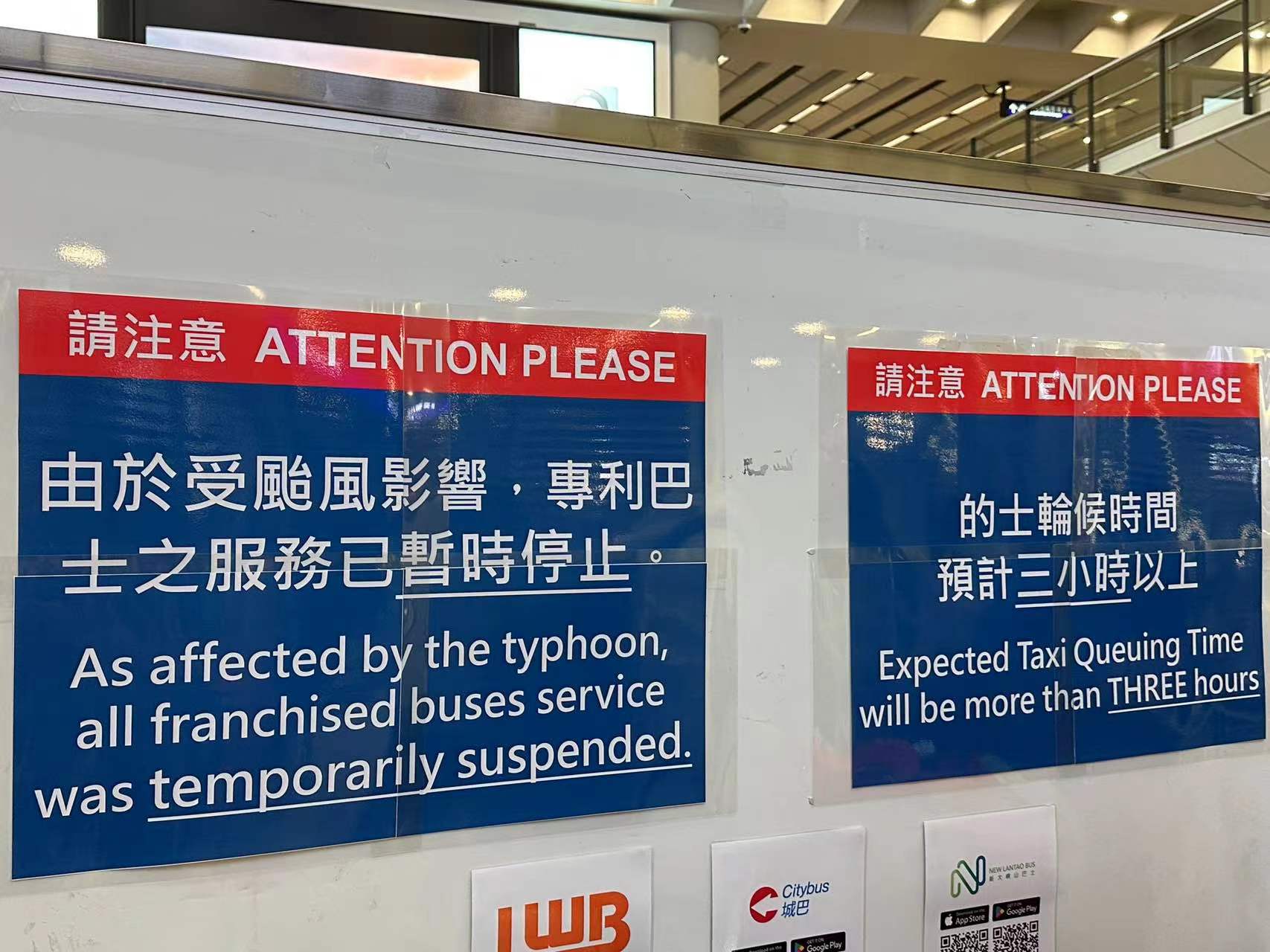 The waiting time for taxis exceeded three hours, leading to frustration among incoming passengers complaining about the insufficient supply of taxis in the city.
"We have been waiting for over two hours, but we haven't even reached the halfway point of the queue," said Moses Chan, 37, a Singaporean visitor waiting in line, adding that he and his wife were shocked by the overwhelming crowds.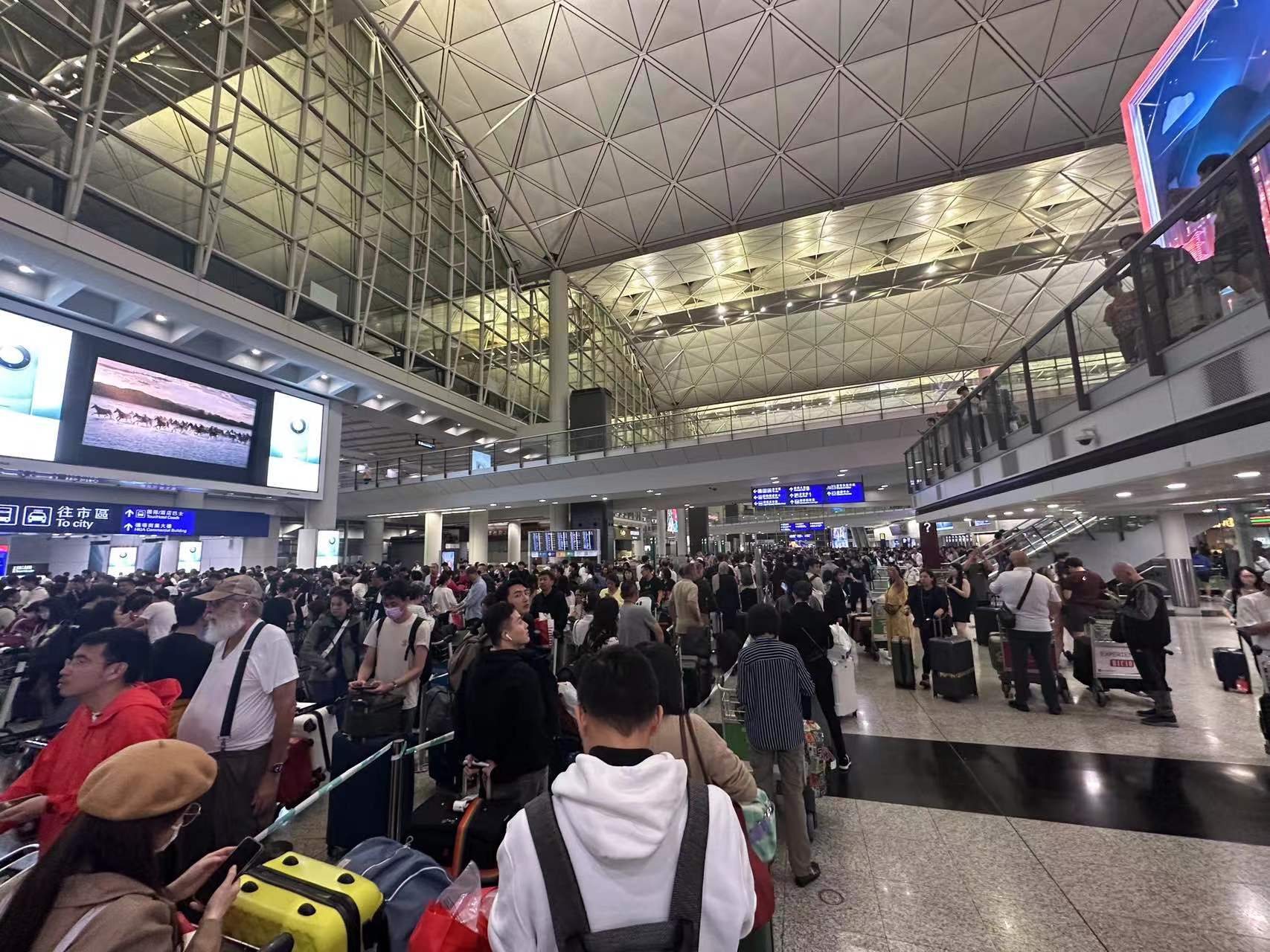 "Due to the typhoon, the supply of taxis in Hong Kong is actually very low, with only dozens of taxis arriving at the airport per hour," said Kelly Tang, a staff member of the airport who was responsible for managing order.
Airport staff also expressed their apologies for the situation, and free water along with around-the-clock catering services was distributed to those stranded at the airport.
"The waiting time is really long, with no end in sight," Chan, the Singaporean traveller added.
Chan and his wife chose to stay in a nearby hotel which cost HK$5,000 for the room and another HK$1,000 for the hotel to pick them.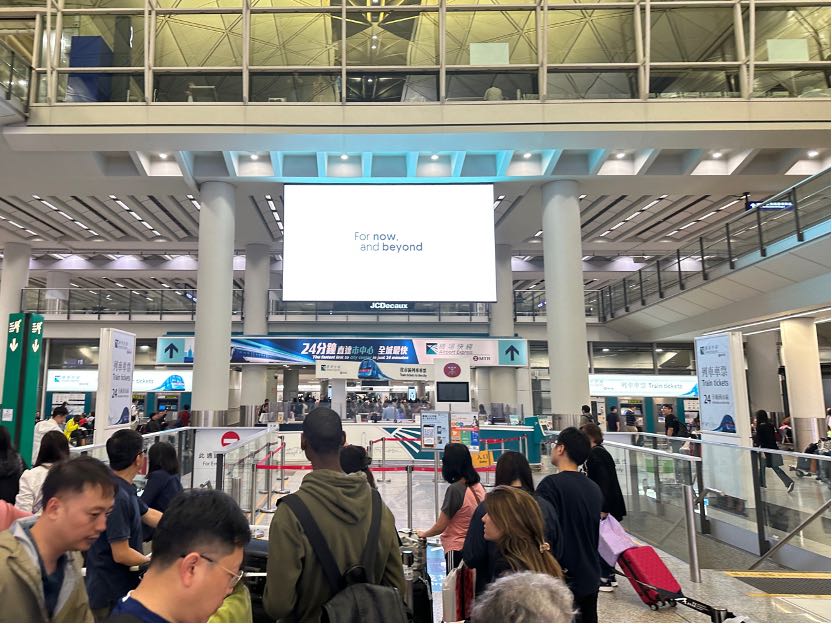 "This will be the most expensive hotel we have ever stayed in," he added.
"I would have spent HK$600 on carpooling because I had to go back to class the next day," said Liu Kexin, a student studying in a Hong Kong school who travelled to the mainland during the weekend but was trapped by the typhoon on her return.
"I waited for over two hours until traffic resumed,"said Liu.
The Airport Authority said that they will discuss with the Transport Department in the future on how to do more work on taxi supply in case of bad weather.
At 1 p.m. on Oct. 9,  the Airport Express and other public transport service gradually resumed. 
According to the government and Hospital Authority, as of 10am yesterday, 29 people were injured during the typhoon and received medical treatment at the Accident and Emergency Department of public hospitals.