Cover Story: In God we occupy, say religious leaders
Local Christian activists are leading the Occupy Central campaign, triggering a debate over whether their religious convictions will have skewed the civil disobedience movement deemed as Hong Kong's last-ditch attempt to win universal suffrage.  
Occupy Central, a movement aimed at mobilising tens of thousands of people to block the streets of the city's central business district in July, 2014 to press for democracy, has sparked off not just a fierce debate over civil disobedience.
It has also prompted an examination of the role religion plays in local politics, as the campaign's three masterminds – legal scholar Dr Benny Tai Yiu-ting, Reverend Chu Yiu-ming and sociologist Dr Chan Kin-man – are all Christians.
"It is quite surprising that a legal expert and moderate Christian stands by illegal acts and calls on people to occupy Central," said theologian and veteran social activist Dr Chan Sze-chi, referring to Dr Tai at the University of Hong Kong.
He noted that the two other organisers, Rev Chu from Chai Wan Baptist Church and Dr Chan Kin-man from the Chinese University of Hong Kong, regarded their roles in the movement respectively as a political activist and a discerning scholar rather than cordial believers.
Dr Chan Sze-chi thinks to them, if what the government does is unjust, then "law in the secular world can be disobeyed, for God's principles are higher".
He attributed the Christian activists' fervent support for the movement nine months away to the religion's theology, which he said predisposed its followers to revolt against authorities.
Dr Kwok Wai-luen, assistant professor of theology at Hong Kong Baptist University, agreed.
"Christians are always ready for idealistic pursuit, for instance, for justice and democracy," explained Dr Kwok, citing the African-American Civil Rights Movement in the 1960s led by clergyman Dr Martin Luther King.
"There are such genes in their history," he said.
Although the spearheads of Occupy Central have said they are ready to accept any liability arising from the civil disobedience, echoing the slogan "Fill the Jails" chanted five decades ago in the United States, critics are concerned that these Christians might have gone too far.
Associate professor of philosophy at HKBU Dr Ellen Zhang Ying, who has no religious affiliation, said Christians could be involved in social movements only under "severe" circumstances according to their doctrine. But whether a failure to reap universal suffrage is catastrophic enough to qualify as a "severe" scenario, in her views, remains debatable.
She said in order to dispel people's fear of entanglement between religion and politics, devotional activists should highlight conscience and morality when framing the campaign rather than use explicit religious expressions.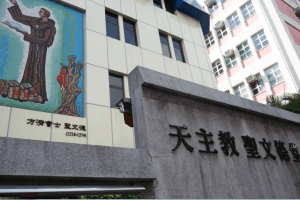 One of the statements on Occupy Central released by the city's Catholic diocese, titled "An Urgent Call for Earnest Dialogue and Responsible Action on July 25", calls for "any sensible measure" to facilitate talks on universal suffrage but acknowledges the legitimacy of taking the issue to the streets in Central if dialogue does not work.
Dr Zhang noted that by issuing the statements, the diocese had made a political gesture given its relationship with the Chinese authority, which has turned sour since Beijing fell out with Vatican in 1957 and banned the religion on the mainland.
Cardinal Joseph Zen Ze-kiun, former chief of the Catholic Diocese of Hong Kong, said clergymen should not be directly involved in politics such as running for elections or adopting party affiliations but were duty-bound to voice out opinions about social affairs.
"It is an action under great despair," said Cardinal Zen, who has been vocally supporting Occupy Central and even vowed to join the demonstration in person. "We would rather go to
jail if universal suffrage is absent."
"What the government needs to prepare is not tear gas. They just need to prepare more prisons for us to fill in," he said.
Cardinal Zen regards the movement as an illegal act with "justifiable goals" and upholds its principle of peace. He did however suggest that a certain level of violence was acceptable if protesters were left with no alternative.
"Each one should follow his or her conscience," he said. "We have chosen an illegal method right for the sake of facing the punishment, and we will show our determination to win universal suffrage."
Father Stephen Chan of the St. Bonaventure Church said the church's role in Occupy Central was to guide its followers on how to evaluate the political campaign.
"The church has said Occupy Central is not sinful, " he said. "As from the very beginning, non-violence is a principle of the movement."
The Justice and Peace Commission of the Catholic Diocese of Hong Kong, where Father Chan serves as a consultant, held a seminar on August 26 calling on participants to "stand up for the future of Hong Kong in compliance with the conscience and the gospel of God".
"What religion strives for is a fair, peaceful society without discrimination," Father Chan said.
He insisted, however, that the clergy should allow believers the freedom to contribute to the society in their own ways instead of forcing them to take part in the Occupy Central movement.
"What I can do is to pray for the city when I offer a mass," he said.
Reported by Steven Wang
Edited by Song Cheng