Whenever I meet someone at university, he or she will soon fade out of my mind unless we have become friends on Facebook. Although such popularity among our seven million population is likely to continue, I have seen more and more Hong Kong people start to use Sina Weibo, a micro-blogging website that entertains more than half a billion mainland Chinese netizens, although it has been one of the targets of Beijing's vigorous censorship.
Among Weibo's active users, executives are liaising with their business partners while journalists, especially those doing China reporting, can just stay in their air-conditioned offices and turn to the Chinese equivalent of Twitter for endless good stories. Mind you that local politicians like Mr Leung Chun-ying and Mr Henry Tang Ying-yen also used Weibo to campaign for the Chief Executive race in 2012, although one year later the loser scrubbed all his previous posts and the elected even deleted his account.
Also among Weibo's fervent enthusiasts is a group of heavyweight: Celebrities. Just name a few, Mr Leon Lai Ming, Mr Tony Leung Chiu-wai, Mr Eason Chan Yik-shun and Ms Faye Wong. They have all been tweeting, each amassing hundreds of thousands of followers, or even millions. My highly subjective and unscientific observation is that celebrities in Hong Kong have basically adopted this "success formula" – posting on Weibo an offbeat photo plus an obscure caption – together with their counterparts in mainland China or Taiwan.
If you do not strictly follow this pattern, you will either remain unknown or become too famous. Mr Jackie Chan Kong-sang, the renowned Kungfu actor starring over 150 films, has failed to win wars of words with many Weibo users angered by his controversial posts, even though none of his opponents dares to physically challenge the martial artist in real combat setting.
The film star, who has been keeping updating several times per week for his nearly 20 million followers, said in a post on August 3, "Photographed by myself. Who says there is no blue sky in Beijing? What a blue sky and green field," with three photos depicting the scenery he described and an overjoyed emoticon. Although what Mr Chan said was evidenced by his photos, he still ignited a row for praising the clear air of China's capital, which is enveloped by air pollution most of the time. Some netizens replied "Jackie Chan you made me sick" and "I have never seen anyone so eager to lick up Beijing's backside", and others' words are just too vulgar to be shown in a respectable publication.
Yet another post of him caused even greater tension between his supporters and detractors, documented in the more than 40,000 comments it received. He protested on August 4 against the Weibo management team, which did not allow him to use "Jackie Chan" as his title instead of "famous Hongkongese actor." "So what do you think my title should be," wrote Mr Chan. "Body double, stuntman, actor, action choreographer, screenwriter, film director, singer,producer, entrepreneur, philanthropist, international star, or even world film-singing-action superstar?" While his fans were amazed by their idol's resume, opponents had shown their disgust towards the actor's boasting, with some even mocking him as "the most famous Hongkongese Communist Party member".
Although it was very well-tempered of Mr Chan not to scold his detractors, he should be aware that all the "dirty water" poured onto him in the cyber space has signaled the failure of his communication strategy and public relations. Of course we shall respect his freedom of speech and his widely known pro-China stance, which is legitimate in itself. He would have encountered no problem if he had spoken these on state television, given his political correctness, fluent Mandarin and popularity as a guarantee of rating. But as to Weibo, a totally different platform whose users are at least skeptical, if not outright resistant, to Chinese authorities, he should use different ways to say the same thing or even say different things for a better public image. He should have learned from the party mouthpiece the People's Daily, which speaks differently in its print edition and Weibo posts. He should have known that the millions of young Chinese adults on Weibo, without much money nor guanxi (connections), helplessly drifting in metropolises like a leaf in a raging torrent and suffering from great living and working pressure, are not the major audience of China Central Television's prime time news bulletin.
Besides the art of speaking, he ought to have greater sensitivity when touching upon political issues. His colleague Ms Carina Lau Ka-ling was slammed for posting a photo of her in Tiananmen Square, whereas other outspoken personalities critical of China like Mr Anthony Wong Chau-sang and Taiwanese singer Ms Annie Yi Neng-jing were faulted by nationalists and even suffered economic losses for speaking their minds. If you search "Jackie Chan's quotes" on Weibo, the hundreds of results you will end up with showing words almost blindly favouring the Chinese government have long been targets of ridicule among Internet users. Even though no one has confirmed these quotes are from Mr Chan and China's propaganda officials apparently do not need to worry about his ideology, these have already shown the necessity for him to use the social media more intelligently.
Other issues like the mixed usage of simplified and traditional Chinese characters on Mr Chan's Weibo account, or even in a single Weibo post, are too minor to concern him. Coincidentally, outcry stirred up by Mr Wong's lament for mainland's use of simplified characters was reportedly to be the direct cause of his departure from Weibo.
Mr Chan could not be reached for comment via Weibo.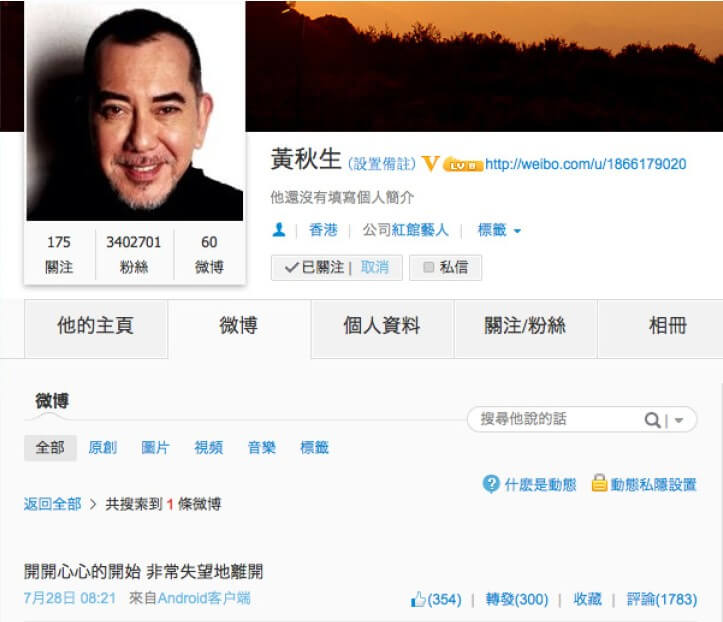 Screenshot of Mr Anthony Wong's farewell post on Weibo that reads "a joyful beginning, a disappointing departure."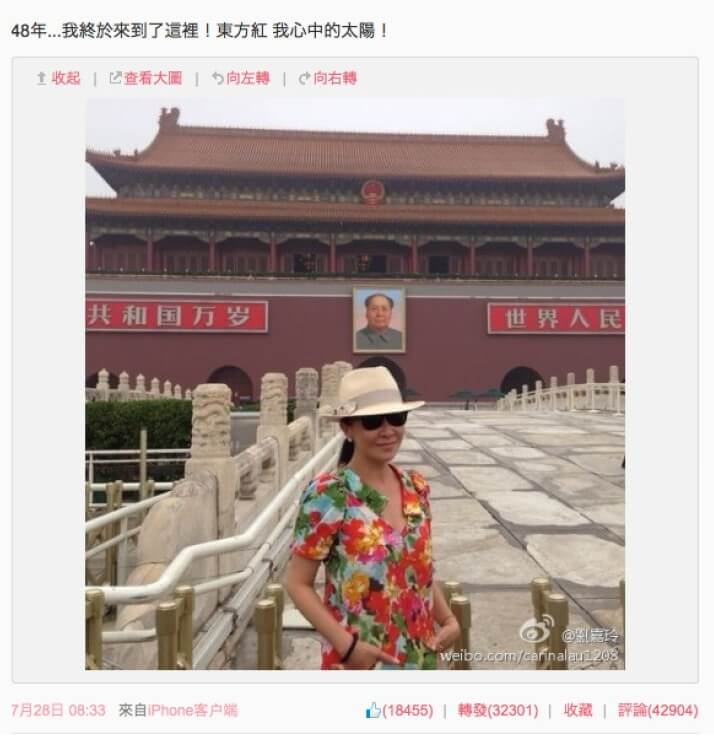 [author] [author_image timthumb='on']http://tyr.journalism.hkbu.edu.hk/wp-content/uploads/2013/10/Cheng_Profile_Ph.jpg[/author_image] [author_info]Born in Yunnan province in southwest mainland China, Song Cheng spent his first 17 years striving to survive countless waves of school exams until setting foot in Hong Kong in 2010. He used to be in science class, but has now developed extensive interests in liberal arts and social sciences, with particular affection to reading non-fictions of China. Having reported mainly on society and politics beat in the past year, Cheng is writing his analyses on China affairs.
Written by Song Cheng
Read his other works at http://tyr.journalism.hkbu.edu.hk/?author=13. [/author_info] [/author]