Occupy Student Leaders Plead Not Guilty to Unlawful Assembly Charges
By Viola Zhou
Occupy Central students leaders pleaded not guilty to the charges of inciting and participating in an unlawful assembly during a protest last September.
Scholarism convenor Mr Joshua Wong Chi-fung, former and present Secretary General of Federation of Students Mr Alex Chow Yong-kang and Mr Nathan Law Kwun-chung were charged last week over breaking into the outdoor area, called the "Civic Square" by protestors, outside the Legislative Council building on September 26 last year.
The three called the thousands of pro-democracy supporters protestors, mainly youngsters, to "reclaim" the forecourt of government headquarters at Admiralty where they have been assembling since earlier on that day and more than hundred answered their call.
The trio said the charges against them were not justified.
"Every citizen should have the right to freely enter and exit the Civic Square," Mr Wong told reporters outside the court. "From Monday to Friday, I should go to school rather than go to court, but I do not regret."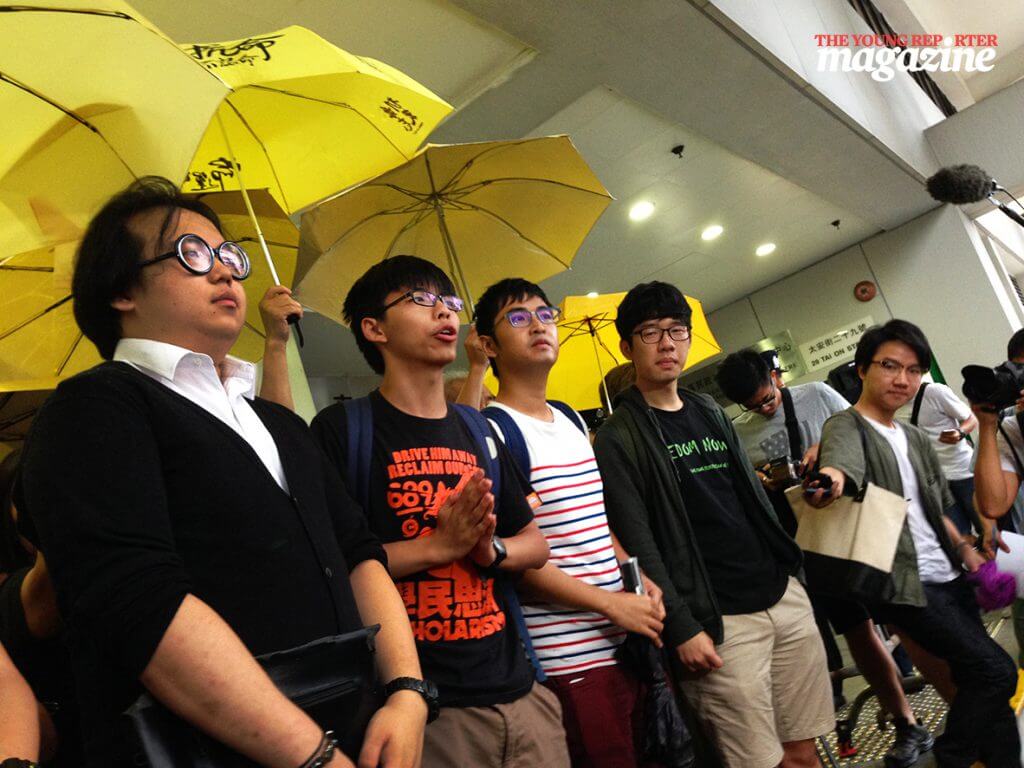 In the court, Mr Wong, named one of the most influential teens by the Time, was warned by the judge not to make political statement when he said that "citizens have rights to enter the Civic Square."
Scholarism member Mr Derek Lam Shun-hin and several other participants of the break-in were charged with common assault. Pre-trial reviews are scheduled for October.
About 30 protesters came to the court this morning to support the student leaders holding yellow umbrellas and chanting "civil disobedience is not a crime."
Mr Wong and Mr Law were earlier charged for obstructing police during a protest outside the Liaison Office of the Central People's Government last year. Their lawyers said they will apply for the charges to be stayed.
(Edited by Crystal Tse. Copy-edited by Joey Hung.)