Is Hong Kong ready for street art?
by Herbert Cheung
Salmon swimming upstream, snowboarding and rock climbing: just some of the paintings you see on staircases in Tsuen Wan town centre.
But are people in Hong Kong ready to welcome community arts with open arms?
"In Hong Kong, more people are interested in popular culture than in crafts, such as tea making, ceramic and handicrafts," said Lam Yuk-fai, leader of the artist group, Omni Art.
Their members have been painting the murals around Tsuen Wan. "Most of the shops are monopolised by tycoons, leaving no room to promote arts and culture. It is hard for artists to blossom here," he said.
Mr Lam thinks Hong Kong does not provide a fostering environment for art, compared with Taiwan and mainland China.
Mr Lam believes community art is a great stepping stone to promote art in Hong Kong. But it takes a time for people to develop an interest.
His group has been working with the Home Affairs Bureau, but Mr Lam there is not enough government support.
He believes Hong Kong has the potential for further art development because it is the world's fourth largest art auction market.
According to the Contemporary Art Market Report 2015 published by Artprice, more than $146 million dollars' worth of contemporary art was auctioned off between July 2014 and June 2015.
Denise Yeung Tsz-ching, one of the five artists of Omni Art, said residents in Tsuen Wan used to call the police when the artists were working on the stairs because they thought they were vandalising.
"We didn't put up any signs stating that the activity was sponsored and approved by the District Council. So there was some misunderstanding," said the 20-year-old artist.
"The visibility of the murals allow people to appreciate and participate in art as they walk on the stairs or stop to take photos", Ms Yeung said.
Lo Siu-kit, a Tsuen Wan district councillor, thinks murals on stairs are 'interesting', even though painting the three stairs cost $100,000, according to the council's meeting document.
"These may be small changes, but people feel different about the stairs," he said. "They are now pieces of artwork rather than dull concrete steps."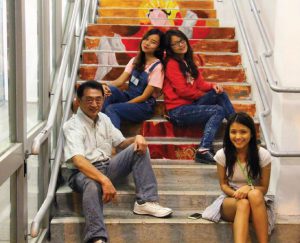 Mr Lo believed it was money well spent because response from residents has been positive.
He thought that the lack of interest in art among the general public is why art development in Hong Kong is slow compared with other regions.
People were unwilling to join the Tsuen Wan Arts Festival, for example, unless the events were free or very
low cost.
"You have to start developing art and culture among kids so that they can understand the works," he said.
"When you have groups of audience who understand the works, the demand will follow and art development will take off," he said.
But Dr Victor Lai Ming-hoi, an associate professor in Visual Arts at Hong Kong Baptist University, said it is unfair to call Hong Kong a "cultural desert" because there are a lot of resources for art development.
"For example, the Home Affairs Bureau have funded billions of dollars in art development," he said. "Together with resources provided by Hong Kong Arts Development Council and other NGOs, I would say the art scene in Hong Kong is thriving."
Since 2014, the Home Affairs Bureau has allocated $3.5 billion for cultural and art development, providing support for arts groups, activities, education and promotion.
Dr Lai believes that people in Hong Kong appreciate community arts because they think this kind of arts belongs to them and they can participate in it.
"The problem is that there are no longterm policy in art development," he said. Despite abundant funding from the government, Dr Lai said that the government focuses mostly on 'hardware' such as West Kowloon Cultural District instead of attracting and nurturing talent from home and abroad.
"We have resources, but the development is short-lived instead of sustainable," the scholar said.
(Edited by Jackson Ho)