Newspapers Exclusively for Local Residents
by Sing Lee
It is 9 p.m. on a weekday when a group of post-80s and post-90s gather in a narrow store room in a public estate building to discuss on ideas for their next issue of Tin Shui Wai Bimonthly Newspaper.
After working for a whole day in urban areas, these young reporters spend up to two hours returning to their hometown to start their night shift – telling stories about the place they sleep in.
"Tin Shui Wai is doomed as a 'bedroom city', in which inhabitants only take naps between their two sections of long working hours," said Chung Yuen Yi, an experienced social worker and the chief executive of Tin Shui Wai Community Development Network.
But the group of youthful residents are doing more than hibernation in the kingdom of Sleeping Beauty.
Back in 2014, when the network receive subsidies from a permaculture foundation, they were thinking of a way to build and present stories of a sustainable city.
They decided to start a local post written by the neighbourhood themselves as people did not even know what Tin Shui Wai has.
The press has covered stories on market, entertainment, handcraft shops and farming in the area.
Readers find the newspaper a useful guide to explore their close-yet-unfamiliar district, and some even collect every volume of the publication.
Editors of the bimonthly, who are also local residents, said preparing the reports was a learning process for them too, making them sensitive to the community's issues.
Leung Lai-yan, a cultural studies graduate and the organising officer of the post, said it was a success that has made them to try publishing investigative reports.
The latest issue of Tin Shui Wai Bimonthly Newspaper includes an article on the use of planters, quoting the amount that the Yuen Long District Council is spending every year on the mini-gardens.
They suggest farming at these spots to save money, encourage local production and consolidate the neighbourhood, causing residents to wrongly believe that they could really plant at roadsides.
"Surprisingly, this somehow achieves our goal," said Ms Chung, "We want people here to re-imagine the possibilities of the place they are living in."
Ms Chung hopes that one day people in Tin Shui Wai will be conscious of their own ability in realising their ideal community and take up their own responsibilities, rather than relying on social workers and representatives to solve their problems.
In contrast to Tin Shui Wai's case, residents of Western District already have a good sense of belonging in the face of rapid changes in the neighborhood brought by the development of the West Island Line.
"Western District is growing briskly with an influx of residents of different ages, nationalities and incomes," said Winnie Tse Wing-lam from Ho Sai Lane, the local newspaper of Western District, also known as Sai Wan.
Before Ho Sai Lane, the neighbours formed Sai Wan Concern Group to monitor redevelopment plans, and to organise events introducing the culture and background of Western District, for example, its historical stone-wall trees.
Group members then realised they may need an offline platform for residents from different backgrounds to interact and to update what was happening in the district, so they published the first issue of Ho Sai Lane in November 2015.
Ms Tse once interviewed a foreign couple buying groceries at a historic mom-and-pop shop who said they are wanted to be engaged in the local community despite the language barriers.
"To conserve does not mean to mourn," Ms Tse said, "we hope the new can accept the old, and the old can adapt to the new with the quintessence of our community preserved."
While Ho Sai Lane targets all kinds of neighbours, Tuenmunity from Tuen Mun wants to cover all news that matter to the community.
As a district newspaper also run by volunteered residents, Tuenmunity believes it can report and follow-up news that large media organisations overlook.
The team said they wants people in Tuen Mun to know more about local issues and the reasons behind the news, even if it was only an accident involving the Light Rail Vehicle, a form of public transport commonly used in the area.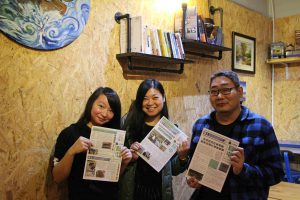 "There are conflicts and misunderstandings," said a member of the editorial board, "but we believe people are reasonable. What they know is what causes the difference."
Aiming to build a knowledgeable and thoughtful community, Tuenmunity think the terminology used by mainstream media are too hard for ordinary citizens to understand.
Besides using simpler language, the team writes a glossy column to describe difficult concepts, for example, they explain "procedural justice" by using the example of choosing the head prefect in a school.
Members of Tuenmunity even finance themselves to print the 2,000-3,000 easy-to-read copies every month since their debut issue in February 2015.
Professor Ip Iam Chong, a cultural studies scholar at Lingnan University and the co-founder of the independent media InMediaHK, said district newspapers have always existed.
"In the past, people might publish a few issues when a community crisis arose, but now they think they need continual effort to care the neighbourhood," Mr Ip said.
He said such media normally did not last long even there was financial support, yet new local presses would still be founded as people were becoming more concerned about community consolidation.
After reading copies of Tuenmunity, independent District Councillor Au Chi-yuen from Tuen Mun Town Centre constituency said local newspaper could provide new angles on community issues and boost discussions.
Mr. Au believes the newspaper will become popular in Tuen Mun, considering its recent publications fair and sensitive to hot district topics.
(Edited by Michelle Chan)