Beating all odds with positivity
The positive life led by the ordeal dealer
by Celia Lai
At the age of 67, Stephen Char Shik-ngor is still wearing different hats: a barrister at law, a mediator, a columnist. Straddling different fields, he is renowned for being an activist in the frontier of health protection.
Having an abscess on his bottom lip because of sweltering, the grey-haired man laughed about his hectic but happy life.
"I can take a break when I am taking the train," Mr Char said with a smile creasing his face.
The wrinkles marked his ups and downs. Nicknamed the "expert of ordeals", he had experienced family loss, cancer and two divorces. However the misery in his life has never beaten him. "Life is a combination of sorrow and happiness. One has to accept the fact of life," he said.
Liver cancer became a watershed in his life. In sight of no helping hand to turn to while he was suffering from the disease, the survivor set up the first organization for liver cancer sufferers in Hong Kong, during the year of 1994. Besides providing medical and spiritual support, the organization was running for liver transplants. He was crowned one of the top ten fighters of regeneration, for his contribution in 1998.
For the sake of patients' rights, the cancer fighter even confronted the Hospital Authority (HA) himself, in 2003. To fight for the rights while minimising the adverse effects, Mr Char resigned from the Independent Commission Against Corruption (ICAC), where he had worked for 28 years. He negotiated with an HA official who wanted to close down the liver transplant centre in Prince of Wales Hospital due to a fiscal deficit after SARS.
"Meanwhile there was a generous businessman offering HKD$40 million to continue the transplant centre. Yet, HA asked me about the kidney or heart patients. They were testing my EQ," he said.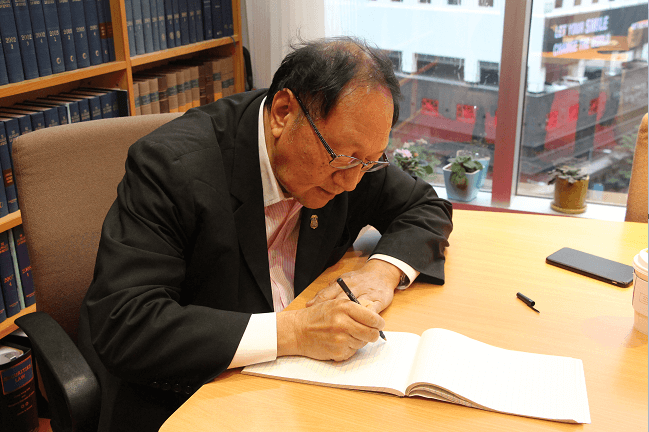 Brimming with confidence, this veteran barrister said, "out of their expectations, I promised them I could go find some other wealthy men for help. If not, I could launch a territory-wide fund campaign. They were shocked."
Unfortunately, HA brushed aside his suggestion and shut down the transplant centre. He expected a justifiable explanation but met no reply. The temporary failure didn't hinder him from helping more people. In 2004, a journalist inspired him to run for the LegCo election. "She asked me if I was doing this for the election. I said no but I thought deeply about it," he said.
Instead of shouting at the shut door, Mr Char tried to initiate the Legco councilors into the health issues. He took part as an independent candidate in New Territory West. The whole election campaign cost him more than a million dollars. Yet, he failed to enter the council.
"I will never forget the number - 9116 votes! With less than two-months of exposure! It was impressive," he said.
Reviewing this year's LegCo election, in which a controversial disqualification and death threats were involved, the barrister urged ICAC and the police to initiate a proactive parameter in the protection of law enforcement. "Blackmail is a serious offence. People who commit crimes should be brought to justice," he stated.
Asking whether we should not expect anything from ICAC and police amid their declining reputation, Mr Char said this was a negative attitude. "Never premise anything. We should always encourage the government to take action," he said.
Hong Kong saw the highest turnout rate in this LegCo election with the participation of more than 2.2 million voters. Mr Char hoped people could respect the counsellors, whether they are conservative or radical, since they relay the voices of the people of Hong Kong. "Like what Voltaire said 'I disapprove of what you say, but I will defend to the death your right to say it'," he quoted.
"We are different individuals. We are unique. Voice out what we think not what we hear," he said. Apart from being judgmental, Mr Char said Hong Kong people do not spend time thinking, but rather echoing others' opinions.
Over the last few years, the happiness index of Hongkongers has dropped to the 75th place, out of 135 countries. Giving a hint on how to stay positive, the happiness expert suggested us to "be critical". "It frees us from being controlled, as one can make his own judgement and decision so as to live his own life," he added.
(Edited by Ann Li)