It says something about the possibility of having a walkable Hong Kong when artificial grass mats, splash pools, picnic tables and benches were placed on what used to be a heavily-congested Des Voeux Road Central in September last year.
The government is working with NGOs to turn roads into more pedestrian-friendly and it maysurprise many that the city is currently having seven full-time pedestrian schemes and 30 part-time ones.
"Walking can be safe, comfortable and interesting," said Maura Wong Hung-hung, Chief Executive Officer of the independent public think tank Civic Exchange. "That's why walking is a pleasure and something that people enjoy, they don't have to depend on vehicles," said Wong.
The "Walk in Hong Kong" initiative, proposed by the Transport and Housing Bureau, was officially announce in the 2017 Policy Address on January 18. It aims to promote walkability, which is related to connectivity of streets in Hong Kong.
Working on pedestrian environment, the initiative will implement multiple new measures based on four themes. According to the Legislative Council Paper, it will provide user-friendly information on walking routes, enhance pedestrian network connection, make walking a pleasant experience and provide a safe and quality pedestrian environment.
Civic Exchange introduced a new initiative in December 2016, "Walkability", to advocate walking in the city. The new initiative also encourages the government and different sectors to take a "people-first" approach in urban planning.
For instance, meetings and seminars will be organized to foster citizens' understanding about the concept of walkability. "Pedestrian should play a priority role in the city's development, including the transportation strategy," said Wong.
Civic Exchange also introduced the WALKScore in December 2016, a tool to measure walkability in Hong Kong. It takes into consideration the city's density, mixed-land use, constant traffic, hilly topography and other challenges. From its data, Mongkok was given 18 out of 42 points, rated the poorest among all districts. However, Choi Hung, another district located on the Kowloon Peninsula, was given a remarkable 41 points.
Karen Lee, a senior project manager of Walk DVRC. said "Mongkok is regarded as well-connected in the region, where you can see lot of footbridges. However, it received a very low mark only."
"It is a framework and an objective method to review whether the walkable environment is functioning well," said Wong. From Civic Exchange's website, Central, Mongkok, Kwun Tong and Choi Hung were selected as pilot areas to conduct walk audits as well as test use of the  checklists.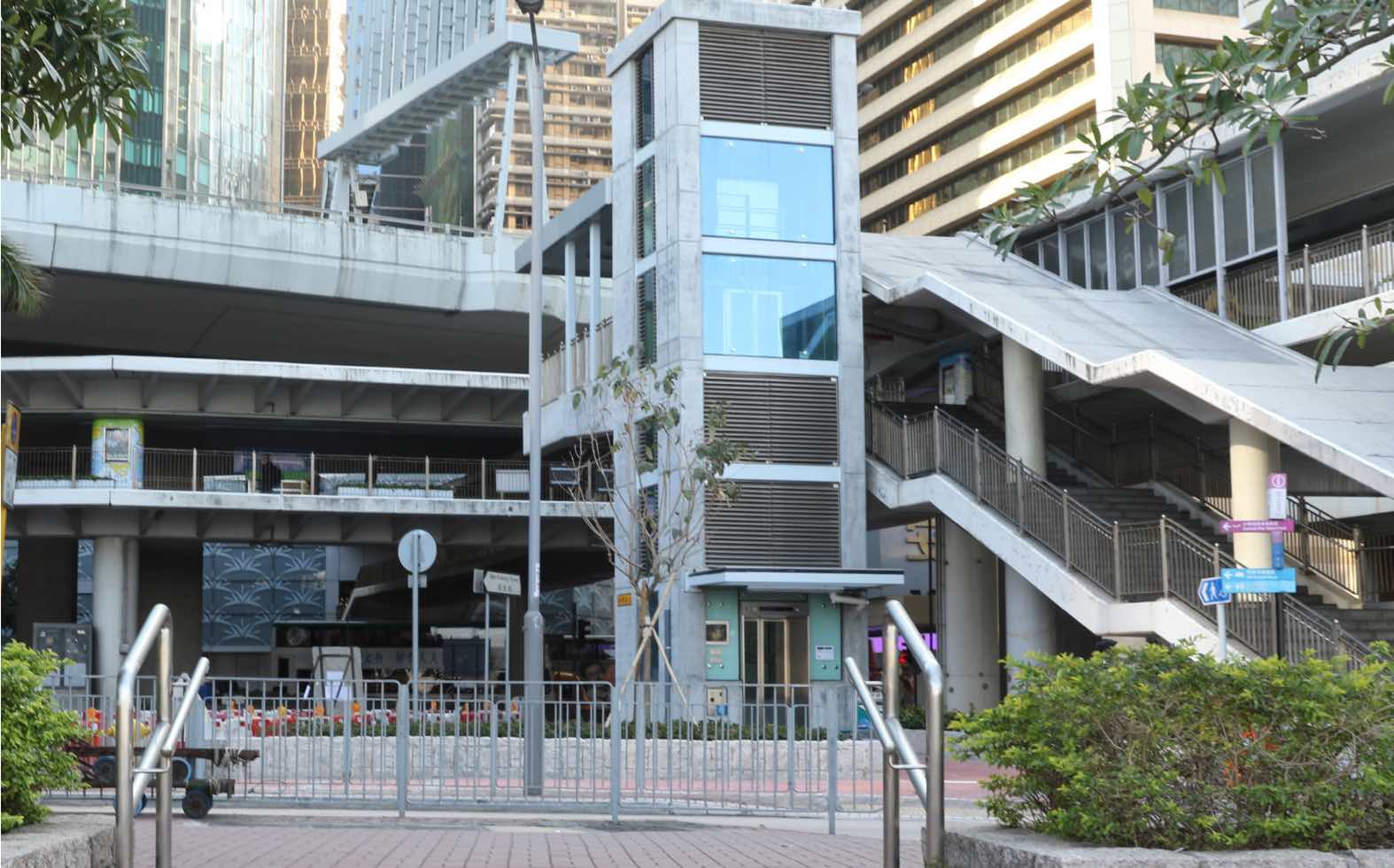 She also encouraged people to share their findings of the WALKScore with the district councils, so that the councils can improve the walking environment of the districts. For example, a series of events were organized in Kowloon West to assess the walkability of different area neighborhoods. Local 8 and planning professionals identified problems through the use of the new checklists.
Wong said she is glad that the government pays attention to the walkability in Hong Kong by naming the Transport and Housing Department to implement improvement works on the pedestrian environment. Specific measures include selecting two areas for pilot study to test out innovative measures and enhancing present pedestrian facilities.
"We consider this an important step in the right direction," she said. "We are very happy that the government finally includes it in the policy address."
"Walk DVCR", formerly known as the the Des Voeux Road Central Initiative, is a non-profit leadership which aims at improving the pedestrian environment from Western Market to Pedder Street. The initiative has created a green neighbourhood for pedestrian and tram in the Central Business District by re-managing traffic and cooperating with different sectors. Lee said the Walk in HK initiative is not comprehensive enough.
"I will say it touches on walkability in the sense that it highlights the connectivity aspect," she said. "From what I see, it is good at increasing the connectivity and accessibility of people, but it is not exactly walkability."
There are 775 footbridges and 463 subways in Hong Kong, according to the Footbridges and Subways of Hong Kong report conducted by the Highways Department in 2016. Footbridges and subways are built to improve road safety and allow a continuous flow of pedestrians without the need to wait at the kerbside to cross, the report says.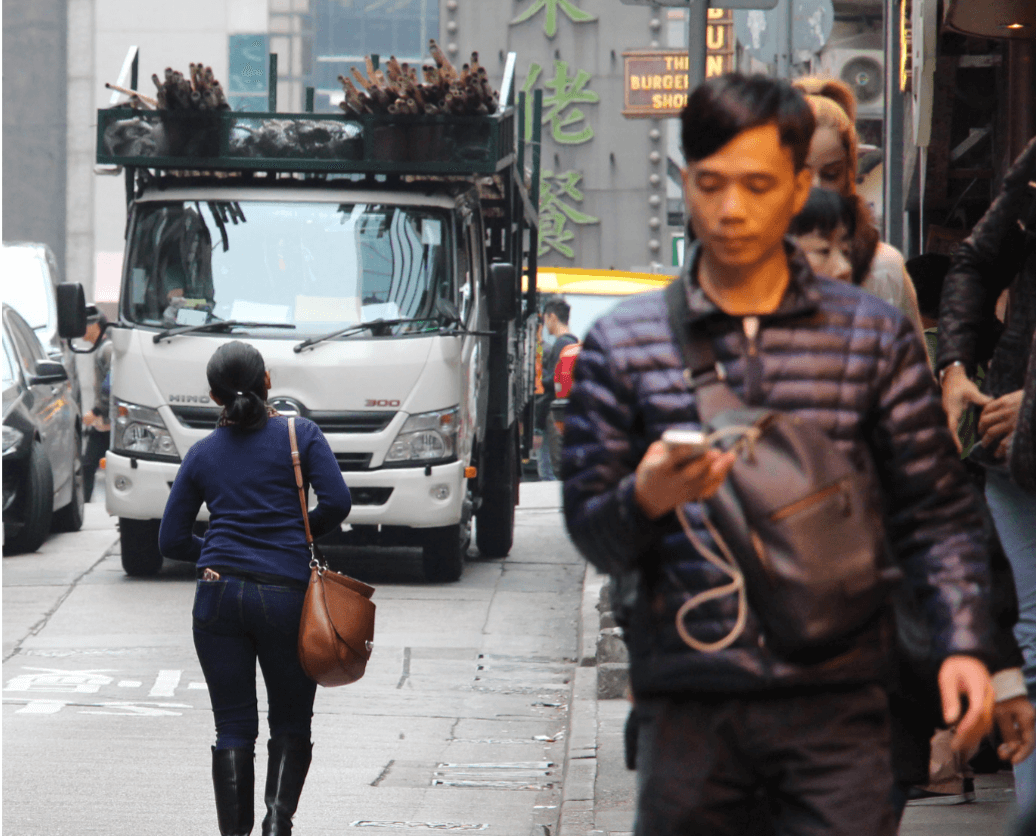 Lee said footbridges and subways did not satisfy all the criteria of being walkable because people needed to go up and down when using them despite of the connectivity, making it a less comfortable experience for pedestrians.
"When we talk about being walkable, it should be easy and interesting," she said. "It is not about building footbridges to bring people to shopping centers to boost up sales."
Walking is a part of Hong Kongers' life. However, the government has long prioritized vehicles over pedestrians. In the Travel Characteristics Survey 2011 Final Report conducted by the transport department, walking is not counted as a form of commute.
Wong said Hong Kong was not walkable due to the lack of comprehensive district-planning in the past, while the government mainly focused on enhancing the connectivity of the city by constructing crossings. She pointed out that the walking experience in Hong Kong was not very desirable because of the lack of public amenities such as benches and parks.
So far, the Highways Department and the Transport Department have not employed any specialists in building pedestrian facilities. A campaign by Chinese University students revealed that pedestrian areas in Central, Tsing Yi, Tsuen Wan and Kowloon Bay did not have sufficient seating.
Both Wong and Lee said that Hong Kong can learn from London's pedestrian scheme to improve its walkability.
Reported by Kenji Chan and Zinnia Lee
Edited by Crystal Tai and Emily Cheung