Yuen Yuen Institute accident exposes loosely regulated furnaces
By: Caroline Kwok、Holly Chik、Michelle Ng、Elly Wu

Edited by: Isabella Lo、Daisy Lee

2017-09-13
Yuen Yuen Institute accident exposes loosely regulated furnaces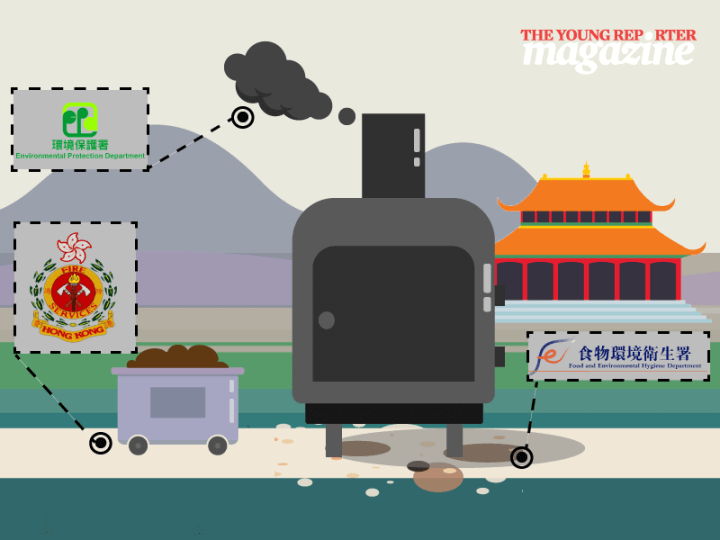 Loose regulations towards furnace are revealed as a woman died two days after leaping into an unattended temple incinerator.
Temples and religious event organisers do not need to obtain permits from Environmental Protection Department for furnaces used for burning joss paper, incense and other rites , since these activities are not regulated by the Air Pollution Control (Open Burning) Regulation.
Currently, no regulation or ordinance deal directly with the safety issue of furnaces other than the temple itself, said Wong Wai-kit, the Vice Chairman of the Tsuen Wan District Council.
"We do not know which government department is responsible for the regulation", said a spokesperson for the Fire Services Department.
According to the spokesperson, the department is not directly responsible for regulating the burners but can provide advice to the design and location of furnaces upon other government bodies' requests. The department can only take action if the incense burners pose threat to fire safety such as the width of fire escapes.
Other departments can only exert limited control to the operation of furnaces. Environmental Protection Department can serve an Air Pollution Abatement Notice to require the owner of the furnace to take remedial action to cut down or even eliminate the smoke emission.
Food and Environmental Hygiene Department can charge anyone who committed littering up to $1,500, including ashes after burning paper offerings.
Compared to that in Yuen Yuen Institute, the "Qing Yan" Eco-joss paper furnace developed by Hong Kong Productivity Council (HKPC) has a smaller opening.
Temples operated by Tung Wah Group of Hospitals (TWGH) have trained staff to handle the burning for the public, especially when there is a high demand for the service, said the HKPC, who designed the burners for TWGH.
The HKPC also said they usually reject the public from using the furnaces by themselves.
Gates installed in the burner will be locked to enclose it after the fire has been extinguished to avoid accidents from happening when the incinerator is unattended, said the HKPC.
They also post user manuals and notice signs near the furnace to remind the public of safety issues, they said.
Reported by Caroline Kwok, Elly Wu, Holly Chik and Michelle Ng
Edited by Daisy Lee and Isabella Lo