A "Day of Thanks": Hong Kong protestors flock to pro-democracy businesses to show gratitude
By: 談 巧童、AcaciaRedding

Edited by: Vanessa Yung

2019-10-11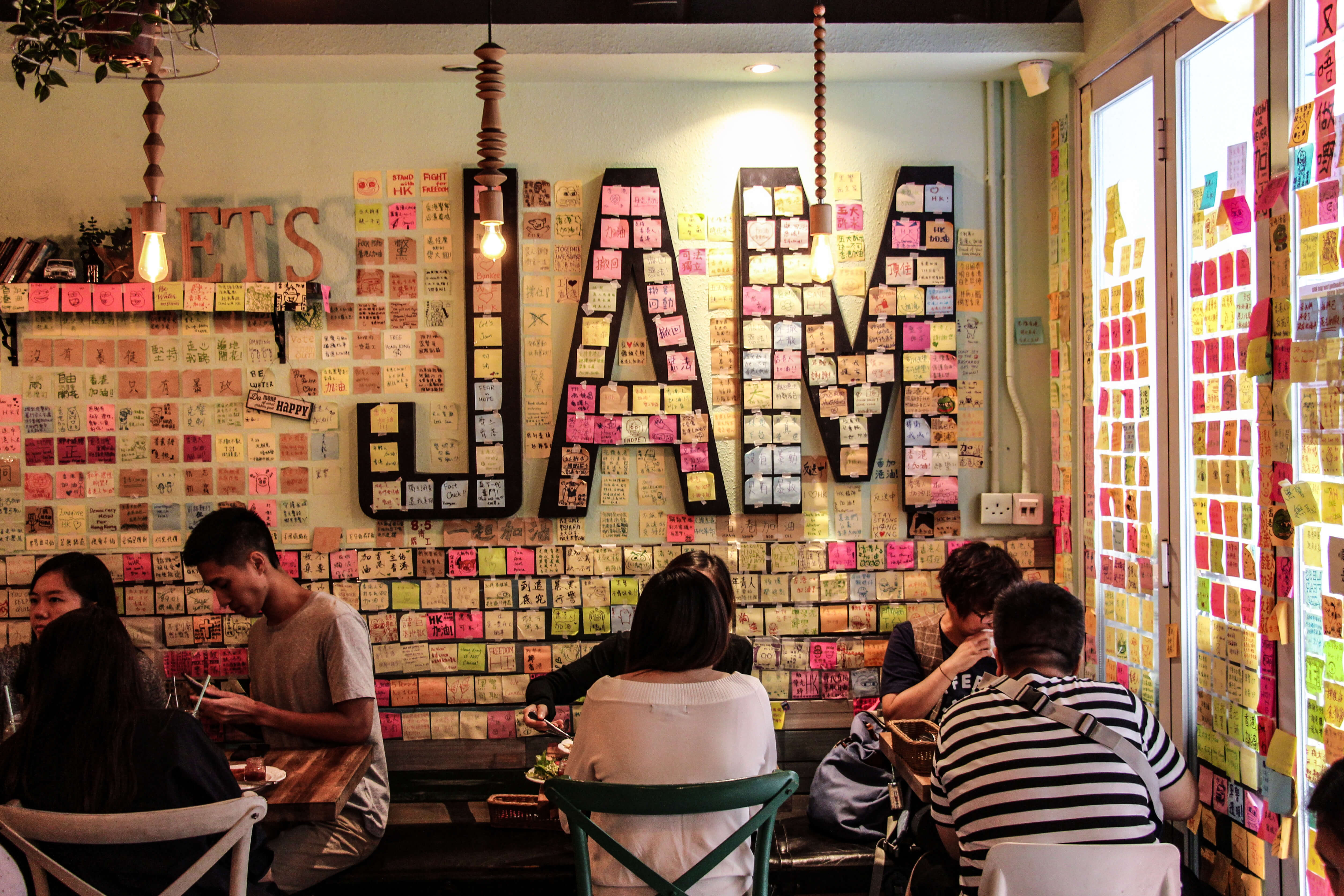 Pro-democracy protesters heeded an online call to support "yellow shops" today, expressing their gratitude to businesses which have shown support for the ongoing anti-government protests that started in June. 
The "Day of Thanks" was publicised on social media outlets and chat platforms, such as telegram, encouraging supporters to "say yes" to those businesses by endorsing and purchasing products from them throughout the day.
The "colouring" of opposing political views was sparked by the Occupy Movement in 2014, with pro-democracy supporters labelled "yellow ribbons" and allies of the police or Chinese government classified as "blue ribbons". 
The current unrest, sparked by the now-withdrawn extradition bill, has again greatly divided the city, with netizens categorising shops depending on their political stance. 
Stores classified as "blue" are actively boycotted by protestors, while stores categorised as the newly emerged colours of "red" and "black" — meaning mainland financed or have suspected triad affiliation — are often graffitied and vandalized during demonstrations. 
Let's Jam, a cafe in Tsim Sha Tsui, and Lung Mun Cafe, a Hong Kong-style diner, were among the "yellow shops" listed on a poster advertising the "Day of Thanks". Supporters were urged to check into the establishments on social media with the hashtag #standwithhk.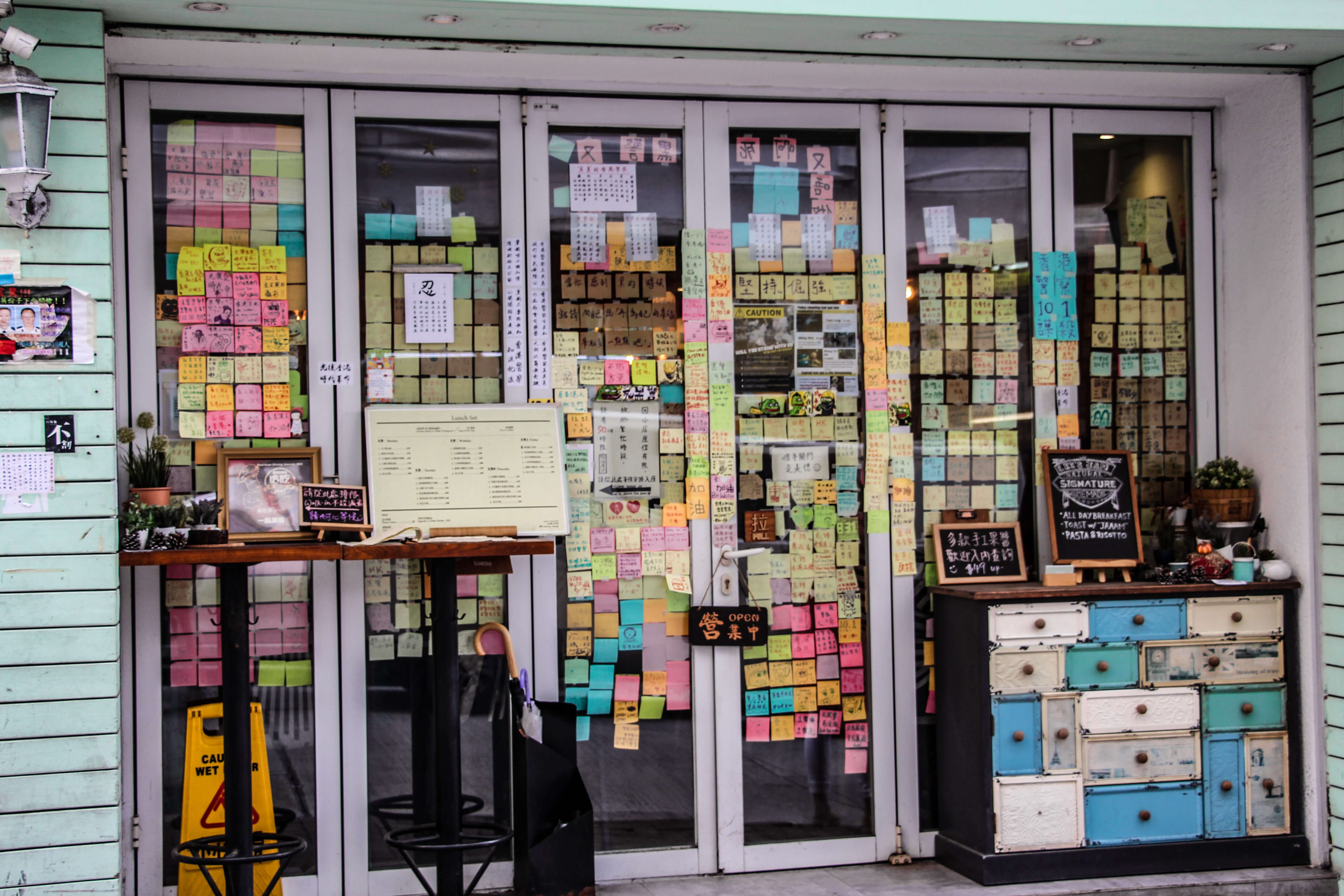 Many of the "yellow shops" have openly endorsed the pro-democracy movement through participating in strike days, posting social media as well as in-store. 
Staff of Let's Jam said business has increased after they have created a "Lennon Wall" in the shop for customers to write words of encouragement to support the movement and protesters.
"More people have been coming to support us for standing on the side of Hong Kong people," said Tung, staff member of Let's Jam. "Apart from the Lennon Wall, we also offer free meals to protesters who used up their money because of the movement." 
Ms. Chiu is one of the many who heeded the call to show her gratitude.
"I feel happier to spend my money in these shops. I would go for the more expensive choices on the menu to thank the owners," said Ms. Chiu. "It also makes me feel more comfortable to be surrounded by people who have the same political stance because obviously we are all here for the same reason."
Long queues were also seen outside Lung Mun Cafe, which had offered free meals for secondary and university students in September, and has given out free energy bars and water for demonstrators during protests.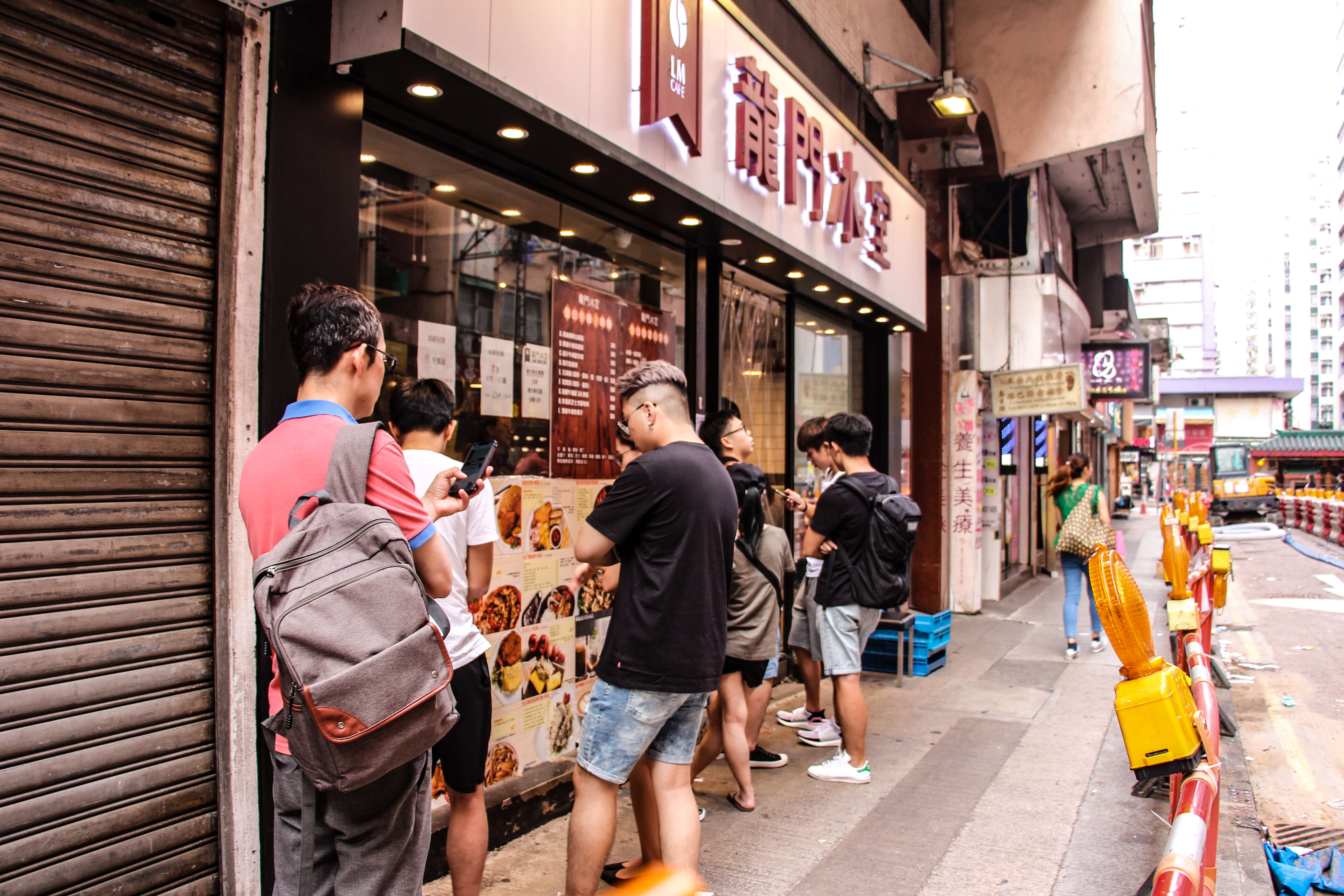 Li Yeun-tak, a university student said he came to the local eatery to show his appreciation to the owner.
"It takes a lot of courage for one to publicly show his support for the movement in fear of white terror," said Mr. Li. 
This is not the first time protesters have adapted their consumer habits. An online campaign labelled "Bye Buy Day" was launched in August, encouraging activists to avoid retailers they deemed pro-Beijing and reduce their spending on Fridays and Sundays. 
The campaign, initiated by a group of elderly citizens, was made in an attempt to inflict temporary economic damage to pressure the government in meeting protesters' demands. 
Pressure is also kept on "blue shops" as widespread protests over the weekend were characterised by heightened property destruction and vandalism. Many of the targeted businesses, such as the Bank of China, were listed on protest-supporting social media sites as mainland-connected or "blue shops". 
Included in the list are also Yoshinoya, a popular Japanese fast-food chain, and Starbucks, a coffee chain, for supporting the police crackdowns and condemning the chaos brought on by the anti-extradition protesters. During mass protests, many of these listed shops would close down early in fear of being targeted.
To allow informed shopping decisions, Apps and websites aimed to aid consumers in their knowledge of Hong Kong businesses have sprung up in abundance over the past few months, with guides on which businesses are pro-democracy and which are pro-Beijing. 
A Google Maps food-guide and "Whatsgap" are two of the said platforms, both of which compile businesses into colour-coded categories in a bid to put an economic strain on mainland-connected businesses.
"We should take actual actions to thank those owners who are brave enough to support us by spending money in their shops," said Mr. Li who had used the Google Maps food-guide to locate Lung Mun Cafe, "Hong Kong is under a very difficult situation now."