New port regulations around the world
By: Eurus Yiu、Mereen Santirad

Edited by: Nicole Ko、Moon Lam

2020-02-07
Chief Executive Carrie Lam announced today (February 3) that four ports, including Lo Wu, Lok Ma Chau, Huanggang and Hong Kong Macau Ferry Terminal, would be closed from 0:00 tomorrow to reduce the flow of people.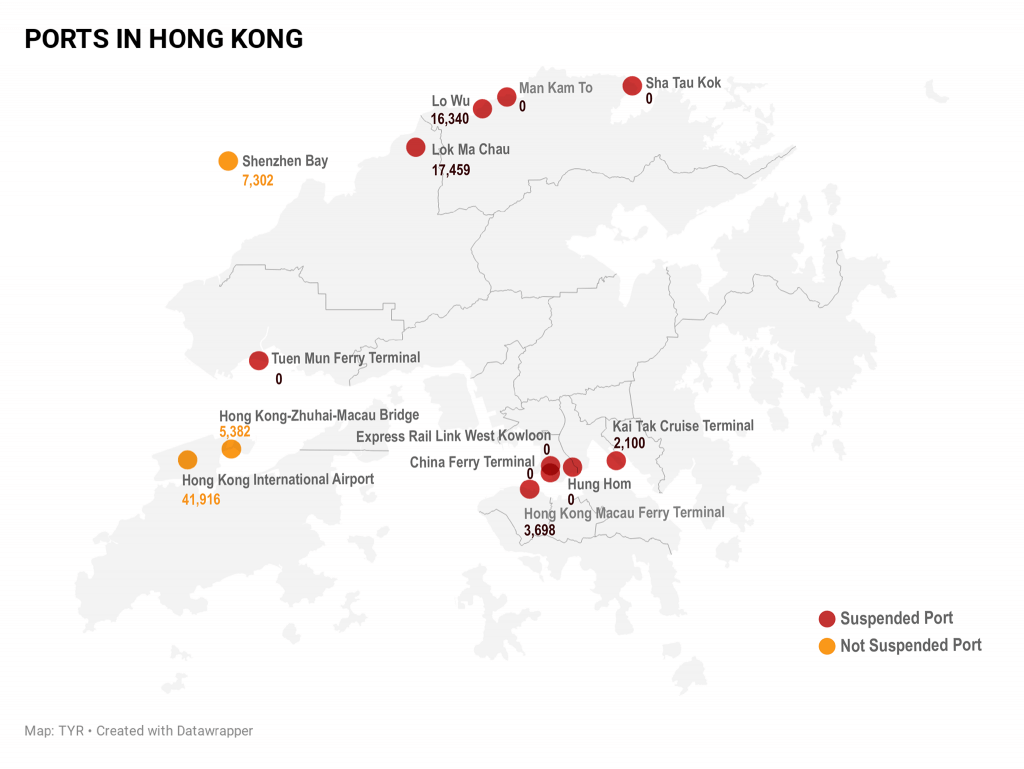 WHO declared an outbreak of the new coronavirus as a "Global health emergency", but it did not recommend any restrictions on travelling to China or on trading with it. Despite this, some countries are offering travel restrictions, to prevent the epidemic from heating up or out of control.
According to the data of the National Health Commision by the end of February 2, China has identified 17205 confirmed cases, 21558 suspected cases, including 15 cases from Hong Kong. Number of deaths has climbed to 361.
The virus does not only spread in the mainland, but also in 23 other countries with 283 cases confirmed.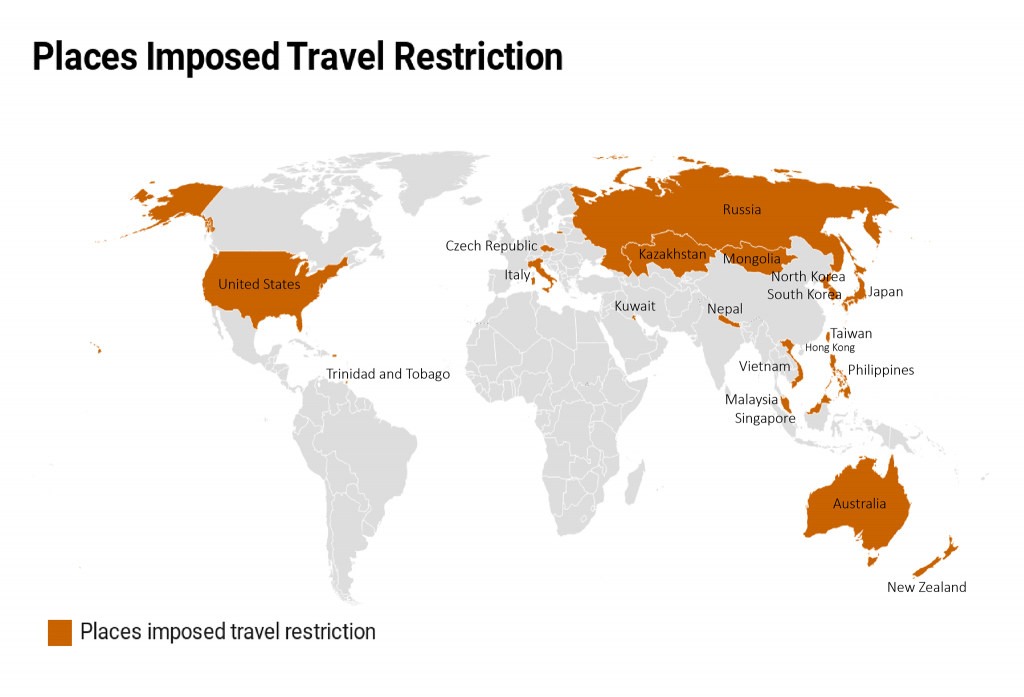 Hong Kong
9 out of 13 ports in Hong Kong will be suspended at midnight. Three ports including the airport, Shenzhen Bay Hong Kong-Zhuhai-Macau Bridge will be opened and Kai Tak cruise terminal.
The United States
On January 30, the new coronavirus has been listed as a US public health emergency, imposing travel restrictions and issuing a mandatory quarantine. Foreign travellers from China in the past two weeks (except for immediate family members of US citizens and permanent residents) are banned from entering the US.
In addition, US citizens who have stayed in Hubei province within the past 14 days need to be screened, and subject to mandatory quarantine for 14 days. Citizens who depart from other chinese cities and return to the US will be diverted to eight designated airports for health screening procedures.
Australia
Effected from February 1, all persons travelling to Australia from mainland China are required to be quarantined for 14 days (except Australian citizens, Australian residents, dependents, legal guardians or spouses).
Japan
Starting from February 1, foreigners who have visited Hubei Province in the past 14 days and all persons with Chinese passports from Hubei Province are refused entry.
South Korea
The South Korean government raised the travel warning to Hong Kong to level 2, which represents "cautious travel. However, there is no additional restriction on access. As for Hubei Province, a level three red warning for "recommended evacuation" is maintained.
North Korea
The North Korean government declared a state of emergency, which strengthened quarantines at airports, borders and ports. A temporary ban to all foreign tourists from entering the country was also in effect starting from January 22.
Singapore
All passengers who travelled to China within 14 days are banned from entering the country (including transit passengers). All visas issued to Chinese passengers would be abolished.
However, Singapore citizens, permanent residents, etc. who entered China are allowed to return to Singapore but they are required to be self-isolated for 14 days.
Malaysia
Chinese citizens from Hubei and Wuhan province are banned from entry.
The Philippines
The Philippine government has stopped issuing landing visas to Chinese citizens, and the Civil Aeronautics Board has indefinitely suspended all flights between Wuhan and the Philippines.
Vietnam
The Vietnamese government suspended travel to and from Wuhan and stopped receiving visitors from affected areas in China. International visitors who have been to the affected areas of China are subjected to 14 days of quarantine observation upon entry into Vietnam. Vietnamese citizens returning from China are isolated for 14 days and are reported to their local medical facility.
Taiwan
Taiwan's Central Epidemic Command Center has announced that people from Guangdong Province are not allowed to enter Taiwan from February 2.
The command center decided to divide popular areas of Mainland China into two levels. Hubei Province is currently classified as a first-level epidemic area, Guangdong Province as a second-level epidemic area, indicating suspicion of local community transmission.
Russia
The Russian government has restricted Chinese-Russian rail transport and expanded border controls between China and Russia since January 31. Visas were stopped issuing to Chinese citizens from January 30.