Biden's victory frustrates Hong Kong pro-democracy protesters
By: Cherry Lee、WANG Yichun

Edited by: Clara Ip

2020-11-08
Joseph Robinette Biden Jr. was elected the 46th president of the United States on Sunday, with more than 74 million votes nationwide, surpassing Obama's 2008 record of 69,498,516, setting a new record for the popular vote.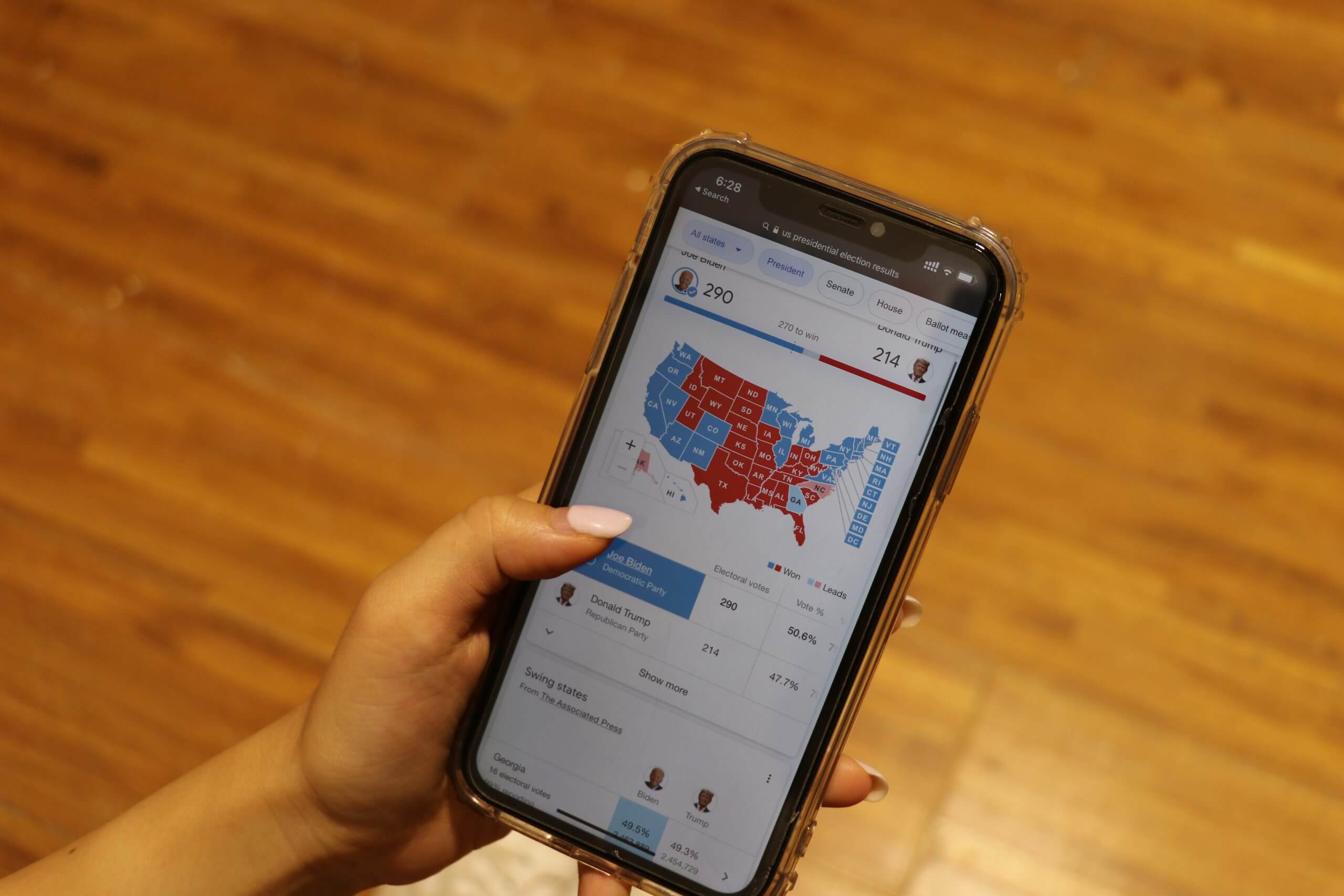 Millions of people have kept their eyes fixed on the battle between the Republican US President, Donald Trump, and his Democratic challenger, Joe Biden. And people in Hong Kong are no exception, yet the result has disappointed many Hong Kong pro-democracy supporters.
As Trump had openly taken his stance to support Hong Kong pro-democracy protesters, many have been rooting for Trump and have even actively promoted Trump across social media platforms. 
"I support Trump, for sure, his policies are tough. I believe Trump would definitely bring benefits to Hong Kong when we are on the path of fighting for democracy," said Lo Ho Yin, 21, a pro-democracy university student. 
Mr Lo said he has nothing to do but to accept the reality. "I mean it's the decision of the US citizens. They certainly have the right to vote for what they think is best for the country," said Mr Lo. 
"And now Biden wins, he will stop the US-China trade war for sure, and it will only help China to gain more power," said Mr Lo, adding that Biden winning will only help China rise.
He said that Hong Kong is just a small part of the US's concern, and Hongkongers should broaden their perspectives on what Biden would do to benefit different races and change the world. 
In response to the implementation of the National Security Law in Hong Kong, Trump had launched a series of boycotting policies toward China. He cancelled 1,000 China students' visas and banned members of the Chinese Communist Party from entering the US, in support of the Hong Kong protesters. 
The debate on the US presidential election has heated up on LIHKG, a local online forum where users can comment anonymously, with nine out of 10 most popular posts on this topic. Netizens are constantly reposting news articles while showing disapproval for Trump.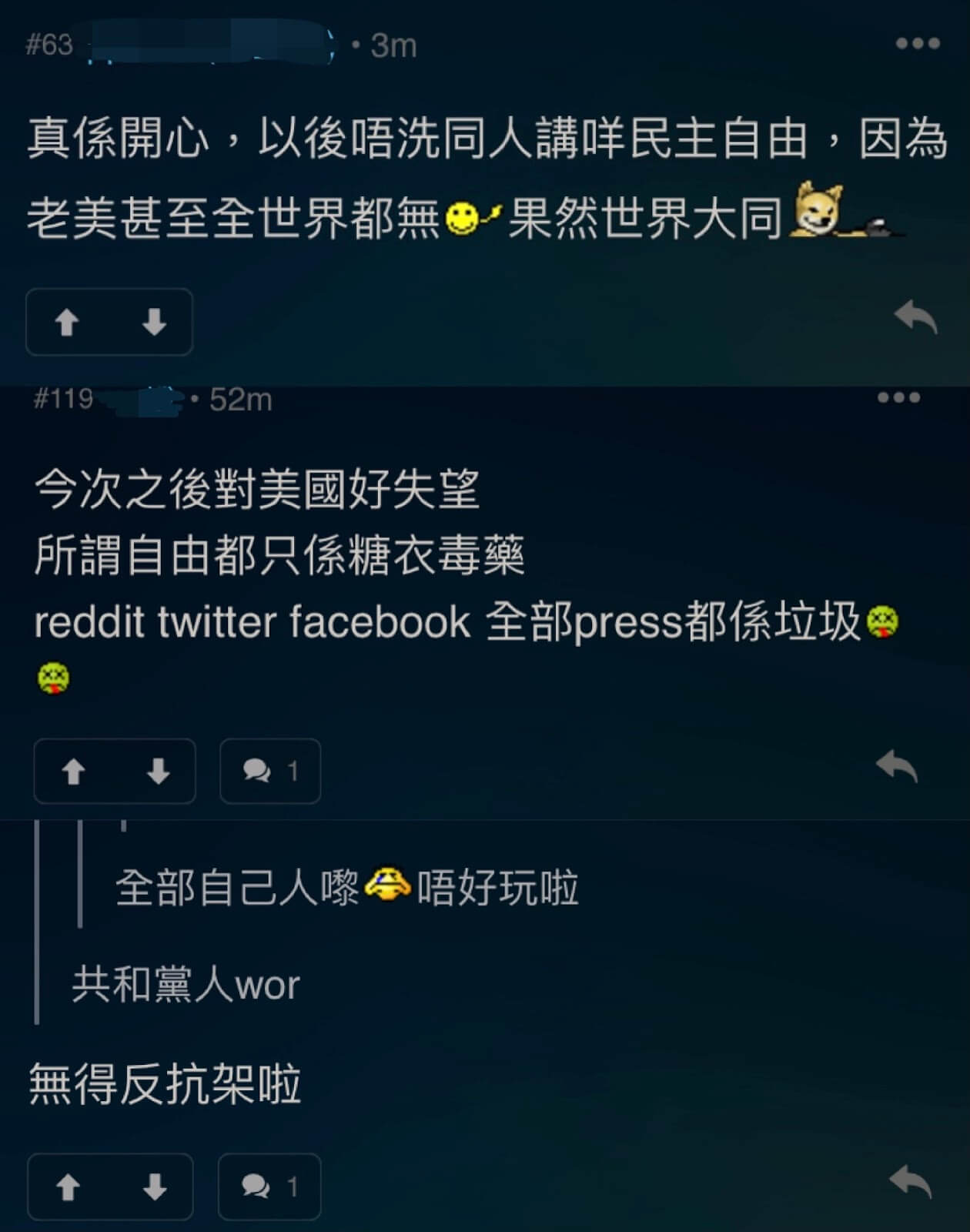 "We don't ever need to mention democracy again, because there's no democracy in the US and no democracy in the rest of the world", one comment read. 
Others said, "I'm so disappointed in the US, their so-called 'freedom' will only be lies," and "Hong Kong has no power to resist the Chinese government."  
"If it weren't for me, Hong Kong would have been obliterated in 14 minutes," Trump told Fox News on Nov 22, 2019. Trump claimed that he had saved Hong Kong from being destroyed by persuading Chinese President Xi Jinping to hold off their plans of sending in troops to crush its pro-democracy movement.
Hk90s__photolifes, one of the most famous local photography Instagram accounts with more than 6,000 followers, had posted Instagram stories to show support for Trump. 
The Instagram photographer repeatedly emphasised that "The US and Hong Kong have the same enemy, China". Through constantly posting stories online, he hopes every Hongkongers could aggressively be concerned about democracy freedom in Hong Kong.
"I won't accept the result. It just makes me disappointed. I believe some of the votes are fake. Otherwise, Trump would have won," said Tim Leung, 23, the photographer who runs the Instagram account. His dream of Trump winning the election has shattered, but a part of him still believes that Trump will be able to turn the table.
"Hongkongers have surely lost hope on fighting for democracy without the help of Trump, I just don't buy Biden. Let's just wait for what Trump would do next," Mr Leung said with frustration. 
But not all Hongkongers support Trump with 42% of Hong Kong respondents preferring Biden, according to a survey conducted by YouGov, a British international Internet-based data analytics firm, in October 2020. 
Some LIHKG users commented that Hongkongers are not US citizens, and they voted for Biden because they believe he could bring a better future to the US. Hongkongers should not intervene in US politics, one comment said. 
"I don't think Trump can actually help Hong Kong. Why does he need to affect the politics of Hong Kong?" said Mrs Ip, 52, a housewife who is in the pro-Biden camp. "At least Biden would launch peaceful policies toward China, which is good, as no one likes to have wars."