Unhygienic Masks Sold Online Despite Ban
By: Lisa Liu、LIN Zhihuai 林知懐、Sophia Sheng、Jade Zhou

Edited by: Mark Chen

2020-12-30
In November, Tony Chan, a vendor on the sales platform, Carousell, was offering to sell face masks for $250 a box. He agreed to meet us at an MTR station to collect the cash. But one hour before the scheduled meeting time, Mr Chan stopped responding to our messages.
The brand of mask Mr Chan was selling, Bedah Karet Masker, had been seized by Hong Kong Customs in April after tests showed it contains an excessive amount of bacteria.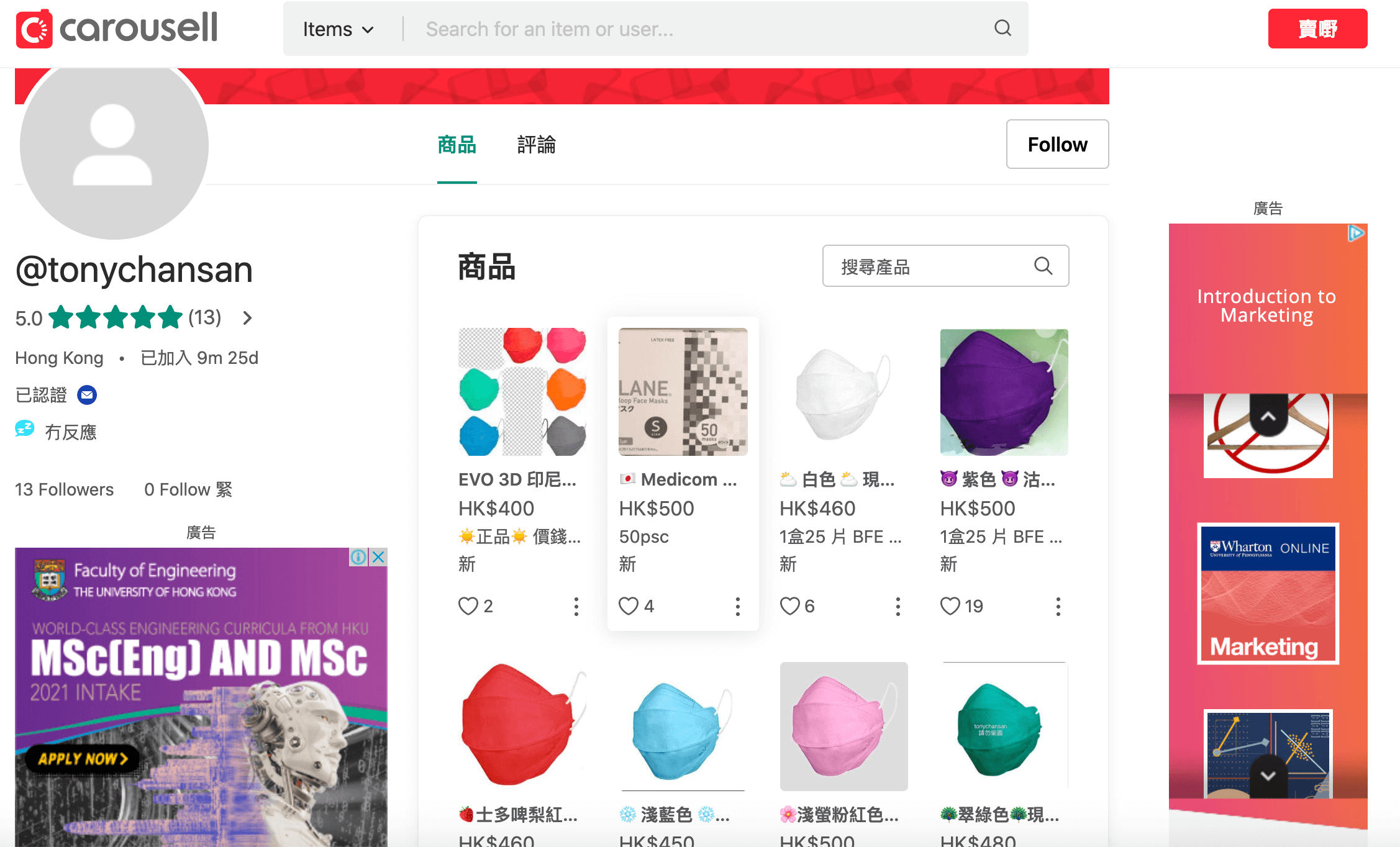 Carousell is a Singapore-based online platform where users can buy and sell new or second-handed products. Apart from merchandise, it also offers tutoring services, properties and jobs. Counterfeit and prohibited products are supposedly not allowed, but there are no checks or enforcement procedures. There is also no specific regulation on the sale of face masks.
"For masks, certification is not required, as long as they comply with the specifications in the listing rules on Carousell,"  a customer service spokesperson from Carousell explained during a live online chat with us.
The Bedah Karet Masker masks Tony Chan offered was one of 15  [identifiable] brands seized by Hong Kong Customs under "Guardian", an operation in April this year to crack down on masks that did not comply with the Trade Description Ordinance. Since January, nearly 6 million masks have been confiscated by officers.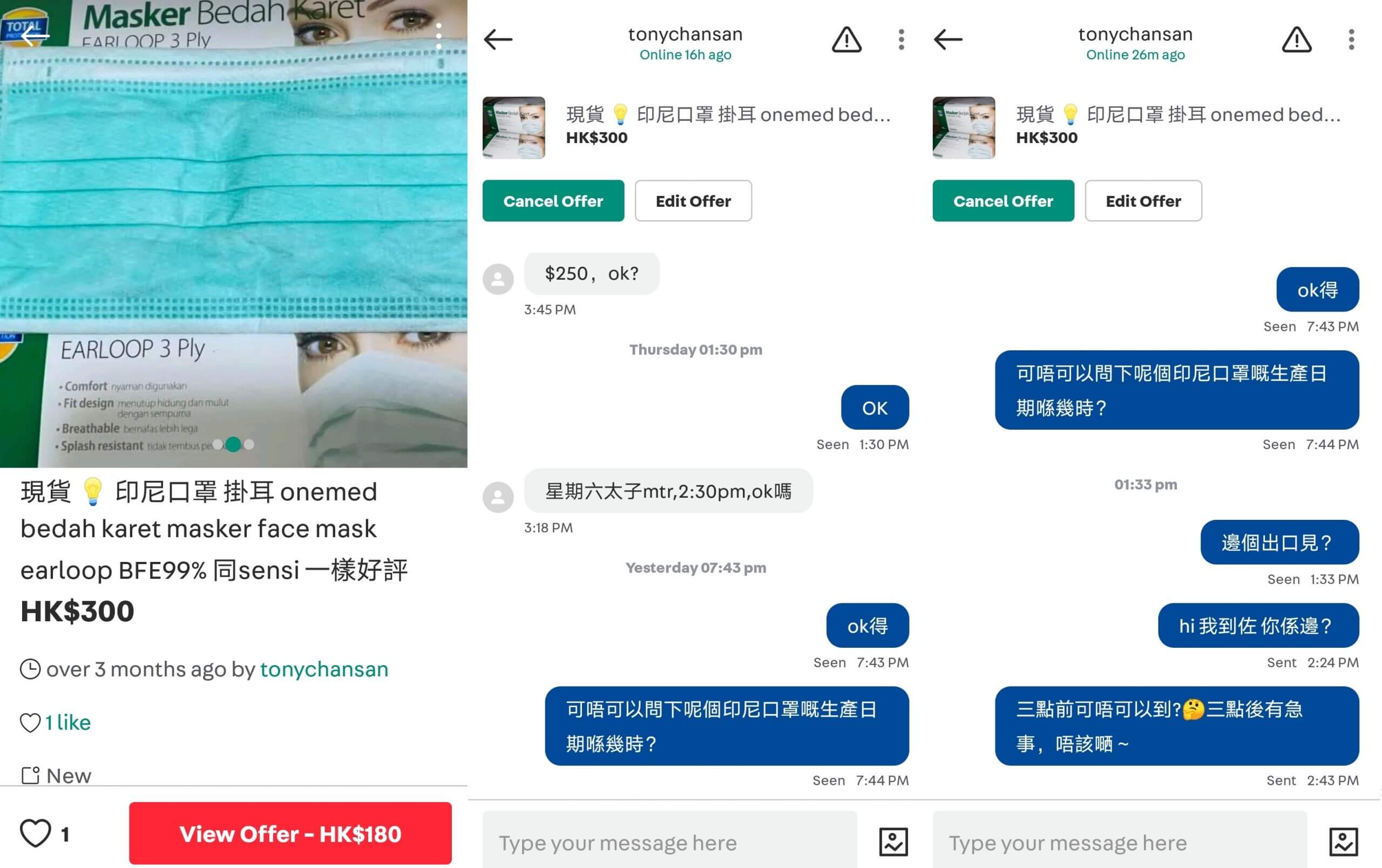 Test results show that 10 of the 15 brands seized had excessive levels of bacteria. Most of the packaging did not list where the products were manufactured. Hong Kong Customs said in a press release that most of the masks came from Southeast Asia or Central Asia.
Still on sale
Seven months after the Hong Kong Customs operation was launched, our observation indicates that four of the problematic brands are still being sold through Carousell. These include AD PRO FACE MASK, Atos, BRE-EASY and Bedah Karet Masker. 
In October, we found that seven vendors on Carousell were still offering the masks. After we reached out to them, some of them then marked the products as sold or removed them from Carousell. Most of them did not respond when we asked about hygiene issues. 
False product descriptions
Carousell also offers COVID-19 test kits. For example, one post claims that the Clongene COVID-19 IgG/IgM rapid test kit has been approved by nine different health authorities, including the United States Food and Drug Administration (FDA).  However, according to the latest filing report on the FDA's official website, the registration of the manufacturer, Hangzhou Clongene Biotech Co. Ltd., expired more than seven months ago. Moreover, as of November 25, 2020, the FDA had not reviewed or authorized the Clongene COVID-19 IgG/IgM rapid test kit.
Although Carousell claimed in the Listing Rules that product descriptions should be accurate on the platform or they would be removed, the Clungene COVID-19 test kit is still on sale in December, 2020.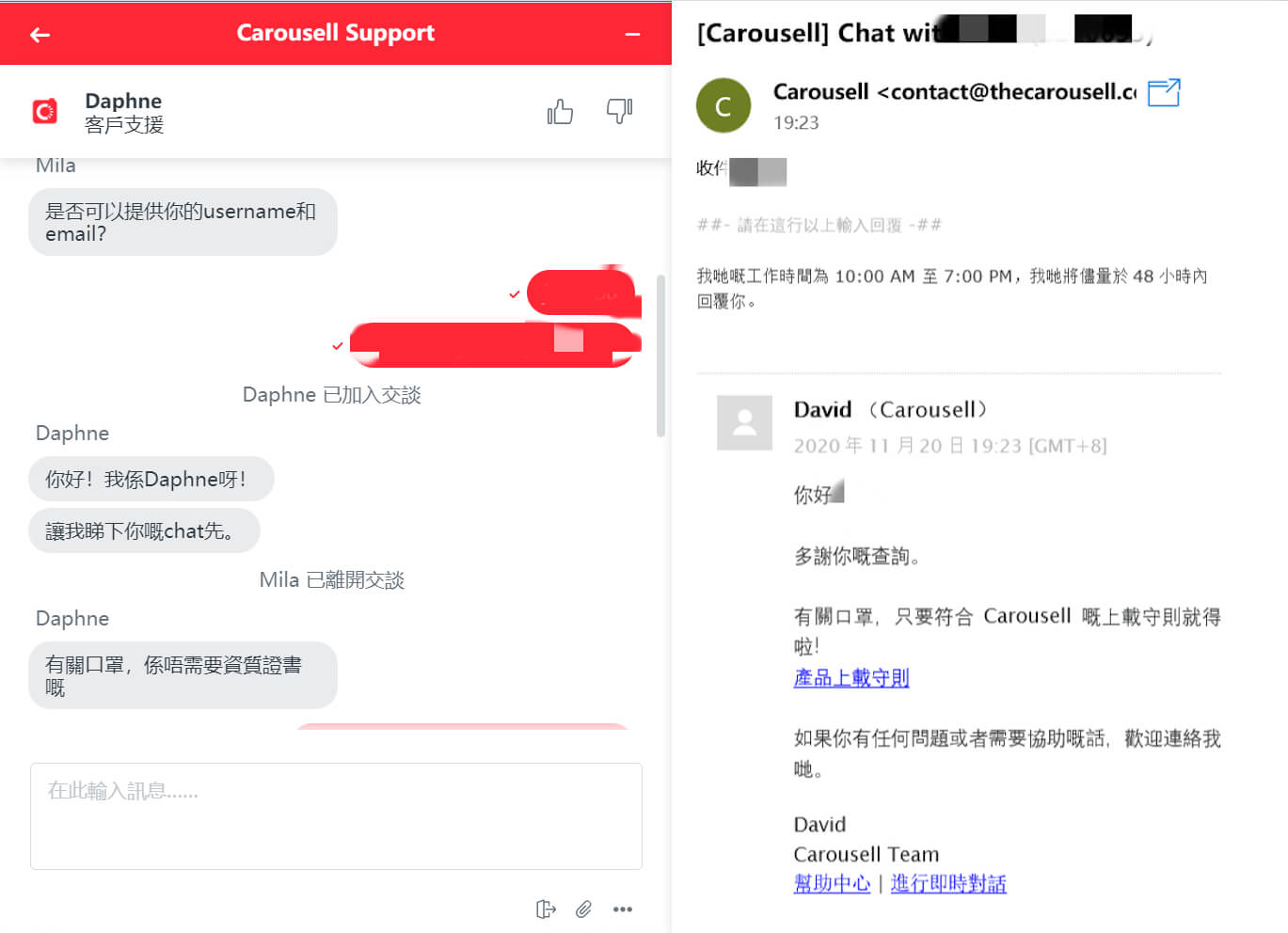 Listing rules designed to protect the platform
By law, medical masks sold in Hong Kong must comply with the Trade Description Ordinance (TDO) and the Consumer Goods Safety Ordinance (CGSO). 
Under the TDO, any person may not sell or possess goods that include a false description. According to CGSO, it is an offence to import, manufacture or supply consumer goods without complying with the general safety requirements for consumer goods. The maximum penalty for breaching these two ordinances is a fine of HK$100,000 and imprisonment for one year on a first conviction, and HK$500,000 and imprisonment for two years on a subsequent conviction. The public can report suspected violations of TDO or CGSO to the Customs Department. 
Masks being investigated by Hong Kong Customs are tested at a laboratory for bacterial levels to see if they meet hygienic standards. If the products are labelled "NOT MADE IN CHINA'', "ASTM Level 1", or "BFE≥95%", the vendors must provide certificates or other documented proof.
The standard to which Hong Kong Customs referred to determine whether face masks contain an excessive level of bacteria is the national hygienic standard for disposable sanitary products published by the General Administration of Quality Supervision, Inspection and Quarantine in China.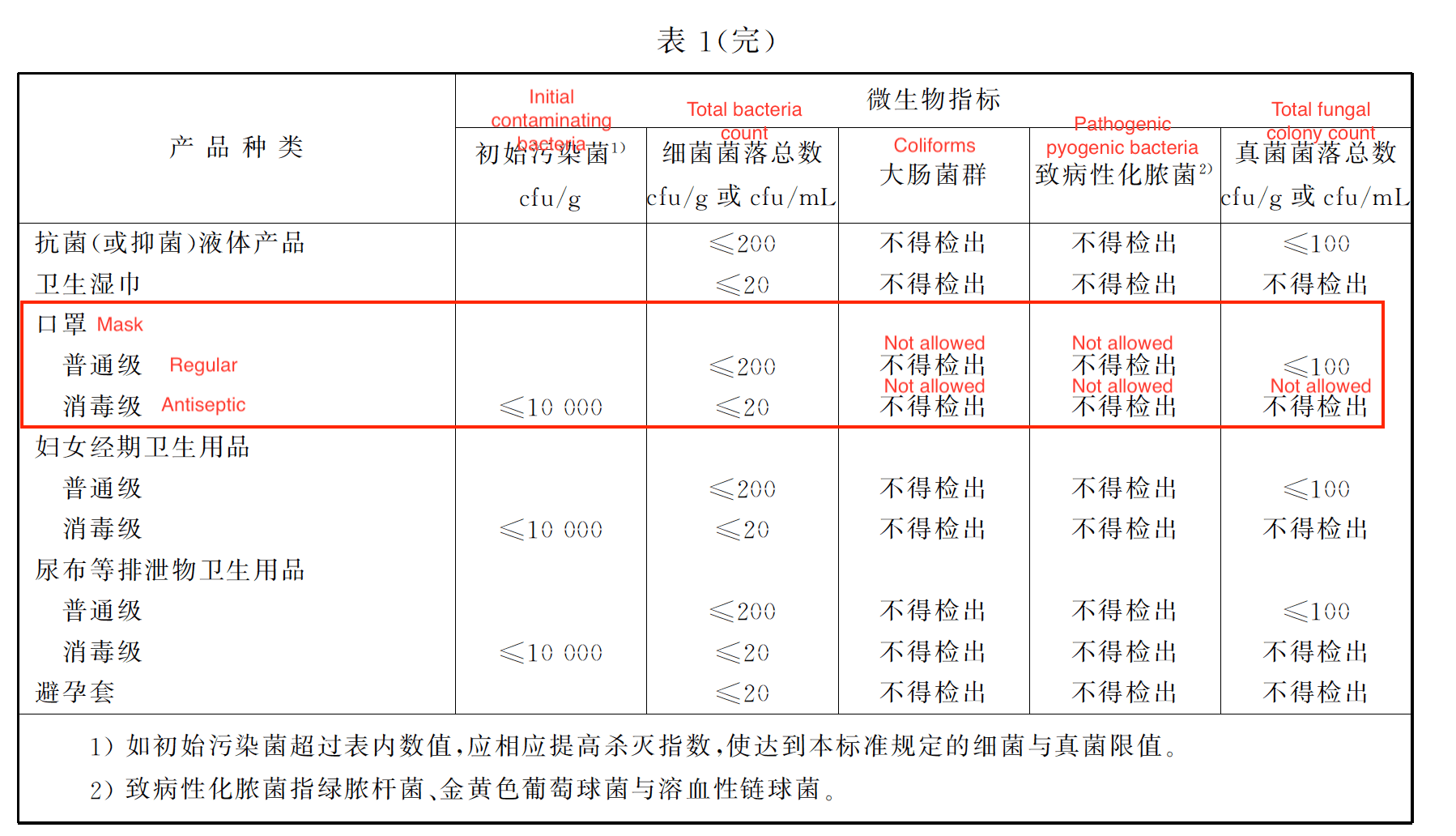 The number of bacteria found in the brand of masks customs officers seized was found to be 0.2 to 1.35 times above what is allowed by the standard.
So far, Hong Kong Customs have mostly been targeting physical stores. 
"There is, as far as I know, no particular law in Hong Kong regulating e-commerce platforms for the time being," said Eliza Xue, a lecturer at the Department of Accountancy and Law at Hong Kong Baptist University. "The applicable legislation, such as Consumer Goods Safety Ordinance and Trade Description Ordinance, are of a generic nature, regulating all on-market transactions including e-transactions."
The Hong Kong Consumer Council is supposed to regulate both online and offline transactions. But online platforms based overseas, such as Carousell, are outside Hong Kong jurisdiction and enforcing Hong Kong law on them can be a lengthy process. 
Patsy Moy, a practising barrister in Hong Kong, believes the liabilities should lie with the vendors rather than the platform. She cited two cases involving the sale of counterfeit and forgery products via Carousell. In both cases, Carousell was not held responsible for illegal conducts of the vendors. 
"It looks to me that the Listing Rules of Carousell are more to protect the platform from liabilities — to show it has exercised its due diligence to avoid civil or criminal liabilities," Ms Moy said, "however, enforcement is always an issue no matter how tight the rules are." 
"Listings that do not comply with the listing rules will be removed from our platform," Carousell claimed at the beginning of its Listing Rules. In the Chinese version, it added that "monitors" are responsible for the supervision job. But how do they evaluate whether a product violates the listing rules? Why are the banned masks not removed from the platform? Do they know about hygiene issues? Carousell did not explain in detail but confirmed that the banned masks should not have been "allowed" on its platform after we reported the situation to them for a second time. The platform has since deleted all relevant products and promised to "take further action on the reported users as well."
The platform has a reporting system where users can anonymously report behaviours that violate the Listing Rules, such as the sale of prohibited items. The moderators from the platform would send the complainant a message after reviewing the submitted report.
To test the efficiency of the mechanism, we posted a brand of the masks, Khatraco which has been banned in Hong Kong. We used photos from other vendors who have been selling them on the platform previously. Then we reported our account for "Selling prohibited items" using the reporting function on November 29, 2020. However, the platform told us that the product we reported did not violate the rules. By December 23, five out of the nine substandard masks we originally found on Carousell were still on sale.
Who are the suppliers of unhygienic masks
Wang Shun Medicine Company in Tsuen Wan, Hong Kong offered Atos Mask, one of the brands banned by the Hong Kong Customs on its Facebook page in February. The masks were imported from Turkey and Wang Shun bought them via a wholesale company. But once they realised there was a hygiene problem, they vowed on Facebook never to work with the supplier again.
Another vendor Cola, who was offering AD PRO FACE on Carousell responded to our messages via the platform. We asked her if she was aware of the brand's hygiene problems. "I don't know that," she asserted, "the company gave them [to me]." She said she had discarded the masks.
But when we contacted Cola via Whatsapp under a different name, she agreed to sell us some AD PRO FACE masks. But once she realised there was a hygienic problem on our other chat, she offered to swap them for a different brand.
Since some of the cases are still under the judicial process, a Customs spokesman was reluctant to divulge the exact type of bacteria found in the masks. But Hong Kong Customs have warned the public that wearing masks that contain an excessive amount of bacteria may cause facial skin discomfort. For the elderly, children and people with weak immunity, inhalation of bacteria may easily cause airway infection.