Hong Kong Trump supporters urge US to be harsh on China as Biden takes office
By: Sara Cheng

Edited by: Mereen Santirad

2021-01-22
Since immigrating to the United States from Hong Kong more than 20 years ago, Matthew, a 44-year-old actuary living in Virginia, has voted four times in the presidential election.
Twice for Barack Obama and then for Hillary Clinton. In 2020, it was Donald Trump. 
Pro-democracy Hongkongers, like Matthew, have seen government crackdowns on the city's autonomy and freedoms during the anti-extradition protests and after the passage of a draconian national security law. Feeling desperate, some projected their hope onto former President Mr. Trump, who they thought gave China a hard time. 
But as that hope is extinguished when Joe Biden came to office as the 46th US President on Wednesday, Hong Kong Americans who sided with Mr. Trump wait and see how the country's relationship with China may develop in a new era.  
"I hope the new cabinet would understand the so-called 'cooperation with the CCP' and a 'win-win' will only make the CCP win twice and do no good to the US in the long term," Matthew said in a text interview on the day of the inauguration. He did not want his surname to be shown for fear of being targeted by authorities.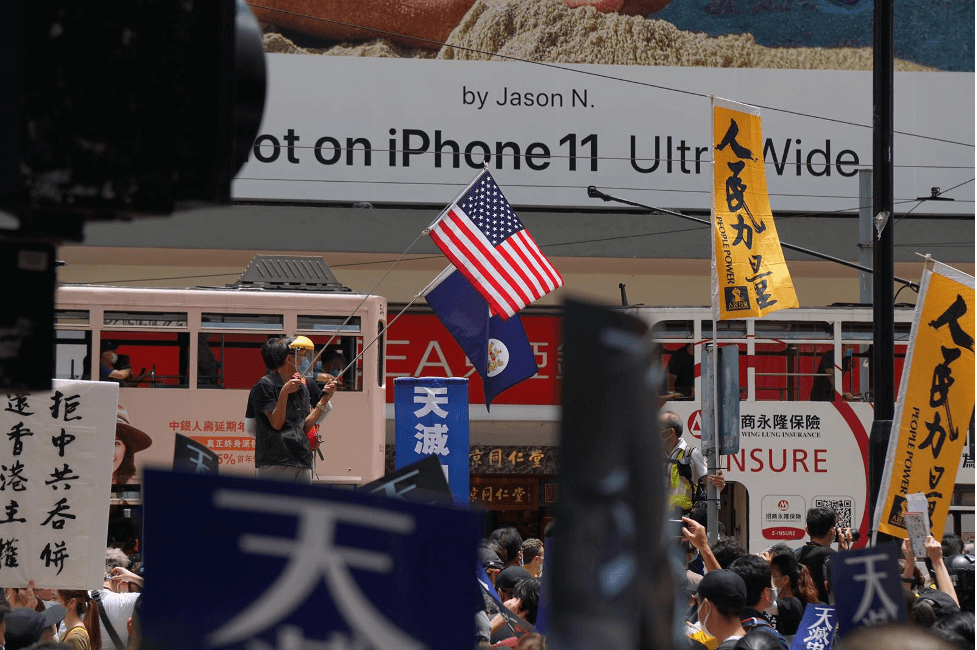 Though Matthew recognised the Democrats' effort in pushing forward the Human Rights and Democracy Act last year -- a bill that requires the US to assess Hong Kong's autonomy and allows punishing officials violating human rights -- he found the tariffs imposed by Mr. Trump more effective in weakening China and doubted if Democrat Mr. Biden would endorse them. 
Mr. Biden's aide said in August that the president "would re-evaluate the tariffs upon taking office" but had not committed to lifting them, the Washington Post reported, after Mr. Biden blamed the taxes for harming America's economy. 
When asked if he would make China pay for the coronavirus in a presidential debate in October, Mr. Biden said, "we need to be having the rest of our friends with us saying to China: 'These are the rules. You play by them, or you're going to pay the price for not playing by them, economically'."
"Can countries negotiate with China? I think it will be in vain," Matthew said in a video interview after he cast his vote back in November, "that means partnership or talk is no way out. The only means is to split apart."
Tim Wong, 38, a Hongkonger who has resided in northern Virginia for more than 20 years and works as an IT manager, also cast his first-time ballot for a Republican in the presidential election. 
Making the "either-or choice" was conflicting, he said in a phone interview, as he is discontent with Mr. Trump refusing to condemn white supremacy and is also a supporter of the Black Lives Matter movement, after witnessing the unfair treatment of African Americans in the country. 
"Sometimes it's hard to satisfy everything on the agenda," Mr. Wong said, "speaking of a tough attitude towards the CCP, I think only Trump can do it." 
Hongkongers at home watched the election closely, and some embraced a similar pro-Trump mentality. A Newsweek poll conducted in July by consulting firm Redfield & Wilton Strategies showed that 36% of 1,000 Hongkongers polled preferred Mr. Trump, as compared to 33% who favoured Mr. Biden. YouGov, a UK research data and analytics group, however, found in October that Mr. Biden was slightly more popular. 
Anna, a 20-year-old university student in Hong Kong who does not want to be identified by her real name through fear of being targeted by authorities, has been active sharing pro-Trump posts on Instagram, even after he lost to Mr. Biden in the election. 
She said she hoped the US would continue to sanction Hong Kong officials or financially trigger "mutual destruction," a term used by protesters to call on the international community to damage Hong Kong financially so that China would suffer from infringing on the territory's freedoms. 
"It would always be better than now: we couldn't vote in the legislative council, and even if we could, the candidates could be disqualified. National security officers can arrest people, and if we came out to the streets, it would violate the social gathering ban," she said in a text interview.  
In August, the US Treasury Department imposed economic sanctions on 11 Hong Kong and Chinese officials, including the Chief Executive for "undermining Hong Kong's autonomy."
In a presidential debate in February, Mr. Biden did show a confrontational tone towards China by calling President Xi Jinping a "guy who doesn't have a democratic with a small d-bone in his body" and a "thug" for oppressing human rights in Hong Kong and Xinjiang. He also said the security law was a "dead blow" to the semi-autonomous region in a statement to Reuters the day after it took into effect. 
He vowed to "take stronger steps to prevent imports from forced labour" in Xinjiang and "impose swift economic sanctions" if China tried to hurt the rights of American citizens. In May, he said he would "strongly enforce" the Hong Kong Rights and Democracy Acts, "including sanctions on officials, financial institutions, companies and individuals."
Matthew did not watch the swearing-in ceremony -- not because of the unease about Trump's departure -- but because he was busy helping settle the political disputes between his Republican and Democrat Hong Kong friends that have torn the group apart since the election. 
"I hope the focus is no longer put on the differences between the two parties but their similarities and opportunities of collaboration," Matthew said, "as well as how they [Hong Kong Americans] convey Hongkongers' quest for democracy to respective party members. This is more important."