Catering industry calls for resumption of evening dine-in for fear of large-scale business closures
By: Sara Cheng

Edited by: Simran Vaswani

2021-02-04
Bar and restaurant owners urged the government to loosen COVID-19 restrictions on dining to help the industry survive, representatives said in a press conference Wednesday, while also calling for additional government subsidies.
Their demands include reopening dine-in services and bars past 6pm under conditions that businesses observe disease prevention measures and expanding the gathering limit to more than two people.
The government could use the time between Chinese New Year's Eve and the third day of the holiday to "test" whether the relaxation would be practical, the group suggested.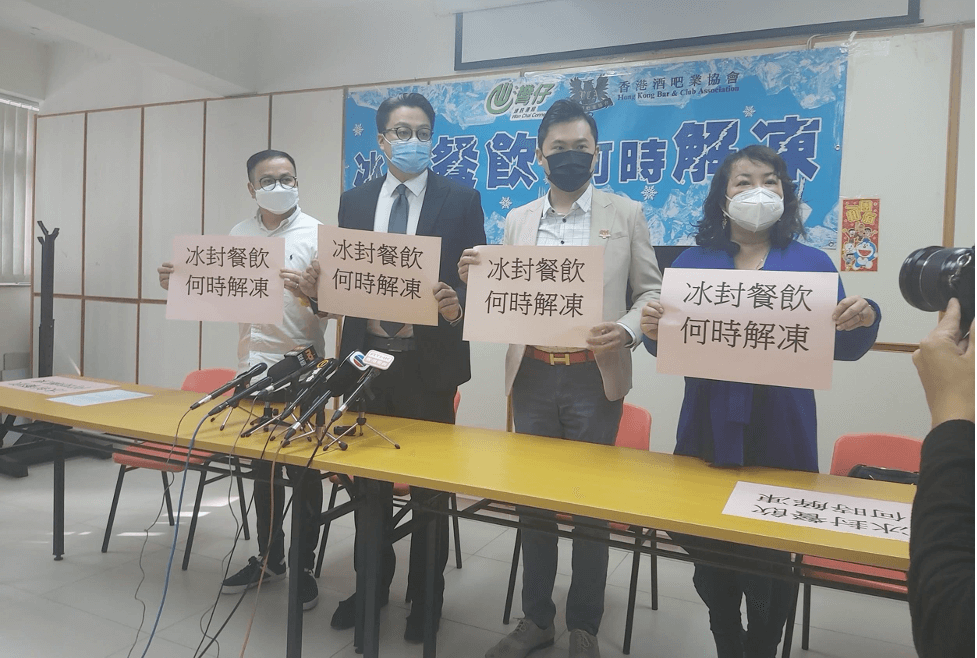 Marcus Liu, a member of the New People's Party who spoke at the press conference, said the operational cost of a restaurant is about HK$400,000 to HK$500,000 monthly, and that so far, government subsidies have been inadequate. 
The government, under the Anti-epidemic Fund, has given a one-off HK$25,000 and HK$50,000 three times to eligible liquor-licensed premises. 
The Employment Support Scheme also helped employers pay salaries to staff with a maximum $9,000 per employee per month. 
But business owners say the aid is insufficient and they had to choose between paying rent or employee salaries, said Joe Chan, a representative of the Hong Kong Bar & Club Association. 
Some bar owners said to him they were planning to suspend business after Chinese New Year because they saw no future, Mr Chan added. 
"The theory that the virus is not active during the day and gets active in the evening -- we all don't understand," he said, regarding the dine-in ban past 6pm. 
He added that they have complied with seating capacity and hygiene practices such as checking the temperature of guests and disinfecting table surfaces after use.
Around 140 bars shut down over the past three months, accounting for 10% of the sector, said the vice-president of the Hong Kong Bar and Club Association Wing Chin Chun-wing in a press briefing two weeks ago, which led to the unemployment of almost 5,000 staffers.
Chief Secretary Matthew Cheung announced Monday that social-distancing measures  — a ban on dine-in after 6 pm and a two-person limit on group gatherings — will remain in place for two more weeks until Feb 17, the sixth day of the Chinese New Year. Families tend to eat out to celebrate the traditional festival. 
He hoped business owners could understand this "difficult decision."