Only one in four will get jabs, says survey
By: KOO Chi Tung 顧知桐

Edited by: Editor

2021-06-03
Only a quarter of unvaccinated people intend to be inoculated against the Covid-19 virus over the next six months, a survey has found.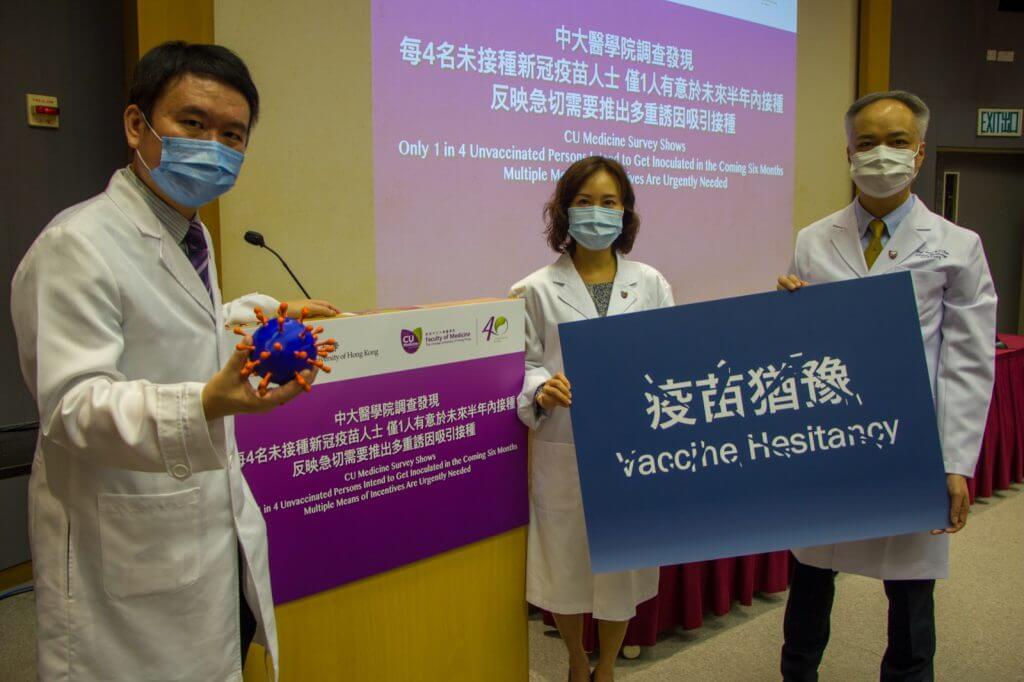 The findings have led researchers to conclude that the uptake of the Covid-19 vaccine remains low in Hong Kong, which still has a long way towards reaching herd immunity.
The Faculty of Medicine of the Chinese University of Hong Kong interviewed 1,200 Cantonese or Mandarin-speaking Hong Kong residents in a telephone survey conducted between April 23 and May 8.
It found that 76.1% of the respondents had not taken any jabs, and only 25.1% of them said they would make or had made reservations to be inoculated in the coming six months.
Professor Paul Chan Kay-sheung, chairman of the university's Department of Microbiology, said it was alarming that the predicted acceptance of vaccination was only 37%, which was much lower than the target required for herd immunity protection or for relaxing of containment measures required for the recovery of the economy.
"Hong Kong should set a goal of vaccine coverage of at least 70% through informed, voluntary vaccination," said Professor Chan.
To achieve the target, he suggests the Government could proactively address people's concerns over the new form of vaccines purchased by Hong Kong, the vaccine manufacturers' track record and the country of production.
According to the survey results, belief of fatal side effects after vaccination is the major reason why people do not want to be vaccinated, followed by a lack of confidence in the government's recommendations and in the place of vaccine production, and waiting for a better vaccine.
Professor Eliza Wong Lai-yi of the university's Jockey Club School of Public Health and Primary Care said people were hesitant about getting vaccinated because there were few reports about the effectiveness of the vaccines, but a lot of information about people having side effects, being admitted to hospital or dying after they were vaccinated.
The survey also found that 70.1% of the respondents did not agree with the suggestion that the government should offer cash rewards to encourage people to take the jabs.
It also found that individual encouragements including travel permits, paid holidays and relaxation of quarantine restrictions had low motivation power.
Professor Martin Wong Chi-sang said the findings showed that each incentive would attract a certain proportion of people to take the jabs and a combination of different incentives could successfully push up the vaccination rate.
Mrs Lee, who declined to give her full name, told The Young Reporter that she would get vaccinated only if she were about to travel.
"There are time limits (for the effectiveness of vaccines). The government may require us to take the jabs again," she said.
A man who would only be identified as Mr Fang, said he planned to take the jabs today as "only vaccinated people can leave (Hong Kong) after the border (with the mainland) re-opens".