Hong Kong to ban plastic tableware at restaurants from 2025
By: WANG Jingyan 王婧言

Edited by: Editor

2021-07-12
The Hong Kong government planned to ban all types of disposable plastic tableware at restaurants from 2025, according to an announcement made on Friday. The city's Environment Protection Department, which is seeking public opinion on the proposal during the next two months, said parts of plastic cutlery often packaged in take-away services would also be banned. 
A consultation paper, released by the government on Friday, proposed to ban the local sale of disposable expanded polystyrene (EPS) utensils and discontinue their use at restaurants within four years.
Wong Kam-sing, Secretary for the Environment of the HKSAR Government, wrote in the consultation paper that, " practising 'plastic-free' at the source is the most fundamental way to achieve 'waste free seas'." 
"Countless waste plastics enter the natural environment, including the ocean, each year," he wrote in the document. "They will eventually be fragmented into microplastics and enter the human food chain." 
The department also suggested regulating the use of non-EPS plastic tableware for dine-in and take-away services in phases. 
The first stage was to ban all types of disposable tableware offered to dine-in customers at restaurants, with disposable cutlery, such as straws, knives and forks, banned in take-away food and beverage services. Take-away services would be regulated the same as dine-in services in the second stage, according to the statement.
Chung Wai-yi, the owner of a ramen restaurant, said they were using recyclable plastic chopsticks and plastic food containers for take-away services.  
She supported the ban on disposable plastic tableware. 
"I always support the environmentally friendly promotion in Hong Kong, but this time, I hope the government can make it a reality rather than just talking," she said. 
She expected the government to make laws and regulations on plastic use in the catering industry to ensure fair competition, and also find good substitutes for plastic.
"I'm doing the ramen business, and we can only use plastic containers for take-away services so far, so I hope the new substitutes can also serve soup in," she said.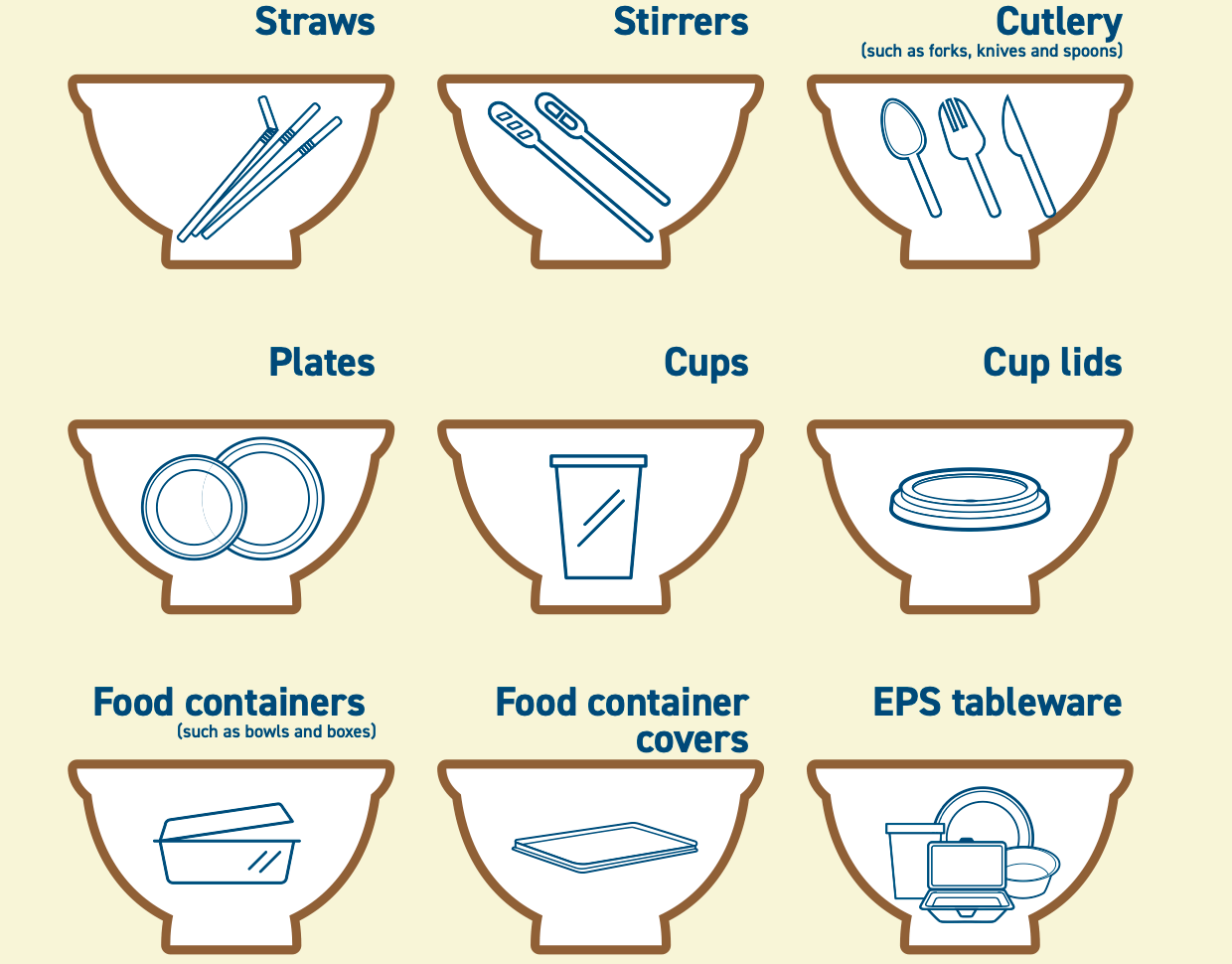 An estimated 1.1 billion plastic straws were used in Hong Kong during the past year, according to research conducted by Ocean Park Conservation Foundation. The study also concluded the use of single-use plastic cutlery and containers increased from a weekly average of 3.1 pieces to 3.4 pieces per person during the past year, due to increasing demands on take-away services during the pandemic.
Yang Zhenfei, a 20-year-old university student from the mainland, is a frequent take-away and home-delivery meal customer.
She said it is OK for her to pay more to use non-plastic cutlery provided by restaurants, but it is inconvenient if she needs to prepare her own utensils for take-away meals.
"Not everyone has meals at home, and not everyone has utensils in his or her room," she said, adding that she didn't have her own cutlery in her new rental apartment.
Andrew Wong, 29, who works in a small toy store, said it saves him time to use disposable cutlery because he can throw it away after eating his meal as he needs to stay in the store all the time and cater for customers.
He also said it would be weird to always bring utensils with him.
Mainland China has banned the sale and production of EPS tablewares since the end of 2020. Many other countries, including Europe, Australia, and the United States have also implemented measures to ban the use of EPS tableware.    
Resource:
https://www.rdpt.hk/files/tableware-con-doc-en.pdf