University LGBTQ groups in China "muted" following social media account closures
By: WANG Jingyan 王婧言

Edited by: Editor

2021-07-09
With no warning and little objection, more than 10 social media accounts for university LGBTQ groups in mainland China were shut down on July 6, according to members of the LGBTQ community in China. 
Posts and content published on the WeChat accounts, including WDH Purple from Tsinghua University, ColorsWorld from Peking University, and Zhi Heshe from Fudan University, were removed, according to members of those accounts. All of the account names were changed to  "unnamed official account" by Tuesday evening.
The closure of the accounts may have been connected to a student protest at Wuhan University in April 2021, according to the founder of an NGO in Wuhan that focuses on LGBTQ issues. The protest, in support of feminist issues in China, may have crossed the government's "red line," the person, who wished not to be identified by name, had written in a recent WeChat discussion with Cheung Kam-hung, a Hong Kong LGBTQ activist. During the protest, Chinese feminist activists, who are accused by the Chinese government of having been influenced or helped by foreign politicians, were mentioned.
The activist wrote that, following the university protest at Wuhan University, the Chinese government probably began to collect information about the social media accounts belonging to the university LGBTQ groups.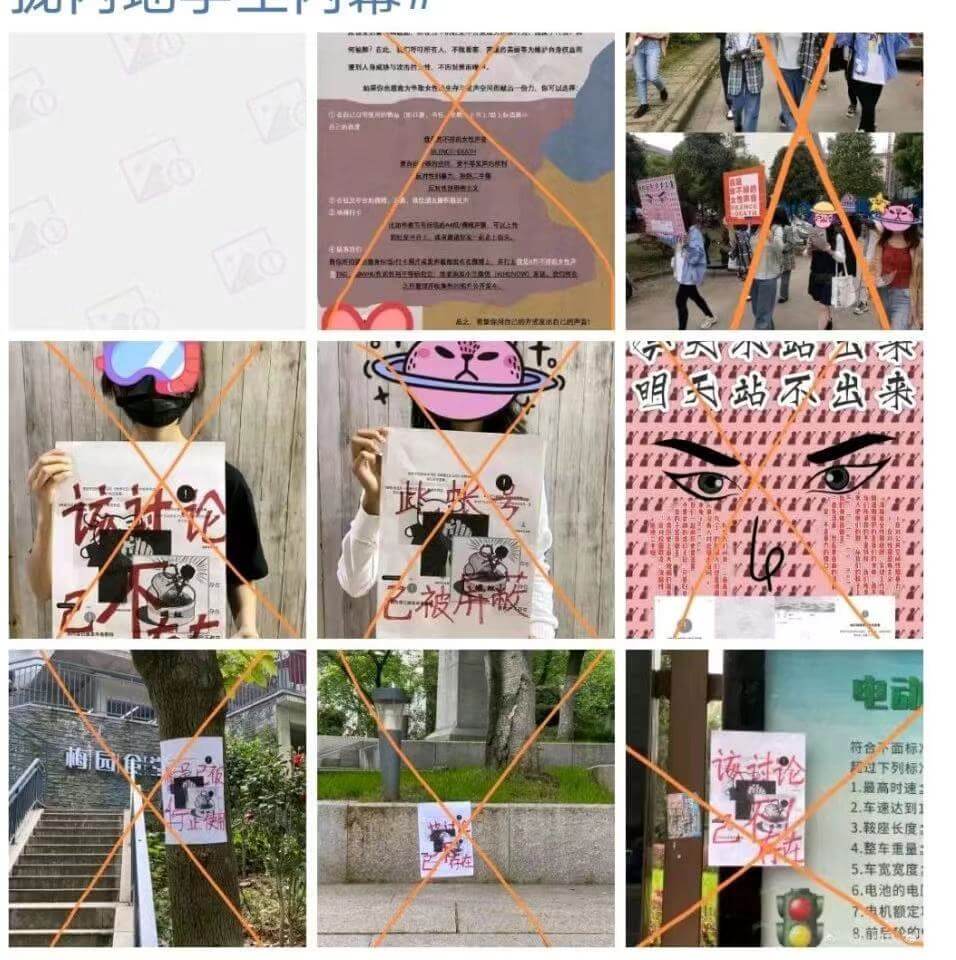 These digital social media accounts, mostly organised by student communities and teachers, were often used to share stories and research about LGBTQ groups.
A message on the main page of the closed accounts stated, "(WeChat) received relevant complaints that (the account) violates The Internet User Public Account Information Service Management Regulation. All the content in the account has been blocked and usage of  the account was stopped."
RucSGS, an organization at Renmin University of China advocating discussion on gender issues, said it was affected.
The organization posted a statement on Weibo, the Chinese version of Twitter, that "there were no irregularities in the activities and posts of our account,", and they did not expect their account to be available again anytime soon.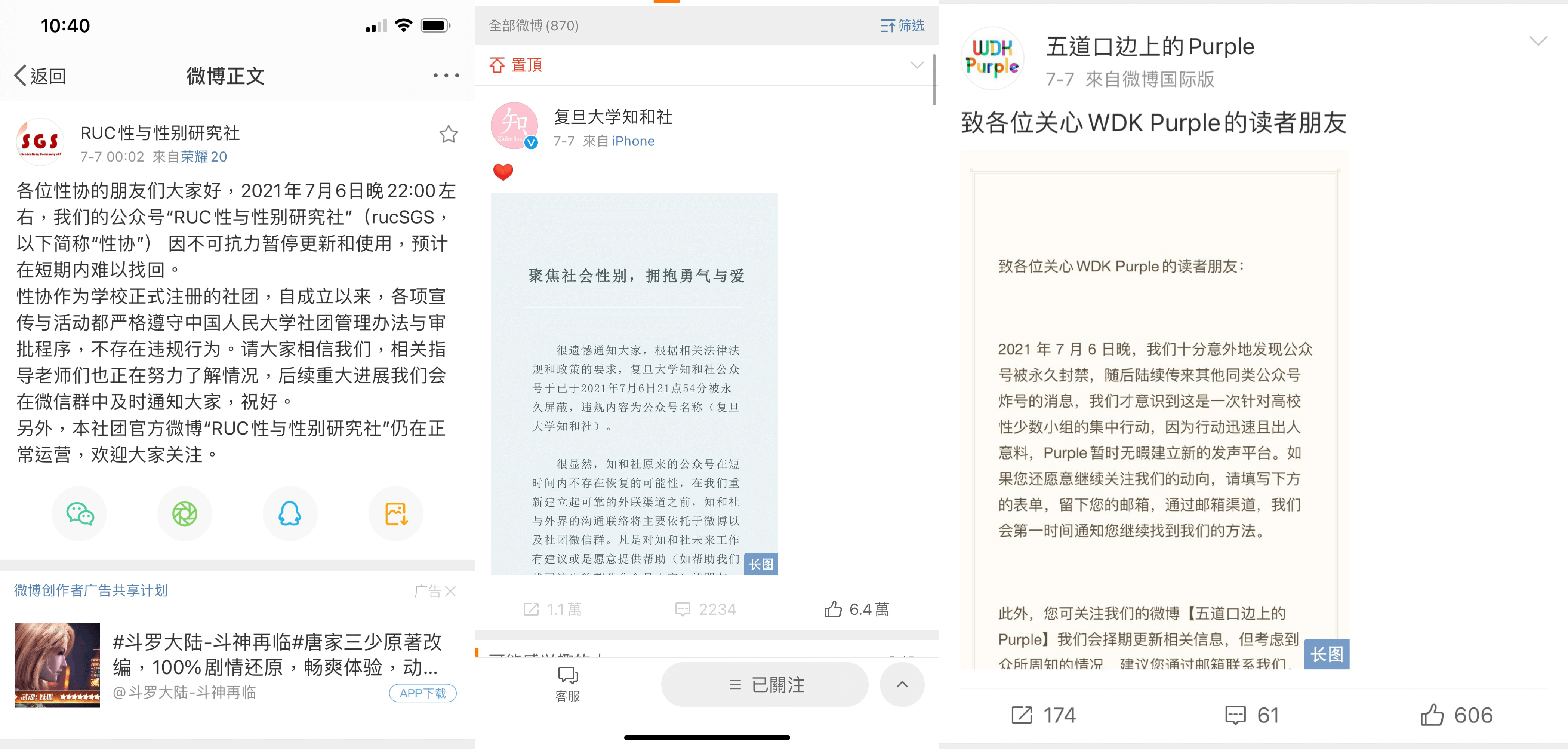 Representatives with WDH Purple also said that they cannot move to new social media or digital platforms in the short term.
"It is frustrating to see years of painstaking effort burned, and infuriating to see WeChat's gratuitous and heavy-handed ban," the LGBTQ group wrote in an announcement. 
Due to the "sensitive" nature of the closure, representatives with WDH Purple would not comment when contacted by The Young Reporter for an interview. 
LGBTQ is an acronym for lesbian, gay, bisexual, transgender and queer or questioning. The community represents those with a different sexual orientation and gender identity from the majority. 
Troye Y, a university student in Beijing who didn't want to reveal his name, said that he was shocked when hearing the news. 
"I'm sad that the government didn't choose to support or protect us (LGBTQ groups)," he said.
He said he understands that there must be some reasons for the government to do this, but he didn't support that.
However, Carols Wang, a gay university student from Beijing, said he supported the ban.
"University official accounts could become the tool of some foreign politicians to promote western ideology in China," Wang said, explaining that banning the accounts was reasonable if the LGBTQ groups were receiving foreign assistance. 
"But, I also feel angry, because I'm muted suddenly," he said. "I feel confused because no one explains why."
Qi Junyu, a university student who did not provide her real name, also opposed the ban, though she was not a member of an LGBTQ organization.
" The relevant (government) departments are irresponsible, " she said, adding that there should be warnings ahead of the closure, and relevant government agencies should come out and explain to the public, rather than close all the accounts and keep silent.
"And they are just normal communities, they should have the right to have official accounts like others," she said. 
Leung Siu-on, an LGBTQ activist in Hong Kong who did not provide her real name, said it is unusual that so many accounts were closed at once. 
She explained that LGBTQ social media accounts often face the risk of being closed or banned, both in mainland China and Hong Kong, because some online users will report them or a system will automatically flag them.
But, she said she was optimistic about the future of the LGBTQ community in mainland China as long as the activities of LGBTQ groups didn't cross the "red line".
However, Cheung worried about the development of LGBTQ groups in China as LGBTQ activities decreased sharply in the mainland in recent years as the government stopped most of the activities.
He said that one LGBTQ group used to hold many activities such as exhibitions, forums and film shows in Shanghai every June a few years ago, but now they are all canceled.
WeChat has made no official statement about the closure of the social media accounts so far.