Renters face racial discrimination in Asia's world city
By: Malick Gai

Edited by: Tiffany Ma

2022-03-11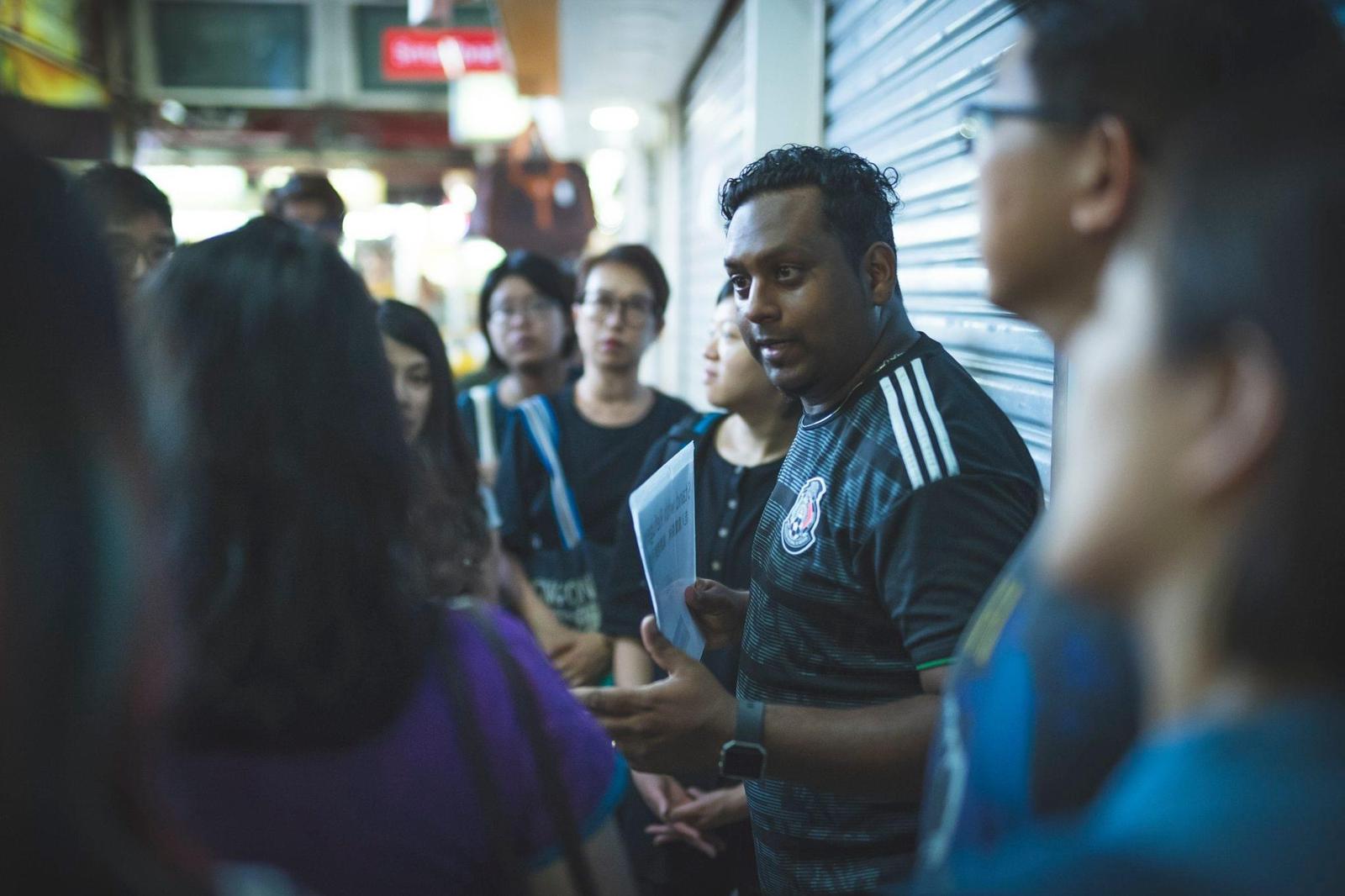 Jeffrey Andrews is Hong Kong's first ethnic minority candidate to run for the city's Legislative Council. When he and his wife tried to rent an apartment in To Kwa Wan last month, he ran into an upsetting situation.
"Many agents don't want to rent to me because they say we cook curry and we smell," said Andrews. 
Hong Kong, "Asia's world city," has always been home to ethnic minorities from South Asia. However, many renters of Indian, Pakistani, Nepalese, Bangladeshi and Sri Lankan heritage reportedly feel stigmatised and often rejected by housing agents and landlords.
Andrews, 36, of Indian descent, is a manager at Christian Action Centre for Refugees. He was born and raised in Hong Kong.
Andrews said as soon as the prospective agent saw him in person, his face dropped. After consulting the landlord, Andrews was asked to pay 12 months' rent and two months' deposit up front. 
"I made a phone call to another agent, and I spoke in fluent Cantonese. He said 'Okay, come to the agency,' but the moment he saw me, he said the apartment was no longer available," Andrews said. 
According to the Estate Agents Authority's guide to tenancy, a landlord should require tenants to pay one to three months' deposit upfront upon signing a rental contract for an apartment.
Sum Hui is the owner of United Company, a property agency in To Kwa Wan which has been operating for 40 years. Hui works with over 70 landlords, providing rental services to ethnic minorities and asylum seekers.
"Asking for more money than usual and requesting unnecessary proof of documentation is indirectly rejecting ethnic minorities and there are no consequences," said Hui. 
Hui said in his experience, around 70% of landlords refuse to rent to ethnic minorities. "Some landlords think because of the language barrier, cultural differences and not wanting defaults in rent, they don't want to rent to ethnic minorities," said Hui. 
According to Hong Kong's Race Discrimination Ordinance, it is unlawful to discriminate, harass or vilify a person because of his or her race, nationality or ethnic origin. 
In 2016, there were around 584,000 ethnic minority individuals in Hong Kong, according to government figures. That's about 8% of the population. More than 60% of them have lived in Hong Kong for more than seven years, which means they would qualify for permanent residency.
"Many ethnic minorities face discrimination in Hong Kong on a daily basis and this might affect their mental health. For many, renting an apartment is where they face a lot of discrimination," said Shalini Mahtani, founder and CEO of the Zubin Foundation, a Hong Kong thinktank and charity aiming to improve the lives of ethnic minorities.
"If it was just a cultural difference or language barrier, other non-Chinese races should be facing the same, like maybe those from Western countries. But the racism is targeted solely at those who are darker-skinned," said Mahtani.
The Equal Opportunities Commission, a statutory body tasked to implement the anti-discrimination ordinance, reported 335 complaints lodged in 2020 under the Race Discrimination Ordinance, up from 98 case in 2019.
The law requires an aggrieved person to lodge a complaint and give evidence to support their claim before the EOC can conduct an investigation and take legal proceedings against an alleged discriminatory act. 
The EOC said it does not have the power to initiate legal proceedings against alleged discriminatory act on its own. Since 2015, the Ethnic Minorities Unit of the EOC, in cooperation with the Estate Agents Authority, has been providing training to agents, to enhance their awareness and racial sensitivity. 
"We need to tackle deep-rooted stereotypes and discrimination against ethnic minorities to achieve racial harmony," said Pete Cheng, Communications Officer of Hong Kong Unison, an NGO committed to advancing racial equality and equal opportunities for ethnic minorities.
"Ethnic minorities are often unmotivated to follow up on complaints because the Equal Opportunities Commission complaint system is unnecessarily complex and needs to be reformed," said Cheng. 
Sam Ho is the senior corporate communications manager of the EOC.
"I can't comment on individual cases, without specific details," said Ho, in response to questions about how inefficient and ineffective the EOC can be at dealing with complaints from ethnic minorities. 
"It is common for ethnic minorities to encounter discrimination, especially when they are looking for accommodation," a report by the EOC in 2016 concluded. 
The report also shows that the EOC conducted a study in which ethnic minorities, Caucasian and Chinese participants posed as potential customers to compare the service they received. The results showed ethnic minorities tend to get poorer services than Caucasian and Chinese customers. Nearly half of the ethnic minority participants reported discrimination, but only a quarter of the Caucasian participants reported the same thing. 
"The study found that many providers of goods and services hold stereotypical and biased views of ethnic minorities, with cultural differences and language barrier cited as some possible causes of discrimination," the EOC report continued.
A 2018 report published by Hong Kong Unison, shows that over 90% of 140 ethnic minorities and asylum seekers surveyed reported experiencing difficulties when trying to rent private accommodation, with 61% facing an unwelcoming attitude and 53% experiencing outright refusal because the landlord was unwilling to rent to them.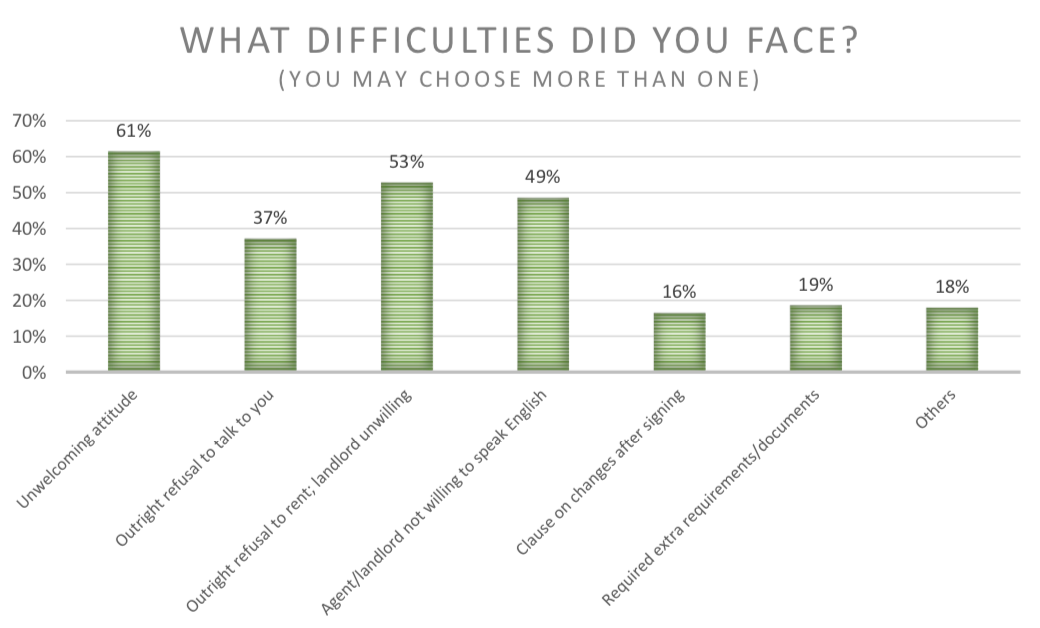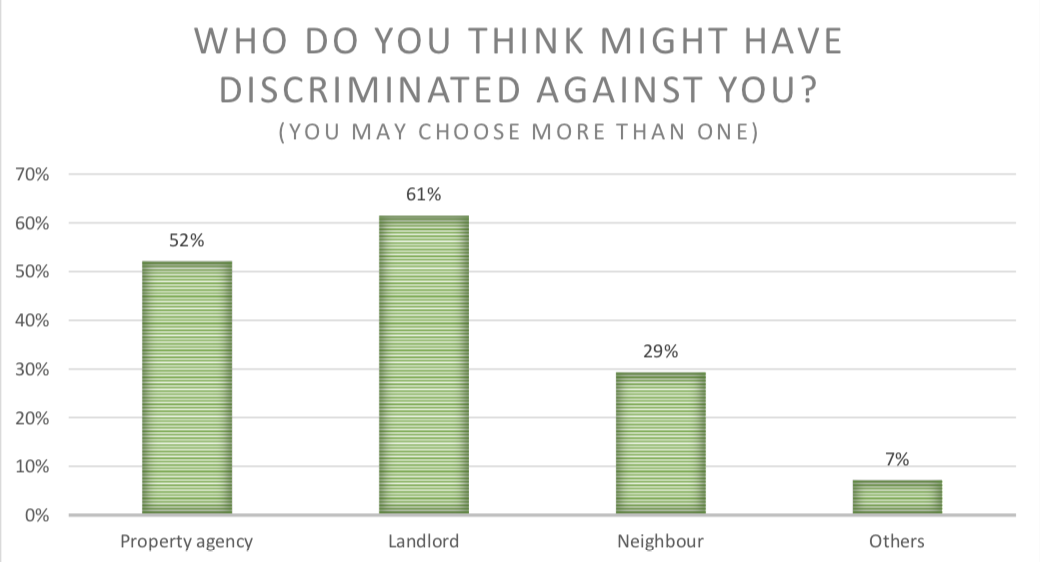 Anilesh Kumar, 33, is a PhD student at Hong Kong Baptist University and recipient of a full Hong Kong government scholarship. He arrived in the city in March 2021, to pursue his doctorate degree. 
While completing a 21-day quarantine at the Best Western Plus Hotel on Hong Kong Island, Kumar desperately looked for an apartment for himself, his wife and toddler.
He began chatting with 102 property agents, using the 28Hse app, after his classmate introduced it to him. "The conversation went well with nearly half of them until I told them I was Indian. Then the chat suddenly stopped. I would follow up and they would simply reply, 'Sorry no Indian'," Kumar said. 
Kumar said all of the agents asked what his nationality was, even though he had already sent them a profile, which included his nationality. 
After completing quarantine, Kumar visited an apartment in Tseung Kwan O. Upon learning his nationality, the agent asked him to pay eight months' rent and two months' deposit upfront as "security." Unaware of Hong Kong's renting guidelines, Kumar agreed.
"After almost finalising the property, the landlord very mockingly asked the agent whether I was going to invite my Indian friends to cook curry. He refused to rent the apartment to me,"  Kumar said. 
"A dozen agents told me, 'You seem really nice but sorry the landlord doesn't want to rent to an Indian,'" Kumar said. 
Talha Muhammad Qureshi, 26, is a Chinese national of Pakistani descent and is the project officer at the Zubin Foundation. In early December last year, Qureshi also experienced being overcharged on rent deposits, and openly xenophobic treatment.
Once he disclosed his nationality, he received no further communication from 20 out of 30 agents he was chatting with. "Around eight of them replied, saying 'Sorry the landlord doesn't want to rent to foreigners.'" Qureshi said. 
"It's ridiculous. I was affected by these experiences. I have a decent pay and I pay tax, why am I not treated equally?" Qureshi said.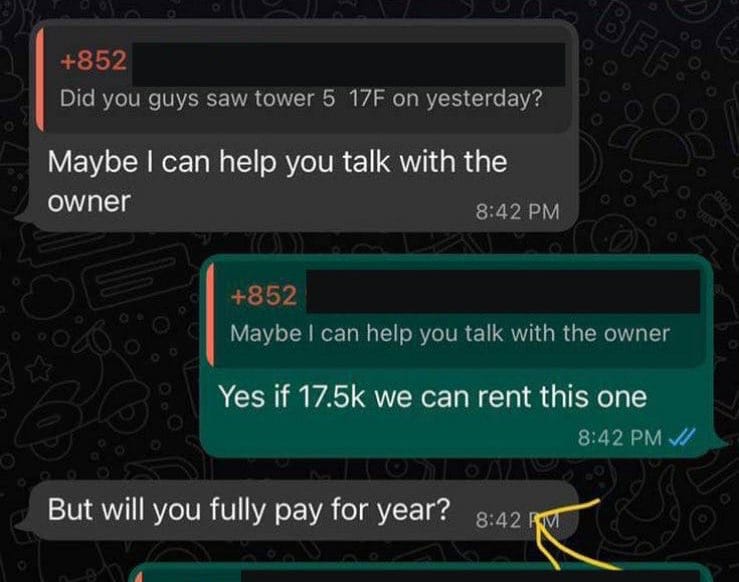 Josh, 20, who only wanted to give his first name, is an Indian university student. Last month, Josh and his family of four were looking for an apartment. They began talking to 30 agents, some he found from 28Hse. 
Josh was also asked to pay several months' worth of deposits. After he told the agent his nationality, he was ignored.
"A lot of agents stereotype us because of their previous experience with an ethnic minority tenant. It's absurd," Josh said.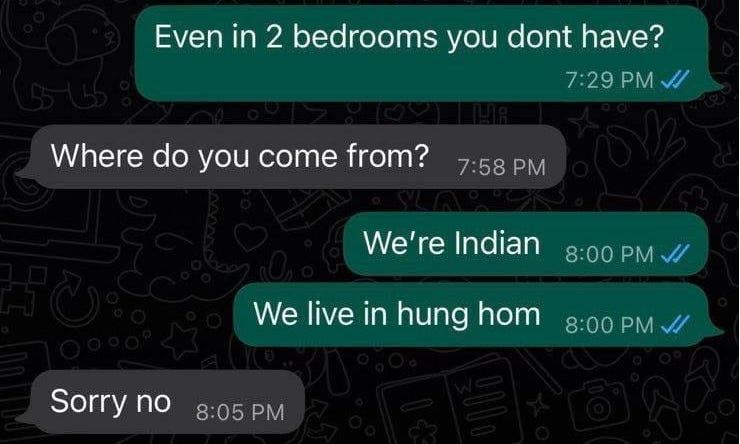 Burak Mehr, 24, is a Chinese national of Pakistani descent and speaks fluent Cantonese. Mehr, a first-time business owner, has been renting a small shop in Cheung Sha Wan since October last year. 
"The landlord asked me to pay six months' deposit, instead of two months. He said that was  because I was Pakistani," Mehr said. After Mehr argued he was being discriminated against, the landlord eventually agreed to a more standard two months' deposit.
"I don't feel at home, even though I was born and raised here. I don't consider myself a Hongkonger, because Hong Kong people don't see me as one of them," Mehr said.