Jinmao Property Services shares slump in Hong Kong trading debut
By: REN Ziyi David

Edited by: Peggy Ye Pei Shin

2022-03-10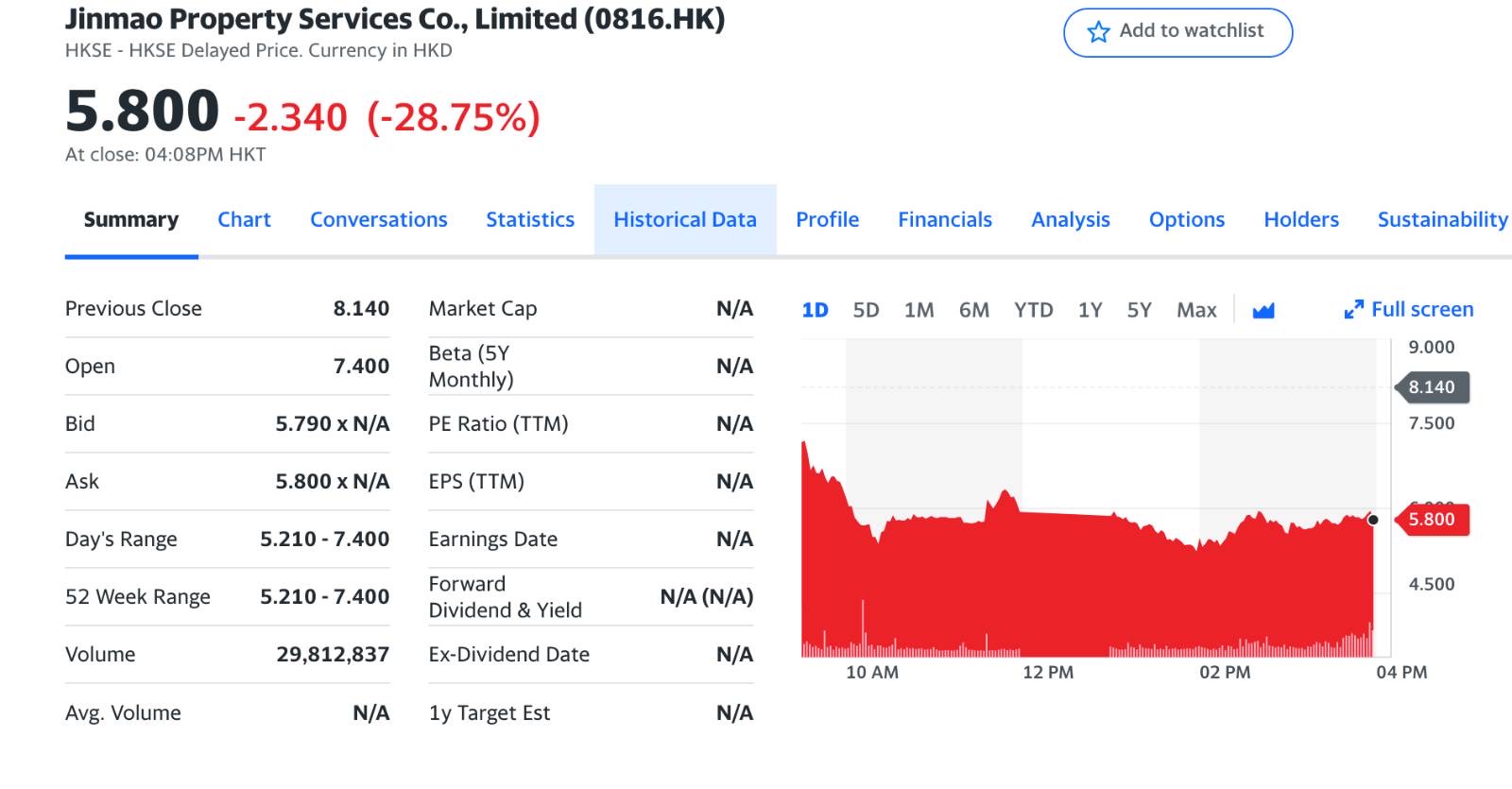 Shares of Jinmao Property Services Co.(00816), a Chinese property management company, plunged as much as 36% to HK$5.21 on its first trading day, as China's real estate markets remained under pressure.
The company's shares closed at HK$5.8 today, dropping 29% from its initial public price of HK$ 8.14.
Jinmao Service was offering 101 million shares at a price ranging from HK$7.52 to HK$ 8.14, with a goal to raise up to HK$ 759.6 million.
The share price was down as much as 6.1% to HK$7.6 in Gray Market trading on Wednesday, data compiled by Bloomberg Terminal shows.
"The property services industry follows the trend of the housing market," said Steven Wong, the Portfolio Manager of Harris Fraser, "property services could be overvalued if property sales are weak."
China's property market faces a great setback under Beijing's regulation as real estate companies have difficulties in paying debt, such as the default of property tycoon China Evergrande.
Jinmao's business scale is relatively small compared to other leading companies. Its managed area exceeds 23 million square metres in mainland China, including 20 provinces and 35 cities by September 2021, while Country Garden Services (06098) provides ten times more services, covering 644 million square metres by June 2021.
Jinmao Property Services' net profit increased from RMB 23 million yuan in 2019 to RMB 77 million yuan in 2020, while the net profit ratio was 8.2%, below that of Country Garden Services (06098), which is 17.2%. Meanwhile, the company's average management fee was RMB5.4 per square metres per month, higher than the average listing peer RMB3.8 yuan, according to a research report finished in 2022.
Country Garden Services slipped 4.3% to HK$38.6 per share today.
China Jinmao Holdings Group(00817), the parent company of Jinmao Property Services, which relies on real estate and hotel operations, recorded a 40% decline in its net profit to its shareholders in 2020 as the pandemic hit hard in mainland China.
Jinmao Property Services split from the parent on Feb 25 this year, to list on the city's mainboard. The share price of China Jinmao Holdings Group decreased 0.85% to HK$2.33.
"The sales(of China Jinmao Holdings Group) decreased by 50% since the beginning of 2022 compared to the first quarter in 2021," said Wong.
"Property management industry is relatively mature limited rooms for development," said Wong. He indicated the risk of the stock is high in light of the PE ratio of Jinmao Property Services being 77 times in 2020, about double of Country Garden.
"Hong Kong's recent IPOs are relatively down," said Wong, "Investors might need extra cautiousness."
Jinmao Property Services said it would use IPO proceeds to expand businesses, including acquisitions.