COVID-19 quarantine and travel restrictions challenge Hong Kong's domestic helpers
By: Malick Gai

Edited by: Robin Ewing

2022-01-13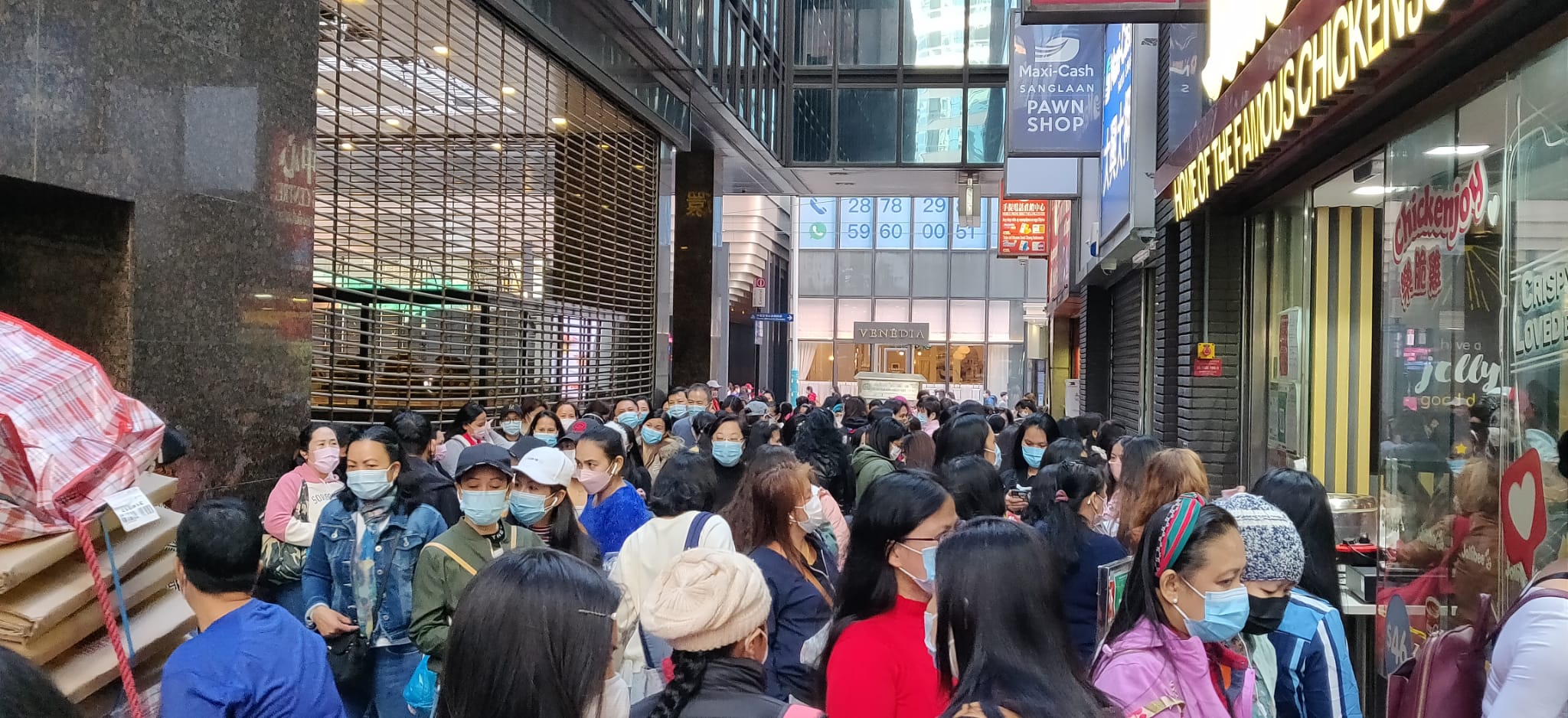 Ybañez's 68-year old mother, living in Cebu City in the Philippines, was hospitalized for high blood pressure and diabetes for two months before her death. Ybañez, 40, who has been working in Hong Kong for almost three years, would have to quarantine in both the Philippines and upon return in Hong Kong for five weeks in total. 
Employers of foreign domestic helpers in Hong Kong are required to pay for one trip home for each helper every two years. In response to the pandemic, the Immigration Department mandates that prospective employers sign the undertaking of the employer document agreeing to pay for their employees' Covid tests and all quarantine expenses upon entry to Hong Kong. 
"My employer couldn't afford it," said Ybañez. "Even if I had gone, they could only wait for one week before burial and I had to do two weeks of quarantine in the Philippines, so it was impossible to see her."
Low availability of flights and quarantine hotel rooms, travel bans and vaccination requirements have made travel in and out of the city challenging for foreign domestic helpers. 
In April, Hong Kong banned flights from the Philippines, and in June this year another flight ban extended to Indonesia, significantly impacting the wait time for inbound employees. Both these bans were lifted in August. 
In September, the government opened Penny's Bay Quarantine Centre on Lantau Island to helpers who are fully vaccinated with non-Hong Kong available vaccinations for 21 days quarantine, allocating nearly 800 rooms with a price capped at HK$500 per night. Helpers vaccinated with either Pfizer/BioNTech or Sinovac can also quarantine in hotels upon their arrival. 
The pandemic has doubled the number of foreign domestic helpers in Hong Kong seeking help from local NGO Mission For Migrant Workers this year, the NGO said. More than 2,000 helpers sought a bunk bed in one of MFMW's eight housing shelters, which are currently fully booked. 
"Occupants are mostly helpers who have lost their jobs or are sick, undergoing treatment," said Cynthia Tellez, General Manager for MFMW.
"Pre-Covid, processing overseas helpers usually took two to three months. Since Covid, helpers might have to wait up to a year and a half to come to Hong Kong, depending on the availability of quarantine facilities," said Grace Cheng, General Manager of Fair Employment Agency Limited, a social non-profit business that facilitates helpers in coming to Hong Kong.
This has all created a shortage of foreign domestic helpers.
"Expensive quarantine hotels, Covid tests and air tickets have caused uncertainties for helpers and is attributable to the shortage," Cheng said.  
Khasnami Nurjanah, 36, said her first Hong Kong employer fired her when she got sick with gastric pain after a month in the city. Forced to return home to Indonesia, it took her 10 months to get back to Hong Kong with a new employer, she said. 
"Twenty-one days of quarantine is nothing for me; the time I had to wait in Indonesia for the process was much longer. I'm happy that I have found a job and will start working soon," said Nurjanah from her hotel room, through an interpreter. 
She has one more week to go at the Rambler Hotel in Tsing Yi, one of the government-designated quarantine hotels. 
"A lot of the helpers in quarantine need some kind of food assistance, toiletries and we also provide them with online training on how to negotiate with their employer," said Tellez. 
Samrotul Winayah, 39, is from Jember in Indonesia and got her visa in November but is still waiting to confirm her flight ticket to Hong Kong and quarantine booking after waiting for seven months. 
"Being confined in a room for 21 days is really long. That's what awaits me, but I will be happy that I have already reached Hong Kong anyway. I can't wait," said Winayah from a training centre in Malang, East Java, through an interpreter.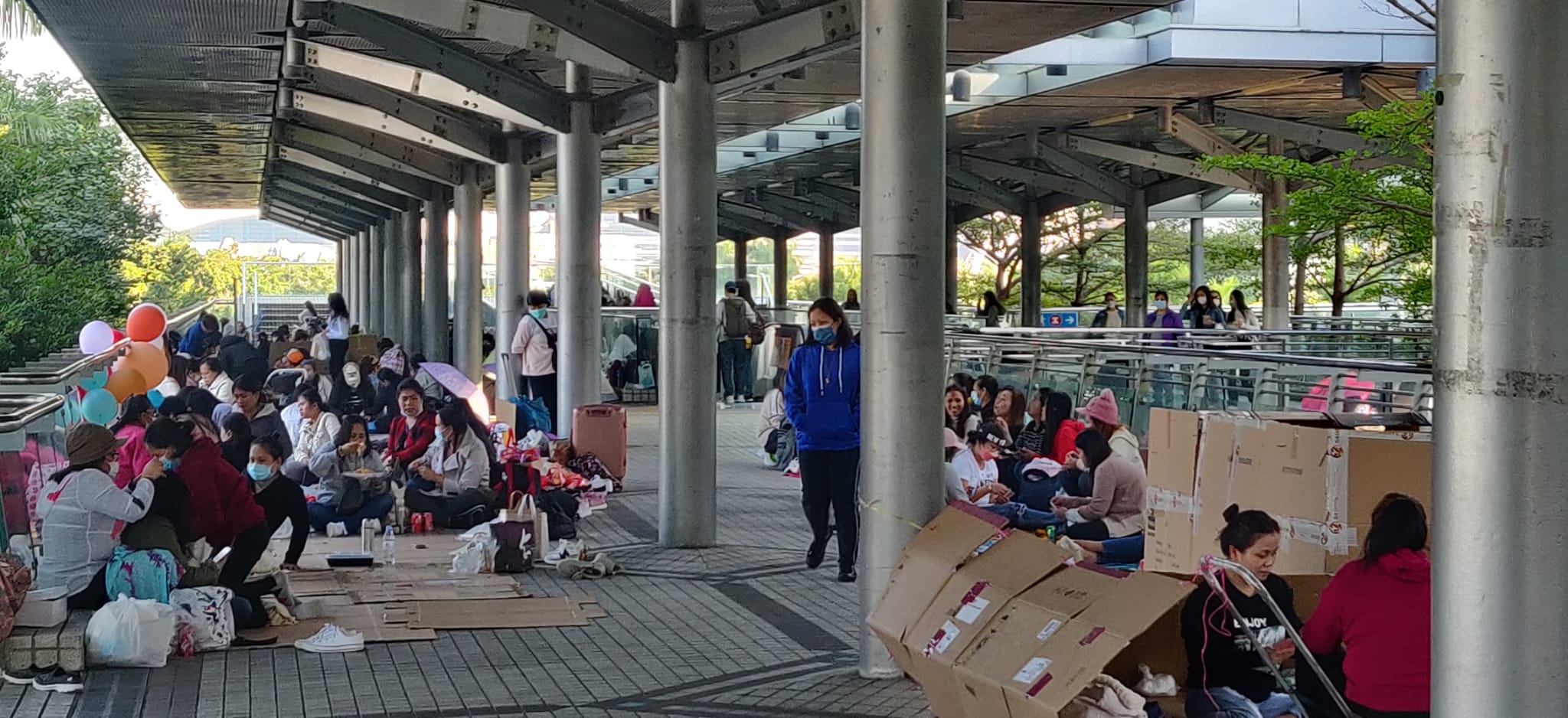 Filipino and Indonesian helpers on their day off at the Central ferry pier bridge in Hong Kong.
According to recent statistics, from the Immigration Department, 340,000 domestic helper visas were approved from January to October this year, a 30% drop compared to last year. While the city's population has decreased, 59,621 more contract renewals were approved for helpers extending their stay between 2019 and 2020. 
"Some helpers are asking for more money, up to HK$6,000 per month, more than the normal wage due to the shortage of helpers," said Ybañez. The minimum allowable wage for helpers is HK$4,630 per month plus food or a food allowance of HK$1,173 per month. 
Some helpers might terminate their employment contract due to an abusive situation, but if a helper has a negative report from their previous employer, the Immigration Department will not grant them a visa and they are forced to leave, said Tellez.
"I think the Immigration Department should really look into the matter more seriously in understanding helpers' situations and what it means to lose their job," said Tellez. 
Lee Clerigo Tizon, 38, from Mindanao in the Philippines, quarantined at the Grand City Hotel in Sai Ying Pun after traveling back from the Philippines for a month to attend her father's funeral.
Tizon has worked with her current employer for over five years, who is paying for her quarantine, and is grateful to return to them from her quarantine stay as of Nov 19. 
"Twenty-one days quarantine is crazy. I was still in mourning for my father's passing, had no one to talk to there and was not allowed to go outside. It's really not easy," said Tizon.