SF Intra-City's shares plunge as the company lose more last year
By: YANG Zhenfei

Edited by: WANG Jingyan 王婧言

2022-03-31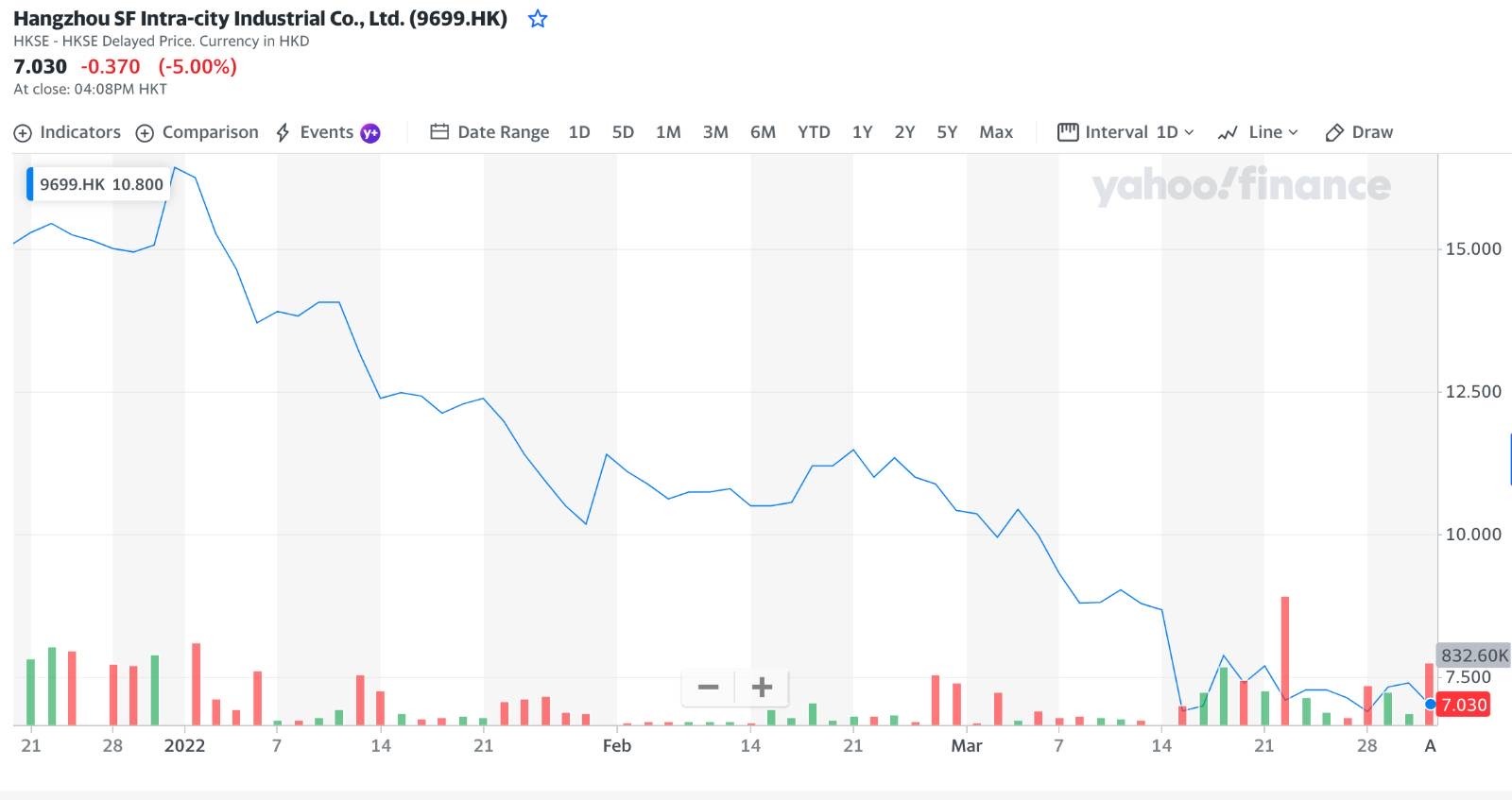 Share price of Hangzhou SF Intra-city company (9699.HK) slumped 5% to HK$ 7.03 today, after the company announced its net loss for 2021 expanded to 899 million yuan, as shown in the annual report released yesterday.
The largest third-party on-demand delivery service provider in China saw a high open of HK$ 7.70 this morning , up 4.05% from the previous close, but the price went down afterwards to as low as HK$ 6.96.
The company reported a net loss of 899 million yuan for the year 2021, versus 758 million yuan in 2020, it said in the result.
The company achieved revenue of 8.174 billion yuan, a year-on-year increase of 68.77% and its gross profit and gross profit margin have recorded positive numbers for the first time, at 94.809 million yuan and 1.2% respectively, as of December 31, 2021.
SF Intra-City was officially listed on the Hong Kong Stock Exchange on December 14 last year. However, it sank on the first day and closed at HK$14.9 per share on the same day, down 9.26% from the offering price, with a total market value of HK$13.91 billion.
In the past five years, the instant delivery industry has ushered in a period of rapid growth, and the overall size of orders in the industry was 27.9 billion last year, said the report from iresearch. 
SF Intra-City has become the largest third-party on-demand delivery service platform in China, with a steady market share of over 11%, capturing the emerging business opportunity of the instant delivery service according to its press release yesterday.
Zeng Hailin, CFO of the company, said in today's phone conference that he is confident that the company's gross profit margin will continue to improve and the expense ratio will further decline, and will strive to achieve breakeven as soon as possible at today's online press conference.
Sun Haijin, CEO, also said in the conference that  the company's profit will continue to improve. On the one hand, some of the company's services are dynamically priced, and the company will adjust the discounts on the platform to increase revenue. On the other hand, by improving the stability and efficiency of the platform, the cost of technology and riders has been significantly reduced, and results have been achieved.
The government has tightened regulation in 2021 to protect deliveryman's rights and interests and to promote a sustainable development in the industry, the company said in the report.