Hang Seng Index rebounds slightly amid Meituan and Tencent's rise
By: Ho Yi CHEUNG、Kei Tung LAM

Edited by: Serena Kong

2022-10-27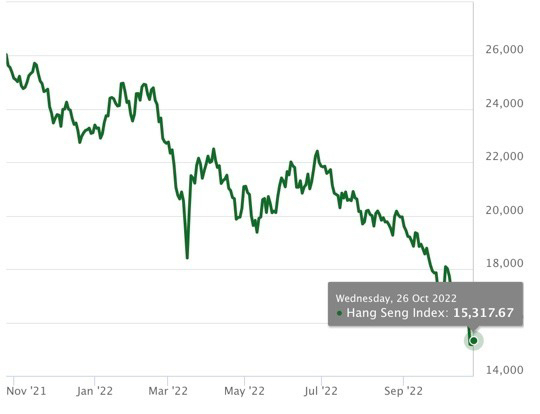 Hong Kong Stock market arrested a five-day tumbling on Wednesday, up 1% compared to the previous close as the price of Meituan and Tencent sharply grew, while Alibaba underperformed the market.
Hang Seng Index closed at 15,317.67, increasing 152.08 points compared to the previous close. The market opened down at 15,096.32 in the morning and climbed to its highest at 15,584.06 before the lunch break.
The city's tech index rose 2.48% to 2,956.41 against the previous close. The stock price of Meituan (03690) rallied 5.02% while Tencent (00700) and Xiaomi (01810) surged 2.52% and 3.51% respectively. However, Alibaba (09988) fell 2.04% against the market.
Medical and pharmaceutical stocks are doing well, as Wuxi Biologics (02269) increased 3.36%and Alibaba Health Information Technology Limited (00241) bounced nearly 9% to close the market. The company expected a profit of over 80 million yuan in the past six months from April, said the report released late Tuesday. CSPC PHARMA (01093) and Hansoh Pharmaceutical Group Company Ltd. (03692) surged 5.33% and 5.26% respectively.
But property stocks dragged down the market's gains, with this sub-index slipped 0.71%.Hang Lung Properties (00101) plunged 6.53%, the worst among blue chips.
The Shanghai Composite increased 0.78% to 2,999.50 points and the Shenzhen Composite Index gained 1.68% to 10,818.33 on Wednesday. China's Central Bank said in an article that it would ensure health markets, including stocks, properties and debts, and would further develop the currency market.