Hang Seng Index rebounds strongly as China tech and property giants boost price
By: Kin Hou POON

Edited by: Serena Kong

2022-11-07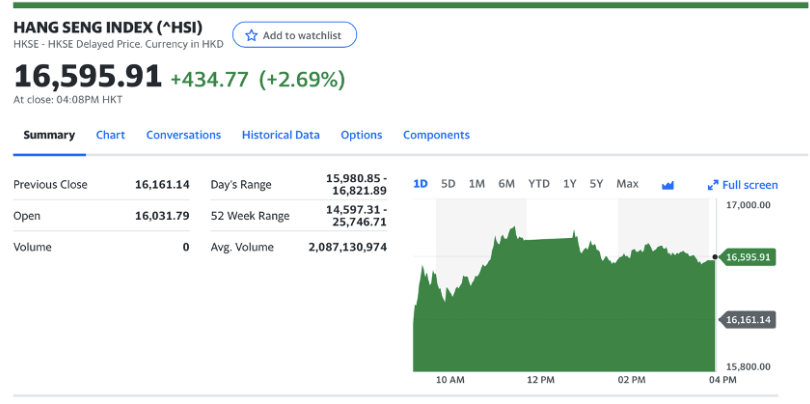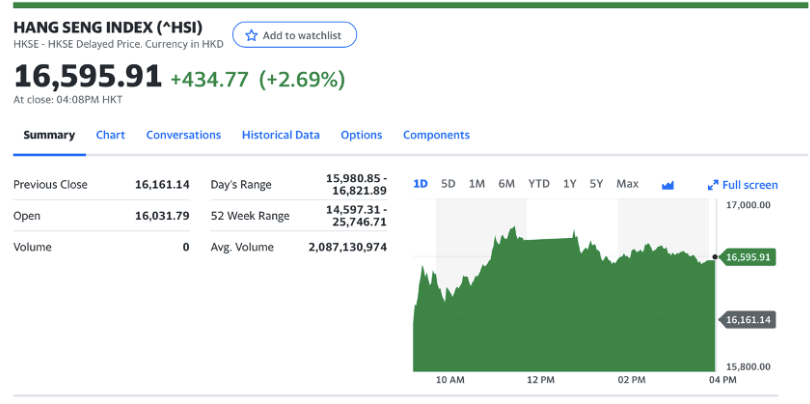 Hong Kong stocks bounced to 16,595.91 points today, building on last week's strong rallies after speculation of China's easing of the current zero-covid policy. China's tech giants and property stocks drove the price.
Hang Seng Index ended the day at 16,595.91, jumping 2.69% compared to the previous close with Hang Seng's tech index surging 4.06% to 3,396.64 against the previous market close. The stock price of Kuaishou Technology (01024) rocketed by 8.23%, while Tencent (00700) and Xiaomi (01810) surged by 2.85% and 5.15%. Beijing Radio and Television plan to take a 1% stake in Kuaishou Technology to seize the influence of social media, said local media.
Among Chinese real estate and property stocks, Country Garden (02007) rose 11.02%, which is the best-performing blue chip today. The stock price of HKEX increased by over 5.44% compared to the previous market close. The stock price of Mengniu Dairy (02319) bucked the market today and fell 1.64%, making it the worst-performing blue-chip stock.
However, China's State Council reiterated that epidemic prevention must be cleared, which is unshakable. The news led to continued pressure on recovery concept stocks.
China's exports and imports unexpectedly dropped as exports fell 0.3% in dollar term in October compared to the year before and imports declined 0.7% in the same month, the first drop since August 2020, said the general administration of customs of the country this morning.
The Shanghai Composite Index rose 0.23% or 7.02 points to 3,077.82 and Shenzhen Composite Index grew 0.38% or 7.69 points to 2,027.86.