A Tale of Two Hotels: Food quality varies wildly between Hong Kong's budget and luxury quarantine hotels
By: Tracy Leung

Edited by: AMALVY Esten Carr Claude Ole Eriksen

2022-07-29
Hong Kong's government-designated quarantine hotels are required to provide three meals a day to guests. But many staying in the least expensive hotels have been horrified by what they are served, while those that can afford it, order delivery or stay in more expensive hotels, often double or triple the price.
"Can't believe this is called a hotel. Motels overseas are much better than this, even Airbnb. The food tastes bad and there is even no chair for eating. I feel helpless," said Fanny Chan, a guest at the Ramada Hong Kong Harbour View Hotel in Sai Ying Pun on quarantine day 16.
Ms Chan said she paid HK$12,390 for 21 nights.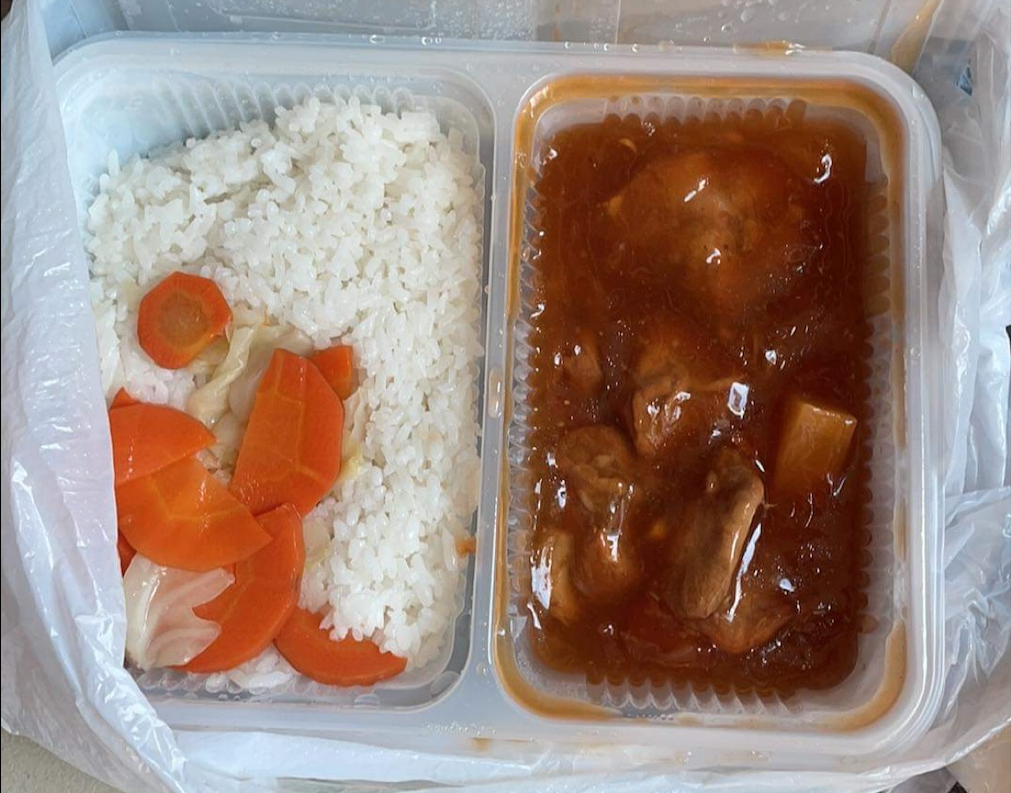 Ms Chan reported that after a week, she had developed an allergic skin reaction due to the dirty state of the room and poor quality of the food she was offered. The hotel did not provide any help for her, she said. 
The Ramada hotel has yet to comment.
"Healthy food includes grains, dairy such as milk and soya milk, vegetables, fruit and meat or alternatives like nuts and canned fish," Director of the Hong Kong Community Dietitian Association, Bonnie Leung said.
"It is highly recommended for people with special needs to notify hotels about their history of allergy when they first move in," Ms Leung said.
Nicholas White and Edith White stayed at the Sheraton Hong Kong & Tower in Tsim Sha Tsui in September for 21 nights. They paid HK$36,330 for a room with a city view, nearly double the cost of Ms Chan's room.
"We were fully aware of how difficult a 21-day quarantine stay would be so prepared to pay a bit more for a decent sized room with reasonably good food,"  said Mr White.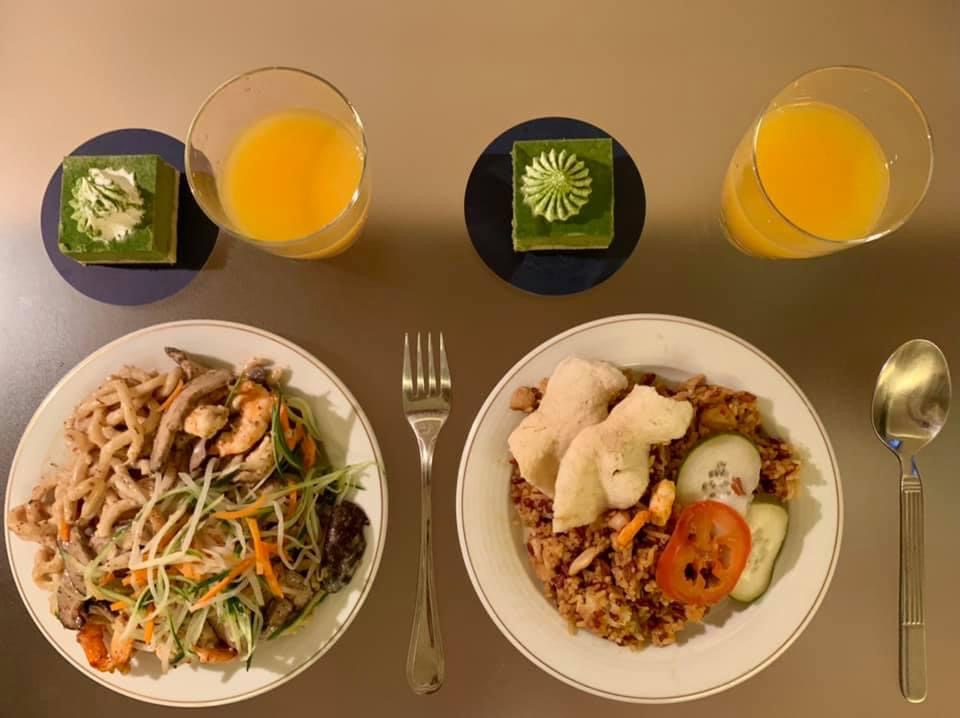 "Frankly speaking, most dishes are not bad compared to other quarantine hotels — the menu of Sheraton includes a good range of ingredients," said Mrs White.
It was the second time that Mr and Mrs White experienced hotel quarantine in Hong Kong and this time they were better prepared. They said they kept busy with regular workouts, online teaching, some simple housework and time for entertainment in addition to chatting with family and friends.
"As for us, we couldn't sleep if the food was full of strong seasoning. Luckily we haven't had insomnia or food poisoning," said Mrs White. 
In general, less expensive hotels outsource meals to an external catering company while more expensive hotels equipped with kitchens, such as the Sheraton, make their own. 
In May, Danny Catering Services Ltd was fired as food distributor for Penny's Bay, the government quarantine centre now also operating as a quarantine hotel for incoming foreign domestic helpers. Contaminated food found by the Food and Environmental Hygiene Department led to food poisoning of 45 people.
Ms Chan said her food was the same everyday and delivered cold more often than not.  There was no microwave in the room. 
"Sometimes they miss breakfast. But I can't finish all the food everyday. I am worried about not getting enough nutrients. I can only eat snacks when hungry so I keep losing weight now, " said Ms Chan.
The White's were happy with their hotel's meals.  "For breakfast, we like to try all the eight kinds the hotel provides. I enjoy the American, the waffle, the Chinese and the bagel sets more. For lunch, it's always with a beverage and green salad. For dinner, the meal is accompanied by a dessert or a mini mixed fruit cup," said Mrs White. 
"The food is freshly made though it is usually warm by the time it arrives outside our room. Nevertheless it's hygienic and quite healthy," said Mr White.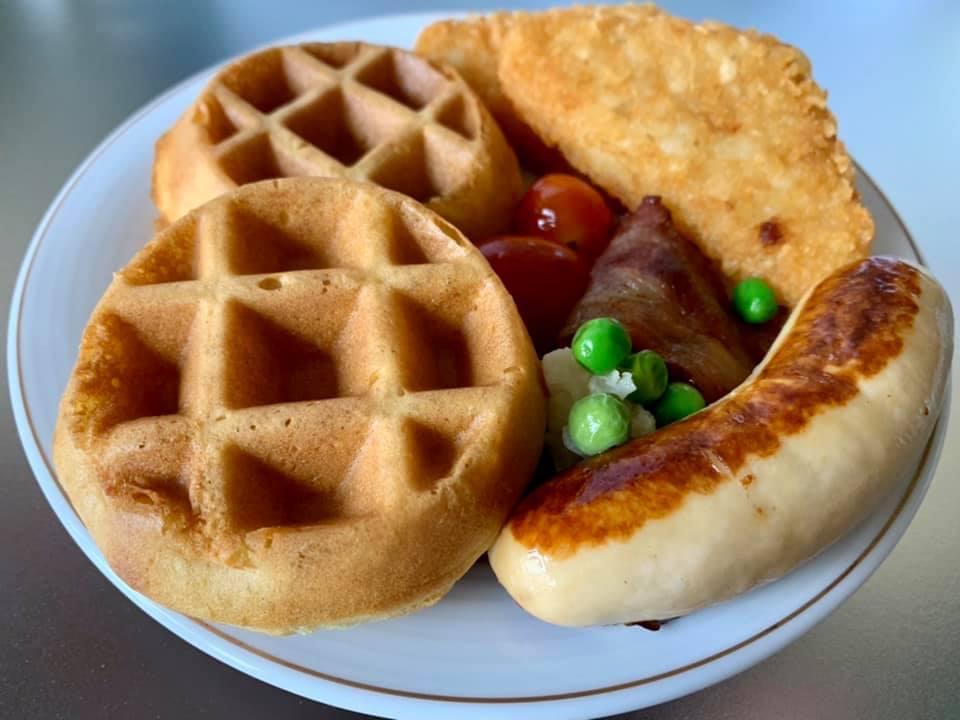 A well-rounded meal provides adequate energy, protein and fibre, Ms Leung said, adding that it's normal to feel depressed if unsatisfied with a meal.
"People should select foods that contain less oil and salt like fried foods and they are recommended to order an adequate amount of vegetables," Ms Leung said. 
"In order to stay healthy, people should minimize sedentary time, do some home-based exercise when feasible and drink enough water, 6-8 cups/ day as well as limit discretionary foods intake, like cookies, chips, cup noodles etc," Ms Leung said.