Sunset traditional culture: Hong Kong's last homemade "Yuk Bing Siu" liquor store, Kwong Yu Yee Winery
By: Nicholas Shu

Edited by: Editor

2022-07-27
Tucked away in a tenement building on Pei Ho Street in the Sham Shui Po District is a time-honoured winery store, Kwong Yu Yee. While the simple façade looks no different from the other stores in the neighbourhood, the intoxicating aroma of rice wine from within draws visitors to stop by every time.
The winery moved from Guangzhou to Hong Kong more than 70 years ago. The old shopfront originally had two stories. After being demolished in the 1960s, it was rebuilt into a six-story tenement building on the original site.
The golden lacquer signboard which reads "New Kwong Yu Yee" and the wooden beamed ceiling, together with the paint-peeled floor have been well-retained.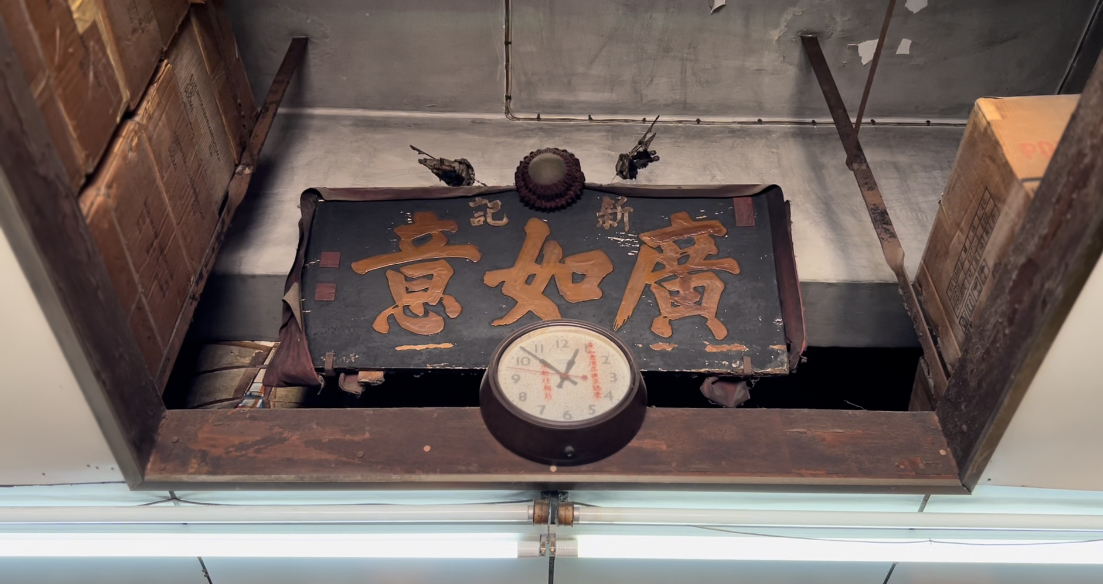 65-year-old Wong, who claims to be very low-key and would not give away his full name to anyone, is the second generation of the shop owner. "My father was the owner and I started to run it more than 40 years ago when it was in its golden age," he said.
Wong recalled during that time, there were four restaurants nearby and his shop wholesaled wine to them. "Back then, they had to register to buy our wine," Wong said, "And let's say if you tie your shoelaces in front of our door, the whole street would be blocked by our customers soon."
"There's no restaurant now," he said, "It's really hard for us to do business now."
Wong said that nearly 60% of the shop's business nowadays comes from neighbourhoods.
"Our regular customers contribute to our business most now, but the epidemic situation is putting us in a tricky situation since every customer is being more sensitive and concerning more about the price," Wong said, "But it seems to be better now."
In addition to the foreign wine wholesale business, the winery also sells the most commendable, self-brewed rice wine called Yuk Bing Siu. It is only those alcohol aficionados in the know that are aware of its existence.
There is a wine jar hidden in a hundred-year-old wooden cabinet near the door of the store. When lifting a little spiral spire with a few elastic bands on, the fragrance of the wine suddenly overflows. A floating piece of fat pork can also be seen if looking into the jar. This is the "treasure of the shop" as Wong said.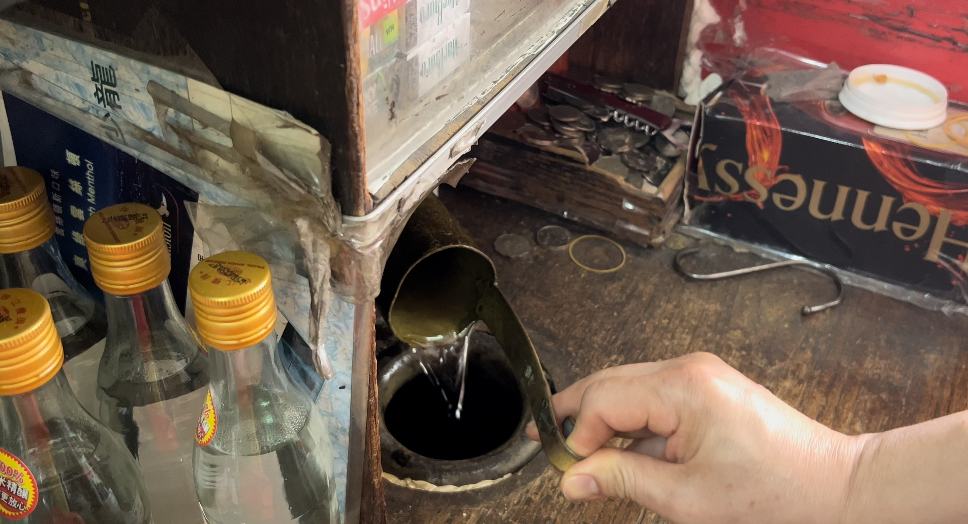 It is a traditional Cantonese liquor made with steamed rice. After distillation, pork fat is stored with the alcohol but removed before bottling. The name Yuk Bing Siu stems from the brewing process. In Cantonese, "Yuk" (jade in English) is a homophone for "meat," and "Bing" means "ice," which describes the appearance of pork fat floating in the liquor.
Guests need to bring their own utensils when they come to buy this old-fashioned liquor. Wong lifts the wooden lid and uses a slightly rusty copper wine spoon to get a spoonful of wine, measured in kilograms, and slowly pours it into the customers' bottles through the funnel.
The colour of Yuk Bing Siu is not completely transparent but has a touch of amber. Wong said it tastes mellow and smooth in the mouth. The aftertaste has a hint of the salty flavour of pork, which fascinates many gluttons like Lau Yit-cheung, a 65-year-old regular customer.
"It's really hard to find such a classic liquor that is not that expensive. It can really add flavour when paired with meat dishes," Lau said.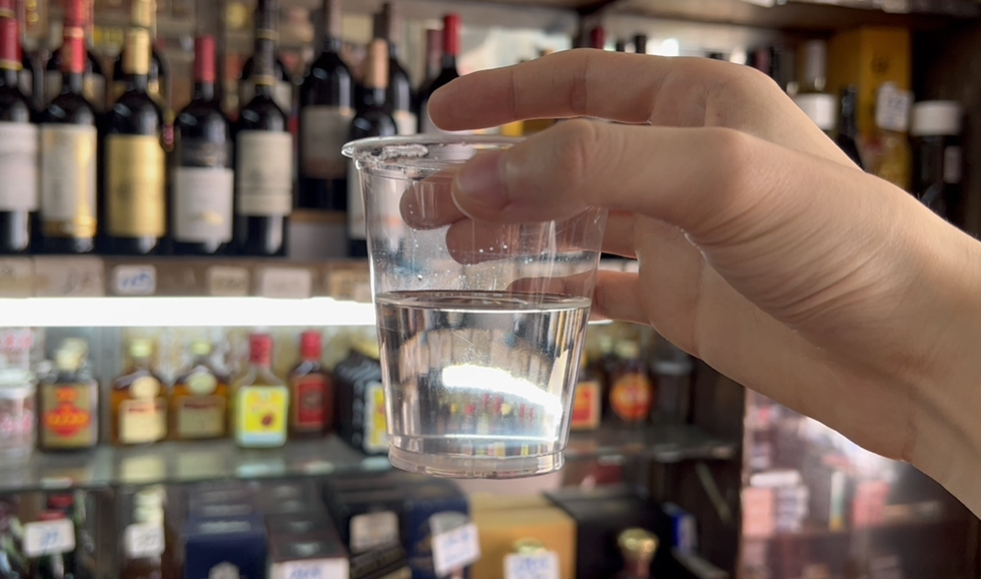 Wong said until today, there are still many elderlies who buy more than ten kilograms of Yuk Bing Siu to make plums. "There are also housewives who use it to steam chicken as cooking wine," he said.
Pei Ho Street, where the winery is located, used to be a wharf, from which people could go directly to Central or Wanchai. Wong recalled that in the past, the winery would often be filled with a row of self-brewing cabinets with Yuk Bing Siu inside, which would be in short supply immediately.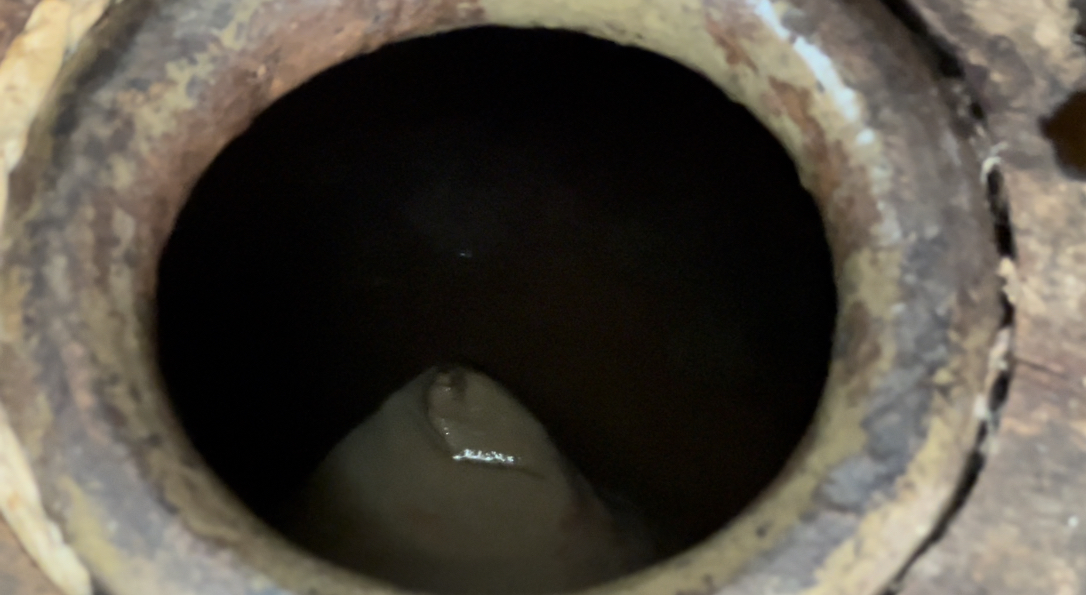 "After the demolition of the wharf, the population in the area is ageing, and Hong Kong people's drinking tastes are more international now," Wong said, "Most people prefer drinking beer, white wine, red wine, and other foreign wines."
Although Wong still insists on local brewing of this traditional liquor, there is still only one cabinet of it left in Hong Kong in Kwong Yu Yee Winery store.
Wong Tzi-fung, a 26-year-old young man who made a special trip to try this ancient technique said, "I really don't want such an old Hong Kong culture to die in the end, and I hope more of my friends can learn about it."