Online fitness in China soars
By: Kate Zhang

Edited by: Kate Zhang

2022-07-27
"Goodbye fat, hello muscles! Say it out loud with me!"
Liu Genghong gives instructions to Li Yuxi, a 25-year-old bank clerk in Shanghai, as she does aerobics to the beat of the music on her phone. Every day, Li opens Douyin, a Chinese short video platform, to follow Liu, her star personal trainer, to exercise at home.
Liu is a Taiwanese singer, actor and personal fitness trainer, but his experience in show business has not made him famous. Now, he has attracted viewers from all over the country with his live broadcasts on social media.
After Shanghai was locked down due to Covid in March, Liu, 49, and his wife Vivi Wang, Miss Universe Taiwan in 1999, live-streamed fitness five times a week for a 90-minute session each time.
The couple taught the audience to do aerobics to the fast-paced tunes of pop star Jay Chou, and one of his most-watched fitness routines were set to Herbalist Manual from Chou's album. Most of the movements are simple, including Liu's signature shuttlecock movement, which mimics the action of kicking a shuttlecock, a traditional Chinese folk game called jianzi.
Liu's fitness classes have been so popular that they have broken Douyin's live streaming record so far in 2022, according to data analytics platform Chanmama. His live broadcast has accumulated over 100 million viewers within 30 days, with a maximum of 44.76 million viewers for a single live broadcast.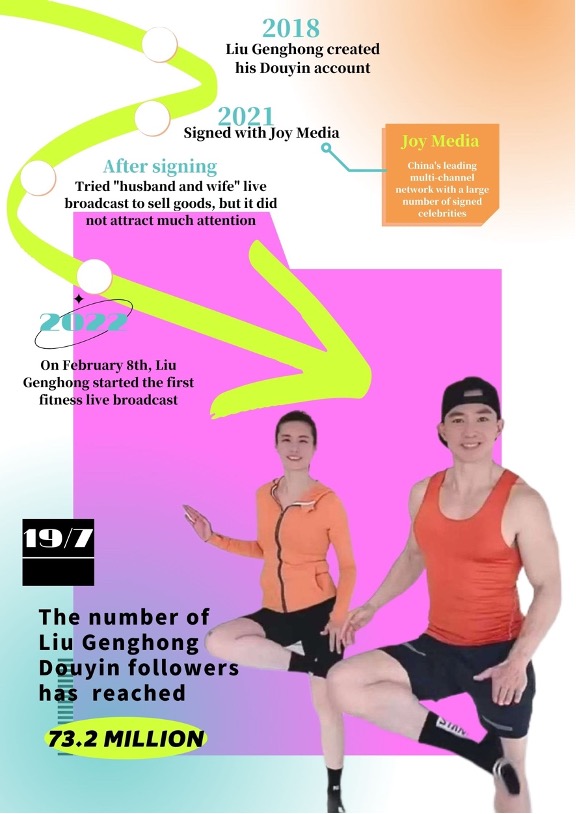 Liu's Douyin account grew by more than 50 million followers in April. By July 19, he had amassed 73.2 million followers and got more than 120 million likes.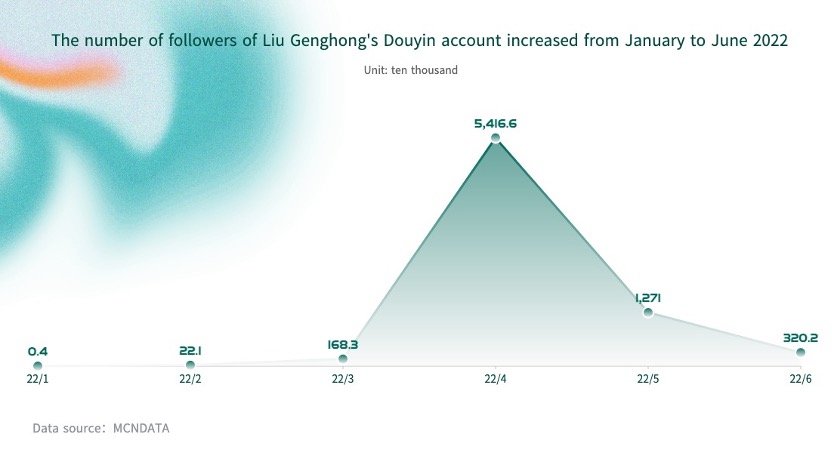 "I worked out every day with Coach Liu, and after a few weeks of dancing, I saw the changes in my body," Li said. "I lost three kilograms of weight, while I became very relaxed after exercising."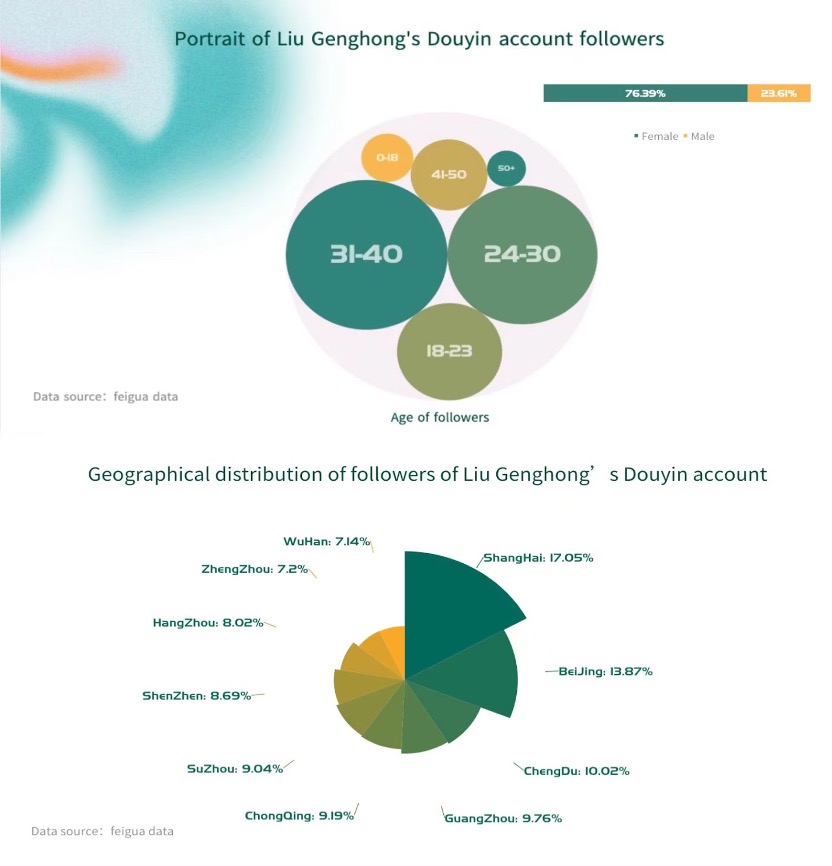 Liu's core fans are mainly young and middle-aged women in first-tier cities in China like Li, calling themselves "Liu Genghong girls", according to Feigua data, a Douyin live data monitoring platform.
Liu's unexpected break reflects China's growing interest in exercising at home, as the government continues to impose Covid lockdowns. The internet makes exercise routines, fitness trainers and fitness celebrities more accessible than ever.
China has the largest fitness population in the world, with 303 million people participating in fitness activities at least twice a week in 2021. It is expected to reach 416 million by 2026, which will be nearly double the number in the U.S. and Europe, according to China Insights Consultancy.
The total scale of China's sports industry will reach 5 trillion yuan (HK$5.8 trillion)  in 2025, according to the "14th Five-Year Plan" issued in 2021. In 2020, the figure was 2.7 trillion yuan  (HK$3.1 trillion), according to the National Bureau of Statistics of China.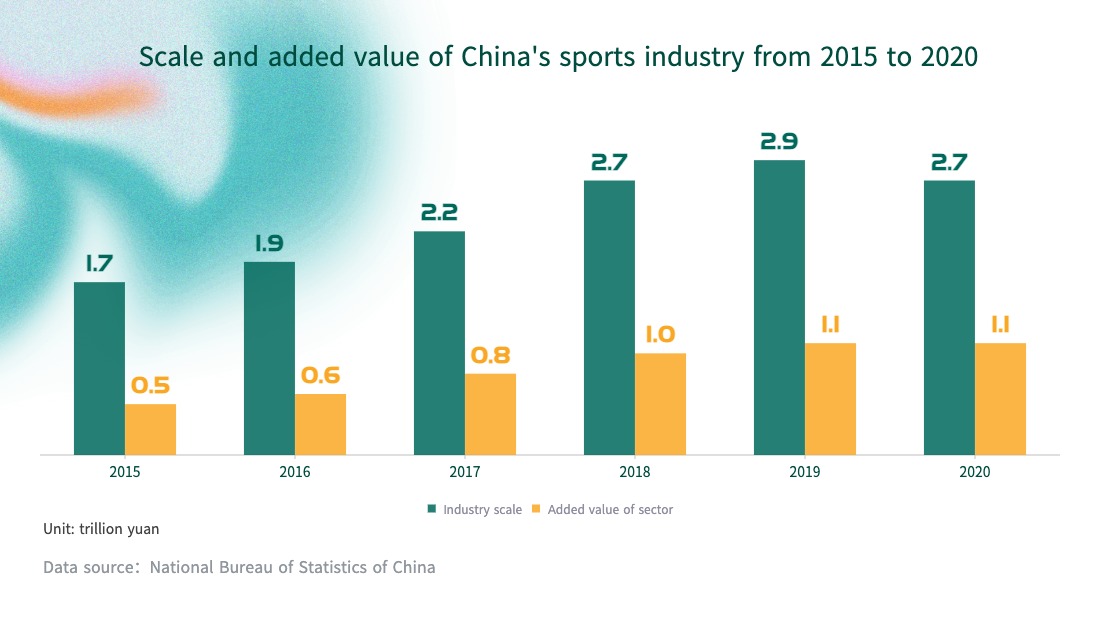 "The epidemic has made people feel the importance of health. Combined with the background of national sports to build a healthy life, the trend of national sports is developing rapidly, and the number of participants in various sports has increased significantly," the government document said.
The expansion of China's fitness market is related to an increase in consumption, according to Sinolink Securities. People are beginning to pursue a healthier lifestyle, and the proportion of health consumption is increasing year by year.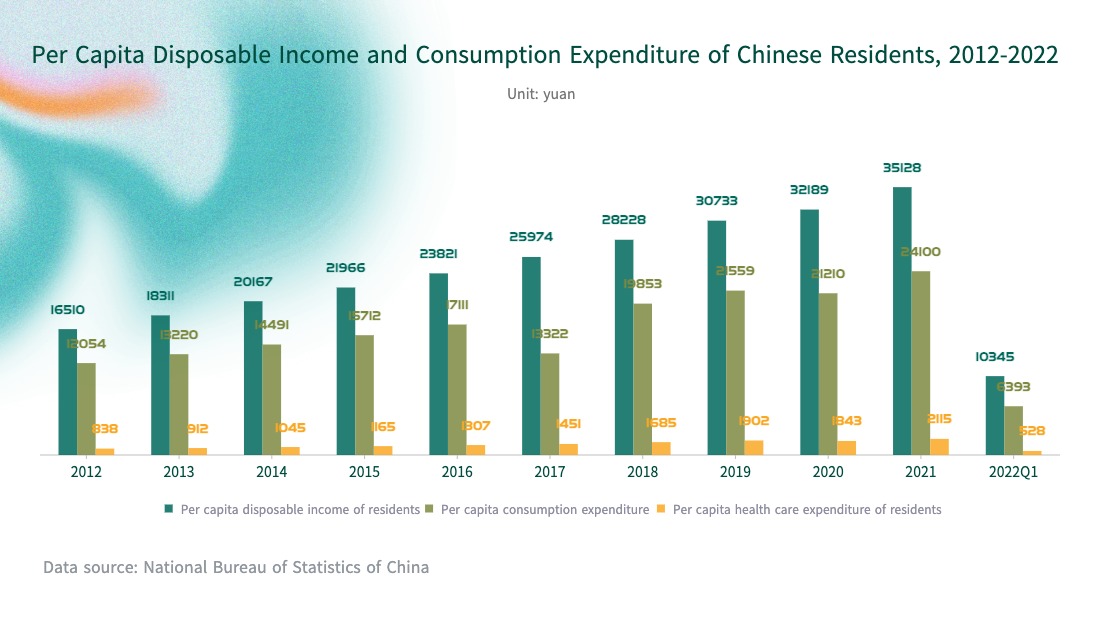 However, the pandemic has severely frustrated the offline fitness industry. The offline fitness model is facing impacts like city lockdown, showing a negative growth trend in 2020. Although the epidemic recovered to some extent in 2021, the growth rate is still below 5%, according to Keep, China's leading mobile fitness app.
Zhang Ling, 31, works for an internet company in Beijing. Before the coronavirus outbreak, she spent about 1,000 yuan (HK$1,162) for monthly personal training at a gym. She had to stop her exercise habit after gyms were closed due to the lockdown.
Zhang felt anxious when she saw that she was out of shape because she had stopped exercising, but she quickly reframed her training plan using a fitness application. Zhang works out with the teachers online, and she has purchased a lot of exercise equipment such as a yoga mat and dumbbells for a better home exercise environment. Now, she works out every day for the cost of less than 100 yuan (HK$116) a month.
Zhang's roommate, who had never exercised before, was also attracted to the software idea, and they now work out together at home.
"Fitness software meets my exercise needs well, and it's more convenient and cheaper than offline fitness," Zhang said. "I don't think the brick-and-mortar gyms can make my money anymore."
The online fitness trend reaches a larger group of users who previously did not exercise by addressing the barriers that prevent people from working out. The top reason for people over 20 not wanting to exercise is "lack of time," accounting for 30.6%, while lack of venues and economic constraints account for 10.8% and 4.1%, respectively, according to the research by the General Administration of Sports of China.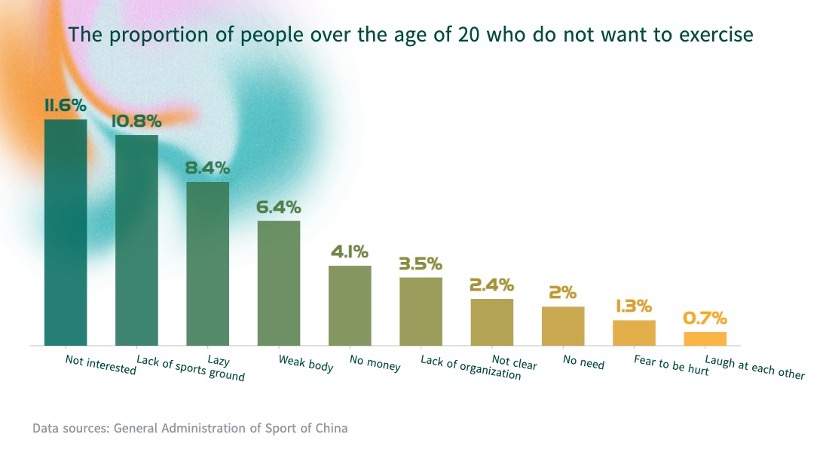 The number of online fitness users like Zhang and her roommate is growing rapidly. 
In 2021, China's online fitness monthly active users were 13.8 million, an increase of 17 million over last year, with a penetration rate of 45.5%. The penetration rate of the online fitness population in China is expected to exceed half by 2026, according to Keep's forecast.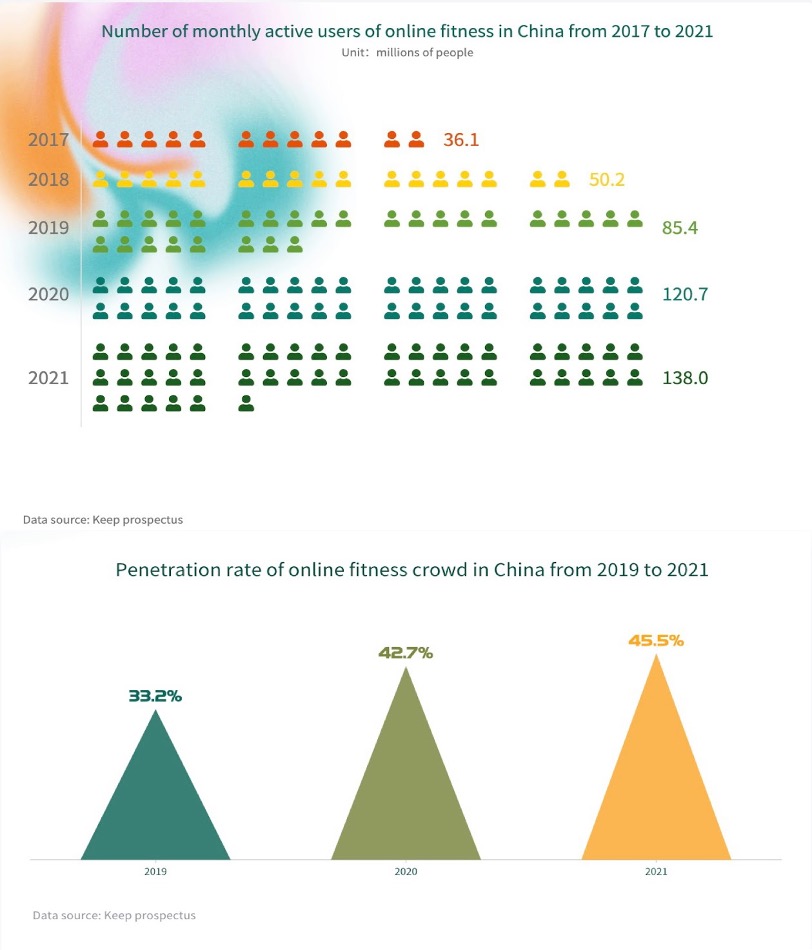 Zhongtai Securities predicts that with the gradual transformation of offline fitness groups to online and the continuous growth of active online fitness users, the growth momentum of China's fitness market in the future will mainly come from the online fitness market.
China's online fitness industry market size reached 369.7 billion yuan (HK$429.7 billion)  in 2021, according to Keep.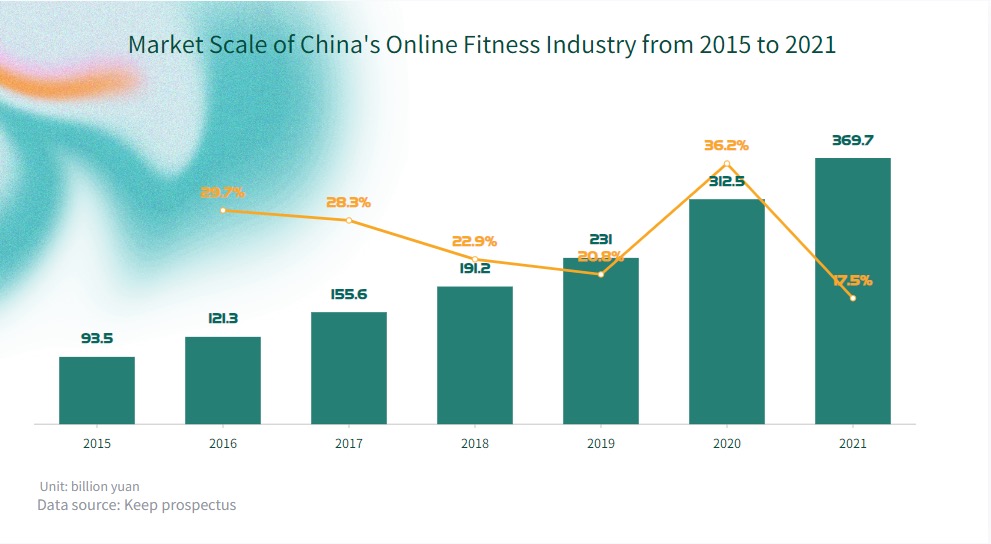 In 2021, the online fitness market accounted for nearly half of the entire fitness industry, which is expected to surpass the size of the offline fitness market by 2022, according to China Insights Consultancy.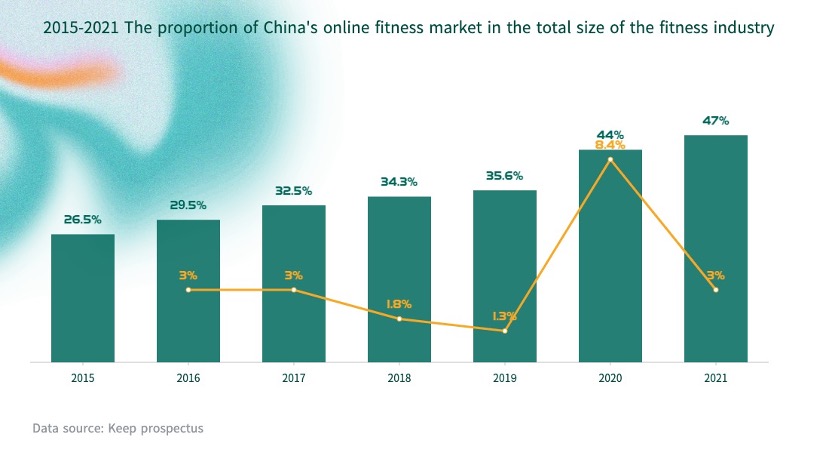 Online fitness is supported by the government. At the end of April, the State General Administration of Sports and other departments launched a National Fitness Online Games. The number of online sports has exceeded 100, and more than 100 Olympic and world champions have also participated in online competitions and launched topic challenges on social media. By mid-July, the number of participants had exceeded 10 million.
Sun Yu, a national athlete and top trainer of Guodong Fitness in Shanghai, said it is possible to use online fitness as an alternative during the lockdown period, but when conditions permit, it is best to go to the gym to exercise under the guidance of a coach or choose some simple outdoor activities to meet their sports needs.
Sun said that when exercising at home, injuries can occur.
"The muscles of the human body are very complex, and a small difference in movement will involve multiple muscles in the human body," he said. "If the movement is not standard, it is likely to cause muscle strain."
Sun urged people not to challenge too difficult movements when exercising online.
"If online fitness teaching can be made more professional and interactive, online fitness will continue to develop in the future," Sun said.