Reviving Hong Kong's flower plaques tradition
By: Chengqi MO、Kei Tung LAM

Edited by: Clarice Wu

2022-12-22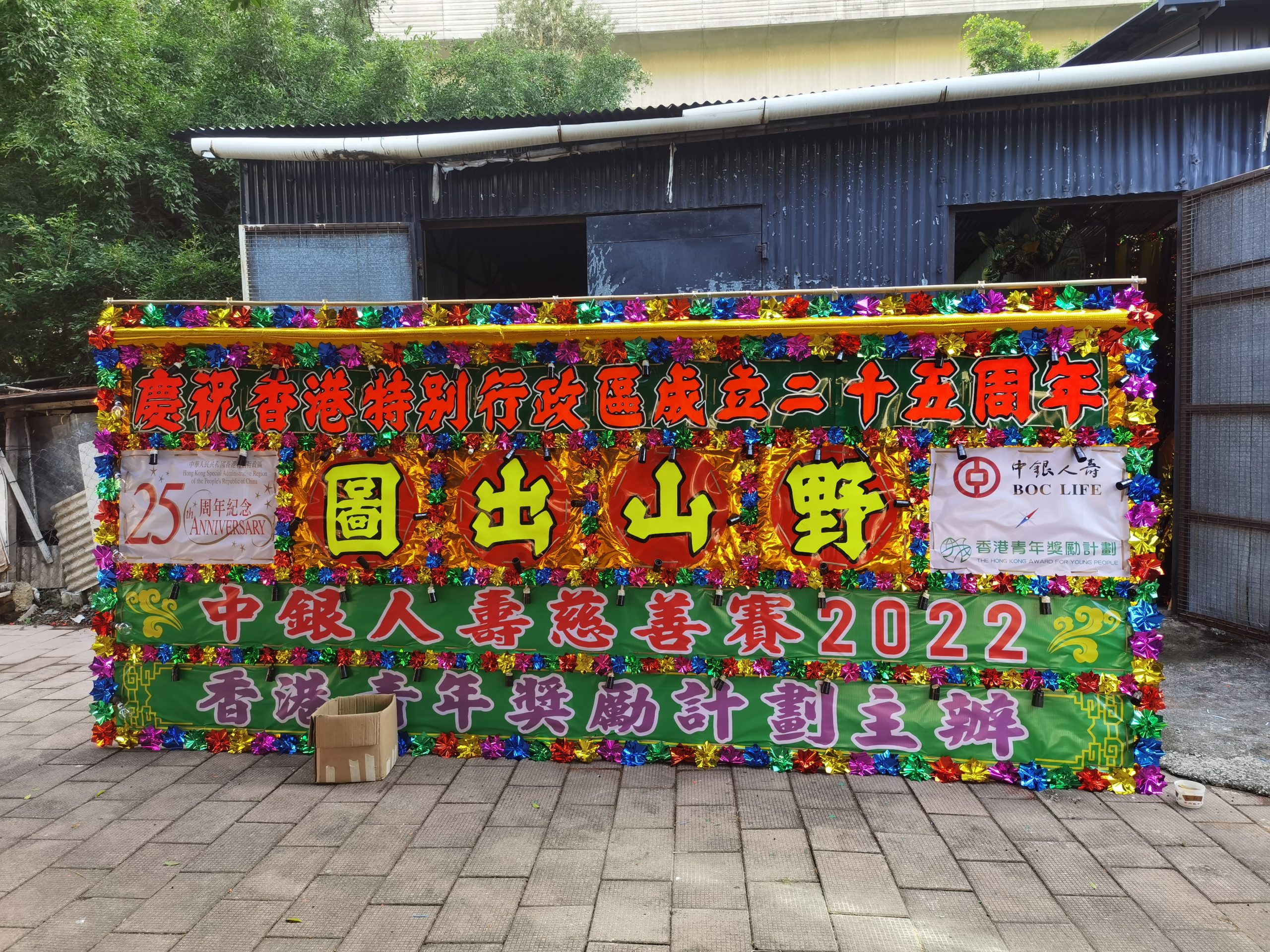 In a narrow and cluttered shop, Lee Chui-Lan, 68,  leans over a table piled with materials and brushes, stapling sheets of shiny metallic paper together to make flowers. Surrounded by yellowed photos on the peeled wall, she works in a cramped storefront where vivid handmade peacocks hang from the ceiling. The inconspicuous flower plaque shop is called Lee Yim Kee, located in Shap Pat Heung, Yuen Long District.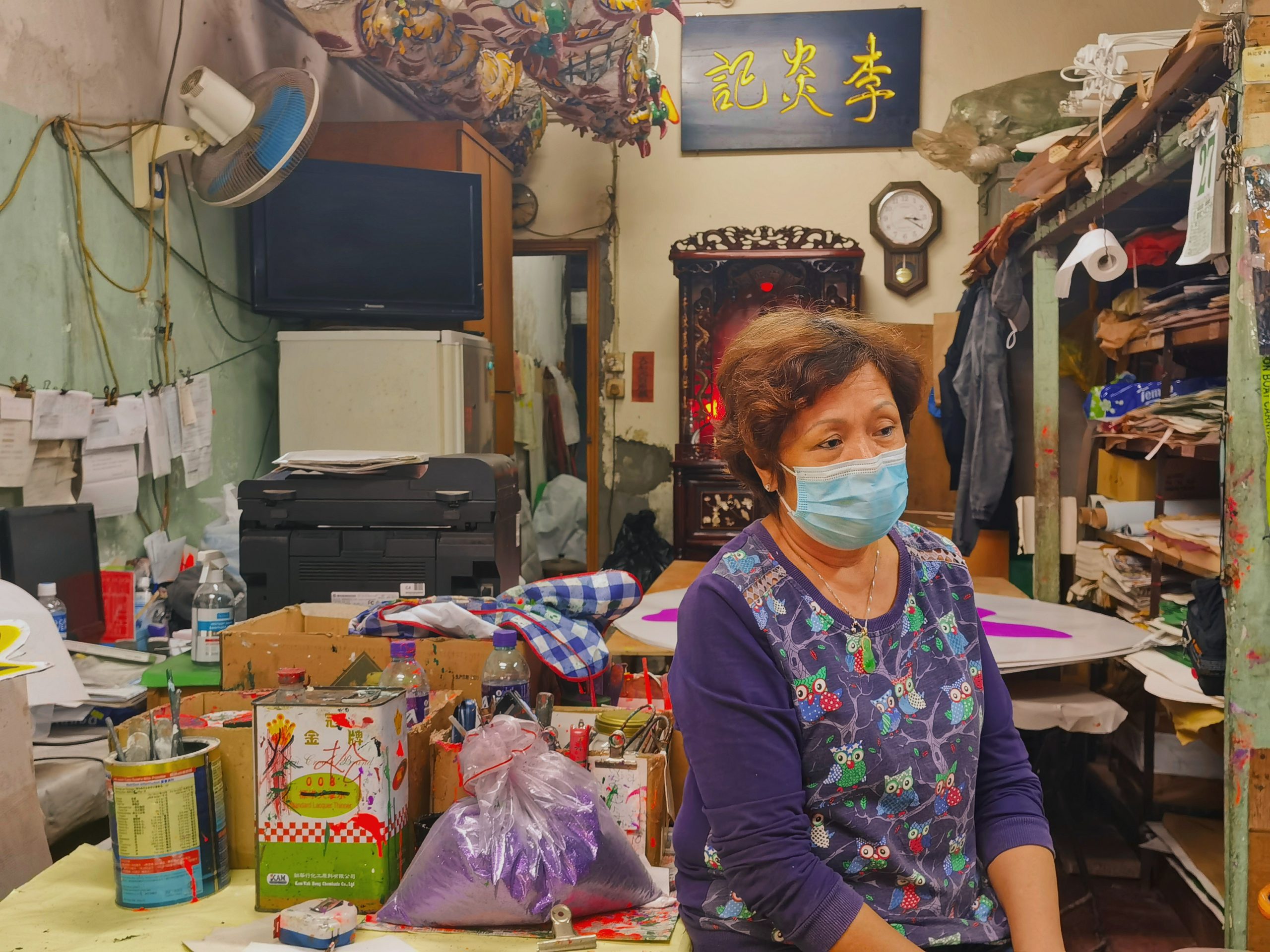 Lee, the owner of Lee Yim Kee, inherited the store and the craft from her father Lee Gam-Yim, who set up the shop the year his daughter was born. She started helping out in the shop in her early teens and experienced the most prosperous years of the flower plaque-making business. 
In the 1970s, giant flower plaques on display around  Hong Kong were common. Nowadays, they can only be found in the New Territories and walled villages. Hong Kong has 480 Intangible Cultural Heritage (ICH) items, and traditional flower plaques craft is one of them. With limited government support, the craftsmen struggle to survive in a rapidly changing society.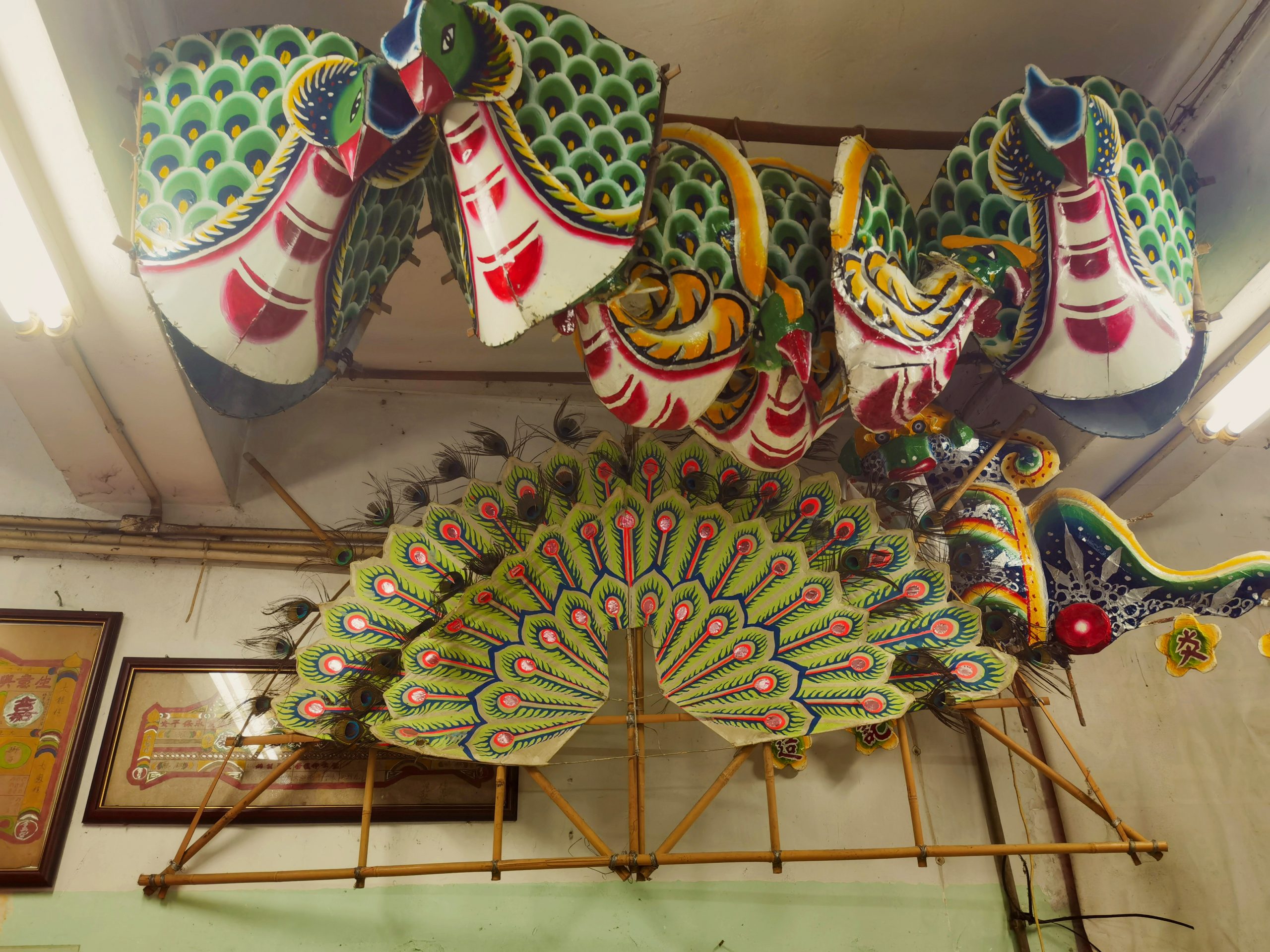 Flower plaques are huge colourful displays, mainly made of bamboo, fabric and paper. Most are meant for  celebrations or announcements of festive events such as the opening of new stores, weddings and birthdays. Back in the days when there was no internet to  disseminate information, flower plaques were useful in spreading messages.
"When a family or company held an event, people passing by would know about it quickly by looking at the flower plaques," said Lee.
The process of making flower plaques involves writing messages, making paper flowers, crafting the structure and assembling the different parts. Over time, various crafting techniques developed. For instance, messages that used to be assembled with cotton eventually changed to paint.
"Sometimes, we will use the computer to print messages. It's much easier," Lee said. "However, the colours of printed characters are not as vivid as the handwritten ones, so some customers may be dissatisfied."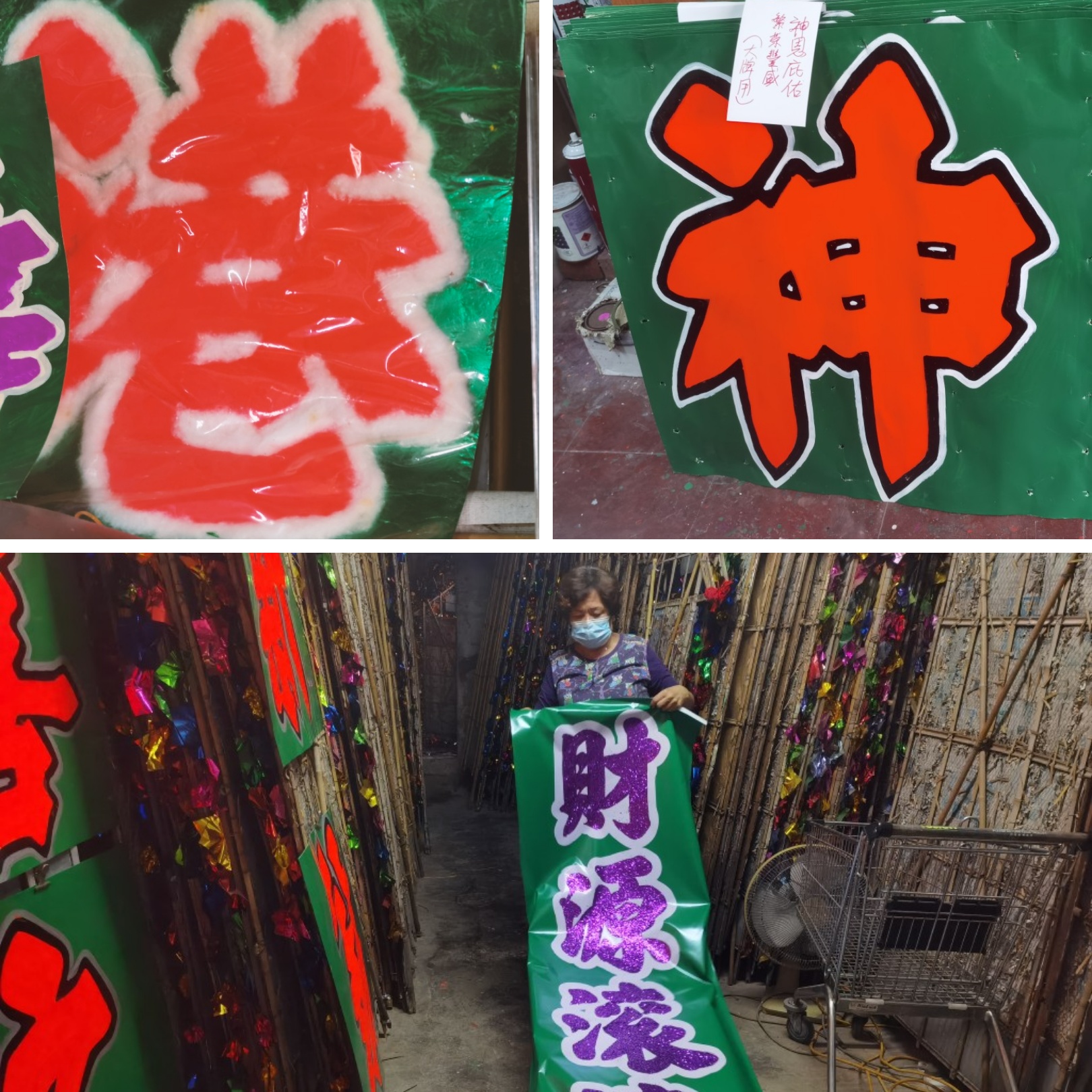 Years of heavy work have caused Lee pain in her hands, shoulders and neck. She could no longer make flower plaques. In 2013, she found two young people who were interested in this industry to pass on this traditional craft. Nowadays, Lee takes a back seat. As the third-generation successor of  Lee Yim Kee, Andy Lai and James Lee have taken on the main job of making flower plaques.
"Most young people do not like labour-intensive work like ours," said Lee. "They are concerned with the salary and comfort of the jobs. That's different from our generation."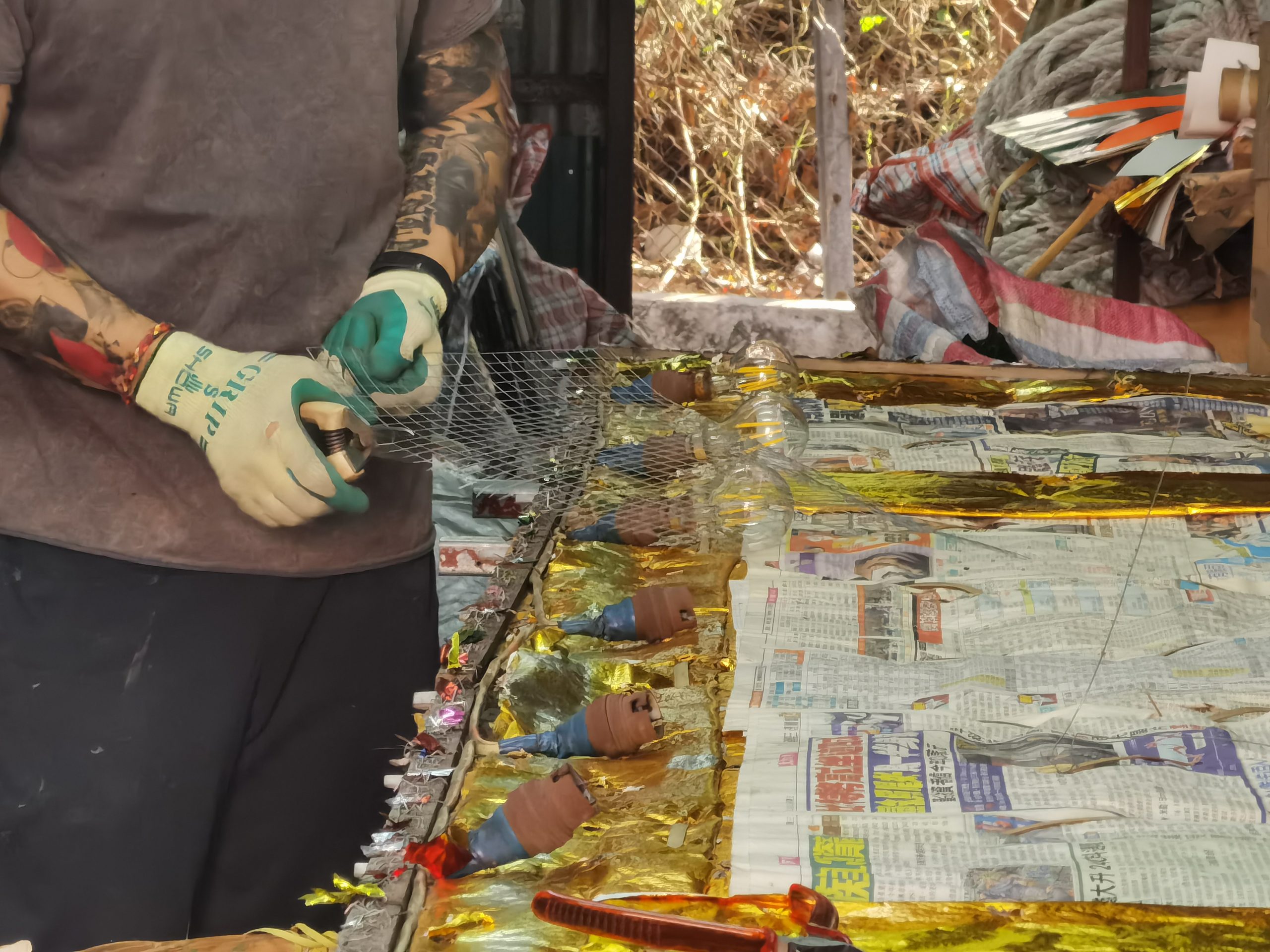 Tang Ka-Jau, the Director of the Society of Hong Kong History, stressed that the economic value of cultural heritage is the key to its viability and scope for development.
"We never worry about intangible cultural heritages like milk tea and herbal tea disappearing because they are integrated into younger people's daily lives. Their market value is proven to be sustainable," Tang said.
Limited space is another challenge to this industry. Making and storing flower plaques takes up a lot of space and the government also has its restrictions.
"The population in Hong Kong is growing rapidly nowadays, so it becomes more dangerous to display flower plaques in urban areas," Lee said. "We need to go through a complicated application process to erect scaffolding outside buildings, but usually the owners don't allow it." 
COVID-19 has brought about the most difficult situation for Lee Yim Kee since its opening 68 years ago. Social distancing rules meant many festivals and weddings could not go ahead, and subsequently there was a sharp fall in flower plaques orders.
"It was hard to earn money during the pandemic," Lee said with a sigh.

There are currently only seven major flower plaque companies left in Hong Kong, and more than half are under threat of closure. To continue the legacy of flower plaque making, some craftsmen have started to add new elements to traditional flower plaques to draw public attention. 
Chan Sing, a Hongkonger who is concerned about the preservation of flower plaques, created the innovative concept of "mini flower plaques". Unlike traditional flower plaques which are often only exhibited for a short time due to space constraints, mini flower plaques can be kept for several years, functioning as small decorations at homes. 
Chan combines different elements in his flower plaques to create a cross-cultural look. He created a mini flower plaque series featuring Sanrio characters and tried adding embroidery into his designs. 
"I think our business of mini flower plaques customisations is quite successful. Our customers include French football star Zidane, country leaders, and multinational companies," Chan said.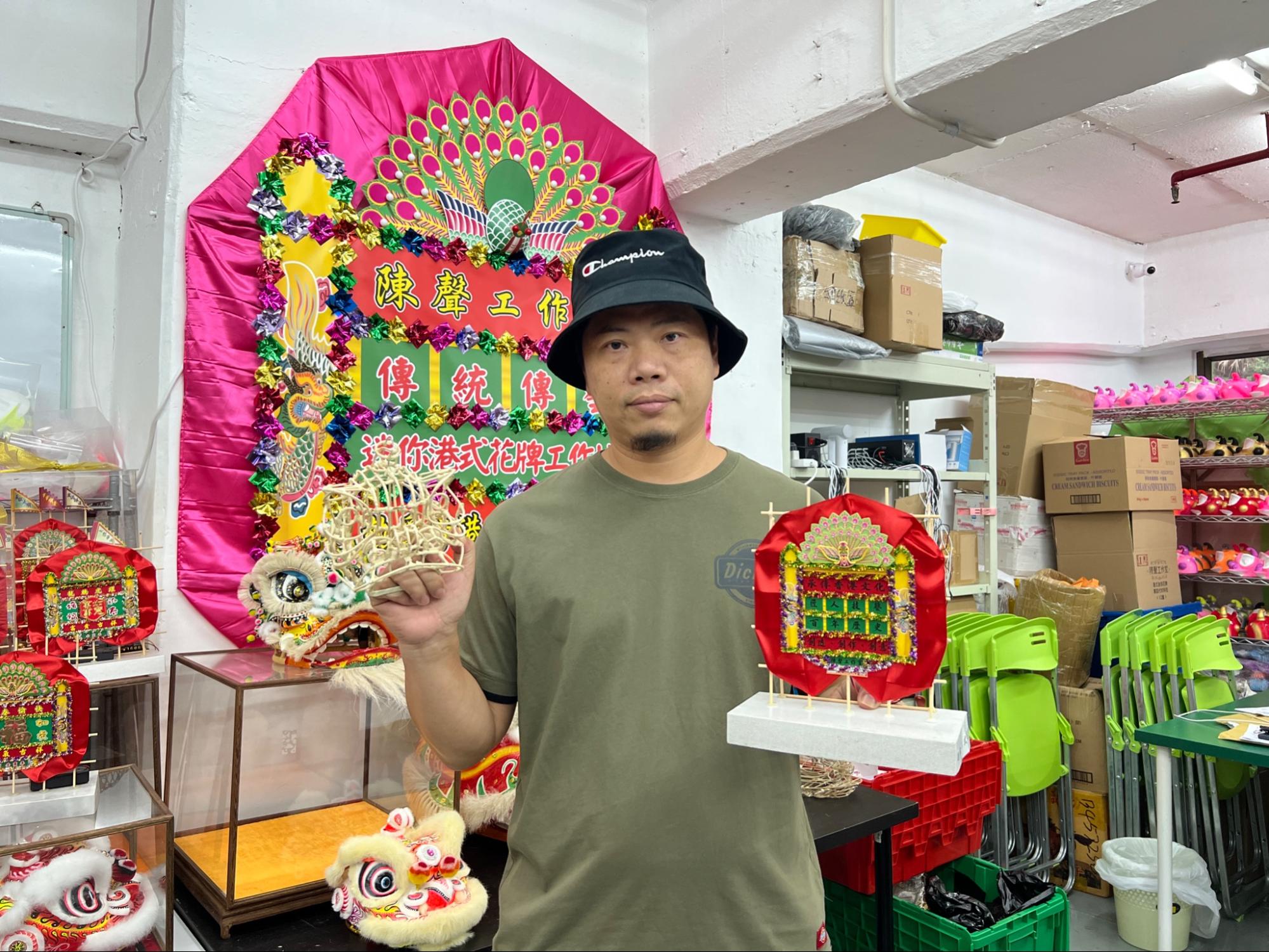 Chan wishes that more Hongkongers can learn about the cultural and historical background of flower plaques.  He plans to cooperate with large-scale flower plaques companies and continue to modernise the craft.
"We can develop mini flower plaques into different products, incorporating them into our daily lives. We will retain the essence of Hong Kong flower plaques while doing so," said Chan, showing a keychain with a flower plaque design.
Chan also holds workshops, offering hands-on flower plaque-making opportunities using a simplified material package.
"Local techniques, culture and history are the essences of Hong Kong-style flower plaques. Hongkongers from different backgrounds can learn more about this unique local heritage when they join our workshops and introduce it to their families and friends," Chan said.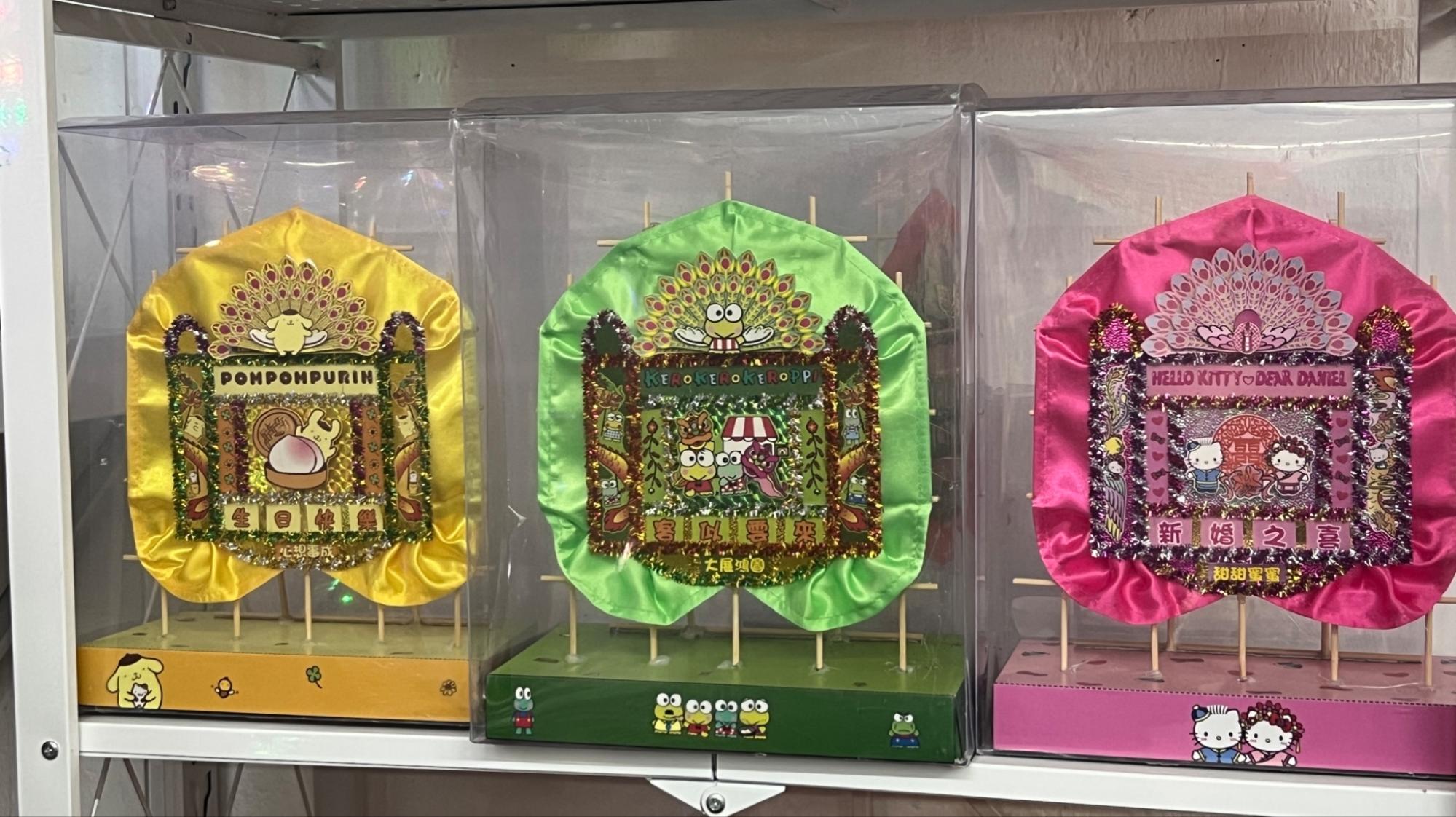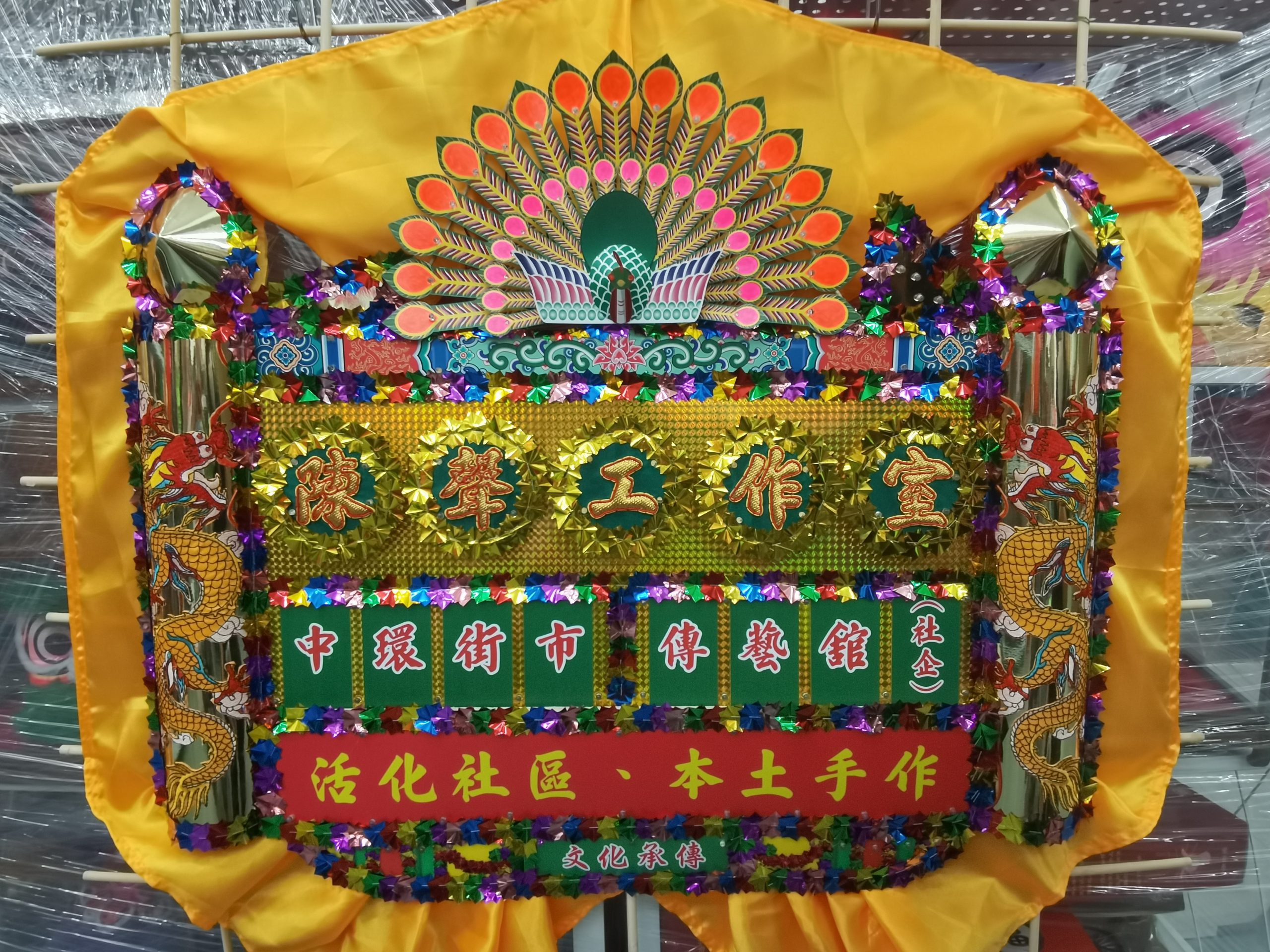 Although Chan sees mini flower plaques as a way of promoting the intangible cultural heritage, Lee questions if they are distorting the traditional meaning of flower plaques. 
"To me, those are not traditions. They are not skills and techniques handed down from the old days," Lee said. 
Lee finds it hard to recognise them as flower plaques. She would rather call them billboards. However, Chan thinks the word "traditional" should not be overly emphasised. 
"There is no time limit for the creation of traditions. I am creating traditions now. Traditions are innovation and creativity after being baptised over time," Chan said.
Tang, the Director of the Society of Hong Kong History, agrees that mini flower plaques are a new path for the flower plaque business as they offer an opportunity to transform  the craftsmanship.
"The cultural significance and the unique workmanship used in its creation have not changed despite the passage of time. This is what inheritance is. Although the practice has changed, it still has the same meaning," said Tang.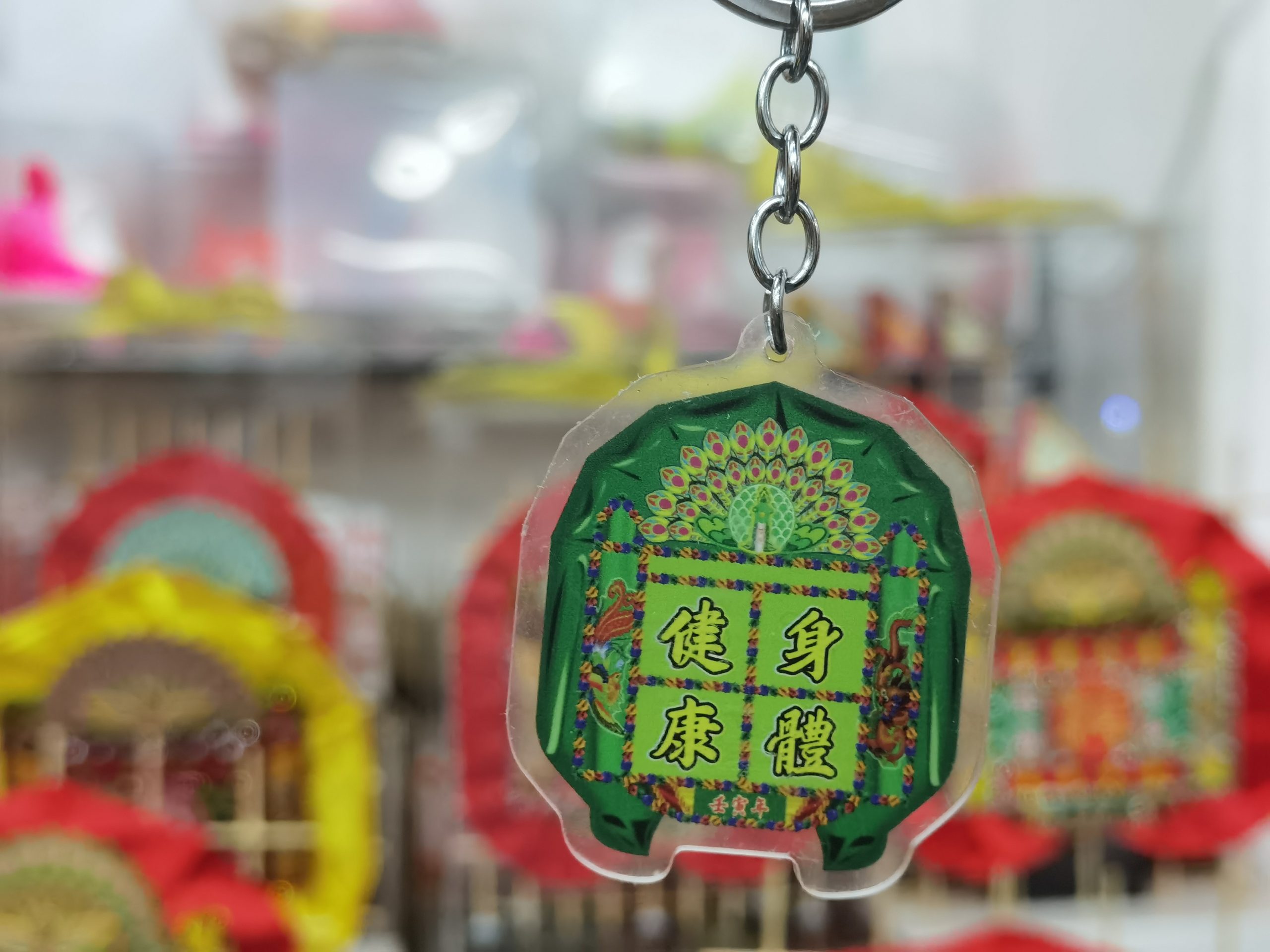 Besides Chan, there are also local organisations that are passionate about cultural preservation. Eldage, a social enterprise focusing on the communication between the traditional and digital generations, has been helping traditional crafts and masters to promote via social media and digital promotion.
"Many traditional craftsmen do not know how to make use of social media platforms to market and advertise, so we help to promote their stories and products online," said Fong Cheuk-jiu, the manager of Eldage.
Eldage repackages the traditional craft and has already sold a variety of products using digital marketing strategies.Many young people have joined the workshops organised by masters of different crafts after learning more about their stories and products on Eldage's website.
"Most of the flower plaques orders come from schools and NGOs. Some of them will even invite flower plaque masters to hold workshops," Fong said.
Fong pointed out that the education sector and the government both play important roles when it comes to preserving traditional craftsmanship. Students can become the new blood of   traditional workmanship if they are introduced to the skills through courses and workshops.
"The government has the most resources. A little push from them is way more efficient than ten or even a hundred NGOs working together to promote traditional craftsmanship," Fong said.
In late 2018, the HKSAR Government approved funding of HK$300 million for launching the ICH Funding Scheme. The government provided financial support to experts, communities and organisations who make detailed plans to promote ICH. 
Monetary support from the government helps organisations like Eldage to provide business opportunities for traditional craftsmanship, such as flower plaques making. Eldage promotes the commercialisation of the technique systematically to avoid it being lost over time. 
However, Tang said that Hong Kong has developed and changed rapidly into a financially oriented society. The disappearance of traditional cultures seems inevitable with the regeneration of the city. 
He also suggested that the Hong Kong government should provide more venues and exhibition opportunities for different successors and organisations to promote intangible cultural heritage. 
"We called the ICH list Death Note,"  said  Tang. "In fact, once a traditional craft has been added to the ICH list, it is only a matter of time before it disappears if its economic value cannot be sustained."