Michelle Yeoh creates Asian women's history with Oscar
By: Yuqi CHU、Yuhan WANG

Edited by: Chengqi MO

2023-03-14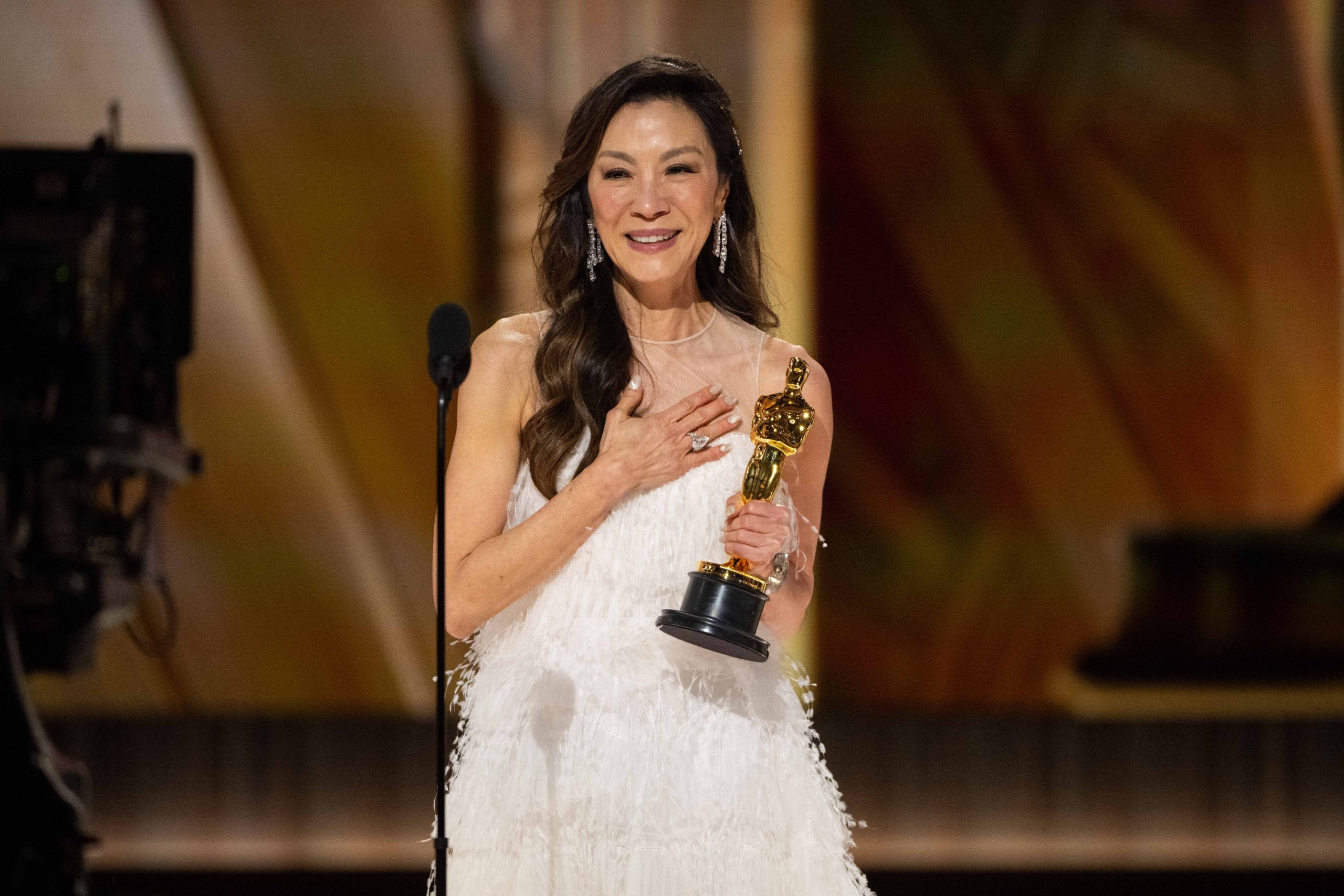 An 84-year-old woman sat in a theatre in Malaysia to watch the Oscars ceremony broadcast live on the big screen with tears in her eyes. On the screen, her 60-year-old daughter, Michelle Yeoh Choo-kheng held the Oscar and gave an acceptance speech at the 95th Academy Awards ceremony in Los Angeles.
"For all the little boys and girls who look like me watching tonight, this is a beacon of hope and possibilities. This is proof that dreams dream big and dreams do come true," Yeoh said, "and ladies, don't let anyone ever tell you you're past your prime."
Andy Vermaut shares:Oscars 2023: Michelle Yeoh's mum in tears as she celebrates historic victory: Michelle Yeoh becomes the first Asian woman to win the Academy Award for best actress. https://t.co/adctaYYqqs Thank you pic.twitter.com/F8YpXIQLqX

— Andy Vermaut (@AndyVermaut) March 13, 2023
Yeoh's mother cried for joy for her proud daughter winning the Oscar for best actress
Malaysian-born Yeoh became the first actor of Asian descent to win the Academy Award for Best Actress for the action comedy Everything Everywhere All at Once, witnessed by the whole world at the Dolby Theater in Hollywood on Sunday night.
The film tells the story of a middle-aged immigrant woman facing the problems of family and mid-life crisis while living a multiverse life.
Yeoh has already won several awards for her performance in the movie, including a Golden Globe and Screen Actors Guild Award a few months ago.
The film also took best picture, best supporting actor and actress at the Oscars.
Yeoh expressed thanks especially to the Hong Kong film industry, which is the cradle of her acting career. 
Everything Everywhere All at Once pic.twitter.com/rPMOgd33T3

— The Cinegogue (@TheCinegogue) March 8, 2023
Stage photo in the movie Everything Everywhere All at Once
"To my extended family in Hong Kong where I started my career, thank you for letting me stand on your shoulders, giving me a leg up so I can be here today," she said.
After starring in the movie Yes, Madam! in 1985, the 23-year-old Yeoh became a famous martial arts actress in Hong Kong. In 2000, with the great success of the movie Crouching Tiger, Hidden Dragon, she became an international superstar in Hollywood.
Kevin Yeung, Hong Kong's secretary for Culture, Sports and Tourism Bureau, congratulated Yeoh.
"Michelle Yeoh rose to prominence in the Hong Kong film industry for years, then moved on to the international stage and became a shining star with impressive achievements," he said.
Jason Coe, an assistant professor at Hong Kong Baptist University's film academy, said the world has been waiting for an Oscar Asian best actress for a long time. "Yeoh's award represents the recognition of Asian actors in the world film industry," he said. 
"This is a huge incentive, which makes Hong Kong filmmakers and film students full of hope that they may become the one on the highest podium in the future," he said.
Linka Kong, 22, a university student majoring in Acting for Global Screen, said she felt encouraged by Yeoh's experience.
This historical award not only let Kong know that Asian women can also have such influence on the international film stage, but it eased her age anxiety as well.
"I am always worried that I will be eliminated from the actor market decades later when I no longer have a youthful and beautiful appearance, but now I see Yeoh still shining at her age of 60, which changes my mind," Kong said.
"Thanks to Yeoh, my anxiety vanished like a bubble and my passion lit like a flame again, " she added.