Jason Mraz's beautiful mess
[dropcap style="font-size: 60px; color: #ff0000;"] I [/dropcap]t was a sultry, starless night in June and his 35th birthday, Jason Mraz hopped off a plane at the Hong Kong International Airport for his second concert in the city. In the next evening, he would be performing before more than 10,000 people in AsiaWorld-Expo and, a few days later, a few hundred lucky ones in an invitation-only gig.

In Hong Kong, the singer-songwriter is often known as the guy who sings "I'm Yours", a song that had lingered on the charts and airwaves long enough to make history as the longest-running Billboard Hot 100 hit ever.
The first time he came, in March 2009, he performed before some 4,000 fans in Star Hall, a mid-sized multi purpose venue in Kowloon Bay. I was there, and I recorded a video with my point-and-shooter that would now pop up as one of the top results on YouTube if you search for "Jason Mraz in Hong Kong".
When I saw him three years later, I brought a bigger, better camera, a sensible pick. In the side pocket of my bag, though, was a pen and a two-column, ruled notebook that I would hate to carry on any leisurely occasion, not least a Jason Mraz concert. But I had made no happier exception than that evening.
[dropcap style="font-size: 60px; color: #ff0000;"] T [/dropcap] he idea of interviewing Mraz came to my mind a few days before the concert, when I realised my newfound identity as a reporter, albeit an intern. So I made a few Skype calls to Atlantic Records's New York headquarters, got referred to his tour manager Amanda Harrison (whom the singer said in his blog was his "Google Map") and finally to Chris, a local representative from Warner Music.
When all was confirmed, I marked June 24 on my calendar, and posted on my Facebook, "Hey guys, I am meeting Jason Mraz this Sunday for a brief interview, what would you like to ask?" It turned out to be one of my most "liked" messages. There were encouraging congratulations in the comments amid friendly outrage that I scored face time with him. Anyway, there was no questions.
I woke up the other day a proud fanboy, eagerly looking forward to write about and maybe high-five his favourite singer. At work, I asked my editor whether she would want me to write a piece about the interview. Her response was lukewarm. "I think we had a profile piece already, when he first came a few years ago."
But I went anyway. Why not?
"I feel strong, tremendous, grateful and optimistic as ever," said the 35-year-old artist, his shirt unbuttoned down to mid-chest and sleeves rolled up, in a room that looks over the 10,000-seat indoor arena.
His hair has outgrown his fedora, spilling out from the sides. With the shaggy beard and moustache (thanks to his exploded trimmer in his hotel room in Korea), his look reminded some online commentators of, among many, a homeless man, Eddie Vedder (lead singer of Pearl Jam), and Jesus Christ. Unwary concertgoers might drop their jaws if they had not caught a glimpse above his neck in the past few months. His loyal disciples, however, would well notice his quiet evolution from the inside out.

[dropcap style="font-size: 60px; color: #ff0000;"] N [/dropcap]othing illustrates his transformation better than his latest and fourth studio album, Love is A Four Letter Word, released four years after his previous and commercially most successful album We Sing. We Dance. We Steal Things. The name of the album, and the minimalist cover art, speak of his desire to untangle the idea of love in a world where relationships are chronically complicated, from between cunning politicians to guileless lovers. In "Be Honest", a bossa nova-like acoustic melody, his message to his significant other is as straightforward as this line in the chorus: "I don't ask for much, just be honest with me."
New tracks like "The Freedom Song", "Living in the Moment", and "Everything is Sound" champion the embrace of the beauty of life and boast an euphoric vibe. Those new numbers have in part done away with lyrical complexity and turned to simplicity, a change widely viewed as treading a fine line between bliss and cheese.
The new Jason Mraz may have shunned sophistication, but his optimistic outlook is unmistakable in the lightweight jams in Love is a Four Letter Word, even though he suffered a bitter break-up with his long-time fiancée Tristan Prettyman in the months preceding the release.
Jason Mraz is a vegan, yogi, surfer and he likes playing shows barefoot. He supports Obama, gay marriage, and loves his avocado farm in San Diego. He sings with buskers and duets with fans, even though their unyielding love for the overplayed song "Lucky" can be rather tiring. His radiant performances and jovial tunes may lead to the belief that he is always carefree. But the truth is when he takes off his hat and leaves the stage, he is prone to the miseries of life just like everyone else.
"I write a lot of material you've never heard that live inside my sadness. You'll hear a song that lasts six to seven minutes of just beautiful sadness. But I can't just go out on the stage to ask five thousand people to be sad with me for seven straight minutes," he said, while moving his long-nailed right hand in the air (he plays guitar with his nails most of the time) and holding a glass of algae-green liquid with his manicured left.
His fervent followers would know he has in fact written some melancholic songs that are often obscured by his buoyant hits. For example, "A Beautiful Mess", a conflicted ballad from his last album that many members on his fan forum hold dear, has a pitiful number of views on YouTube compared to "I'm Yours", which is rarely mentioned at all.
"I try to do my best to balance it out to acknowledge there is melancholy, sadness that we all experience," he said. "We also have to see the light and choose to rise above it to at least enjoy our day with gratitude to our family, to whoever it may be."
"I Won't Give Up", the post-breakup song on Love is A Four Letter Word, is his quintessential positive take on sadness.
"The song was about how I overcome the sadness. By singing it nightly, it becomes a mantra, a way to relive that triumph," he said. "It also helps that a few thousand people in the room sing it with me."
He added that he would eventually release "the saddest album in the world".
"It will come out probably after I'm free of a record label. Because there probably won't be much commercial value about it."
He named his 2012 world tour Tour is a Four Letter Word. "Mraz", too, is a four-letter word, and that was how his father used to remind those who spelled his son's name wrong. Now that the singer-songwriter has won a few Grammy Awards and sold a couple million CDs worldwide, the misspelling of his last name, varying from "Maraz" to"Marraz", is probably less rampant.
It was not the case though when he started his career performing in Java Joe's, a San Diego coffee house, in 2000. He used to wore trucker cap, not fedora. He released his debut album with Elektra Records, Waiting for My Rocket To Come, in 2002 and achieved his first major commercial success with his next album Mr. A-Z (which spells out his surname), which peaked at number five on the Billboard 200 album chart.
His biggest success would be his third studio album, We Sing. We Dance. We Steal Things., and more conspicuously the addictive tune "I'm Yours", which stuck in many listeners' head and has racked up more than a tenth of a billion views on YouTube alone. His fan has grown from a handful of small-town bargoers to millions of people all over the world. More than ten millions of people have "liked" his Facebook page. His rocket has not just come, it has most definitely taken off.
[dropcap style="font-size: 60px; color: #ff0000;"] I [/dropcap] n the sea of tour photos and fan messages, his official Facebook page had one thing that caught my attention. There was an announcement of a secret show that would take place two days after the tour concert, on June 26. Mraz-craving fans had to send an email to Warner Music to enter the ticket draw, and they would only receive details of the venue the day before the event.
When I brought it up, the room went quiet, some people frowned. The artist hesitated, looked up at a PR guy standing near me and said, "Am I allowed to talk about that?"
Much to my disappointment, he was not.
"I'll be here," he winked and said, "live from Hong Kong."
I did not press on, and he did not give me an invitation to the secret gig. It was OK, I thought, because in just a few hours I would be seeing him perform anyway.
And so the concert went. The music was energetic and Mraz's singing flawless. The 10,000-strong audience went "banana", as he put it. The icing on the cake was a story he told mid-way into "You and I Both", a love song he wrote on Valentine's Day many years ago, of how two Coldplay concert tickets separated the singer and his then girlfriend. The therapeutic mantra "I Won't Give Up" concluded the night.
As I reluctantly grabbed my bag on my cold seat and dragged my tired feet to the exit, I realised I was just a ticket away from his secret show and, if I missed it, I would have to wait another three years to see him again.
I spent the next day checking my Gmail inbox hoping that I would win a ticket from the lucky draw. I tried to search online for clues for the venue and time, only to find people showing off their invitation email, which says, "Congratulations, luck is indeed a four letter word for you as you have won a pair of tickets to a special gig by Jason Mraz."
I failed to get a ticket, even though I was willing to pay for it. The show turned out to be an Apple iTunes event that invited only a few hundred lucky fans and music company executives. It was shorter than the tour concert, with special guests G.E.M. and Khalil Fong. The real gems of the night were an electrifying rendition of "Unfold", a groovy cover of Bill Whither's "Ain't No Sunshine" and a refreshing, unreleased song called "Halfway Around the World".
When Mraz and his band thanked and said goodbye to the crowd, I waved to the stage ferociously and hoped he would spot me. How did I get in there? I guess my not giving up helped. Everything was sound.
Reported by Alan Wong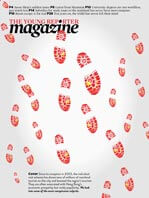 A version of this article appeared in print in the March Issue of The Young Reporter.