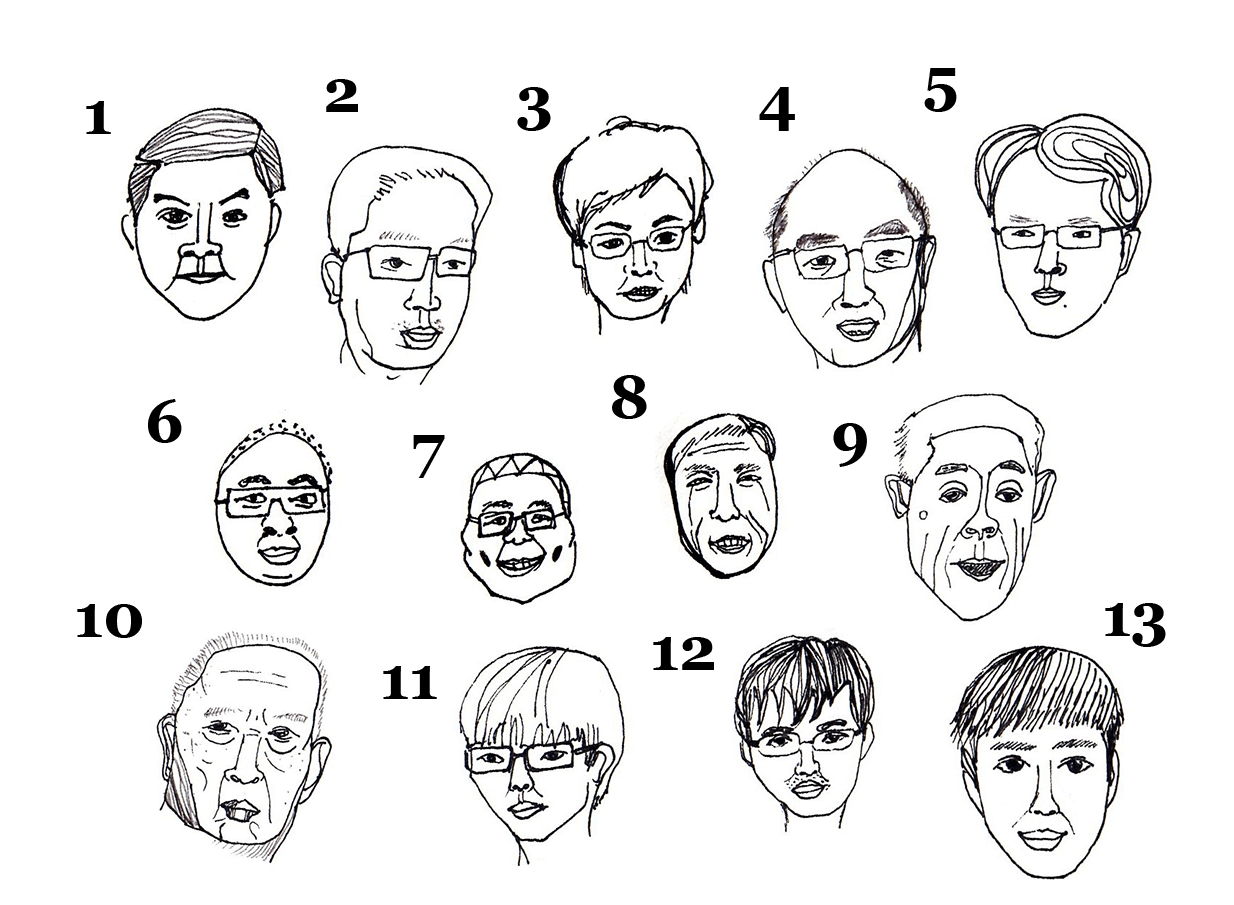 1. Mr Leung Chun-ying
aka CY Leung or "689",
Chief Executive of HKSAR
Occupy protesters gave Mr Leung the nickname "689" in reference to the 689 votes he received from the 1,200-person election committee in the 2012 CE election. Mr Leung urges lawmakers to accept Beijing's 2017 election framework saying, "We cannot afford a standstill in our constitutional development or else the prosperity or stability of Hong Kong will be at stake." Mr Leung said the occupy movement for democracy is "unlawful".
Constitutional Reform Trio
2. Mr Rimsky Yuen Kwok- keung, Secretary for Justice
3. Ms Carrie Lam Cheng Yuet-ngor, Chief Secretary for Administration
4.Mr Raymond Tam Chi-yuen, Secretary for Constitutional and Mainland Affairs
The Hong Kong government formed the Task Force on Constitutional Development in October 2013 to carry out public consultations on reform of the chief executive election in 2017 and the formation of the Legislative Council in 2016. The trio faced criticism for not reflecting mainstream opinion in a July report submitted to the NPC. The second phase of public consultation, scheduled for October, was postponed after the occupy movement kicked off.
5. Mr Benny Tai Yiu-ting Associate Professor of Law
at the University of Hong Kong This 50-year-old democrat and academic initiated the civil disobedience movement Occupy Central with Love and Peace calling for democratic elections by international standards in January 2013. He has kept a low profile since students took the lead in the occupy movement.
6. Dr Chan Kin-man
Associate Professor of Sociology at Chinese University of Hong Kong This 55-year-old academic with research interests in democracy and social movements became a co-leader of Occupy Central in 2013. He says the movement is "touching," and supports the use of non-violent resistance and the student attempts at dialogue with the government.
7. Reverend Chu Yiu-ming Baptist minister
This 70-year-old veteran activist is known for spending decades promoting human rights and democracy in Hong Kong and mainland China before becoming a co-organiser of Occupy Central in 2014.
8. Mr Joshua Wong Chi-fung
Convenor of Scholarism
This just-turned-18 politics student at the Open University of Hong Kong is one of the most outspoken Hong Kong activists in recent years. He
founded the student-activist group Scholarism in2011. In 2012, he mobilised 120,000 people to occupy government headquarters to protest against Beijing-backed national education curriculum, forcing the government to scrap the plan. Most recently, his arrest and two-day detention after storming Civic Square at the end of the class boycott sparked the growth of even more protesters. He continues to lead the crowds in the current occupy movement.
Student Leaders
9. Mr Alex Chow Yong-kang Secretary General of the Hong Kong Federation of Students
10. Mr Lester Shum, Deputy Secretary General of the Hong Kong Federation of Students 
The HKFSis comprised of the student unions of eight universities in Hong Kong, and these two student leaders actively promote student movements. They organised a civil disobedience sit-in in Chater Road after this year's July 1 democracy march, with 511 arrested. "It's not enough to repeat the march and the assembly every year," 24-year-old Chow said at the sit-in. "We have to upgrade it to a civil disobedience movement." From class boycott to the occupy movement, these two have organised assemblies and are taking the lead in negotiations with the government.
11. Mr Zhang Xiaoming
Director of the central government's liaison office
Beijing's top official in Hong Kong, Mr Zhang called Occupy Central "illegal" and "disastrous" in July. "Hong Kong is a city with law and order," he said to lawmakers. "If it allows some people to challenge the law, it will be a disaster and there will be lasting consequences. It may be harmful to young people." Beijing seems to be unmoved by the pro-democracy protests in Hong Kong as he responded in early October saying, "The sun rises as usual."
12. Mr Li Fei National People's Congress Standing Committee Deputy Secretary-General and Basic Law Committee Chairman
This senior official explained the NPC's decision on political reform to Hong Kong on September 1, saying the election framework could be applied to future chief executive elections if it is vetoed by the Legislative Council. "The decision has stipulated the term 'starting from 2017', meaning that the election method for universal suffrage in 2017 and beyond should also be based on this framework," he said at a press conference. He also warned that Occupy Central would jeopardize the stability and prosperity of Hong Kong. "Occupy Central is an illegal activity. If we give in, it will trigger more illegal activities."
13. Mr Tung Chee-hwa
Hong Kong's first chief executive and Vice Chairman of the Chinese People's Political Consultative Conference
This former leader called on Hong Kong people with different political affiliations to unite for democracy and accept electoral reform
proposed by the NPCSC, which was "comparatively conservative" but also "comparatively the best". His rare comment on Hong Kong was widely perceived as Beijing's strategy to defend its decision. "If we come to a standstill this time, I don't know when we can move forward again," Mr Tung said in his first press conference in nine years in early September.
NPC's Decision
ON August 31, the Standing Committee of the Na- tional People's Congress voted to approve a reso- lution that lays down a framework for future chief executive elections in Hong Kong in and after 2017 and the formation of the Legislative Council in 2016.
The resolution provides that future chief execu- tive elections will be implemented by universal suf- frage. Every Hong Kong permanent resident aged 18 and above will have the right to vote for a candidate in the election.
But it also stipulates that candidates for the chief executive election will have to get the blessing of a 1,200-member Nomination Committee. This com- mittee's composition and formation method will be the same as the Election Committee that elected the fourth chief executive in 2012.
Up to three candidates who have the endorsement of more than half of all the members of the Nominating Committee can stand for election. The winning candi- date will then be appointed chief executive of Hong Kong by the Central People's Government.
To implement the NPC's resolution, bills amending local electoral legislation will have to be introduced to the Legislative Council by the Hong Kong government, endorsed by a two-thirds majority of all members of the council, and submitted to the Standing Committee of the National People's Congress for approval.
But if the reform package amended according to the NPC resolution is not supported by a two-thirds majority of LegCo, then the method used in electing the chief executive in 2012 shall continue to apply.
By Catherine Chen and Kyle Sun
Edited by Aska Cheong and Tiffany Lee