More than 1,000 Public Hospital Doctors Protest for Pay Rise
By Terrance Zheng
More than 1,000 doctors participated in a sit-in protest at Queen Elizabeth Hospital yesterday afternoon, calling for a 3 per cent increase in their salaries.
The doctors, holding banners with the Chinese character "anger", sat in the main lobby for an hour and a half. They also conducted a moment of silence, which they said represented their unwillingness to be enslaved.
The protest was triggered after the Hospital Authority refused to grant public hospital medical staff a 3 per cent pay raise, which was given to senior public servants last year.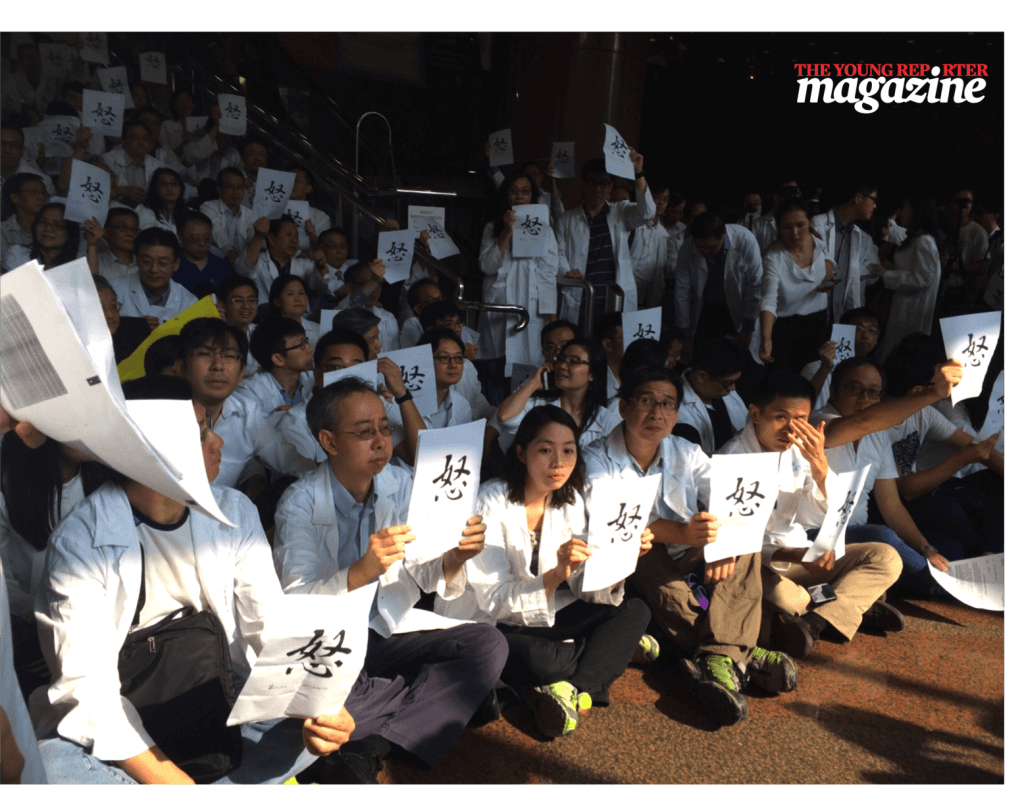 The Authority earlier responded that civil servants' pay rise did not apply to other agencies, but the Public Doctors' Association said it had been a practice for decades that doctors' salaries were adjusted along with those of public servants.
In 2009, doctors at public hospitals were told to accept a pay decrease when the public service pay was cut.
"We sit here not just for the 3 per cent increase, and none of us will leave our post if our protest fails," said Dr Chan Pui-yin, President of the Hong Kong Public Doctors' Association. "We just want a justifiable evaluation system for our public doctors' payment."
Dr Chan said he had been trying to negotiate with government departments for nine months before initiating this protest. Over 1,600 medical workers have signed an online petition.
Some renowned doctors and medical experts came out to request the pay rise.
Dr Yeung Chiu-fat, president of the Hong Kong Doctors' Union, said treating doctors' salaries with consistency laid the foundation for providing qualified medical service to the whole society.
Chief Executive of the Hospital Authority Dr Leung Pak-yin told protestors he was sympathetic to their need and promised that the authority would look into the matter today.
Secretary of Food and Health Bureau Dr Ko Wing-man said at the protest that he would work with the Hospital Authority for the doctors' interest.
The sit-in ended at 4.30 pm, with the participants resumed their work as promised.
"What we need is not sympathy," said Dr Shum Pui-yin, who works at Prince of Wales Hospital. "We are not begging for money. We just need governmental support for our work."