By Catherine Xu
Thousands of participants at the annual gay pride parade shouted out this year's theme "yell out for equality" along the route from Victoria Park to Central Government Complex yesterday.
More than 30 groups signed up as committee and participants for this year's pride parade, with the same goal to fight for LGBT rights and equality.
Hilda Lau, a volunteer at the parade, explained the meaning of the giraffe, the theme visual of the year. She cited the Chinese idiom "wait until our necks become long", which symbolises the LGBT community's long fight against discrimination.
"I found more young participants taking part in the parade this year and there're more people joining the pride parade here than in my home country," Li Po Chun, a Spanish participant said.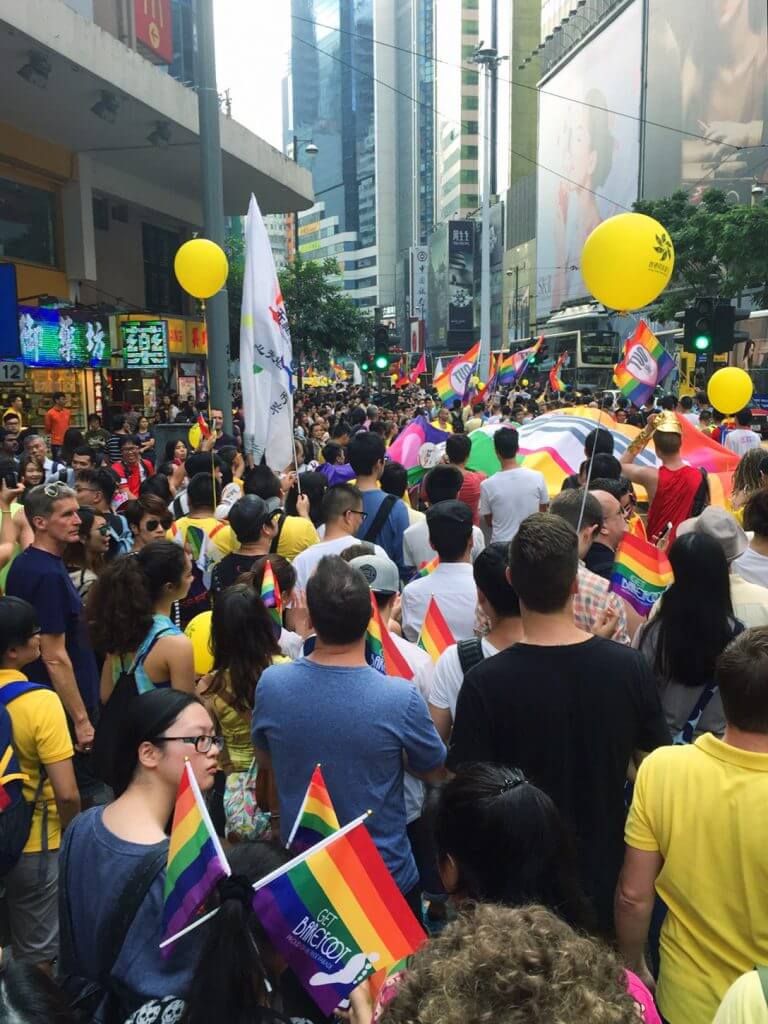 Apart from LGBT rights, sex‐related banners also waved in the parade, such as "Sex work is also work" held by Midnight Blue, an organisation founded by a group of male sex workers and labour right supporters for sex workers in Hong Kong.
"As a minority group, sex workers are always pressurized by the media, and the charm of the work is hidden. I stand out today to show my support for a sex diversified society. The society should embrace differences among individuals," said Chu Bei, a volunteer at Midnight Blue.
Asked about how the legalisation of same‐sex marriage in the US earlier this year might affect Hong Kong, Chu said the US's first step can make Hong Kong people reflect on legal rights for homosexuals, but "it's still a long battle in Hong Kong".
Ding Lau‐bin, a transgender protester, made a dress with paper medicine boxes and brought it with her to her third pride parade.
"These are medicine we (transgender) have to take every day, my friends and I took one year to make this dress especially for the parade to make people understand how much pressure we suffer from," she said.
On November 5, Cardinal John Tong Hon urged his flock in a pastoral letter to consider candidates' stance on same sex marriage policies before voting in the upcoming District Council Election.
"We were astonished when hearing his words. Shouldn't we vote according to their political performance? Some of the candidates have told me they received messages asking whether they support sexual liberation," one of the parade spokesman said at the event's kick‐off.
"We should judge a district councillor by his contribution to communities, but not his sexual orientation. Religions become different when it's put to a political level, why did John Tong make such an announcement at this critical moment?" said Lau Tim Lin, executive officer of Student Christian Movement of Hong Kong, who participated the parade with her brethren.
"His actions made me suspicious on whether the Chinese Communist Party had done anything to make him say such words," she said.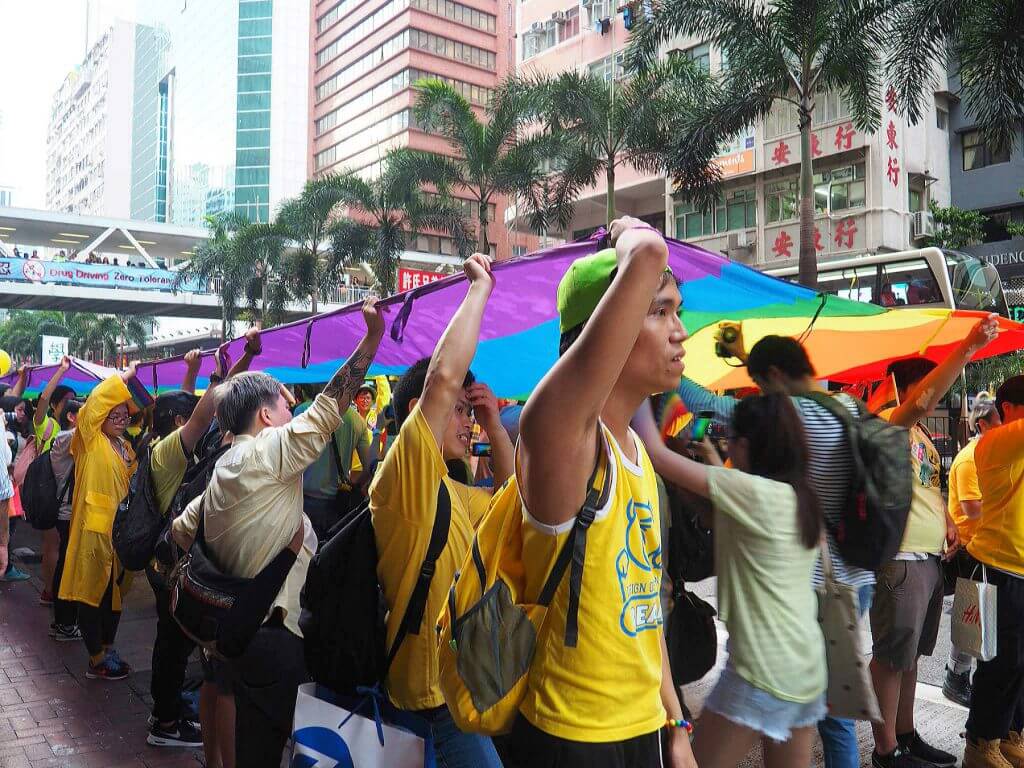 The organisers announced that 9,500 people had joined this year's pride parade, more than 8,900 of last year.
Roland Leung Yik‐lun, who produced the first‐ever TV programme "Gay On The Str8 Road" in 2013 showed up as the "Rainbow Ambassador" this year.
He gained his father's acceptance of sexual orientation this year and advised participants to consider their parents' acceptance level.
"If they don't want to know about it, don't force them," he said.
"In the coming year, I will try my best to participate in LGBT movements to embrace the difference," he said at the event's closing ceremony.
(Edited by Jane Cheung. Copy‐edited by Mari Chow.)